Guests with any physical or mental condition that affects their ability to wait in a standard attraction line for an extended period may qualify for a DAS Pass. There is a broad range of disabilities that may be eligible for DAS. While there is no specific list of what disabilities qualify for DAS at Disney World, some common conditions that may be approved for a DAS Pass include ADHD, autism, or anxiety. Guests should use their discretion when determining whether they should get a DAS Pass for themselves or a loved one. If you are considering applying for a DAS Pass, you'll want to consider factors such as heat, sun exposure, and how you feel in confined spaces. We discuss the elements that go into getting a Disney DAS Pass below.
What Does DAS Stand For? 
DAS stands for Disability Access Service. The service assists guests with conditions and disabilities that make waiting in line for extended periods difficult. DAS Passes are valid for 60 days after you register, so you won't need to reapply each day of your vacation (granted that your trip is less than two months long). DAS Passes are only valid at one Disney Resort. If you visit Disney World and then travel to Disneyland within the 60-day timeframe (lucky you!), you'll need to reapply for DAS at Disneyland.
Need help planning your Disney vacation? Talk to our friends at The Vacationeer!
Disabilities That Do & Don't Qualify for DAS
There is no specific list of disabilities or conditions that qualify for Disney's Disability Access Service. A wide range of conditions may be eligible, as DAS Passes are issued to assist guests who cannot tolerate waiting in the conventional standby queue at select attractions across Walt Disney World. Here are a few considerations when determining whether you or someone in your party may have a condition that qualifies for a DAS Pass:
What disabilities qualify for DAS at Disney World:  
Disorders that make waiting for extended periods in the standby queue difficult.
Conditions that worsen with sun exposure, heat, or other outdoor elements.
Cognitive disorders that make staying in line a challenge.
Disabilities that don't qualify for DAS: 
Mobility restrictions.
Conditions that require a wheelchair or a scooter.
Disabilities that do not affect a guest's ability to wait in line.
Disney determines what disabilities qualify for DAS at Disney World based on a guest's ability to wait in line, not their ability to stand in line. Most attraction lines are wheelchair accessible, and each attraction entrance includes information about how guests in wheelchairs or scooters may experience each attraction. If a line is not wheelchair accessible, guests with mobility issues will receive a return time comparable to the current standby wait time.
Disability Access Services Entitlements
Now that you know what disabilities qualify for DAS at Disney World, let's discuss what DAS Pass allows you to do. DAS Passes enable you to request a return time to experience an attraction without waiting in the standby line. Once your DAS Pass is approved and registered, you can use the DAS Return Time Self-Selection Tool in the My Disney Experience App on the day you visit the theme park. Pick an available attraction from the DAS selection tool, and you'll be given a time to return to the ride. This return time is equivalent to the current standby wait time, plus or minus 10 minutes.
Return times don't expire, so you can enjoy the attraction any time after the given return time on the same day. However, you cannot make another DAS Pass ride selection until you redeem the first one, so it's beneficial to return to the attraction as close to your given return time as possible. You can select a return time for the same ride as often as you wish throughout the day (which is different from how to reserve rides with Genie+).
It's important to note that the DAS Pass doesn't allow guests to cut the line or wait in a shorter line than those in the standby queue. DAS Pass allows guests to wait the same length of time outside the standby queue line due to a medical condition.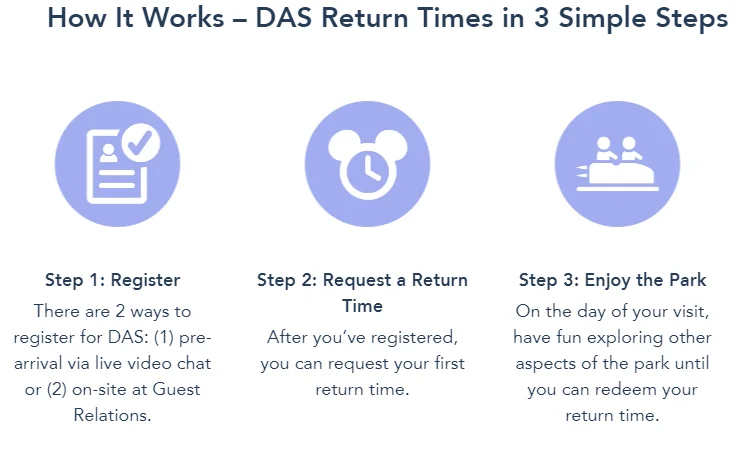 How Do I Make a Reservation for a DAS Pass?
There are two options to make a DAS Pass reservation (which are discussed below). Regardless of how you register, the guest you're requesting DAS for must be present with you during registration. This is because a photo will be taken of the person who needs the DAS Pass. Before registering for DAS, everyone in your party must have valid theme park admission linked to their accounts and a Park Pass reservation.
Option 1: Advanced Registration
Advanced registration allows you to virtually register for DAS by participating in a live video chat with a Cast Member. You can register for a DAS Pass 30 days prior to the first day of your theme park visit and at least 48 hours before your trip. Advanced registration is available daily from 7 am – 10 pm EST. There may be a significant wait for a Cast Member to live chat with you, so we suggest getting online right at 7 am, 30 days before your trip for the best chance of registering quickly. You can register for a DAS Pass here.
Benefits of preregistering:
Receive two DAS advance selections at the end of your chat.
Don't need to spend time registering for DAS while at the parks.
Drawbacks of preregistration: 
Long wait times for an available Cast Member to live chat (sometimes it could be eight hours or more!).
Only have 10 minutes to answer when a Cast Member becomes available.
The guest you are requesting DAS for must make an appearance on the live chat.
Option 2: In Park Registration 
The other option for registering for a DAS Pass is to wait until you arrive at Disney World and register in person with Guest Relations on the first day you visit. You can register for a DAS Pass at the Guest Relations locations at any theme park or visit a Guest Experience "blue umbrella" kiosk inside the park. We recommend visiting a blue umbrella location because the lines are usually shorter than going to the Guest Relations' central location at each park.
Benefits of in-park registration: 
Shorter wait times (typically less than 10 minutes if you visit a blue umbrella kiosk).
Ability to speak with someone in person about how to utilize the service.
Drawbacks of in-park registration: 
Miss out on extra attraction return time selections.
Take time out of enjoying the park to register.
What to Say to Get a Disney DAS Pass  
When registering for a DAS Pass, you don't need to worry about what disabilities qualify for DAS at Disney World. There isn't a list of "approved" disabilities. Any condition that is not mobility-related that makes waiting in a standby queue difficult will qualify. When you register (either in person or online), a Cast Member will ask you a few questions to determine whether a DAS Pass would be helpful in your situation. Parents or guardians can answer these questions when requesting a DAS Pass for a minor child.
When answering the questions, you'll need to explain why the person you are requesting DAS for cannot wait in the traditional standby line. Be aware that DAS passes are not intended for those with restricted mobility. If you focus on how your condition affects your mobility, you're less likely to be approved for a DAS Pass. You should also explain why a DAS Pass would help you and your family experience the attractions. You won't need to provide a medical diagnosis or even go into detail about your condition. You will just need to explain why your condition makes waiting in line difficult.
Some examples of phrases you may want to use to help explain your condition to the Cast Member include:
"______ is why waiting in line is hard."
"I experience _______ when I wait / my child waits in line for long periods of time."
"It would be helpful to wait outside the line because ______."
Do I Need Genie+ if I Have a DAS Pass?
Having Genie+ and a DAS Pass will significantly cut down your wait times. Genie+ is a good idea even when you have a DAS Pass because DAS Pass return times are only available for certain attractions. Also, the guest registered for DAS needs to be able and present to ride when redeeming a DAS Pass return time. The registered DAS Pass guest must meet height requirements and be free from other conditions that may affect their ability to enjoy the ride, such as a heart condition or sensitivity to strobe lights. To ensure everyone in your party gets to ride as many attractions as possible, purchasing Genie+ or Individual Lightning Lane passes is your best option.
To get the most out of a Genie+ and DAS Pass combination, we recommend using DAS return times for attractions with the longest waits and using Genie+ for attractions with shorter waits.
Prefer to ask someone for more information?
Available Attractions with DAS Passes: 
Magic Kingdom
The Barnstormer
Big Thunder Mountain Railroad
Buzz Lightyear's Space Ranger Spin
Dumbo the Flying Elephant
Haunted Mansion
"It's a Small World"
Jungle Cruise
Mad Tea Party
Magic Carpets of Aladdin
 Many Adventures of Winnie the Pooh
Mickey's PhilharMagic
Monsters Inc. Laugh Floor
Peter Pan's Flight
Pirates of the Caribbean
Splash Mountain (Currently Closed)
Tomorrowland Speedway
Under the Sea – Journey of The Little Mermaid
Select character meet and greets:

Mickey at Town Square Theater
Princesses at Princess Fairytale Hall
EPCOT
Disney and Pixar Short Film Festival
Journey Into Imagination With Figment
Living with the Land
Mission: SPACE
The Seas with Nemo & Friends
Soarin' Around the World
Spaceship Earth
Test Track
Turtle Talk With Crush
Disney's Hollywood Studios
Alien Swirling Saucers
Beauty & The Beast Live on Stage
Disney Junior Play and Dance!
Indiana Jones Epic Stunt Spectacular
Millennium Falcon: Smugglers Run
Muppet*Vision 3D
Rock' n' Roller Coaster
Slinky Dog Dash
Star Tours – The Adventures Continue
Tower of Terror
Toy Story Mania!
Select character meet and greets:

Disney Stars at Red Carpet Dreams
Olaf at Celebrity Spotlight
Disney's Animal Kingdom 
Conservation Station
Festival of the Lion King
DINOSAUR
Feathered Friends in Flight!
It's Tough to be a Bug!
Kali River Rapids
Kilimanjaro Safaris
Na'vi River Journey
How Many People are on a DAS Pass? 
Six people (including the guest who needs the DAS Pass) can be added to each pass. If you're traveling with a group larger than six people, check with Guest Relations about accommodating your group. Anyone in the party included on the DAS Pass can make a DAS Pass return time selection through My Disney Experience. The only requirement is that the registered DAS Pass guest must be present when redeeming a return time to get on the attraction.
Do You Need Proof of the Disability? 
No. You don't need to show proof of your disability or have a doctor's note to be eligible for a DAS Pass. To determine what disabilities qualify for DAS at Disney World, you simply need to explain why you or your child's condition makes waiting in line difficult and how a DAS Pass would help you and your family enjoy the parks.
If a guest makes false statements about their DAS eligibility, they could be permanently banned from the US parks and forfeit any existing tickets, passes, or reservations without a refund.
Final Thoughts on What Disabilities Qualify for DAS at Disney World
Any disability that interferes with you or your child's ability to wait in a conventional standby queue may be eligible for a DAS Pass. To register for a DAS Pass, you will need to speak with a Cast Member directly (either in person or online) about why the condition makes waiting in line difficult. You don't need to show paperwork or proof of your illness or condition. Once you are approved for a DAS Pass, you can select return times for attractions using the My Disney Experience app. The return times for these rides are comparable to current standby wait times. Each DAS Pass can have up to six people enjoy the attraction altogether.
We hope you found this guide to determining what disabilities qualify for DAS at Disney World helpful. For more tips about planning a Disney vacation when traveling with guests with special needs, check out our articles about renting wheelchairs at Disney World, avoiding long lines, bringing pets and service animals to Disney, and which Disney parks require the least amount of walking.