Strollers at Disney World
Disney's Stroller Policy, Guidelines for Size, Stroller Rental Costs, and more!
If you have young children, then it's extremely important to be familiar with Disney's stroller policy before you arrive, especially if you choose to bring your own stroller.  This page will outline strollers at Disney World, including the guidelines for sizes, shapes, as well as your options to rent a stroller within the park.
Disney World Stroller Options

There are three options for strollers at Disney World.
 1.  Renting in-park
There are a number of stroller rental locations throughout Disney's theme parks and at Disney Springs. This is a convenient option, but it may not be the most cost-effective. And you must return the strollers as you exit the theme park for the day.
2.  Renting from a non-Disney business
Several non-Disney businesses around the area offer some cheaper alternatives as well as a wide array of stroller sizes, models, and accessories to rent. As an added convenience, these businesses can deliver a stroller right to your resort or Orlando-area vacation home for no extra charge. Plus, you get to keep it overnight and won't need to return it until the end of your trip.
Renting a stroller at Disney World or from one of the area providers can reduce your luggage requirements and help to keep your vacation as stress-free as possible. So is this the right option for you?
For the answer, please see our Best Disney World Stroller Rental Companies page for the area's top 7 non-Disney-owned stroller businesses.
(Hint: we recommend Kingdom Strollers.)
3.  Bring your own stroller to Disney World
Yes, you can certainly bring your own stroller to Disney.
Now let's explore Disney's new stroller guidelines, then weigh the pros and cons of bringing your own stroller or renting one at the resort.
Disney World's Stroller Policy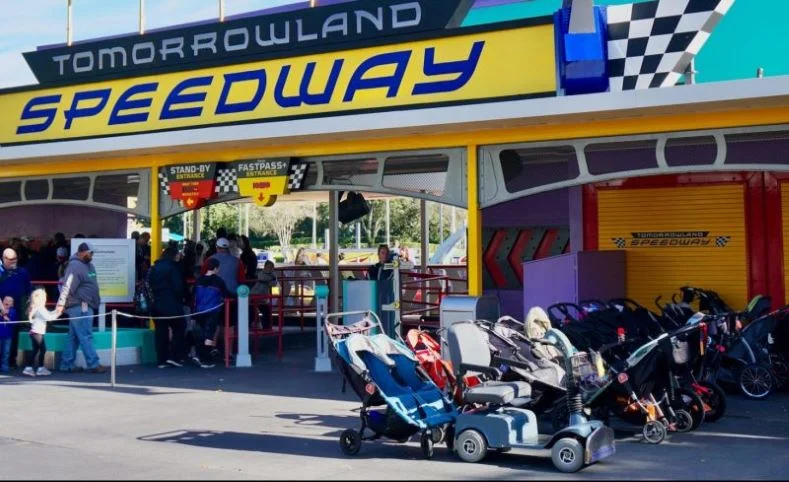 Disney World is the ultimate family vacation destination. Aside from the crowds, there's very little to find fault with this magical resort. But while Disney has excellent transportation options between the resorts and the theme parks, one drawback may be the amount of time you'll spend on your feet.  For better or worse, you will be walking and standing for much of the day.  This is just an unavoidable part of the Disney World experience.
Anyone who has children already knows the importance of strollers. Strollers provide your child with a place to nap and a place to rest tired legs. They also give you a place to store your personal and baby items so you can experience the magic of Disney's theme parks without lugging a bag or backpack.
But did you know that Disney has specific guidelines for what you may and may not do as far as strollers are concerned? Well, you do now…
On May 1st, 2019, Disney put forth a set of stricter rules for strollers. These rules are meant to help ease congestion and make the park experience more enjoyable for all of the guests.
Below you will find the new guidelines for strollers at Disney World:
Bring Your Own Stroller to Disney World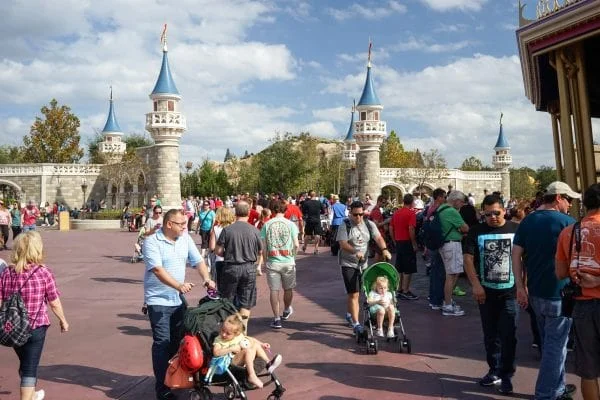 Now that you know Disney limits the size of strollers to 31″ (79 cm) wide x 52″ (132 cm) long – and doesn't permit stroller wagons – then the question becomes "does your current stroller meet these guidelines"? And if it does, then do you even want the hassle of bringing it to Orlando?
That is a decision you will have to make yourself. However, here are some pros and cons to help you decide:
Stroller Rentals at Disney World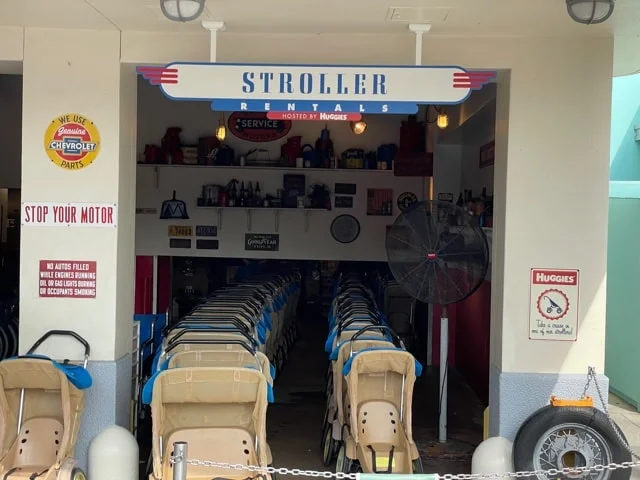 So you have decided to rent a stroller instead of bringing your own. Ok, but now what?
The most obvious choice is renting a stroller from Walt Disney World itself. For some, this option is the most convenient and most practical.
Stroller rental locations are located right next to the front gates of each theme park which means that you can simply rent a stroller as soon as you enter the park. Easy peasy.
Disney World offers both single and double stroller options. Stroller rentals can be made on a per-day basis, or you can opt for a Length of Stay Rental. A Length of Stay Rental will cut down on the per-day cost, but it still ends up being a little more expensive than some of the other options (as you will see below).
Here is a breakdown of the costs and recommendations for Disney's stroller rental program, as detailed on Disney's website here:
Stroller Rentals Near Disney World
Renting Strollers from Non-Disney Businesses
So far we have covered Disney's stroller policy, the pros/cons of bringing your own stroller, and then the details of renting strollers at Disney World. There's one more option: rent a stroller from one of the non-Disney stroller businesses in the area.
The stroller rental companies in the area provide some great options. Many have unique cost structures and a variety of stroller models to choose from (different from Disney's own selection).  In addition, these rentals tend to be more cost-effective (cheaper) vs. renting directly from Disney.
There are, however, some downsides. These companies and their policies may be less convenient for some guests, depending on who you rent from and what your stroller needs entail. Plus, renting a stroller 24/7 will require you to bring it on buses since you will travel between the resorts and theme parks with the stroller.
Below you will find a comparison of the best stroller rental companies at Disney World. Remember to check out our Best Disney World Stroller Rental Businesses page for our detailed list.
Disney World Stroller Rental Costs by Provider
Stroller Provider

Single Stroller Cost

(1 day / 3 days / 7 days)

Double Stroller Cost

(1 day / 3 days / 7 days)

Disney World 

$15 /  $45 / $105

$31 / $93 / $217

$45 / $45 / $65

$55 / $55 /  $75

$41 / $45 / $65

$51 / $55 / $75

Orlando Stroller Rentals

$40 / $40 / $60

$50 / $50 / $70

Apple Stroller

$30 / $40 / $80

$45 / $60 / $105

A Baby's Best Friend

$30 / $45 / $45

$40 / $60 / $60

Baby Wheels Orlando

$30 / $40 / $55

$40 / $50 / $70

Simple Stroller Rental

$25 / $35 / $55
$35 / $45 / $65
* Prices subject to change
**Stroller prices may vary slightly from the above information depending on the model you select
***Price is not everything. Sometimes "you get what you pay for" so review your options before selecting your stroller provider