We're always on the lookout for money-savings hacks. When it comes to dining at Disney, we have a great recommendation.
Disney World allows its guests to bring their own food and/or nonalcoholic beverages into the parks. 
Let's take a closer look at Disney's policy on outside food and why guests should consider bringing their own sandwiches, snacks, and beverages to the theme parks.
Disney World Policy on Bringing Food to the Theme Parks
Yes, you are allowed to bring outside food and nonalcoholic beverages into Disney's theme parks and water parks. That said, there are some restrictions.
Any food and drink brought into the parks must be for self-consumption and not have a "pungent odor." Items mustn't be in glass containers or require special heating, refrigerations, processing, or other temperature control.
Guests should alert a Security Cast Member of any food items you are bringing in when you enter the park. Here's the rundown of what is and isn't allowed.
What Disney Allows:
Disney allows you to bring any food item, so long as it's for your own use, doesn't have a foul odor, or require heating or refrigeration. Recommendation: sandwiches
It makes sense to pack a snack, even if your goal isn't to save money. Snacks are easy to through in your backpack or fanny pack and they'll come in handy when you need a quick boost of energy. Recommendation: fruit, granola bar.
Tap water is free and plentiful throughout the park. There are water fountains everywhere and Quick Service restaurants are more than happy to serve you a free cup of ice water even if you aren't eating there. Bring your own water bottle, or bring cans of your preferred beverage.
Guests are allowed to bring coolers into the parks, but they are limited to 24″ x 15″ x 18″ and under (see note below about loose ice). There are storage lockers available to rent in every park. Small lockers are $10/day, large lockers are $12/day, and Magic Kingdom and Epcot have jumbo storage lockers for $15/day.
What Disney Restricts:
Alcohol is served throughout the park, but you're not allowed to bring in your own.
Glass is prohibited in Disney World parks. The only exception is for small containers of baby food.
Disney prohibits guests from bringing dry ice or loose ice into the parks, but they do allow you to bring reusable ice packs or loose ice enclosed within a ziplock bag.
Do Most People Bring Their Own Food?
The anecdotal evidence suggests that most people do NOT bring their own food to Disney World. Some bring snacks or their own bottled water, but very few bring their own breakfast items or sandwiches. Why?
Disney is home to a variety of great dining options. There's something for almost every budget or taste preference here, plus Disney is known as a very accommodating place for vegetarians, vegans, and others with special dietary requests.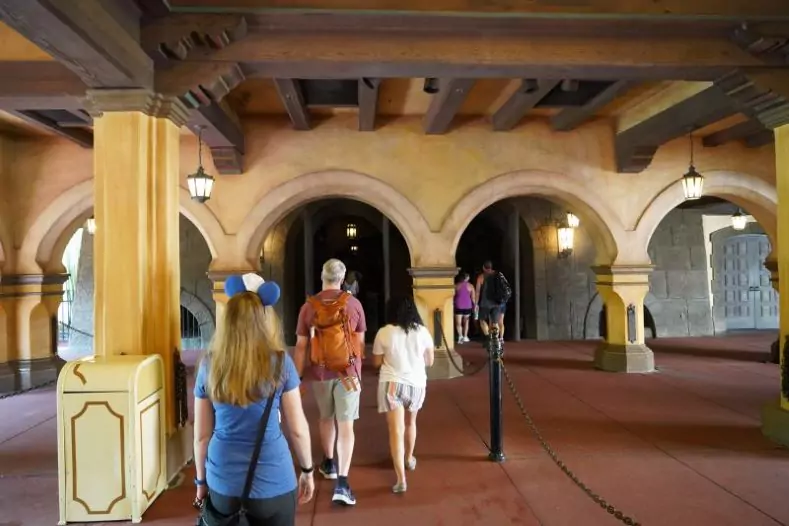 5 Reason Why You Should Bring Food To Disney World
Here are the top reasons why people bring their own food into Disney World theme parks and water parks.
1. It saves you money
The food at Disney World can be expensive, so the main purpose of bringing your own sandwiches, drinks, and snack is to save money.
If you're not on a Disney Dining Plan, then you are probably spending well over of $50 per meal, out-of-pocket, on your family lunches.
If you are on a budget, you may want to skip the Mickey waffle-type breakfasts and either bring a light breakfast with you to the parks, eat in your hotel before you head out the door, or just grab something at Starbucks.
Maybe you'd prefer to eat breakfast at a restaurant and then bring a lunch, snack, and a water bottle with you to the parks. It's up to you.
My favorite time to splurge on an expensive meal is for dinner. This is because I'm back from the parks and – after relaxing and showering back at my hotel – I'm ready to really savor a meal.
2. Grocery delivery services are available
There are a number of grocery story delivery providers serving Disney World Resort hotels. These include Garden Grocer, Instacart, Amazon Prime Now, and WeGoShop.
For a small fee, you can order your grocery store items via any of these online providers. They will do the shopping for you and then deliver your groceries to Bell Services.
Once the delivery has been made, you can retrieve your groceries from the lobby (free), or have Bell Services deliver them directly to your room for an extra $5 fee.
Presto! Now you have food, snacks, and drinks to bring with you to Disney's parks! S
See our How to Get Groceries at Disney World article for more information.
3. If you have special dietary restrictions
As I said before, Disney World has tons of amazing restaurants. They've really stepped up their game as far as providing vegetarian and vegan menu items, as well as allergy-free, gluten-free, and halal options.
Even so, you still may choose to bring your own food to Disney World. Maybe there are some food items that you just can't live without and want to bring your own supply, or maybe you have a strict diet.
That's fine – you can do that at Disney World! As long as it doesn't break the rules then bring whatever food and drink you want to bring.
Reminder: Disney doesn't carry Pepsi or General Mills products, so if you can't live without your Pepsi or Cheerio's, then bring your own!
4. It saves you time
Ordering food takes time, especially at Disney World. However, it doesn't have to be the case if you bring your own.
You WILL encounter lines at most dining locations, whether it be Starbuck, some Quick Service restaurant, or at a food cart. You will save time if your own food. This means that you'll spend less time in lines and more time back on the rides and attractions.
5. Snacks Make Everyone Happy
Everyone loves a snack. This is especially the case for babies, toddlers, and kids.
Since you'll be on your feet for most of the day, you'll inevitably require some occasional refueling,
Come prepared with your own snacks makes sense.  You won't have to overpay for Disney snacks or waste any valuable time waiting in lines.
Is Taking Your Own Food to Disney World Worth It?
If you aren't on a Disney Dining Plan and you ARE looking for ways to save money, then YES, you should bring your own food to Disney World parks. This is especially the case if you have special dietary restrictions and don't feel the in-park restaurants will serve your needs.
One of the biggest benefits of bringing your own sandwiches and snacks is the time it saves. No one ever seems to talk about this aspect.
Remember, you are on vacation so don't overdo it by being too frugal.  However, if it makes sense to do so, then bringing your own food to Disney World is an easy way to save time and money.
Plus, you'll never go hungry if you have food within an arm's reach and your whole family will thank you for planning ahead!
Enjoy your Trip!
If you need help planning and booking your Walt Disney World vacation package, please call the The Vacationeer! Their services are 100% free and their advice, expertise, and dedication will prove invaluable!
Still not convinced you want to bring a sandwich to the parks? Disney World has fabulous restaurants in every park.  Check out our Magic Kingdom Restaurants, Epcot Restaurants, Animal Kingdom Restaurants, Hollywood Studios Restaurants, and Disney World for Foodies pages for suggestions. You may also want to read How Much Does it Cost to go to Disney World, How Much Does Food Cost at Disney World,  Why Use a Disney Travel Agent, and Places to Relax at Disney World.
Enjoy your trip!