The article aims to answer one of Disney's most perplexing questions: what is the oldest ride at Disney World? While the answer is open to interpretations, we think we have the answer. There is one attraction, in particular, that dates back decades before any other ride at the park.  So continue reading we will list all 23 opening day attractions at Magic Kingdom and reveal our pick as Disney World's oldest ride.
Walt Disney World's Oldest Ride
One could argue that the oldest ride is actually a tie between all 23 opening day attractions.  This is because they all opened on the same date, October 1st, 1971. However, we think there's only one ride that can rightfully claim the title as Walt Disney World's oldest ride.
The oldest ride at Disney World is Prince Charming Regal Carrousel. Even though it was one of Magic Kingdom's opening day attractions, Prince Charming Regal Carrousel is older than other attractions because it was originally built in 1917 by The Philadelphia Toboggan Company.  
Known then as "The Liberty Carousel," Prince Charming Regal Carrousel first appeared at Belle Isle Park in Michigan and then Olympic Park in Maplewood, New Jersey before Disney acquired it for Magic Kingdom.
Since its history pre-dates any other ride, you could argue that Prince Charming Regal Carrousel is the oldest ride at Walt Disney World.
That said, the answer is open for debate.
For example, since The Jungle Cruise and Mad Tea Party were opening day attractions both at Disneyland and Walt Disney World, so you could say they're older than other opening day attractions since they debuted at Disneyland's opening day in July 1955.
However, if there can be only one to claim the title as the oldest Disney World ride, we're still going with Prince Charming Regal Carrousel!
Disney World's Opening Day Rides
Walt Disney began his "Florida Project" in 1965 but didn't live to see its opening.  On October 1, 1971, Magic Kingdom opened to the public as the first theme park Walt Disney World Resort.  Disney's Contemporary Resort and Disney's Polynesian Resort hotels were also opened at this time.
Magic Kingdom had 23 attractions on its opening day.  2o of these rides were based on an existing Disneyland attraction, and 3 were brand new unique attractions.  These 23 attractions were spread over six themed lands.  Each of these lands shared a counterpart at Disneyland except Liberty Square, which was unique in name but shared the same rides as Disneyland's New Orleans Square.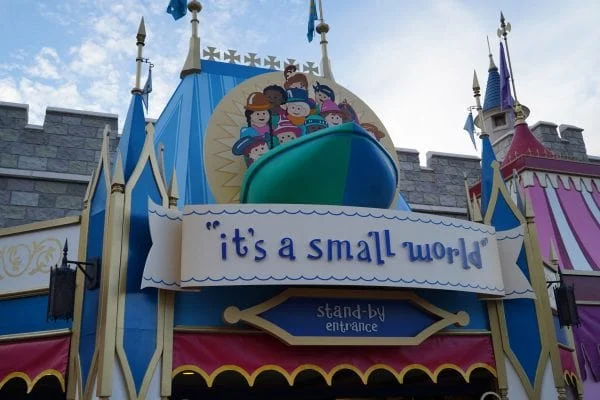 List of Magic Kingdom's Opening Day Attractions (1971)
On October 1, 1971, Magic Kingdom opened to a crowd of 10,000 guests and 23 rides and attractions.  Over the next few months, several more attractions were added.
Here are the 23 opening day Magic Kingdom rides and attractions:
Cinderella's Golden Carousel
Country Bear Jamboree
Davy Crockett Explorer Canoes
Diamond Horseshoe Revue
Frontierland Shootin' Arcade
Grand Prix Raceway
Hall of Presidents
Haunted Mansion
It's a Small World
Jungle Cruise
Mad Tea Party
Main Street Vehicles
Main Street Cinema
Mickey Mouse Revue
Penny Arcade
Skyway
Snow White's Adventures
Swiss Family Treehouse
Tropical Serenade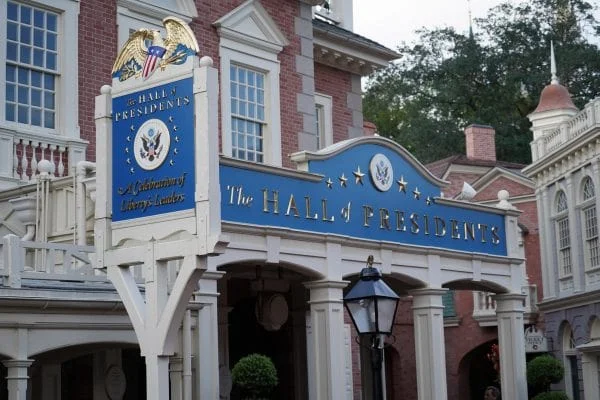 Over the next several months of 1971, the following attractions were opened at Magic Kingdom:
Admiral Joe Fowler Riverboat
America the Beautiful
Flight to the Moon
Peter Pan's Flight
20,000 Leagues Under the Sea: Submarine Voyage
Flight to the Moon
Which rides were NOT part of Disney World's opening day?
What's missing from the list? None of the three mountain rides, as they didn't first appear until the late 70s. And Pirates of the Caribbean wasn't on the list (it didn't open until December 15, 1973).
Peter Pan's Flight,  20,000 Leagues Under the Sea, The Riverboat, and Tom Sawyer Island were still under construction when Magic Kingdom opened.  The now-defunct Swan Boats didn't open until 1973.
Of the original attractions, Mickey Mouse Revue moved to Japan and eventually closed. We all know that Mr. Toad was replaced by Pooh and Snow White had to make room for Princess Fairy Tale Hall. The docks for the Keel Boats and the Canoes remain but neither attraction is there anymore, nor is the Skyway or the Fantasyland Station.
Despite the losses, Walt Disney World is bigger and better than at any time in its history!
Thanks for reading our list of the 23 Disney World Opening day attractions,  and our analysis of the oldest ride at Disney World. Have a magical day!