Halloween at Disney: Your Not-So-Scary Guide (2023)
For some people, there's no better time of year than Halloween — you don't have to be a kid to enjoy some creepy decorations, dress up in costume, and have a socially-acceptable excuse for eating seven Snickers bars in one sitting. But, even if you're not into the scarier stuff, you might still enjoy celebrating autumn. The weather's finally cooler after Florida's blast furnace summer, yellow and orange hues adorn everything, and freshly-made apple cider seems to be flowing around every corner. It's hard not to love that time of year, and celebrating it at Walt Disney World makes it even better. Here's our complete not-so-scary guide to Halloween at Disney.
Which Disney Park is Best for Halloween?
At Disney World, Magic Kingdom is undisputed as the best Disney Park for Halloween. The park has by far the most Halloween decor, events, themed food, and Halloween merchandise for Fall. Plus, it's home to Haunted Mansion, which serves up a dose of the Halloween spooky spirit (sorry) all year long.
Disney's Hollywood Studios offers a Halloween-themed dining experience and the always-creepy Twilight Zone Tower of Terror attraction.
While host to the wildly popular International Food & Wine Festival in the Fall, EPCOT has very little in the way of actual Halloween observances — usually just a "Pluto's Pumpkin Pursuit" scavenger hunt. But it's always Oktoberfest inside the Biergarten restaurant, and pumpkins grow year-round at The Land pavilion.
Halloween celebrations are equally scarce at Disney's Animal Kingdom. However, you might find a few pumpkins mixed in with the animals on Halloween day. And there are a couple of animal exhibits that seem especially appropriate at this time of year.
Read on to discover more about how each of the theme parks (as well as the resorts and Disney Springs) celebrate the creepiest time of year!
Planning on spending Halloween at Disney? Contact an Authorized Disney Vacation Planner to make sure your trip is only scary in the ways you want it to be! We strongly recommend the Disney Experts at The Vacationeer!
Whether you're looking for tickets to Mickey's Not-So-Scary Halloween Party or want to spend the day riding Haunted Mansion, their team of 90+ Disney fanatics can help you scare up the perfect hotel, dining, and theme park ticket package.
There's no charge to use their planning services, and there's never any obligation to book.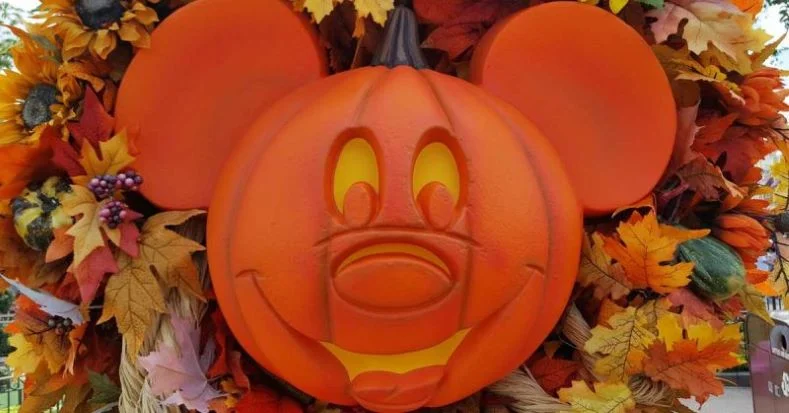 The moment you step into Town Square at the entrance to Magic Kingdom, you'll instantly know it's Halloween time at the Walt Disney World Resort. And the best thing is, you can see the decor even if you haven't spent the extra money to purchase a ticket to Mickey's Not So Scary Halloween Party! These decorations are visible during the day for guests with a regular theme park ticket.
Dozens of Jack-o-Lanterns are perched atop the porticoes, colonnades, and awnings of the buildings along Main Street, USA. And while you'll find that most of them are smiling back at you with snaggle-toothed grins, a closer look will show that many of the ghoulish gourds are carved with designs related to the building they're placed on.
In addition to the whimsical parade of pumpkins, Main Street buildings are also decorated with a traditional-style autumnal yellow, orange, and brown bunting.
Lampposts along Main Street feature Halloween Mickey Wreaths made up of a Mickey Mouse-shaped Jack-o-Lantern surrounded by a ring of colorful fall foliage. At night, the Mickey Jack-O-Lanterns glow brightly, making an even more festive Halloween display.
Several larger-than-life scarecrows — each with a Jack-o-Lantern head and dressed like a citizen of Main Street, USA — can be found in Town Square near the train station.
And although it's not technically a Halloween-only offering, it's hard to argue that Haunted Mansion isn't one giant Halloween decoration. This beloved attraction — home to 999 Happy Haunts — offers hot and cold running chills year-round but always seems to take on an extra ghoulish feel around Halloween. With ominous music and a delightfully unkempt exterior, it's a great Halloween sight, day or night. And, of course, once you get inside, creaks are around every corner.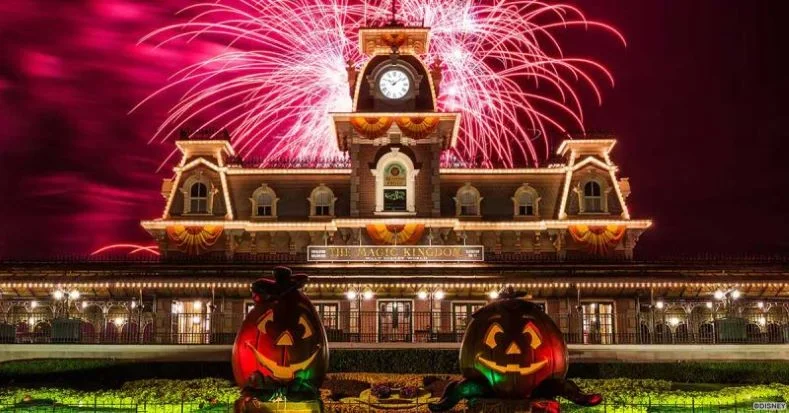 The flagship event of Halloween at Disney World is Mickey's Not-So-Scary Halloween Party. Presented on select nights from mid-August through all of September and October (and occasionally even into very early November), the party turns Magic Kingdom into Halloween Headquarters for the night. Mickey's Not-So-Scary Halloween Party is what some people refer to as a "hard-ticketed event," meaning that you must have a special ticket just for the party. Your daily theme park ticket or annual pass will not get you into the Halloween Party. 2023 admission prices for the party range from $109-199, depending on the date. So what do you get for the money?
Exclusive Access to Magic Kingdom After-Hours
Mickey's Not-So-Scary Halloween Party starts at 7 PM and lasts until midnight. Because the Disney Halloween party is a separately-ticketed event, you'll generally find lower crowds at the party than were present earlier in the day at Magic Kingdom, which means that you can enjoy minimal wait times for most of the attractions which operate during the party.
Speaking of attractions, you'll find that many Magic Kingdom rides are open during the party. However, some of the less-popular attractions may not be available. See the full list of operating rides in our FAQ section at the end of this article. In addition, some theater-style attractions are closed, so they can be used for Trick-or-Treat locations.
Money-Saving Tip: Halloween Party ticket holders can get into Magic Kingdom as early as 4 PM without purchasing a regular theme park ticket. Save a bit of money by making your Halloween Party day a "no other parks" day; skip a theme park ticket that day by spending time in the morning and early afternoon at Disney Springs or your resort hotel pool, then make your way over to Magic Kingdom at 4 PM for three "free" hours in the park before the party begins.
It's important to note that the opposite is not true. You will not be able to "sneak into" the Halloween party by simply staying late at the park. Disney thoroughly "sweeps" the park at 6 PM, often by forming a human chain of Cast Members, checking to ensure everyone has the required event wristband.
There are also wristband checkpoints throughout the park all night long and at the entrance to attractions. If you have a dinner reservation that crosses over from the regular operating day to the party, you'll be allowed to finish your meal but will be required to leave the park afterward (unless, of course, you have a ticket for the party).
Special Magic Kingdom Halloween Decorations
When you arrive in the Magic Kingdom area for the Halloween party, you'll notice that everything feels different. Of course, we've already discussed the regular Halloween decorations at Magic Kingdom. Still, you'll find even more spooktacular decor for the Halloween party.
Giant inflatable Jack-o-Lanterns loom over the parking lot entrance. As you approach the park itself, everything feels far removed from a typical night at Magic Kingdom. Theatrical fog is everywhere; buildings are bathed in colorful swaths of purple, green, and orange light; projections of ghosts fly across storefronts; and creepy music fills the air. You'll even notice that many Cast Members are wearing special costumes just for the night.
The Ride of the Headless Horseman
A highlight of the night is the thrilling ride of the Headless Horseman. Typically just before the Halloween parade, the sound of thunder rumbles across the park. You hear an ominous warning, followed by the clip-clop of hooves. Even before you can see it, you hear the oohs and ahhs of Guests further down as the horseman approaches.
And then, it's right in front of you. A towering and fearsome (yet beautiful) black horse — very real — jockeyed by a mysterious creature. The Headless Horseman clutches a fiery Jack-o-Lantern as he rides by, scanning the crowd to see if it's your head that would fit his needs.
This portion of the evening is not to be missed. In prior years, the horse would tear through the park at full gallop; more recently, he's slowed down to a modest trot. This is primarily for safety reasons, though it also has the happy side effect of making it easier to marvel at the display before you.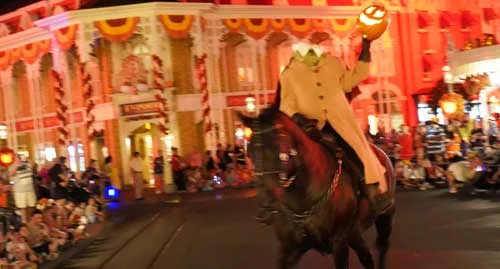 Mickey's Boo to You Halloween Parade
Mickey's Halloween Party features what is probably our favorite Disney parade of all time… Mickey's Boo to You Halloween Parade! Twice nightly during the party, you'll be treated to a 20-minute Halloween spectacle that starts in Frontierland and goes through Liberty Square and Main Street, USA.
The parade features several enhanced elements that are always a fan favorite, including a Haunted Mansion section featuring real ballroom dancers, hitchhiking ghosts, and a dancing group of gravediggers (sparks literally fly as their shovels scrape the pavement!).
Add in pirates, Disney villains, Disney characters in Halloween costumes, and even classic Disney character Clara Cluck clucking along to Ghost Riders in the Sky — and you've got all the makings of a Halloween celebration like no other.
Just don't blame us if you're still humming the parade music a few months later. Seriously, it's that catchy.
Disney's Not-So-Spooky Spectacular Fireworks
The capstone of the party is a special Halloween-themed fireworks display. Cinderella Castle blasts to life during a dazzling display of fireworks, projections, lasers, and spotlights hosted by the giant Jack Skellington from Tim Burton's The Nightmare Before Christmas. While the fireworks are visible from around the park, this is one of those times when it's worth securing a spot inside the central hub in front of the castle. Many of the effects are most dazzling from there, and it's the only place you'll be able to see Jack during the show.
Disney's Not-So-Spooky Spectacular Dessert Party
A separately-priced dessert party at Tomorrowland Terrace is an optional addition to your Halloween party experience. This event, which coincides with the fireworks show, features all-you-care-to-enjoy specialty drinks and themed snacks, such as Chocolate-dipped strawberries, cupcakes, seasonal fruits, cheeses, and other ghoulish goodies. Two versions are offered, each at a different pricepoint:
Note that you'll still need a ticket to the Halloween party, too; it's NOT included in the price of the dessert party.
Hocus Pocus Villain Spelltacular Stage Show
Fans of the camp/cult classic Halloween film Hocus Pocus will appreciate seeing the Sanderson Sisters running amuck on the forecourt stage at Cinderella Castle. Of course, many of the worst Disney Hocus Pocus Villains drop by to take part in the festivities as they help complete a devilish Hocus Pocus Party Potion — from modern baddies like Dr. Facilier and Oogie Boogie to classic villains such as Maleficent and Cruella, it's a rogue's gallery of Disney heavies.
The show's finale is exactly what fans of the classic film hope it will be… a live performance of I Put a Spell on You by Winifred, Mary, and Sarah. We know some locals who consider this stage show alone to be worth the entire party's price of admission! We're also on the lookout this year to see if there are any changes to the show with the arrival of Hocus Pocus 2 on Disney+.
The Cadaver Dans
By day, the Dapper Dans are a barbershop quartet singing pleasing old-timey songs along Main Street USA. But during the Halloween party, they're replaced by the Cadaver Dans, fresh out of the grave in Frontierland. Although they've clearly seen better days (is that a hatchet in that guy's hat?), their vocal harmonies are always on point. Gather 'round for chilling harmonies from somewhere beyond.
Haunted Mansion During Mickey's Halloween Party
It's no surprise that everyone makes it a point to ride Haunted Mansion during Mickey's Not-So-Scary Halloween Party. Disney puts extra care into the atmosphere around the attraction during the party.
As you approach, you'll find the mansion's caretakers have undergone a disquieting metamorphosis — a cadaverous pallor thanks to ghostly gray makeup that gives them that "fresh out of the tomb" look. They're even covered in cobwebs!
In past years, a southern belle ghost has been known to appear on the front lawn, lounging on a park bench near the mansion's conservatory and carrying on saucy conversations with those queuing up for the ride. She certainly is the afterlife of the party!
Expect longer than normal lines as most people visiting the park queue up to volunteer as Happy Haunt number 1,000.
Trick-or-Treating During Mickey's Halloween Party
It just wouldn't be Halloween without trick-or-treating. Guests of all ages can fill their bags full of sweets when they drop by several candy stops throughout the park during the party.
Each Guest receives a complimentary (free) trick-or-treat bag upon entering the party, or you can bring your own if you plan on really stocking up. You'll be pleased to find "name brand" candy — the 2023 sponsor is Mars Wrigley, so expect to find M&Ms, Snickers, and Skittles in your bag.
There's always plenty of candy to go around; every year, they park refrigerated trailers backstage to hold the tons of candy that are given out during the party!
To find the trick-or-treat locations, search your Halloween Party guide map or MyDisneyExperience, or just be on the lookout for giant lighted inflatables that indicate candy stops. These typically range from single distribution points to "treat trails" that offer several different stops to get candy along the way.
Allergy-Friendly Trick-or-Treating at Disney
Those with allergy concerns or other medical considerations need not miss out on the Halloween fun of trick-or-treating during Mickey's Not-So-Scary Halloween Party. Ask for a teal bag and then trick-or-treat with the rest of your group.
Rather than candy at each location, you'll receive a trick-or-treat token that can be redeemed in a central location for allergy-friendly treats. There, you'll be pleased to find a counter displaying plenty of allergen-free options, a few sugar-free offerings, and even some small crafts/party favors for a non-edible treat.
All of the options are well-labeled to indicate ingredients and any common allergens that might be present, so you can confidently make your choices. There is always a knowledgeable Cast Member available to answer questions about the treats.
Disney Characters in Halloween Costumes
Many of your favorite Disney characters will be well-dressed for the party. During the parade, you'll spot Winnie the Pooh and friends in their Halloween finest, along with the "Fab Five" of Mickey, Minnie, Donald, Goofy, and Pluto. In addition, be on the lookout for special character costumes when you drop by various meet-and-greet options in the park during the party. You might even find some rarer characters' appearances on these special nights.
Guest Costume Guidelines During Mickey's Not-So-Scary Halloween Party
Kids and adults alike are welcome to (and even encouraged to) wear costumes during Mickey's Not-So-Scary Halloween Party. The park even relaxes its normal dress guidelines a bit to allow for a little more freedom during the party.
For Guests ages 13 and under, costumes and some masks may be worn. Masks must always provide unobstructed peripheral vision with openings that allow the eyes to be fully seen.
For Guests 14 Years of Age or Older, costumes may be worn according to provided they meet certain guidelines (and yes, Disney's serious about this).
Masks may NOT be worn.
Costume headwear may be worn as long as it does not cover the face.
All Guests may dress as their favorite character but may not pose for pictures or sign autographs for other Guests.
Costumes must be family-friendly and may not be obstructive, offensive, objectionable, or violent.
Costumes may not contain any props or accessories that resemble or could easily be mistaken for an actual weapon.
Costumes may not contain sharp objects, pointed objects, or materials that may accidentally strike another Guest.
Layered costumes or costume props that surround the entire body are strongly discouraged and may be subject to additional security screening.
Costumes may not reach or drag on the ground. (for example, full-length Princess dresses)
Capes may be worn if the length does not go below the waist.
Themed T-shirts, blouses, sweatshirts, and hats are also acceptable.
Some examples of acceptable accessories include transparent wings, plastic light sabers, toy swords, and tutus.
Mickey's Not-So-Scary Halloween Party Dates in 2023
There are 38 Halloween parties scheduled in 2023. Tickets go on sale to Resort hotel guests on April 27, 2023 — and to everyone else on May 2, 2023.
Here are the 2023 event dates:
August 2023: 11, 15, 18, 22, 25, 29
September 2023: 1, 4, 8, 10, 12, 15, 17, 19, 22, 24, 26, 28, 29
October 2023: 1, 3, 5, 6, 9, 10, 12, 13, 15, 17, 19, 20, 22, 24, 26, 27, 29, 31
November 2023: 1
Mickey's Not-So-Scary Halloween Party Ticket Prices in 2023
2023 ticket prices for Mickey's Not-So-Scary Halloween Party range from $109 to $199 per Guest (ages 10 and up), depending on the date. Tickets for children aged 3-9 are $10 cheaper than an adult ticket. Children ages 2 and under do not need a ticket. Prices do not include tax. Discounts are also offered on some nights for Disney Vacation Club Members and Annual Passholders. Halloween Party tickets allow Magic Kingdom admission as early as 4 PM; to enter earlier, you'll need a regular theme park ticket, too.
Here's a look at the dates for each price point in 2023:
$109 (Ages 10+):  August 15, 18, 22, 25, 29.
$119 (Ages 10+):  September 1, 4, 8, 10, 12, 15, 17.
$149 (Ages 10+):  August 11.  September 19, 22, 24, 26, 28, 29.  October 1.
$169 (Ages 10+):  October 3, 5, 9, 10, 12, 15, 17, 19, 22, 24, 26.
$189 (Ages 10+):  October 6, 13, 20, 27.
$199 (Ages 10+):  October 29, 31.  November 1.
Mickey's Not-So-Scary Halloween Party Ticket Price Calendar 2023
Here's a calendar showing the dates of the 2023 Mickey's Not-So-Scary Halloween Party, along with the pre-tax pricing for Guests ages 10+. Pricing for ages 3-9 is $10 cheaper.
Do You Need a Theme Park Ticket for Mickey's Not-So-Scary Halloween Party?
Mickey's Not-So-Scary Halloween Party is a separate ticketed event. You don't need a Magic Kingdom theme park ticket to get in, but you will need a Halloween Party ticket. The party doesn't start until 7 PM. Still, your Halloween Party ticket allows you to enter Magic Kingdom as early as 4 PM. If you want to enter Magic Kingdom earlier than 4 PM, you need a theme park ticket.
Do You Need a Theme Park Reservation for Mickey's Not-So-Scary Halloween Party?
Your Mickey's Halloween Party ticket is valid for one date only, so it serves as its own theme park reservation. Halloween Party Guests do not need to make a theme park reservation through Disney Park Pass unless they plan to arrive at Magic Kingdom earlier than 4 PM. If you want to enter Magic Kingdom earlier than 4 PM, you will need to follow whatever reservation rules apply to your regular theme park ticket for that day's admission.
What Happened to Disney After Hours Boo Bash?
Mickey's Not-So-Scary Halloween Party was not held in 2020 due to the COVID-19 pandemic. However, as the resort slowly returned to normal operations in 2021, Disney offered a smaller interim event called Disney After Hours Boo Bash. Now that the regular Halloween Party has returned in full force, Boo Bash is no longer being offered.
With so many dates and prices for Halloween party tickets, you'd be forgiven for being a bit confused. Fear not! Call in the experts at The Vacationeer! Their team of Disney experts know all about Halloween at Walt Disney World and can give you all the best tips. There's no charge to use their planning services, so contact them today!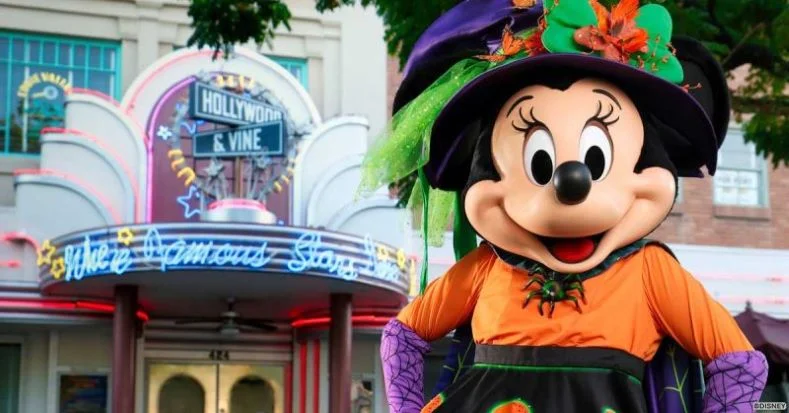 While certainly not Halloween Headquarters, Disney's Hollywood Studios does offer a couple of options to celebrate (though only one is truly a Halloween offering).
Minnie's Halloween Dine
Join favorite Disney pals for Minnie's Halloween Dine at the Hollywood & Vine restaurant. Typically offered from mid-August through early November, the event pairs the restaurant's all-you-care-to-enjoy menu with appearances by Disney Characters in Halloween-themed outfits. Note that this offering is for lunch and dinner only, not breakfast.
Twilight Zone Tower of Terror
Though not necessarily a Halloween attraction, Tower of Terror is certainly high on the creepy factor. The ghosts of old Hollywood prowl the Hollywood Tower Hotel, where legend has it that a freak lightning strike decades ago sent several unsuspecting vacationers into the Twilight Zone.
Hop aboard an elevator that has certainly seen better days. You'll soon realize this is no ordinary hotel (it's never a good sign when ghosts beckon you to join them). So make time to drop in during your Halloween visit to the park.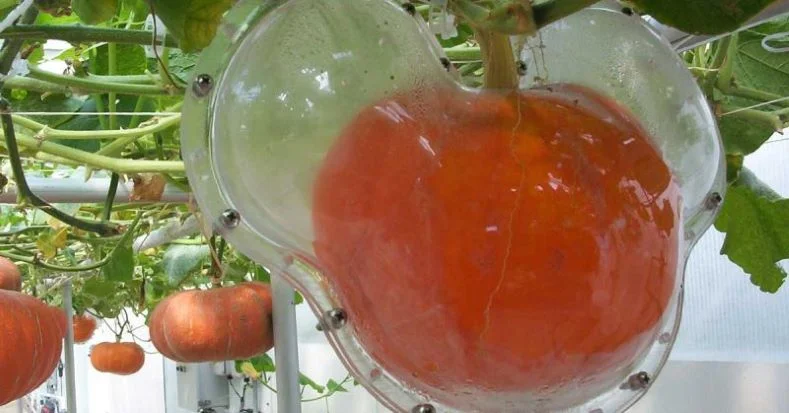 The month of October at EPCOT is completely consumed by the International Food & Wine Festival. However, you'll still find a few nods to Halloween.
Pluto's Pumpkin Pursuit
While we don't yet know about 2023, here's historical information for 2022:
A Halloween-themed scavenger hunt called Pluto's Pumpkin Pursuit is embedded within 2022's Epcot International Food and Wine Festival.
For a limited time — September 29 to October 31, 2022 — Guests could purchase a souvenir map/sticker set for about $10, then search the park for hidden decorative pumpkins based on Disney characters.
When you've found each pumpkin, you put a corresponding sticker on your map showing where the pumpkin is located in the park. Then, once you're through hunting, bring the map to a designated location to receive a surprise.
This type of "buy a map, find the things, get a prize" activity is common fare for the festivals at EPCOT (the Flower & Garden Festival usually features an Easter Egg hunt in the same style). The prizes are often quite small — similar to a McDonald's Happy Meal toy — but are usually nicely themed and make for a fun keepsake. It's a great way to explore the park and is a relatively cheap add-on to your day.
Even if you don't want to purchase the map, you'll still be able to see the pumpkins. So look high and low all around World Showcase, especially in quiet corners.
One final tip: there's no "grading" of your map when you go to redeem your prize. You can find as many or as few pumpkins as you like, and you'll never be told, "Nope, that one's wrong… go back out there and find the right answer." So just go out and enjoy it, and when you've decided you're done, go grab your goodies.
Pumpkins on Living with the Land
A year-round treat on the Living with the Land attractions is catching a glimpse of Mickey-shaped pumpkins. The attraction itself — a boat ride through greenhouses and innovative farming methods — is a year-round celebration of the bounty of Earth's harvest.
One popular exhibit is a unique method of growing pumpkins and other gourds in an elevated manner… hanging from above rather than lying on the ground. Often you'll find a pumpkin or squash growing inside a plastic mold shaped like the head of a certain familiar mouse. Even though they're not carved, they always seem to give off a bit of a jack-o-lantern vibe.
The greenhouse staff has also been known to occasionally set up fall harvest displays featuring freshly-grown pumpkins, squash, and other gourds, along with bales of hay and a few friendly scarecrows.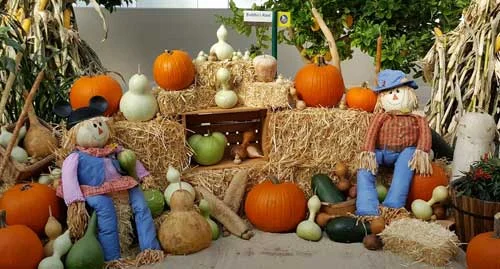 Once you've seen all the vegetables growing along the boat route, head to Garden Grill or Sunshine Seasons to enjoy a harvest feast made in part with food grown in the pavilion's on-site greenhouses.
Gran Fiesta Tour and Mexico Folk Art Gallery
Día de Muertos (Day of the Dead) is often incorrectly lumped in as "part of Halloween," no doubt due to its proximity to the holiday (November 1st – 2nd) and its macabre imagery.
But the Day of the Dead is a separate observance — a joyful holiday celebrating the memory of departed relatives. You'll find a nod to this memorable holiday in the Gran Fiesta Tour boat ride in EPCOT's Mexico pavilion, where a cheerful band of animatronic skeletons performs on an archway as your boat passes underneath.
After your boat tour, explore the Mexico Folk Art Gallery; it currently exhibits "Remember Me!" – La Celebración del Día de Muertos.
Dining at Biergarten
Another of those "it isn't Halloween, but it's close enough" experiences is to have a hearty feast at the Biergarten restaurant at EPCOT's Germany pavilion. This restaurant celebrates Oktoberfest all year long, so while it's not Halloween per se, it's certainly a fall festival of flavor and live polka music from the famed Oktoberfest Musikanten. So chow down on some schnitzel, spaetzle, and strudel while raising a giant glass!
You'll be hard-pressed to find much of anything in the way of Halloween-specific celebrations at Disney's Animal Kingdom. That said, we have a few suggestions for celebrating Halloween at Animal Kingdom.
Pumpkin Animal Enrichment
If your trip happens to bring you to Animal Kingdom on October 31, you might notice that the Animal caretakers have provided some seasonal "enrichment" for the animal along the safari route and exploration trails.
Providing novel items in their habitat allows the animals to practice natural behaviors that they would do in the wild. For Halloween, that often includes introducing pumpkins (carved and otherwise) into their living spaces.
Because of the unique nature and the need for this to be an "unusual" occurrence for the creatures, you'll typically find this happening only on Halloween itself or perhaps one or two days prior.
And while the display provides for some amusing human viewing, the pumpkins don't last long. They'll quickly be nibbled, thrown, crushed, shredded, and otherwise demolished.
Gigantic Bats
One of our favorite stops along the Maharajah Jungle Trek exploration trail is an exhibit featuring the Malayan Flying Fox — a large fruit bat with an impressive wingspan.
Though not specific to Halloween (these creatures are more fascinating than they are frightening), decades of pop culture have wrongfully saddled these magnificent flying mammals with a reputation for creepiness. Even their scientific name, Pteropus vampyrus, reflects an early false belief that they were bloodsuckers.
Halloween is a perfect time to drop in to see them as they truly are — peaceful critters content to spend the day hanging upside down, attacking only any stray bits of fruit that might be nearby. If you're fortunate, you might be able to see one of them unfurl its entire 3-4 foot wingspan.
For those who are still thoroughly (or partially) creeped out by bats, you'll be happy to know that you can choose your own level of exposure to the creatures. Those who want to avoid them altogether can easily bypass this segment of the trail without so much as batting an eye, while those who want just a little bit of "protection" to feel at ease can view the bats from an area that offers closely-spaced thin wires as a "shield."
But for the best view, we recommend the main viewing area, which offers a complete open-air encounter with the bats. Widely spaced vertical dividers form openings that are narrower than the wingspan of the creatures, so any fears you might have of a bat swooping down into your hair (another pop culture myth) are easily assuaged. And remember, as nocturnally-active creatures, they will spend the daylight hours just hanging around.
It's Tough to Be a Bug! and Other Insect Offerings
Another year-round offering that happens to fit right in with Halloween is all the creepy crawlies that call Animal Kingdom home.
Start out with a showing of It's Tough to Be a Bug!, a 4-D film that offers a few scary moments, such as giant (fake) spiders dropping from the ceiling and special effects that simulate insects attacking. Just don't be surprised if you leave the show with an appreciation for the role insects play in the natural life cycles of our planet.
Once you've seen the show, make time to visit the animal exploration trails around the park. Hidden away in some of the exhibits, you'll find delightfully creepy critters such as hissing cockroaches, but thanks to It's Tough to Be a Bug, you'll appreciate them for what they are (even if they do still disgust you at least a little bit).
Other Animal Encounters, Real and Imagined
For a good old-fashioned fright, hop onboard Expedition Everest – Legend of the Forbidden Mountain. There, you'll combine the physical thrill of hurtling backward and forward on a runaway mountain train in advance of an up-close encounter with the mythical Yeti.
For a more serene journey, enjoy a ride on Kilimanjaro Safaris. You'll get to see not only giraffes, elephants, and hippos — but also the elusive Okapi, known as the ghosts of the forest. You'll also spot a creepy baobab tree with a gnarled almost-dead appearance, making it a perfect Halloween backdrop.
Disney Springs, the shopping and entertainment district at Walt Disney World Resort, celebrates Fall (and Halloween) each year with a mix of seasonal treats and shopping.
Go beyond trick-or-treating with exquisite, handcrafted chocolate creations from The Ganachery, a specialty cake from Amorette's Patisserie, or a top-tier cupcake from Sprinkles. Seasonal snacks are also offered at many other eateries nearby.
Do a bit of shopping, enjoy occasional holiday entertainment, and don't forget to keep your selfie game on point with themed photo backdrops.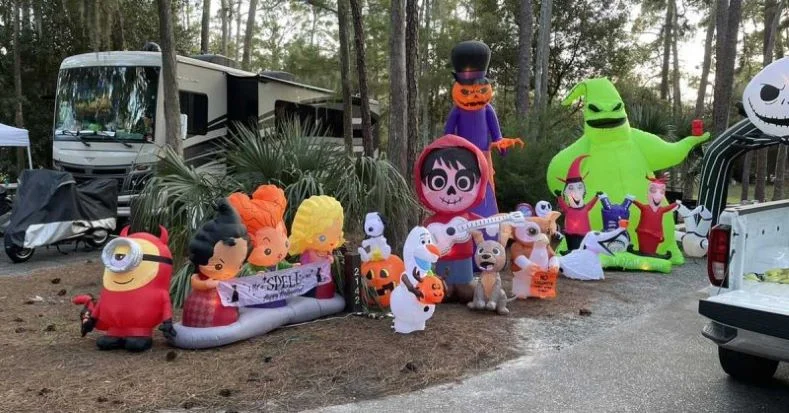 Halloween at many of the Disney resort hotels is a pretty low-key affair, though one Disney Resort stands out from the rest.
Halloween at Fort Wilderness Resort and Campground
The folks at Fort Wilderness always take the holidays seriously, and Halloween is no exception. And what's amazing is that the vast majority of the celebrations are mainly handled by the Guests staying there!
Halloween Decorations at Fort Wilderness
Guests camping at Fort Wilderness always get into the spirit of Halloween with astounding outdoor decorations and displays at their campsites. And we'd be lying if we said it isn't seen as somewhat of a contest among Guests to see who can provide the most impressive display at their campsite (okay, in truth, it IS a contest… Cast Members do judge the decorations).
Trust us when we say Halloween is SERIOUS BUSINESS for the campers at Fort Wilderness.
Halloween Golf Cart Parade at Fort Wilderness
A mainstay of any major holiday at Fort Wilderness is the Golf Cart parade… Independence Day, Christmas, and of course, Halloween. Seeing the creativity the campers show off when decorating their utilitarian golf carts with fanciful decorations is truly something.
We counted upwards of 100 golf carts in the 2021 parade, with entries ranging from the simple to the astounding. Imagine golf carts disguised as Disney Cruise ships, Carl and Ellie's house from Up, a Star Wars Bantha, and more. They may all be homemade, but some of the creativity on display is top-notch.
We count the Halloween Golf Cart Parade at Fort Wilderness as one of the best-hidden gems of Walt Disney World Halloween. If you can't make it out to the Fort, be sure to check out prior year videos on YouTube.
Return to Sleepy Hollow at Fort Wilderness
We're still eagerly awaiting word on whether Return to Sleepy Hollow will be back on the calendar at Fort Wilderness for 2023.
The special event in prior years included showings of the 1949 Disney classic The Legend of Sleepy Hollow and an up-close encounter with the Headless Horseman!
The event was placed on hiatus a few years back, partly thanks to COVID and the resort area's construction. We're hopeful it'll return, but we haven't heard anything for certain yet.
Halloween at Other Disney Resorts
While no other resort puts on quite the Halloween experience you'll find at Fort Wilderness, you can still expect a few minor seasonal enhancements if you stay on Disney property around Halloween time.
Most resorts offer some limited form of trick-or-treating in the main lobby area, and you'll likely find themed poolside activities and seasonal movie nights.
Halloween Decor in Your Disney Resort Hotel Room
If you'd like to add a bit of the Halloween spirit directly inside your room, you're free to bring your own homemade decorations… just be sure that you're not bringing anything that will cause damage to the walls, and of course, avoid displaying anything objectionable.
Ready to book your mausoleum — er — hotel room for Halloween at Disney?  Reach out to The Vacationeer!  Their Disney Travel Planners are ready to help you make final arrangements for your trip.  There's no charge to use their planning services, so contact them today for a FREE quote on your hotel stay and Halloween Party tickets!
Halloween typically brings a full cavalcade of specially-themed snacks for purchase. Some will be available at any time of day, and others will be sold only during Mickey's Not-So-Scary Halloween Party.
Here are just a few examples of the types of treats that have been offered (which vary from year to year):
Not-So-Poison Apple Churro: Churro rolled in green apple sugar, topped with caramel sauce and chunks of Snickers bars
Pain and Panic Hot Dog: All-beef hot dog, sweet & spicy onion relish, sriracha mustard, spicy cheese-flavored snacks
Winifred's Elixir of Youth: Black tea slushy, kiwi foam, Winifred chocolate piece
Binx Pastry Tail: Cat tail, dark chocolate, Binx chocolate piece
Terrifyin' Twice-Spiced Chicken Sandwich: Spicy fried chicken dipped in hot honey, topped with pepper jack, jalapeño poppers, and bacon
Oh, My Gourd Cupcake: Pumpkin spice cupcake, cinnamon cream cheese icing, dark chocolate ears
Bucket of Bones: Bone-in "piggy wings" tossed in Coca-Cola Cherry barbecue sauce with jalapeño slices
Apple Fritter Sundae: Apple fritter topped with ice cream, whipped cream, and sprinkles
Tropical Graveyard: Mango mousse and sour tropical gelatin, topped with cookie crumbles, gummy worm, and a chocolate "tombstone"
Grave Digger Milk Shake: Coconut & matcha blended soft-serve, whipped cream, Grave Digger shovel, chocolate gravestone
Worms and Dirt Funnel Cake: Funnel cake, chocolate ice cream, chocolate cookie crumbs, gummy worms, Billy chocolate piece
Sweet Almond Corn Cake: Candy corn-topped almond vanilla cake dipped in yellow, orange, and white chocolate.
Monster Cookie Ice Cream Sandwich: Monster cookies filled with vanilla ice cream.
Donald Candy Corn Sipper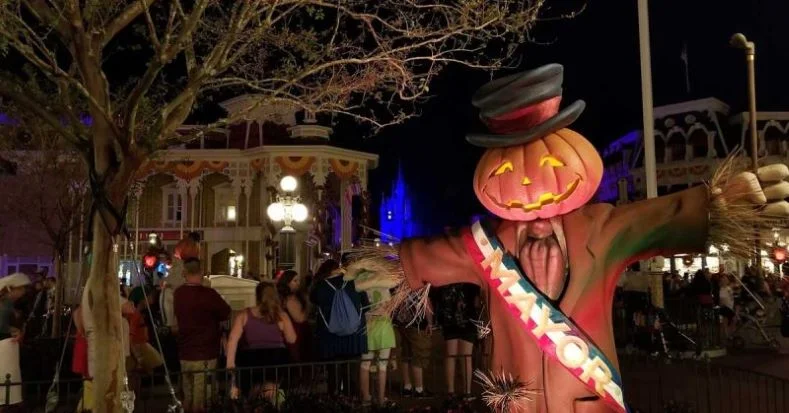 Is Halloween a Good Time to Visit Walt Disney World Resort?
We feel that Halloween is an excellent time to visit Disney World. In addition to the popular Mickey's Not-So-Scary Halloween Party, you'll generally find slightly cooler weather and better crowd levels when compared to summer. Of course, this time of year's unfortunate side effect coincides with the peak of Hurricane Season. However, that usually doesn't interfere with Disney vacations.
When does Disney World Decorate for Halloween?
Magic Kingdom at Disney World is fully decorated for Halloween by the time the first Mickey's Not-So-Scary Halloween Party happens. For 2023, that means Magic Kingdom's Halloween decorations will be installed no later than August 11. Halloween décor in other resort areas (usually rather minimal) typically comes along a bit later.
When Does Disney Take Down Its Halloween Decorations?
The transition from Halloween to Christmas is lightning-fast at Disney World. In 2023, Magic Kingdom's last Halloween Party takes place on November 1, and the first Christmas Party will likely take place the following week.
All evidence of Halloween will be completely gone before the first Christmas Party, so Halloween decorations could disappear as early as November 2.
Remember that Halloween décor will have been up for about two-and-a-half months before November 1, so there's no real reason for them to keep it around after the last boo has been booed.
Is Mickey's Halloween Party Worth It?
We believe Mickey's Halloween Party is worth the cost because of the exclusive fireworks, phenomenal parade (performed twice), great stage show, and trick-or-treating.
If you're on the fence about whether the ticket cost is worth it, check our Halloween Party calendar earlier in this article to find some dates at a lower price point.
Even if you have no qualms about shelling out the cash for the lower-cost tickets, the higher-priced nights might give you pause, especially on October 31, Halloween night. But, as always, it comes down to what's important to you.
How does Disney's Halloween Party Affect Magic Kingdom Park Hours?
Mickey's Not-So-Scary Halloween Party takes place from 7 PM-Midnight on select nights from mid-August through the end of October. On days when there's a Halloween Party, Day Guests will be asked to leave Magic Kingdom at 6 PM. Disney is very effective at clearing out those who don't have a party ticket.
In 2023, 18 out of the 31 nights of October host a Halloween party, meaning Magic Kingdom will close at 6 PM most nights that month. So be sure to check park hours before you plan to visit.
You can also expect daytime crowds at Magic Kingdom to be heavier on days without a party, as people often factor in park hours when deciding which park to visit.
Are Magic Kingdom Tickets Cheaper on Days it Closes Early for the Halloween Party?
No, you'll pay full price for a Magic Kingdom ticket regardless of how long or short the park hours are on any given day.
Is the Disney World Halloween Party happening this year (2023)?
Yes, Mickey's Not-So-Scary Halloween Party will return to Disney World in 2023. A full list of dates is provided earlier in this article.
What Rides Are Open During Mickey's Not-So-Scary Halloween Party?
22 of Magic Kingdom's rides/attractions are currently expected to be open during the 2023 Disney World Halloween Party (subject to change):
Astro Orbiter
Barnstormer
Big Thunder Mountain Railroad
Buzz Lightyear's Space Ranger Spin
Dumbo the Flying Elephant
Haunted Mansion
"it's a small world."
Jungle Cruise
Mad Tea Party
Magic Carpets of Aladdin
Many Adventures of Winnie the Pooh
Monsters Inc. Laugh Floor
Peter Pan's Flight
Pirates of the Caribbean
Prince Charming Regal Carrousel
Seven Dwarfs Mine Train
Space Mountain
Swiss Family Treehouse
Tomorrowland Speedway
Tomorrowland Transit Authority People Mover
TRON Lightcycle/Run (using virtual queue)
Under the Sea ~ Journey of the Little Mermaid
Is Disney Better at Halloween or Christmas?
In terms of sheer volume, we can objectively state that Christmas (along with other winter holidays) is much more widely celebrated than Halloween at Disney World; Christmas offerings include decor, entertainment, and events in every theme park, every resort hotel, and virtually every other nook and cranny of the resort.
As for which is actually better, that's really going to come down to a matter of personal preference. Ask a dozen frequent visitors, and you'll likely get an even mix of answers… with a few refusing to take a position either way (much like asking a parent to pick a favorite child). The two events are so drastically different it's hard to compare them.
What are the Crowds Like for Halloween at Disney?
Crowds are generally calm during Disney's Halloween season (mid-August through the end of October). However, you'll find variances from day to day.
The earlier in the season, the higher the crowds, as not all schools will be back in session yet. And, of course, you'll see some spikes around Labor Day weekend and October 31. Check our Disney World Crowd Calendar to see a date-specific forecast based on historical data.
You can also get a general idea about the relative popularity of different parts of the holiday season by viewing Disney's theme park ticket price calendar, as well as our Halloween Party Ticket Price calendar earlier in this article — the higher-priced dates on both calendars are usually a good indicator of dates when Disney expects relatively higher crowds.
Does Disney Do Anything Special for Halloween?
Disney celebrates Halloween in many ways, including themed decorations at Magic Kingdom, a special Halloween party, special seasonal food, and more. In addition, Guests staying at Fort Wilderness usually pull out all the stops by decorating their campsites. There are plenty of ways to celebrate Fall all around Disney World.
Disney World Halloween Versus Universal, SeaWorld, and Legoland
Each major Orlando theme park complex offers Halloween activities and events, but you'll find they're vastly different. Some are more family-friendly, while others are intended primarily for adults.
Disney World Halloween offerings, predictably, steer clear of sheer terror in favor of a more festive, non-intimidating atmosphere. Of special note is Mickey's Not So Scary Halloween Party, where you're more likely to find grim-grinning ghosts trying to follow you home than you are to have a screeching banshee trying to chase you down.
Legoland Florida (about an hour away) provides another family-friendly Halloween offering with its Brick or Treat event. Of course, there's plenty of candy, exclusive characters, and many great-themed shows. A pleasant distinction of this event is that it is included in your daily admission… there's no need to buy a separate ticket!
Universal Orlando's Halloween offering, on the other hand, is all about fear. The Halloween Horror Nights event is Universal's most popular special event each year. It's well known for

haunted houses and scare zones

, which are heavy on gore and jump scares. Though children are not denied entry, the recommended minimum age is 13.
SeaWorld Orlando also lands solidly in the terror category with its 

Howl-O-Scream

 offering. While those under 18 are permitted to attend, SeaWorld notes that the event "contains intense adult content such as violence, gore, blood, and risqué content that is not intended for children."
Bottom line: if you have kids in tow (or just don't like being scared), stick with Disney and Legoland. On the other hand, if you're looking for a frightening Halloween experience, Universal and SeaWorld will curdle your blood in all the right ways.
Ready to Experience Halloween at Disney or Universal?
The Halloween season is one of the best times to visit Disney World, Universal Orlando, and the rest of the Orlando theme parks. So what're you waiting for? Reach out to the Orlando experts at The Vacationeer!
They're a Diamond-Level Authorized Disney Vacation Planner and a Universal Orlando Resort Preferred Travel Agency, so you can be sure your trip will be in good hands!
Their planning services are 100% free to use, and you're never under any obligation to book when you get a quote from them. So don't wait… contact them today!