Be Our Guest Restaurant Reservation Tips
How to get Reservations at Disney World's Most Popular Restaurant
Be Our Guest stands out among Disney World restaurants for many reasons. For one, right in the heart of Magic Kingdom's Fantasyland section is where the Be Our Guest restaurant located. This prime location – coupled with its unique setting at Beast's Castle and the fact that it serves meals at breakfast, lunch, and dinner – all make Be Our Guest the single most popular restaurant at Disney World. Unfortunately, this popularity also means it's the most difficult dining reservation to make. So how do you secure a reservation at this highly sought-after restaurant? Continue reading, and we will share our Be Our Guest reservation tips to increase your chances of getting a table.
Update: Please be advised that lunch and dinner are available but breakfast is currently unavailable. At this time, we are not sure if breakfast will resume at Be Our Guest once the pandemic subsides, so we have decided to keep the breakfast information below until there's more clarity on this matter.  
Be Our Guest Restaurant Information

About the Be Our Guest 
Be Our Guest Restaurant is located in Disney World's Fantasyland section of the Magic Kingdom theme park. It opened in late 2012 as part of Fantasyland's expansion and renovation.
The restaurant is modeled after Beast's Castle from Disney's animated classic Beauty and the Beast (1991), with its name a reference to the song "Be Our Guest" from the film.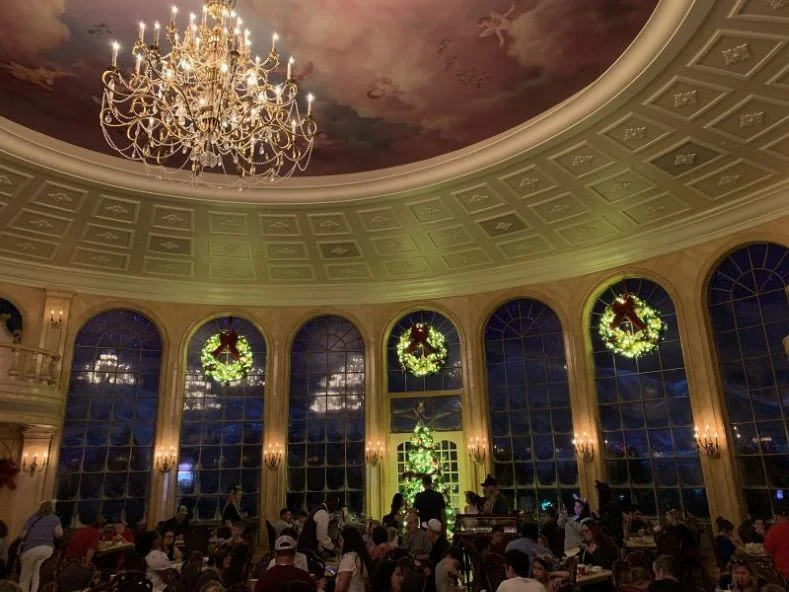 Be Our Guest features counter service meals during breakfast (Quick Service credit) and then turns into a Signature Dining Experience (2 Table Service credits) at lunch and dinner.
Because of its popularity, all meals at Be Our Guest essentially require an advance reservation.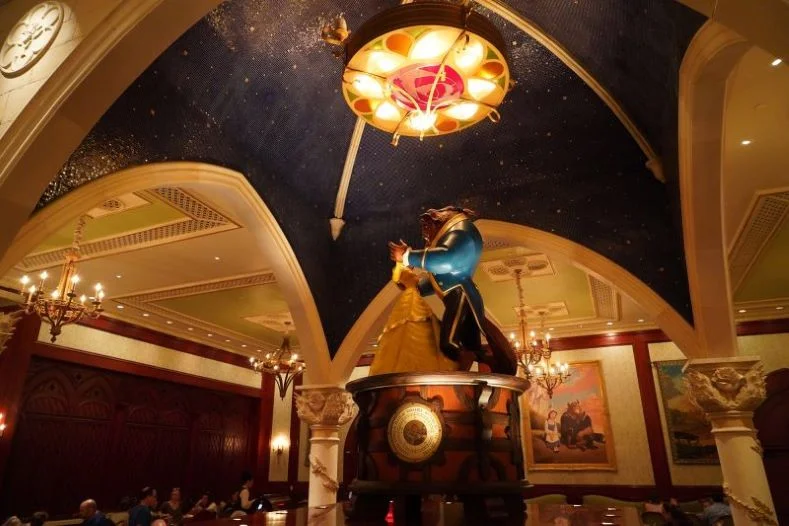 Walt Disney World Disney Dining Plan Type:
| | | | |
| --- | --- | --- | --- |
| Meal | Breakfast | Lunch | Dinner |
| Disney Quick-Service Dining Plan | 1 credit | N/A | N/A |
| Disney Dining Plan | 1 credit | 2 credits | 2 credits |
| Disney Deluxe Dining Plan | 1 credit | 2 credits | 2 credits |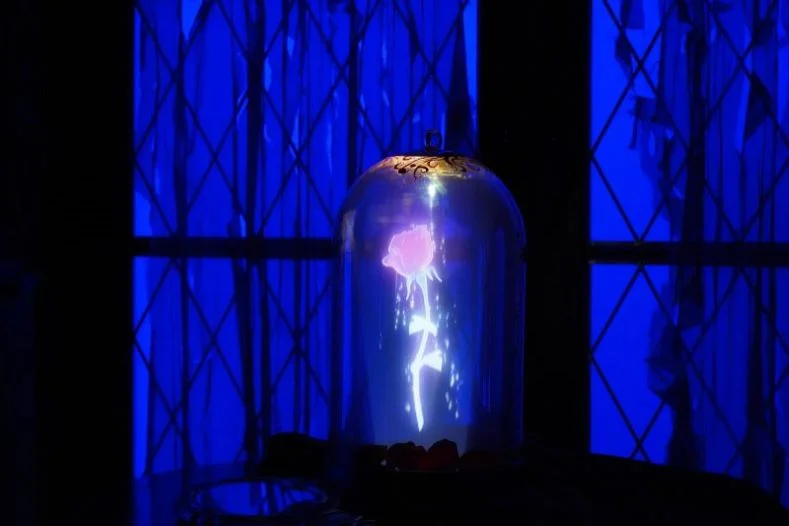 The Interior of Be Our Guest Restaurant
Be Our Guest serves French-inspired cuisine in three dining rooms within Beast's castle. The dining rooms include:
A grand ballroom modeled after where Belle and the Beast danced and adorned with chandeliers.
The forbidden West Wing is where "the rose" is kept.
The rose gallery with paintings and a music box depicting Belle and Beast dancing.
There are high medieval windows throughout, murals of characters from the film, and the Enchanted Rose. The interior is really quite spectacular!
Which meal is best? Here are our Be Our Guest Reservation tips:
The answer to this question will depend on what your touring plans entail. However, these are our recommendations:
If you are on the Disney Dining Plan, we think breakfast wins for value. If you make your reservations early enough, you can enjoy a relaxing breakfast and then proceed directly into Magic Kingdom before the park opens to the public.
If you must see the Beast, then dinner wins. Yes, there is a larger selection of food and a special appearance of The Beast. However, lunch/dinner are more expensive (2 full dining credits or a lot of money out-of-pocket) and, thus, may not be a good choice for families on a budget.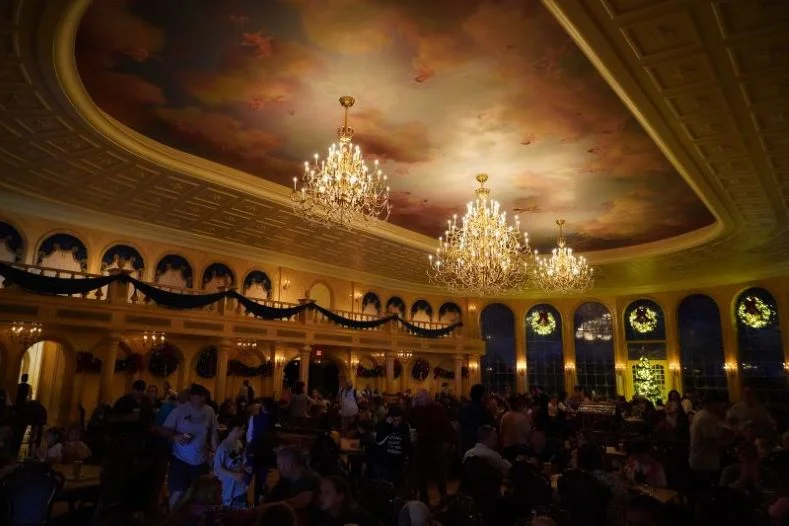 With that said, let's dive into the details of each meal at Be Our Guest restaurant.
Breakfast Reservations at Be Our Guest Restaurant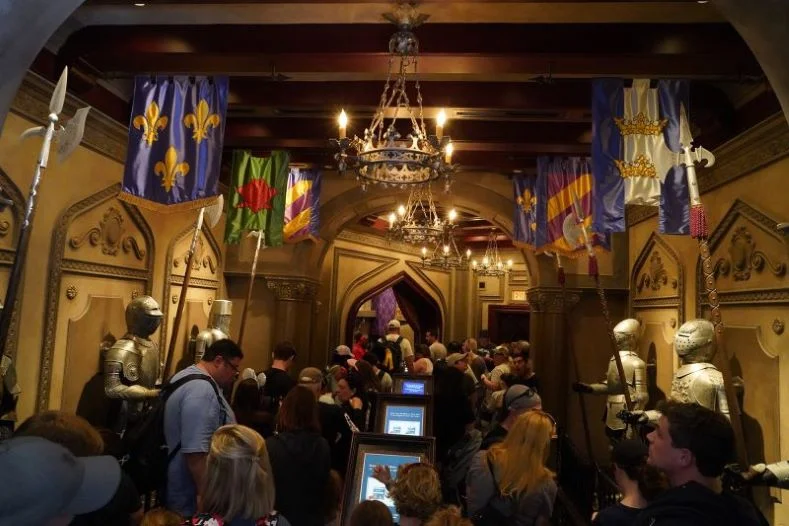 Be Our Guest Breakfast menu (Currently Unavailable)
Breakfast is typically served daily from 8 a.m. – 10:30 a.m.
Be Our Guest's breakfast is a Quick Service credit or a fixed-price menu for those paying out of pocket. We recommend using a Disney Dining Plan Quick Service credit if you are on a Disney Dining Plan because of the value.
The breakfast menu includes Feast A La Gaston, Open-Faced Bacon & Egg Sandwich, Vegetable Quiche, Scrambled Egg Whites, and kid's menu items like Crepes, French Toast, and Cereal with seasonal Fruit. There is plenty to feast on here!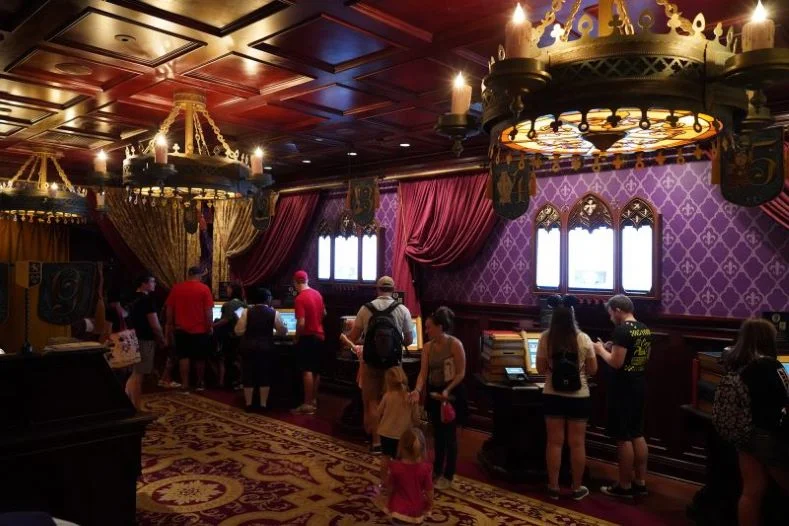 Does the Beast Make an Appearance at Breakfast?
Unfortunately, the Beast only appears at dinnertime and does not rear his ugly head at breakfast or lunchtime.
Making Reservations at Be Our Guest
This Magic Kingdom dining spot is the most popular restaurant at Disney World. However, every meal requires a reservation to be assured seating. And yes, this includes Quick Service breakfast and lunch meals. Standby guests (without reservations) can try their luck, but there are certainly no guarantees they will get seated.
Reservations for Be Our Guest can (and should) be made well in advance. See our Disney Reservation Calculator page for more information.
Pre-Park Breakfast Reservations
Savvy vacationers can get a jump start on the day when they make their dining reservations before the park opens. Then, once you finish your breakfast, you can head into Magic Kingdom and get a prime spot in line before the front gates are open to the public.
If the park is slated to open at 9 a.m., consider making your breakfast reservation for 8 or so. That will give you enough time to enjoy a relaxing breakfast and allow you enough time to make your way into the park will time to spare.
After you finish breakfast, head over to the Seven Dwarfs Mine Train attraction. Guests who have finished eating before the park opens are usually allowed to ride the Seven Dwarfs Mine Train before the crowds even enter the park. This attraction is one of the most difficult Lightning Lane reservations to get, so this perk alone is work making an early morning reservation a Be Our Guest. See our Best Magic Kingdom Rides for our rankings of the park's attractions.
Pre-order your Breakfast Meal
Skip part of the line, and Disney pre-order your breakfast via the My Reservations page. Disney allows you to pre-order your meal anywhere from 5 minutes to 30 days before your dining reservation. Doing this will save you some precious time in your busy morning.
Make Two Breakfast Reservations 
Magic Kingdom is known to adjust its hours in order to accommodate the expected crowds. In order words, you can't always count on the park opening at the stated time when you go to make your dining reservations.
So what happens if you have reservations for 8 a.m. and the opening time suddenly switches to 9 a.m.?
Since we can't count on open time to remain constant, it may be a good idea to make 2 breakfast reservations as you book your Advance Dining Reservations. You could make one reservation for a time before the park is scheduled to open and another one closer to 10:30. As your trip approaches, you can assess the opening time and cancel the one that doesn't fit into your touring plans.
It's always good to have options!
Lunch Reservations at Be Our Guest Restaurant
Lunch at Be Our Guest
Lunch menu
Lunch at Be Our Guest is typically served daily from 11 a.m. to 2:30 p.m.
During lunch hours, the Be Our Guest Restaurant offers a more casual, quick-service dining experience with a selection of appetizers, entrées, and desserts. Guests can enjoy the following options:
Appetizers: Start your meal with a variety of savory options, including French Onion Soup, Duck and Pork Terrine, Potato-Leek Soup, Country Pear Salad or Escargot de Bourgogne.
Entrées: Choose from a selection of delicious sandwiches, such as the Duroc Pork Chop, Vadouvan-spiced Vegetables, Roasted Poulet Rouge Chicken, Trout Amandine, or the Center cut Filet Mignon.
Desserts: Complete your meal with a delectable dessert, such as the iconic "Grey Stuff" Chocolate Tart, Lemon Jam Macaron, Dark Chocolate Truffle or Vanilla Cake with Lemon Curd.
Kids menu appetizers include Iceberg Wedge Salad, Fruit and Cheese Board, House-made Peach Applesauce. Entrees: Grilled Beef Tenderloin, Pan-seared Chicken Breast, House-made Macaroni & Cheese. Desserts: Seasonal Fruit or Dessert Trio.
Be Our Guest lunch was previously treated as a Quick Service restaurant but now shares the same fixed price full-service menu as dinner. For those who are of age, this also means you can enjoy certain alcoholic beverages with lunch.
View the Be Our Guest lunch menu.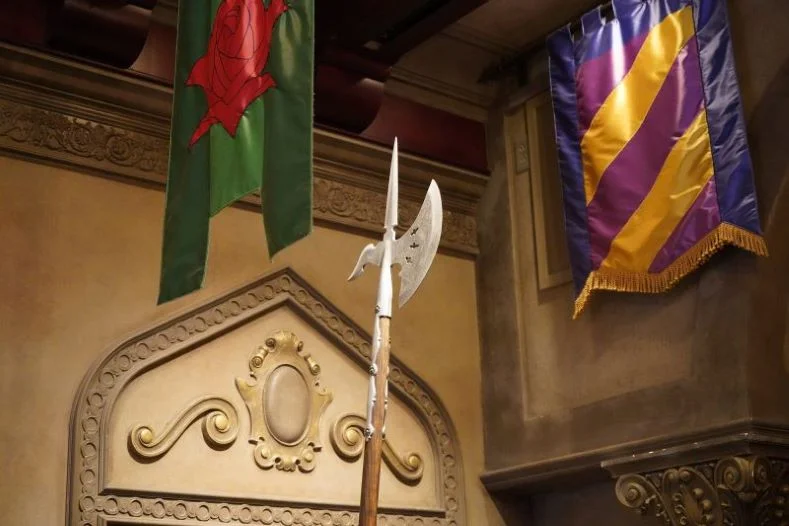 Reservations at Be Our Guest
Like other meals at Be Our Guest, this restaurant effectively requires a reservation because the standby lines are typically ineffective. The extra effort is definitely worth the unforgettable dining experience.
An Off-Peak Strategy – Be Our Guest Reservation Tips
Having a reservation doesn't mean you will be promptly seated. To reduce your wait time, it may be wise to make a reservation for an off-peak time, like at 11:00 a.m. or 2:00 p.m.
Will you be able to Meet the Beast?
Unfortunately, the Beast only rears his ugly head at dinner. 
Dinner Reservations at Be Our Guest Restaurant
Dinner at Be Our Guest
Dinner menu
As of 2018, Dinner at Be Our Guest is now considered a "Signature Table Service restaurant" meal. This means that – starting daily at 4 p.m. – Be Our Guest restaurant will cost you 2 Disney Dining Plan credits instead of just 1. Become of its prime location and sky-high demand for reservations, Disney feels it can justify this price increase.
After this price jump, we feel that Be Our Guest restaurant can no longer be considered a good use of dining credits, at least as far as value goes. There are plenty of restaurants that are on par with Be Our Guest in terms of food quality. Therefore, you shouldn't choose it just for the food or location.
If you really want to eat at Beast's Enchanted Castle and meet the Beast, then maybe it's worth the extra cash. But that decision is yours to make alone.
Dinner is a fixed-price menu that includes an appetizer (the French onion soup is a fan favorite), an entree, and dessert (the dark chocolate truffle is a must). Paying out-of-pocket will set you back around $55 for adults or $35 for kids. (The lunch and dinner menus are ultimately the same.)
View the dinner menu here.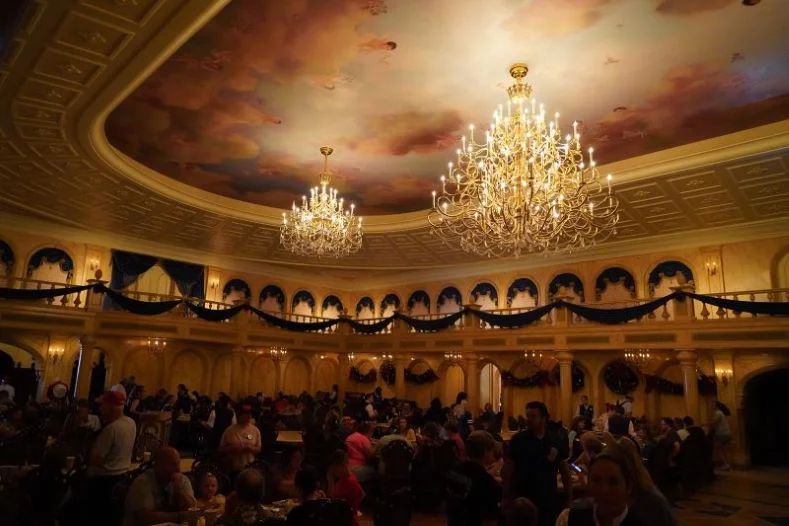 Be Our Guest Reservation Tips for Dinner
Despite the extra expense, dinner reservations are still hard to get at Be Our Guest. Here are a few suggestions to increase your chances:
– Stay at a Disney resort with priority reservations
If you are staying at any of Disney's on-site hotels – including Disney Value Resorts, Disney Moderate Resorts, and Disney Deluxe Resorts – then the date you can start making reservations is based on the date your hotel stay begins rather than the date of the dining itself. So if you make your reservations this far out, you will have a big advantage.
– Book your Be Our Guest reservation first
If you are staying at a Disney resort and booking your dining reservations 180 days out, we advise you to book your restaurants in order of difficulty. Therefore, you should always make your Be Our Guest reservations first, regardless of whether you plan on eating there on the first or last day of your vacation.
We would also recommend making your Be Our Guest reservations for a day toward the end of your vacation. This is because offsite guests won't have the ability to book those dates yet, and your odds will increase the later your reservation dates are.
– Can't get the reservation? Don't give up!
Don't get discouraged if you have trouble getting reservations on your first go-around. Instead, keep on checking for an opening to pop up, or use something like MouseDining.com's tool to alert you when an opening suddenly becomes available. People often cancel their dining reservations for whatever reason, and this becomes your opportunity to snatch it before someone else does.
– Be careful of Magic Kingdom party nights
Magic Kingdom hosts parties several times per week during September, October, November, and December. On these nights, the park will close at 6 or 7 p.m. So if you are not going to the party, you must make your dining reservations for a time slot before the party begins.
Finally… a chance to meet the Beast
Yes, you can meet the Beast at dinner. Dinner is the only time you can meet him.
Disney character meals are one of the most unique experiences at WDW. Be Our Guest works a little differently in that the Beast does not go from table to table and greet guests. Instead, you can meet the Beast in a separate room. There is a PhotoPass photographer here to take a photograph for you to keep as a souvenir.