Universal Orlando vs. Disney World
A Comparison between the two Florida Theme Park Resorts 
This article will help you understand the similarities and differences between Disney World and Universal Orlando so you'll be able to better plan your next vacation. While Disney has been the go-to family theme park for decades, Universal has made great strides in recent years.  They're both fantastic vacation destinations!
Walt Disney World and Universal Orlando Resort are similar in many ways. First and foremost, they're both world-class theme park resorts that attract guests from all over the world. Secondly, both resorts are located just miles from one another in the greater Orlando Florida area. Furthermore, they each have a wide array of rides and attractions that appeal to any age group and sensibility. But there are also some major differences. So how do they differ? And which of these Florida theme park resorts is better? We will answer those questions and more below in our Universal Orlando vs Disney World comparison.
How are Universal Orlando Resort and Walt Disney Resort Similar?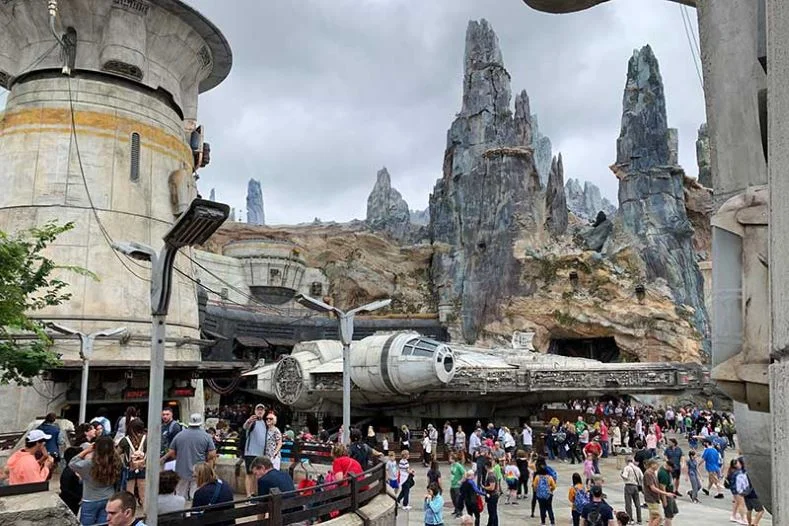 1. Both have something for everyone
Walt Disney World has always been regarded as the ultimate destination for family vacations. That said, Universal Orlando Resort can certainly hold its own.
Both parks offer unique experiences for any age group: from young children and teens to adults and couples without kids. There's really something for everyone at these resorts.
Universal may have a slight edge with teens and thrill-seeking adults because it claims a higher percentage of fast-paced rides.
Disney World has more variety for young families and multi-generational family vacations as far as rides, restaurants, and resorts go. From sushi to burgers, buffets to fine dining, character dining to sports bars, and roller coasters to kiddie rides, Disney World has something for everyone.
Disney World is a better place to stay than is Universal. There are dozens of resort hotels on Disney World property, all with their own themes, amenities, and price ranges.
*See our Compare Disney World Hotels for more information.
2. Each resort has multiple theme parks
Walt Disney World has four theme parks: Magic Kingdom, Epcot, Disney's Animal Kingdom, and Disney's Hollywood Studios. There are also two water parks: Blizzard Beach and Typhoon Lagoon.
Universal Orlando Resort has two theme parks: Universal Studios and Islands of Adventure. Universal has one water park, Volcano Bay.
Both resorts have a studio-themed park. Otherwise, the themes of each park are quite different.
Overall, Walt Disney World is much more expansive with many more attractions, restaurants, and hotels to choose from.
At both resorts, guests can buy separate tickets for each individual theme park or pay a little more for a ticket that'll allow you to move freely between the parks. Disney calls its multi-park ticket the Park Hopper pass, while Universal Orlando just calls their ticket a two or three park ticket.
3. The cost of tickets is pretty comparable
When it comes to the cost of theme park tickets, both Walt Disney World and Universal Orlando have some similarities.
For one, the price of the ticket will vary depending on the season and the day you choose to go.
A one-day adult ticket (to a single park) will cost you just over $100 at both resorts, and multi-day tickets are priced on a sliding per-diem scale.
In other words, the more days of tickets you purchase, the less money you will spend per day on each ticket. The per-day cost of tickets drops significantly as you add more days, but even more so at Universal.
Disney's "Park Hopper" option and Universal's "2-Park – 1-Day Ticket" allow you to enter more than one theme park on the same day. These tickets will cost you considerably more (at both resorts) for this luxury.
Overall, Disney World is slightly more expensive than Universal Orlando, but not by much.
4. The ticketing systems are similar in many ways
Universal Orlando has a ticketing system called the Express Pass which gives you the chance to experience shorter lines.
It's free for guests staying at a Universal Orlando hotel, but everyone else must buy an Express Pass if they wish to take advance of this perk.
The standard version of Express Pass allows you to use the Express line one time for each ride. If you stay at a Universal hotel – or if you pay extra to upgrade your standard pass – then you'll have unlimited Express Passes.
Disney's ticketing process – called My Disney Experience – bundles just about all aspects of your Disney World vacation together in one place.
It's easy to use and makes locating information and changing reservations a snap.
Once a trip is booked, guests can purchase a MagicBand if they choose. MagicBands are a colorful rubber bracelet with an embedded computer chip that stores all the components of your trip.
Your MagicBand will act as your room key, theme park tickets, dining reservations, PhotoPass, and your resort charge card.
You can also manage your Disney Genie+ reservations via the Disney Genie app (which is integrated with the My Disney Experience app).
The Disney Genie app is a free tool that gives you real-time wait times and makes suggestions based on these wait times as well as your stated interests. Disney Genie+ is a paid service that gives you access to the quick Lightning Lane entrance, so you can jump the normal lines and spend more time on the rides. Disney also offers Lightning Lane passes on a few high-demand attractions on a pay-per-ride basis.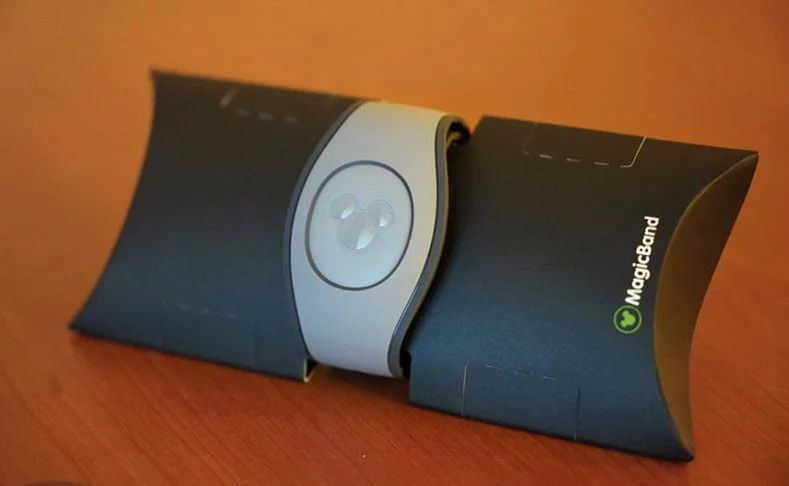 5.  Simplicity 
Because of its smaller size, Universal Orlando Resort is generally a simpler vacation to plan and book.  You'll need to purchase your theme park tickets, hotel, and have some idea of how the Express Access Pass system works.
Disney's My Disney Experience app – and the MagicBand system – make planning and booking a Disney vacation much easier than before. That said, the resort is so much more complex (and massive!) compared to Universal Orlando.
6.  Transportation Systems are very good
Again, because of its smaller size, Universal Orlando is easier to get around. The resort is more walkable and has complimentary bus and water taxi transportation.
Universal's on-site hotels are connected by waterways to the theme parks, which makes everything a breeze if you don't want to walk.
As vast and spread-out as Disney World is, the resort is surprisingly easy to navigate thanks to the excellent transportation system.
Complimentary transportation – which includes buses, water taxis, monorail, and Disney Skyliner – will bring you to and from the theme parks, resorts, and Disney Springs.
Allow 10 to 30-minutes to reach your destination (or hop in an Uber or Lyft for quicker service).
*See our Disney Transportation Map for more information.
7. The fun and energetic entertainment districts
There's an entertainment district at each resort. Disney World's entertainment district is called Disney Springs and Universal Orlando Resort's entertainment district is CityWalk.
Both areas are brimming with restaurants, lounges and clubs, shopping, and movie theaters.
CityWalk also has a mini-golf course. Disney World's miniature golf courses are located in a different area, but you'll find a lot more activities at Disney Spring that are lacking in CityWalk. This includes boat rentals, bowling, balloon rides, and more!
Differences between Universal Orlando Resort and Disney World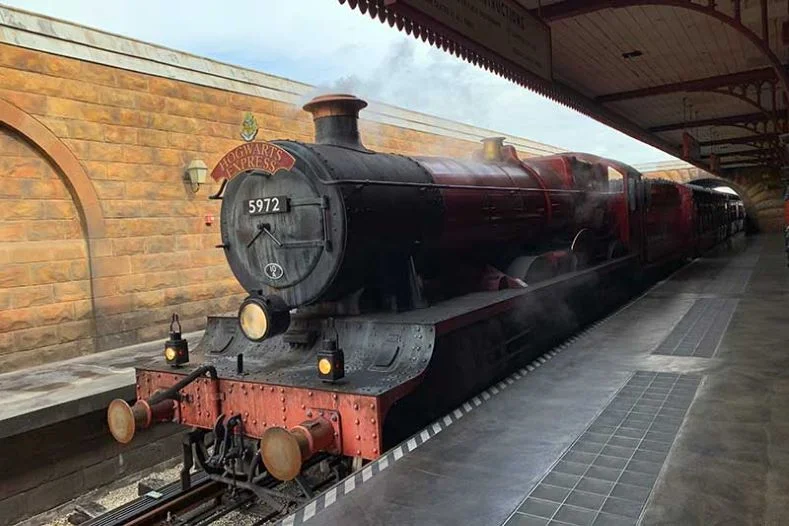 1. They are direct competitors!
Universal and Disney are two completely different resorts and owned by different companies. As such,  the two theme park resorts are direct competitors.
They are only separated by roughly 10 miles, so it makes sense that many guests will go to both parks during their vacation.
The resorts don't share transportation, but Disney hotel guests can take an independent shuttle to Universal and vice-versa for Universal hotel guests.
2. Size Comparison: Which Is Bigger?
If we compare the size of these two parks, there really is no comparison.
With around 840 acres, Universal Orlando Resort is much smaller than Disney World but still quite substantial in size.
The resort includes 2 theme parks (Universal Studios Florida and Islands of Adventure), a waterpark (Volcano Bay), CityWalk Orlando entertainment and dining complex, and several on-site hotels.  It would take at least 3 or 4 days to experience most things that Universal Orlando Resort offers, so it's doable in one or two trips.
Walt Disney World Resort, on the other hand, is an expansive resort covering over 27,000 acres. This makes it about twice the size of Manhattan!
Disney has 4 theme parks (Magic Kingdom,  Epcot, Animal Kingdom, and Hollywood Studios), two large waterparks (Blizzard Beach and Typhoon Lagoon), over two dozen Disney-owned resort hotels, many non-Disney hotels, a campground, and the Disney Springs shopping/dining area. You can rent a boat for the day, spend a day at one of the in-park golf courses, or even spend hours resort hopping or by the pools.
It would take many trips to Disney World to see and experience everything, so don't expect to do it all in one visit!
Both resorts continually add new attractions and restaurants so they remain fresh and exciting. If you think you've seen everything one year, the following year could draw you back with new additions. This is especially true at Walt Disney World.
3. Which resort has a more nostalgic feeling?
These two Orlando theme parks have completely different histories.
Disney World vacations tend to evoke much more nostalgia.  As children, many of us watch Disney films and know all about Mickey and Minnie Mouse. So as we grow older, it's no surprise when we have a nostalgic feeling about Disney themes. That's why Disney is going to feel more nostalgic than Universal. Even if you've never been, it will still feel more nostalgic right from the get-go.
For adults, going to Disney World brings back a lot of memories. Even the Carousel of Progress is still there and whereas Universal seems to change their rides much more frequently.
A lot of the rides at Universal have changed over time. Universal is more about movie franchises and appealing to teens.
4. How do their histories stack up?
The history of these two Orlando theme parks is quite different.
Disney World's history starts will Disneyland. After the initial success of California's Disneyland Resort, Walt Disney dreamt of building something even more ambitious on the East Coast.
Construction on his "Florida Project" was underway at the time of his death in 1966, so he would never see the park completed in his lifetime. After his death, Walt's business partner and brother, Roy Disney, took over the construction of Disney World but he too died, just three months after the park opened.
Disney World was open to the public on October 1st, 1971  with one theme park and three hotels.  Since then, Walt Disney World Resort has expanded so much so that its size of a large city.  The resort experiences an average annual attendance of 58 million people or so, making it the most visited vacation resort in the World.
Universal Orlando Resort had its beginning in 1990. The resort initially had just one theme park, Universal Studios Florida, but added a second in 1999 when the park opened Universal's Islands of Adventure, as well as Universal CityWalk entertainment district and the first on-property hotel, the Loews Portofino Bay Hotel.
The resort added even more expansion (and excitement) with the 2010 addition of The Wizarding World of Harry Potter and during the summer of 2014 with the opening of Diagon Alley.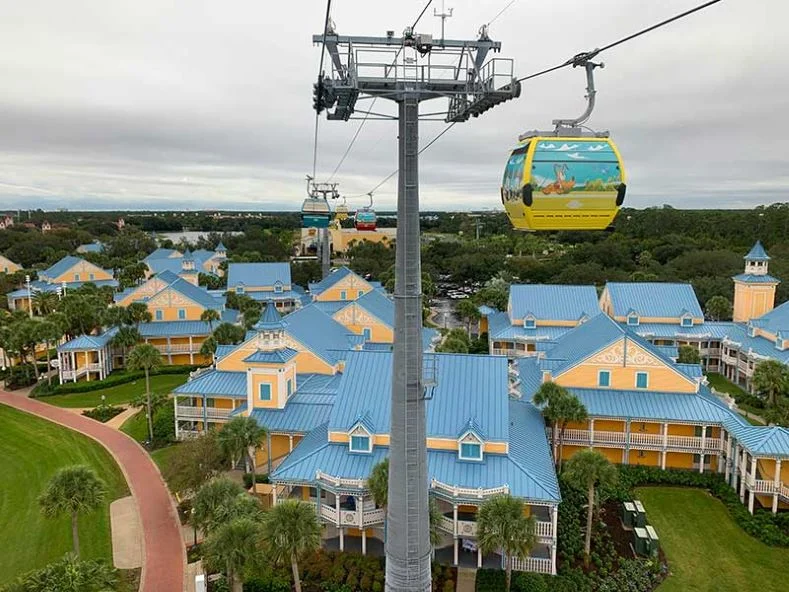 6. What is the vibe like at each resort? 
The overall feel/atmosphere of the two parks is quite different.  In fact, comparing Disney World to Universal Orlando is like comparing apples to oranges.
Sure, it's similar in some ways but completely different in others.
Disney World Vibe
Disney World is spread out over about 25,000 acres. It's enormous!
There is so much more to explore beyond the theme park rides and many of these wonderful experiences are free.
Disney World ups its appeal to older kids and adults with its partnerships with Star Wars, Pixar, Marvel, Indiana Jones, and Avatar franchises, and its use of innovative, cutting-edge technology. There are exciting roller coasters like Big Thunder Mountain, Space Mountain, Exhibition Everest, and Rock 'n' Roller Coaster, immersive experiences like Mission: Space, Soarin', and Tower of Terror, and "only at Disney" experiences like Kilimanjaro Safari, Disney Stage Shows, and Disney Character Dining.
The vibe at Disney is upbeat and exciting, but at the same time, relaxed and family-oriented. You'll always have something new to see and do at Disney World, and there's something for everyone here.
* See our Best Magic Kingdom Rides, Best Epcot Rides, Best Animal Kingdom Rides, and Best Hollywood Studios Rides for suggestions.
Universal Orlando Vibe
Like Disney, the Universal brand owns an array of franchises and characters. And fun is ever-present at Universal Orlando Resort too. But it's a different sort of fun than at Walt Disney World.
Where Disney has that sweet and innocent undertone, Universal's vibe is all about attitude. It's brash and in-your-face. There are frightful rides and experiences at every corner, and many of the attractions are meant to feel dangerous and out-of-control. Plus, Universal's CityWalk complex is full of energy and enjoyment.
Teens and thrill-seeking adults who want to love the action will probably prefer the vibe at Universal Orlando Resort over Disney World. It's still family-friendly. but less so than Disney World.
* See our Best Universal Orlando Rides page for some suggestions.
7. What are the differences in characters and themes?
Universal Orlando has Spiderman, The Simpsons, SpongeBob, the Cat in the Hat, the Minions, the Madagascar gang, Scooby-Doo, and other Marvel superheroes at its park. Disney World has its own Disney/Pixar characters in the Disney parks.
Reminder: You won't find the Wizarding World of Harry Potter at Disney World, and you won't find Star Wars: Galaxy's Edge and Toy Story Land at Universal Orlando Resort.
Because Disney has more notoriety, many uninformed guests just assume that Disney World is home to the Wizarding World of Harry Potter. This is not the case. If you want to experience the grandeur of Hogwarts Castle and partake in Hogsmeade, you'll have to go to Universal's Islands of Adventure for that. And while we are on the subject, please be aware that admission to the Harry Potter area is included with a regular Islands of Adventure ticket (or a Universal two-park ticket).
With the recent openings of Toy Story Land and Star Wars: Galaxy's Edge, the excitement has shifted back to Disney World for the time being.
Disney World will always be synonymous with Micky and Minnie Mouse, Donald Duck, Pluto, Cinderella, and the like. Couple that with the Pixar and Star Wars elements, and Disney has the edge in characters and themes. But yes, it doesn't have Harry Potter…
With new attractions and restaurants opening on a constant basis, there's really never a wrong time to return to either Universal Orlando Resort or Walt Disney World Resort (or visit for the first time).
* See our Disney Crowd Calendar and Univeral Studios Crowd Calendar and discover when the parks are less crowded.
Universal Orlando vs Disney World Resort: Which Is Better?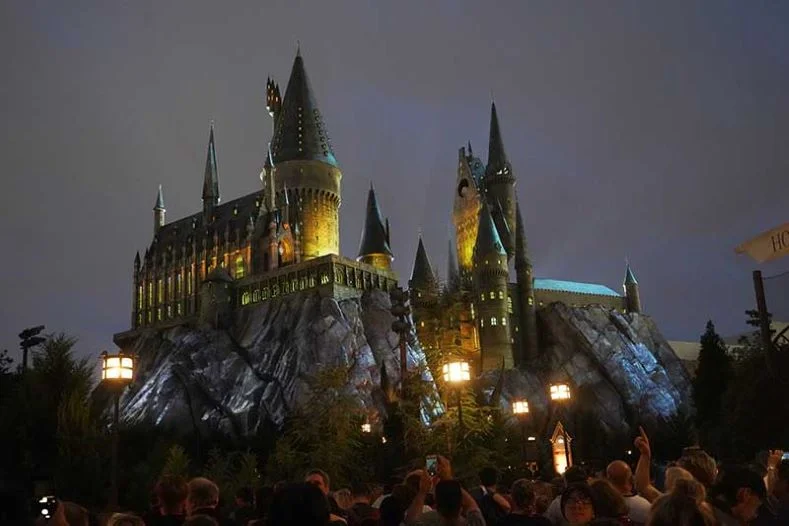 Universal rides are more high-tech, motion-based 3D rides,  and thrill rides. There are some amazing attractions like Spiderman, Forbidden Journey, Green Gods, Diagon Alley, and more.  They have some incredible dark rides (set indoors) and any Harry Potter fan NEEDS to check out the amazing Wizarding World of Harry Potter at least once!
Disney World, on the other hand, is really about appealing to everyone. Where Universal is really about its thrill rides, Disney has more diversity and is more laid-back. Yes, it does have its share of thrill rides (Rock 'n' Roller Coaster, Tower of Terror, Exhibition Everest) and they have been coming out with some really impressive rides (like Flight of Passage in the Avatar section). And now it has Star Wars: Galaxy's Edge and exciting attractions like Star Wars: Rise of the Resistance. That said, much of Disney is still geared towards all-age ranges and families.
So which is better: Universal Orlando Resort or Walt Disney World Resort?
The answer is "it depends." It really comes down to personal preference and who you are going with. Teens and thrill-seeking adults will love Universal. Kids, multi-generational families, and "kid at heart" adult couples will love Disney World.
Our advice would be to check out both parks for yourself.  You can experience both resorts on the same trip because they are just miles apart.  Three or four days at Disney World and two days at Universal would be ideal, but even if it's just one day at Universal will be worth it!
Enjoy your Disney World vacation!