Christmas at Disney World 2023
Your Guide to the Decorations and Seasonal Holiday Events around Christmastime
Disney World proves that you don't need North Pole-like weather to experience the enchantment of the holiday season. As magical as the parks are during any season of the year, Christmas at Disney World is extra magical thanks to holiday décor in every nook and cranny, plus a number of special additions.
2023 sees the return of beloved events such as Mickey's Very Merry Christmas Party and the Candlelight Processional, plus a brand new after-hours event at Hollywood Studios.
While each theme park has its own special take on the Christmas theme, certain areas of the resort have slightly more sparkle and pageantry than others.
And while Christmas is certainly the primary focus, you'll also find nods to Hanukkah, Kwanzaa, and many other winter holidays.
In this article, we give you an overview of the festive goings-on at the theme parks and resorts during the Christmas season. We hope this guide will prepare you to experience Disney's holiday magic to the fullest!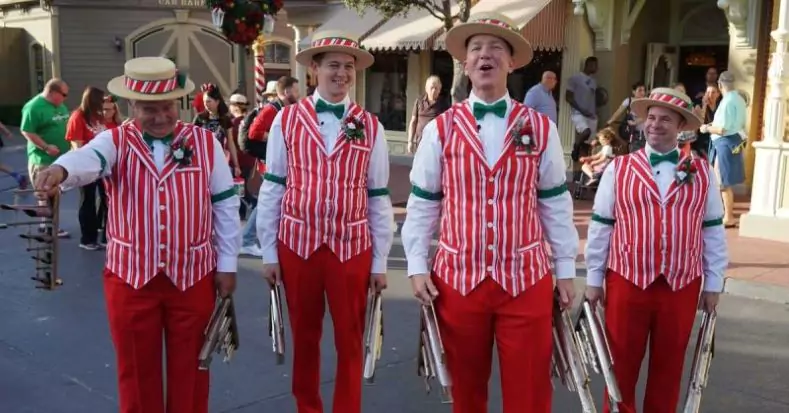 As Disney World's flagship theme park, Magic Kingdom is not surprisingly fully decked out every holiday season. Here's a look at some of what you can expect:
Magic Kingdom Christmas Decorations
Upon arriving in Town Square, just past the train station, you'll be greeted by the park's giant "icon tree," a 65-foot tall (yet still somehow old-fashioned) Christmas tree featuring classic toys and of course, plenty of lights.
Elsewhere you'll find lots of other decorations, including wreaths, garland, candles, and more. Be sure to take some time to check out the series of animatronic window displays at The Emporium on Main Street U.S.A., depicting scenes from the classic animated special Mickey's Christmas Carol.
Even more astounding is that these decorations spring up literally overnight after the Halloween season ends.
A favorite for many years was the Cinderella Castle Dream Lights décor package, which saw the iconic castle simply smothered in a stunning holiday lights display that mimicked ice and snow. Sadly, the Dream Lights have been missing for several years and projections have been used in their place
2023 brings a new Frozen Holiday Surprise castle lighting show that Disney promises will "illuminate the castle in a whole new way." It's still expected to be mainly a projection-based event, however. Elsa, Anna, Olaf, Kristoff, and the Snowgies are all expected to be a part of the show, which will be performed during regular park hours and during the Christmas parties (see below).
Mickey's Very Merry Christmas Party
The flagship event of the Christmas Season at Disney World is Mickey's Very Merry Christmas Party. This nighttime event is offered select nights in November and December, after the Magic Kingdom closes for the day. You'll have to pay a separate admission, the price of which varies depending on the date you choose to attend.
2023 Dates for Mickey's Very Merry Christmas Party
There are 25 scheduled Christmas parties in 2023, starting November 9 and ending December 22:
November: 9, 10, 13, 14, 16, 17, 19, 21, 22, 26, 28, 30
December: 1, 3, 5, 7, 8, 10, 12, 14, 15, 17, 19, 21, 22
Tickets go on sale July 6, 2023, but you can buy as early as June 29 if you're staying at a Disney World resort hotel.
2023 Prices for Mickey's Very Merry Christmas Party
Ticket prices range from $159-$199 per adult ages 10+. Tickets for children ages 3-9 are $10 less than the adult price. Small discounts are also usually offered for Annual Passholders, Disney Vacation Club Members, and Disney Cast Members on select nights.
Unlike previous years, Disney did not publish a list of specific prices for each night this year, instead showing prices only when you try to actually buy a ticket. We don't yet know if this is just a meaningless change or if they're leaving open the option to adjust prices for some nights as sales progress.
These were the prices we saw when we tried to purchase Christmas Party tickets when they first went on sale to the general public (July 6, 2023):
$159: November 13, 14, 16.
$169: November 9, 10, 17.
$179: November 26, 28, 30. December 1, 3, 5, 7.
$189: November 19, 21, 22. December 8, 10, 12, 14, 15, 17.
$199: December 19, 21, 22.
These represent adult prices (ages 10+) and are subject to change and sell-outs.
Event Overview
In addition to shorter lines for rides thanks to attendance limits, you'll also enjoy the Mickey's Most Merriest Celebration stage show, Minnie's Wonderful Christmastime Fireworks, the Mickey's Once Upon a Christmastime Parade featuring Santa, reindeer, and toy soldiers.
Some attractions also receive a special holiday makeover. The Jungle Cruise becomes the Jingle Cruise, and there are special enhancements to Space Mountain, Tomorrowland Speedway, Monsters Inc Laugh Floor, and the Mad Tea Party.
A sweet feature of the evening is the chance to enjoy free cookies and hot cocoa throughout the park all night long.
And of course, it wouldn't be the holidays without just a little Disney magic. Do those look like snow clouds to you? Nah, couldn't be. This is Florida, after all. Hmmmmmm…
If you have visions of Mickey Pretzels dancing in your head this holiday season, reach out to the elves at The Vacationeer to make all your Christmas vacation wishes come true!
These Earmarked Diamond level Authorized Disney Vacation Planners know-ho-ho exactly how to make sure your Disney/Universal trip is a success. Not only can they help you get your tickets for Mickey's Very Merry Christmas Party, but they'll make all your hotel and dining reservations for you, too!
They'll even keep an eye out for any new discounts that might pop up and apply them to your trip (that's right — even after you're already booked!).
So get in touch with them today — their help is absolutely free to use and there's never any obligation to book.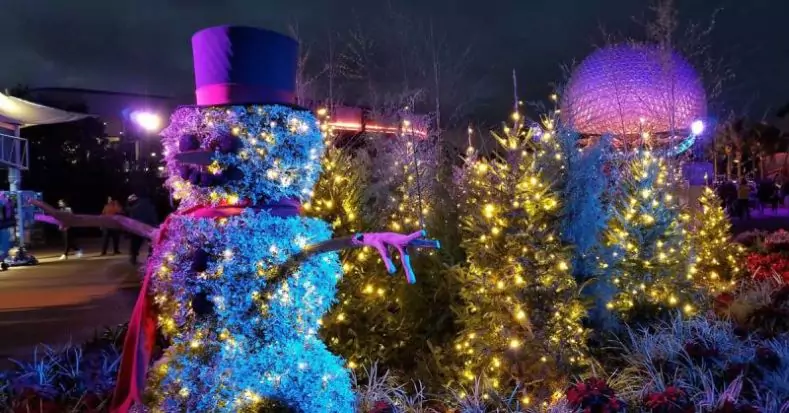 One could make a compelling argument that EPCOT is Holiday Headquarters at Disney World, surpassing even Magic Kingdom. As home to World Showcase, EPCOT is not surprisingly the park which best showcases the multitude of winter holidays celebrated all around the world. Here, you'll find acknowledgments of not just Christmas, but also Kwanzaa, Hanukkah, Lunar New Year, and more.
The International Festival of the Holidays takes place from November 24 – December 30, 2023 (with New Year's Eve at EPCOT being a separate celebration in its own right). All events are included with your regular park admission.
Here are some highlights:
Candlelight Processional
The flagship event of EPCOT's International Festival of the Holidays is the Candlelight Processional. While certainly the most religion-focused of all of the Disney World Christmas events, this event is a stunning spectacle for even those who stick primarily to the secular elements of the holiday season. There are three performances nightly, typically at 5:15 PM, 7:00 PM, and 8:30 PM. During the approximately 50-minute show, a celebrity narrator relays the biblical story of the birth of Jesus Christ; a massed choir performs Christmas carols in English and international languages, accompanied by a live orchestra, to highlight key moments in the narration.
The event is immensely popular, as is evidenced by the fact that it is presented more than 100 times over the course of the holiday season. You'll find the biggest crowds on nights when when the most-popular of the celebrity narrators (such as Whoopi Goldberg or Neil Patrick Harris) are scheduled, drawing heavy "Locals" traffic. To avoid waiting in a long standby line with no guarantee of seating, we suggest you partake in a Candlelight Dinner Package; these guarantee your admission to the show (ask your Disney Travel Agent for details). You can also just walk by — the event is held at the outdoor America Gardens Theatre, so you can see and hear a good bit of the show without even going inside the seating area.
Holiday Storytellers and Entertainers
Around the park, experience unique storytelling performances at several points throughout the day. Scheduled performance groups and times change daily — be sure to grab a times guide when entering, or check the MyDisneyExperience app for show times.
Among the performances you might see:
JOYFUL! A Celebration of the Season: this upbeat performance several times daily highlights Gospel, R&B, and holiday songs for Christmas and Kwanzaa
Las Posadas: a musical tribute to Mexico's Las Posadas religious festival, featuring traditional dances and a performance by Mariachi Cobre.
Mischievous Magical Barn Santa: a magical (and mischievous) Santa can't seem to help himself from interfering just a bit as Sigrid shares the story of Christmas celebrations in Norway
Lion Dancers: celebrate the Lunar New Year at the China pavilion with a mesmerizing performance featuring two skilled dancers performing acrobatically in single lion suit.
La Befana: Italy plays host to this gentle and loving witch known for visiting children just before Epiphany
Santa Claus: the one and only — spreading cheer, taking gift requests, and checking for the naughty and nice — appearing at the Odyssey pavilion
Daruma Storyteller: gather 'round the Japan pavilion to hear the story of the Daruma doll — a talisman of good luck — along with Japanese New Year's traditions
Hanukkah Storyteller: the history and traditions of Hanukkah, from the miracle of the oil to the significance of dreidels, latkes, and traditional music; presented between the Morocco and France pavilions
Père Noël: France's Father Christmas shares a heartwarming letter that helps everyone rediscover the magic of the season
Father Christmas: A view of Christmas across the pond, as the United Kingdom's Father Christmas shares how Christmas is celebrated in the United Kingdom
Canadian Holiday Voyageurs: Have a happy holid-eh with these rollicking performers who provide a whirlwind musical exposition of the ways different parts of Canada celebrate the holidays
Voices of Liberty: The acclaimed a capella group (which performs year-round at the American Adventure pavilion) adds special holiday favorites to its performance sets every Christmas season
Holiday Kitchens, Cookie Stroll, and Scavenger Hunt
A nod to the ever-popular International Food & Wine Festival, you'll find holiday kitchens spread all around EPCOT — each booth offers tasting-sized international holiday favorites for a small fee. You'll find plenty to keep your tummy merry and bright, from European and Asian offerings to traditional American fare.
If cookies are more your speed, check out the Holiday Cookie Stroll. Purchase any five specialty holiday cookies throughout your visit(s) to the festival and get your special "passport" stamped as you do; then show your completed passport to get your special sweet reward.
Or, skip the food and spend your afternoon searching high and low with Olaf's Holiday Tradition Expedition Scavenger Hunt. Purchase a map and stickers for a little under $10, then search World Showcase for hidden items and use the stickers to mark their locations on the map. When you're done hunting (your map doesn't have to be complete or correct), you'll receive a small holiday keepsake.
Guardians of the Galaxy Holiday Overlay and Other Highlights
EPCOT's new Roller Coaster, Guardians of the Galaxy: Cosmic Rewind, usually gets a special holiday overlay. As Disney puts it: "This season, the Guardians are trading in their classic hits playlist for a mash-up of seasonal jams … blast off to the tune of an awesome holiday single, bringing joy to Xandar and Terra, too."
Elsewhere in the park, you might find a few surprisingly festive fruits and vegetables in the greenhouses as you sail by on Living with the Land. And of course, the park has a giant icon tree near the entrance to World Showcase, along with lots of other festive decorations.
For many years, Disney's Hollywood Studios was a Christmas juggernaut, playing host to the famed Osborne Family Spectacle of Dancing Lights). Though those lights have now moved on, 2023 promises a new holiday event exclusive to Hollywood Studios.
Jollywood Nights – NEW for 2023
Disney Jollywood Nights is the Hollywood Studios answer to Magic Kingdom's Mickey's Very Merry Christmas Party. This all-new after-hours event for 2023 aims to combine the holidays with the glitz and glamor of Hollywood, and guests are encouraged to dress up a bit to support that.
Offered on select nights from 8:30PM-12:30AM, this party offers exclusive shows and entertainment, along with easier access to popular attractions.
Among the special offerings:
Kermit the Frog and Miss Piggy host a musical variety show featuring special appearances from Disney characters
The return of the popular Jingle Bell, Jingle BAM! fireworks, laser, and projection show, which hasn't been presented for a few years
A new Sing-Along Experience at the Hyperion Theater (details not yet released)
A live DJ on Hollywood Boulevard spinning holiday tunes
A Latin Holiday Street Party on Commissary Lane
A Nostalgic Throwback Bash on Echo Lake featuring Powerline Max among others
Exclusive add-on events at Hollywood Brown Derby and the Hollywood Tower Hotel (Tower of Terror) courtyard — subject to an upcharge
2023 Dates for Disney Jollywood Nights
There are 10 dates for Jollywood Nights in 2023.
November: 11, 18, 20, 27, 29
December: 4, 6, 16, 18, 20
Tickets go on sale July 6, 2023, but you can purchase as early as June 29 if you're staying at a Disney World resort hotel.
2023 Prices for Disney Jollywood Nights
Like Mickey's Very Merry Christmas Party, Jollywood Nights is an after-hours event which is not included in your regular paid park admission. You'll need a separate tickets.
Prices for specific dates are not yet released, but Disney says tickets will cost $159-$179 per adult ages 10+. Expect a small discount for kids ages 3-9, Annual Passholders, and Disney Vacation Club members.
Other Holiday Additions to Hollywood Studios
Special Holiday Décor can be found all around the park, including 1930s/1940s-era displays along Hollywood Boulevard and special holiday touches in Toy Story Land.
Sunset Seasons Greetings offers special holiday projections on the Hollywood Tower Hotel (AKA Twilight Zone Tower of Terror) each night. It's not yet clear if these will simply return as-is for 2023 or if they will be enhanced due to the new Jollywood Nights event.
For a seasonal character dining treat, check out Minnie's Holiday Dine at Hollywood & Vine. Enjoy seasonal favorites along with classic Disney characters in their holiday finest.
Like Hollywood Studios, the holiday events at Disney's Animal Kingdom are much more subdued. But there are still a few beloved additions to the park for the season.
The "sleeper hit" of the park's holiday celebrations is the Merry Menagerie, a sort of performance art display in which a troupe of live musicians and talented puppeteers bring to life arctic animals such as penguins, reindeer, foxes, and polar bears. Kids absolutely love these critters — and many grown-ups are entranced, too. Check a times guide or the app for show times, but don't worry about finding a seat; this event takes place solely as a walk-around performance on Discovery Island.
Elsewhere around the park, keep an eye on the Discovery River — you never know who might float by! The big guy himself has been known to take part in a Santa Claus Festive Flotilla, sailing along to a world-beat holiday soundtrack. Or, rock to the beat of the Discovery Island Drummers Festive Flotilla, featuring a colorful group of percussionists.
Of course there's plenty of holiday décor around the park. And don't miss the Tree of Life Awakenings – Holiday Edition, where the park's icon shimmers and sparkles with projection effects and a seasonal musical score.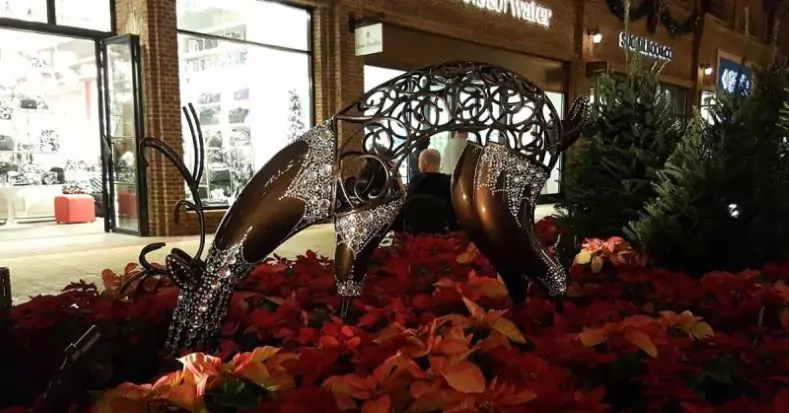 Disney's shopping and entertainment district has plenty to do beyond Christmas Shopping.
The Disney Springs Christmas Tree Stroll features a collection of elaborately decorated Disney Christmas trees throughout the neighborhoods of Disney Springs. You're apt to find trees themed to different movies, animated series, theme parks and attractions, and other specialty decorations.
Enjoy a visit with Santa himself, and experience the "Snow" Flurries that happen nightly at Disney Springs Town Center.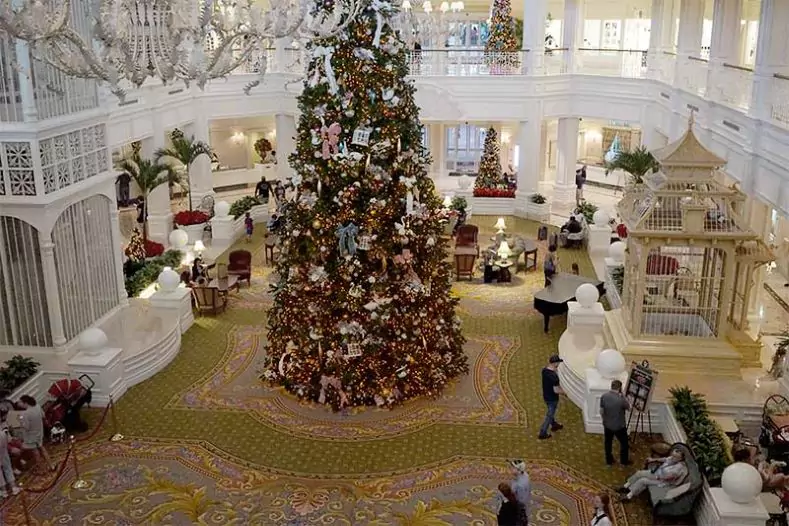 You could easily spend a day (or two… or three!) exploring the holiday décor at the Disney Resort hotels.
Each resort has a gigantic Christmas tree that's specially themed to the hotel; many of them tower several stories high. You'll often find PhotoPass photographers on-site nearby to take family photos. Many of the resorts also feature larger-than-life holiday displays. If you find yourself at a resort in the days immediately before Christmas, you might even see some special live holiday concerts featuring local community arts performers such as chorus groups and handbell choirs.
Grand Floridian
One of the most awe-inspiring Christmas displays is at Disney's Grand Floridian Resort and Spa. There, you'll find an (almost) life-size gingerbread house that's big enough to actually function as a shop where you can purchase gingerbread shingles and other holiday treats.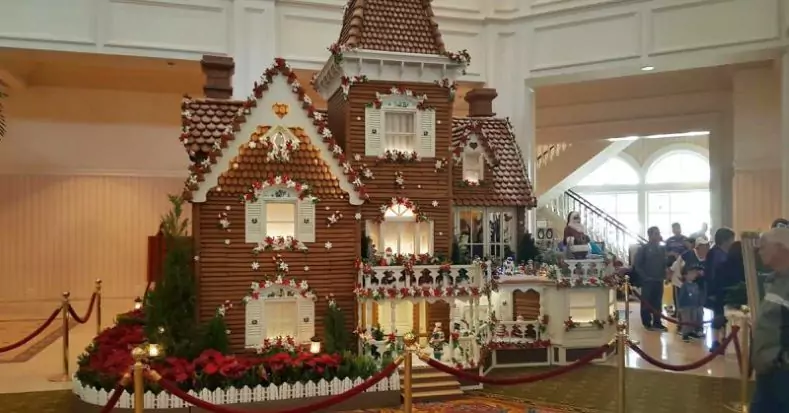 As you might imagine, installing this magnificent structure is quite a feat that blends culinary with carpentry.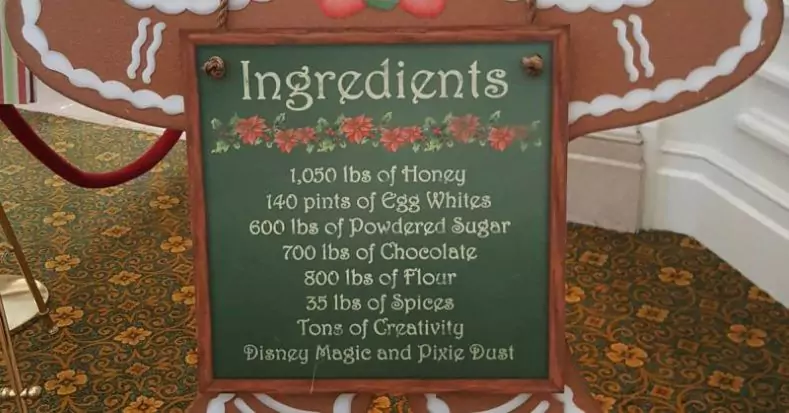 Be sure to head up to the second floor where you can look down into the gingerbread house from above!
Yacht & Beach Club
Another Resort Holiday favorite is the display at Disney's Yacht & Beach Club Resorts.
At the Beach Club, There's a working (but sadly not rideable) Gingerbread Carousel featuring four horses whose designs change each year. The carousel actually rotates! For an added challenge, be sure to look for all the tiny Hidden Mickeys stamped in gold Luster Dust on different parts of the carousel.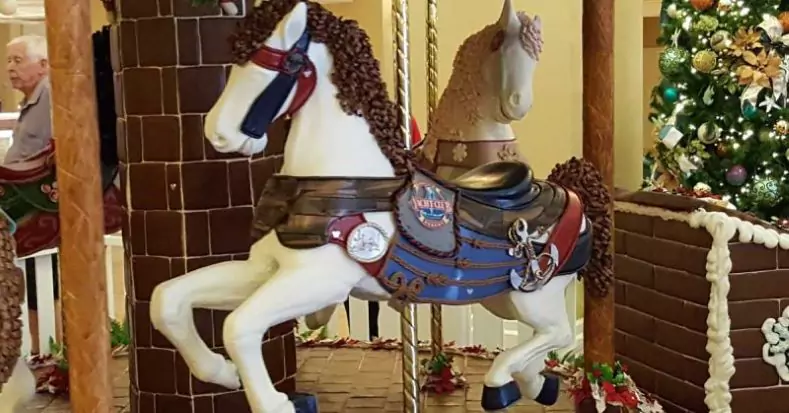 Next door at Yacht Club, you'll find an expansive multi-level miniature Christmas Village and train display. The display has something to see from every angle, so don't stop looking once you've seen the front! Peek around the back to see scenes featuring Disney characters, including Elsa!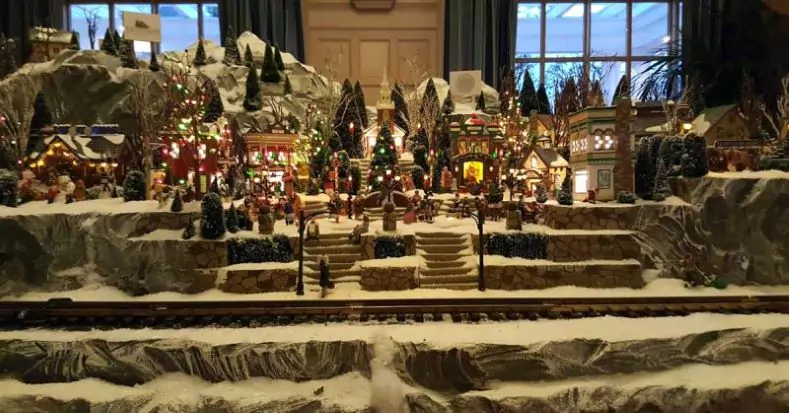 Fort Wilderness
Campers at Fort Wilderness are well known for their elaborate homegrown holiday displays. Much like their famed Halloween décor, the Christmas displays put on by Guests spending the holidays at the campground are legendary.
Another popular holiday observance at Fort Wilderness is the holiday sleigh ride, a 25-minute ride in a one-horse open sleigh (wheeled) or carriage. A group of four people can share the ride; a fifth person can be accommodated if the party consists of two adults and three children  The 2022 cost was $75 plus tax. Availability is extremely limited, so advance reservations are always a good idea. Contact your Disney Travel Agent for details on the 2023 season.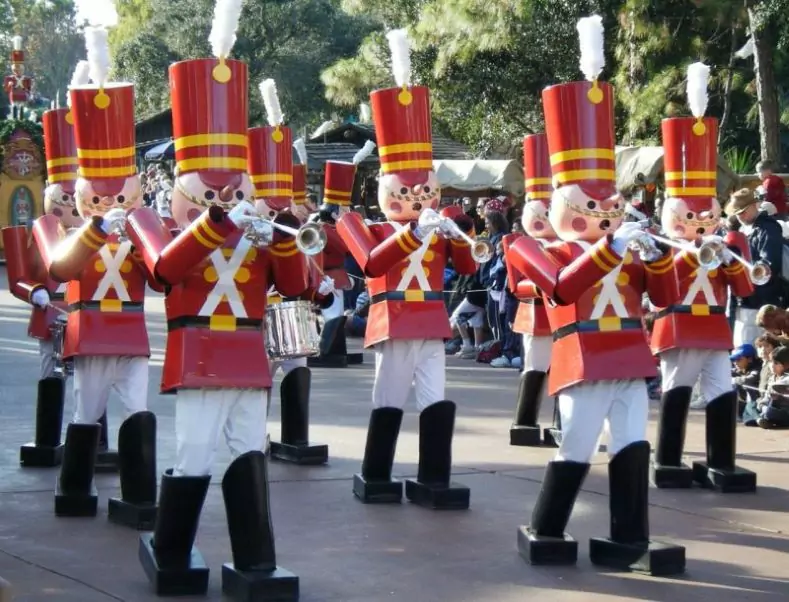 We'll let you in on a little Disney secret: the Disney Parks Christmas Day parade you see on television isn't actually happening live on Christmas Day. The event is typically taped over a series of several days in late November or early December at locations all around Disney World in Florida and Disneyland in California. For the past few years, the actual parade portion has been filmed in California while most of the musical performances happen in Florida.
Should you find yourself at Disney early in the holiday season, you might even be able to attend part of the tapings! Just be forewarned that this is very much a "made for TV" event. Part of your view may be obstructed by camera equipment, and you might end up watching the same performance over and over and over again to capture various camera angles and to get the sound just right. But think of all the fun you'll have looking for yourself on TV as you unwrap your presents on Christmas morning!
And if you are braving the Crowds at Disney World on Christmas morning — one of the busiest days of the year — you'll quickly understand why they've chosen to pre-tape the event rather than trying to pull it off live that morning amid all those people.
Crowds at Disney World During the Christmas Holiday Season
Disney's full Christmas season runs from late November (after Thanksgiving) through the beginning of January.
With the exception of Christmas week through New Years', Christmas has traditionally been a less crowded time of year. But with all of the festivities surrounding the holiday season these days, Disney World is fairly crowded throughout this stretch. Even though the weather isn't quite as nice as other times of the year, don't expect Disney to be less crowded than early June or late September (because it won't be).
As far as the best time to visit in terms of crowds, the second week in November tends to be lighter as the park transitions from the Halloween season to the Christmas season. However, not all of the decorations will be up at this time.
The Monday following Thanksgiving through the first two weeks in December is probably your best bet because the park is fully decorated and you will beat the school vacation crowds.
The third week in December starts to get more crowded. The time period from the weekend before Christmas through New Years' tends to be the most crowded time to visit.
Christmas at Disney World is truly a magical time to visit. Just because the holidays are more crowded than they used to be, don't let the crowds deter you from going during Disney's most magical time of the year!
When Do They Decorate Disney World for Christmas?
With four theme parks, two water parks, two major shopping districts, and dozens of hotels (not to mention two other resorts in the southeast and five cruise ships!), it's no surprise that it takes a bit of time to decorate Disney World for the holidays.
But, each location's decoration happens "instantly." You won't see one particular hotel being slowly decorated with a Christmas tree today, then garland next week. Instead, Disney's famed Holiday Services department swoops in overnight and does absolutely everything in just a few hours! It's amazing to wake up the next morning and find that Christmas has suddenly arrived at a resort or theme park that was "normal" just the night before. (Note: one major exception to this is that Magic Kingdom's Christmas tree might be installed later than the rest of its decorations; they sometimes don't install the tree until they've finished recording the Christmas Parade broadcast.)
Magic Kingdom is usually decorated first, on a night in the narrow period of time between the last Halloween Party and the first Christmas party. In 2022, the last Halloween Party ended at midnight and Christmas decorations were already up by the time the park reopened for resort Guests at 8:30 AM the next morning!
The other parks and resorts follow, and everything is usually decorated by mid-November.  Most of the décor usually remains in place through the end of the year.
If you want to be absolutely certain everything is decorated for Christmas when you visit, we'd stick with a timeframe between Thanksgiving and New Year's Eve.  The "sweet spot" combining low crowds and holiday decorations is typically the first full week of December.
SeaWorld Orlando offers a magnificent Christmas Celebration each year featuring characters from the beloved classic Rudolph the Red Nosed Reindeer. You can also expect the Sesame Street characters to get into the spirit, and you'll find plenty of holiday-themed entertainment, special food and treats, and much more.
LEGOLAND Florida celebrates the season with its Holidays at LEGOLAND event. Marvel at a giant Christmas tree made entirely of Lego bricks, enjoy special seasonal entertainment and holiday treats, and meet costumed Lego characters.
ICE! at Gaylord Palms is one of the most unique Christmas offerings in the Orlando area, allowing you to explore a 20,000-square-foot display featuring more than two million pounds of carved ice. It's a frigid 9° Fahrenheit inside, so you'll be very happy to know they provide complimentary winter parkas during your visit (just don't forget to wear warm clothes — skip the sandals for this event). The theme changes each year — for 2023, it's A Charlie Brown Christmas.
A newer entry to the Orlando holiday scene is Holiday Nights at Island H2O Water Park. Expect light displays, train rides, and "snow." A portion of the proceeds will benefit the mission of the Give Kids the World Village, which provides week-long "wish" vacations for children with critical illnesses.
The holiday fun isn't limited to just dry land. Disney Cruise Line celebrates the season with Very Merrytime Cruises onboard their ships during November and December. From Disney characters decked out in their holiday finest, to visits from Santa Claus, to a giant gingerbread house in the ship's atrium — and of course plenty of themed décor, activities, and celebrations — you'll find much to make merry with onboard. We've even heard of a most unusual wintry forecast for Disney's private island, Castaway Cay. It's no wonder that Very Merrytime Cruises are among the most popular specialty Disney cruises.
Ready to Book your Disney World Holiday Vacation?
Whether you've set your sleigh's GPS to bring you to Disney World, Universal, or any other Orlando destination — you'll want to make sure you've got The Vacationeer as your co-pilot.
Why use a Disney travel agent for your trip? There are plenty of reasons: they offer free help planning your Orlando vacation (Disney Cruises, too!); they'll make sure you get the absolute best possible price on your trip (even adding new discounts as they're announced; and they serve as your single point of contact for everything related to your trip (no more waiting on hold!).
We believe The Vacationeer is the best Disney Travel Agent out there, and we know you'll love them, too.