There are over two dozen resort hotels at Walt Disney World to choose from. They range from value resorts with whimsical themes and modest accommodations to opulent resorts with exquisite amenities.  There's even an outdoorsy Disney resort with log cabins and campsites! But with such a diversity of options, it can be a challenge to narrow down the best hotels at Disney World for your particular needs.  This article will help you make that choice.
Understanding Disney World Resort Hotels
Let's first discuss how Disney World categorizes its on-site resort hotels.  They are broken down into three basic tiers: Disney Value Resorts, Disney Moderate Resorts, and Disney Deluxe Resorts.
As you may have guessed, Disney Value Resorts are the least expensive tier, typically having bus (or Skyliner) service to the parks, food courts, and basic rooms and amenities. Disney Deluxe Resorts are the most expensive tier and have the best rooms, transportation options, dining options, and nicest amenities.  Disney Moderate Resorts provide a middle-ground for people who want an upgrade from the Value tier but don't want to break the bank.
By staying at a Disney World hotel (or any tier), guests will automatically receive perks like early park entry, complimentary transportation to/from the theme parks, and Disney-level service and theming.
Without further ado, here's our list of the best hotels at Disney World!
Best Hotel at Disney World (Overall)
Disney's Grand Floridian Resort & Spa
We rank Disney's Grand Floridian Resort & Spa as the best hotel at Walt Disney World because it's undoubtedly Disney's most luxurious and sophisticated property.  If you can afford to stay here – or are willing to splurge –  then this is the resort to choose!
The Grand Floridan is known for its regal architecture, Victorian-themed lobby (with live musicians), and white sand beaches.  The hotel exudes classiness and sophistication, and its rooms are some of the largest at Disney World.
The property also features some of Disney's best restaurants, including Grand Floridian Cafe, Narcoossee's, the Mediterranean-influenced Citricos, the award-winning Victoria & Albert's. There are also a few lounges and pool bars.
The Grand Floridian's feature pool, Beach Pool, is ranked as one of Disney's best.
The resort is home to a world-class spa, a health club. and is situated right next to Magic Kingdom.  You can either walk to the park or take the monorail if you choose.
Bottom Line
The Grand Floridian is a magnificent resort in every way. Despite all its elegance, the resort still manages to feel relaxed and unpretentious.
One notable drawback is its cost. This Disney Deluxe Resort is among the priciest at Walt Disney World. In fact, The Grand Floridian has the highest standard room rate at Disney.
However, if the finer things are your top priority, then The Grand Floridian Resort & Spa won't disappoint!
Best Disney World Hotel for the Money (Best Value)
Disney's Pop Century Resort
Disney World's best hotel for the money is Pop Century Resort.
This Disney Value Resort pays homage to the fashions, toys, dances, catchphrases, and other fads of the 1950s, 1960s, 1970s, 1980s, and 1990s. The themes are zany, the decor is over-the-top, and there are photo opportunities at every turn. It's a really fun place to stay!
Pop Century has a retro 1960's themed pool called The "Hippy Dippy Pool," complete with flower-shaped water jets and a waterslide. Even the food court has a groovy theme.
Fun theming aside, Disney Pop Century really stands out for its value. Rooms start at just $158 per night.
There is bus service directly to all the parks, and it's also located on the Skyliner transportation system. Additionally, the rooms have recently been updated.
Bottom Line
Pop Century isn't quite as cheap as Disney's three All-Star resorts, but we think it's a better value and much more fun! Everyone loves the theming and the transportation options are very good with Skyliner.
Best Disney World Hotel for Kids
Disney's Beach Club Resort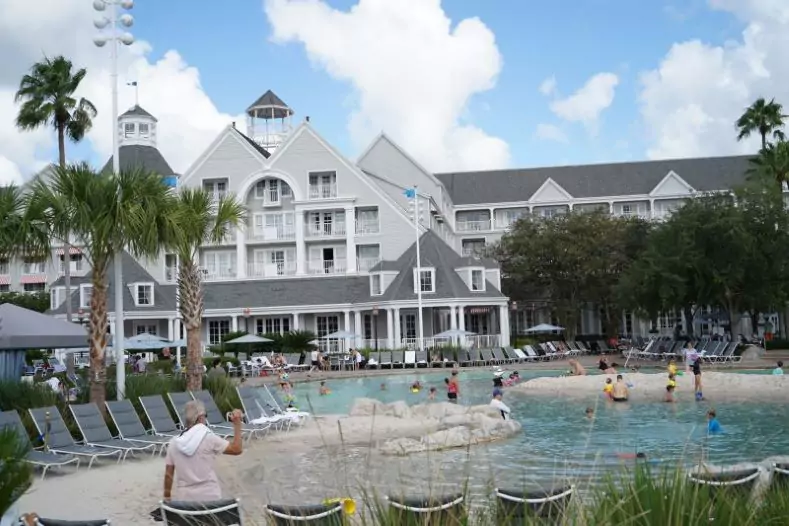 Disney's Beach Club Resort is known for its nautical theming, peach/green/blue accents, laid-back vibe, and it's amazing pool complex.
The resort's beachside water park, Stormalong Bay,  is 3 acres of aquatic fun for the entire family. There's an expansive sand-bottomed pool, a 230-foot-long waterslide, a lazy river, 3 whirlpool spas, and an elevated tanning deck.
Other features of the resort include a few "quiet" pools, a beach area along the shores of Crescent Lake, boat rentals, an arcade, and the Ship Shape Health Club.
Dining options at Disney's Beach Club Resort include the casual family restaurant Cape May Cafe, the diner-style Beaches & Cream Soda Shop, and Hurricane Hanna's at Stormalong Bay.
Beach Club is just a stone's throw from Epcot, Hollywood Studios, and the BoardWalk.
Bottom Line
The Beach Club has a family-friendly vibe, a fantastic pool complex, and offers easy access to the parks. This is a great choice for families that want to keep their kids entertained once they get back from the theme parks.
Best Disney World Hotel for Couples
Disney's Port Orleans – Riverside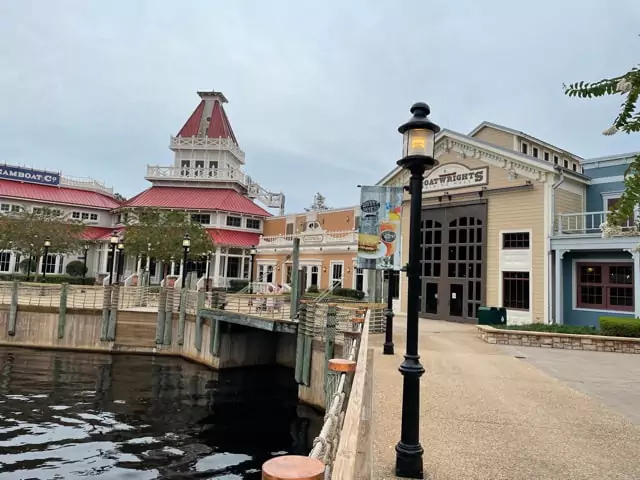 Port Orleans – Riverside is one of Disney's most romantic hotels.
As you step foot on the grounds of this beautiful resort, you will be instantly immersed in the charm of the antebellum South.
After returning from the parks, couples can enjoy an evening stroll along the lush banks of the Sassagoula River or a meal at Boatwright's Dining Hall. Or, step aboard the ferry and cruise down the river to Disney Springs for a date night. Guests can even bring their dogs to this resort if they want.
Being a Disney Moderate Resort, Port Orleans can offer couples plenty of amenities and charm at an affordable price.
Bottom Line
Port Orleans isn't the spot to go for cartoonish Disney themes and all the bells and whistles.  But if you're searching for a low-key and romantic setting to unwind after the theme parks, Disney's Port Orleans – Riverside is a great choice.
Best Disney World Hotel for Honeymoons
Disney's Polynesian Village Resort
The Polynesian Village Resort is Disney World's best hotel for honeymoons.
The tropical resort offers a laid-back beach, amazing pools, and a tiki bar called Trader Sam's Grog Grotto. . There are plenty of dining options, including Captain Cooks, 'Ohana, and Kona Cafe, or you can take the monorail to nearby Contemporary Resort or Grand Floridian Resort if you wish to dine there.
If you can afford to take your honeymoon to the next level, then consider the Polynesian bungalows. These exotic floating villas will give you that "wow factor," and provide you with an awe-inspiring view of Cinderella's Castle and the nightly fireworks across Bay Lake.
Bottom Line
The regular Polynesian Village Resort is a great option for honeymoons, but nothing says tropical romance quite like the Polynesian bungalows. They are pricey, but it's your honeymoon after all. Live it up!
Best Disney World Hotel for Large Families
Disney's Art of Animation Resort
Art of Animation is Disney's best hotel for large families.
There are 984 standard-sized rooms (sleeps up to 4 people) and 1120 families suites (sleeps up to 6 people).  So, if you need somewhere spacious to stay at Disney, Art of Animation is a great choice.
Art of Animation pays homage to some of Disney's most beloved animated films -Finding Nemo, Cars, The Little Mermaid, and The Lion King. Besides its fun themes and large icons, the resort has spacious amenities, is dog-friendly, and features its own bus system to/from the parks.  It also has one of the best food courts at Disney (The Landscape of Flavor).
To top it off, Disney's Art of Animation has a stop on the Skyliner and has the single largest pool at Walt Disney World Resort.
Bottom Line
While it is more expensive than the other Disney Value Resort, Art of Animation is still a fairly affordable option for a large family or group.  It's not fancy but the theming is fun, the food court is extensive, the "Big Blue Pool" is massive, and the transportation options are more than sufficient.
Best Disney World Hotel for Foodies
Disney's Animal Kingdom Lodge Resort
Animal Kingdom Lodge is one of Disney's most interesting properties for several reasons, but foodies know it's the resort to head to for interesting restaurants.
The African-themed resort is, not surprisingly, right next to Disney's Animal Kingdom theme park.  In fact, the resort provides spectacular views of the four savannas that more than 200 birds and animals call home. The resort features a majestic lobby, a dazzling pool, engaging animal programs, and one of the country's largest collections of African art.
Despite these interesting features, Animal Kingdom Lodge's claim to fame may just be its dining experiences.  Jiko – The Cooking Place is consistently ranked as the best Disney restaurant for foodies because of its scrumptious African cuisine and extensive cocktail menu. Boma – Flavors of Africa is another award-winning African-centered restaurant featuring all-you-eat buffets at breakfast and dinner.
The resort rounds out its offering with several lounges, pool bars, and snack bars to keep you happy.
Bottom Line
This resort makes you feel as though you're on an African safari adventure, but with a touch of Disney magic. If you love to try new and interesting cuisine – and you want to be close to all that Animal Kingdom has to offer – then Animal Kingdom Lodge is the place to be. Bring your appitite!
Best Disney World Hotel for Pets
Disney's Yacht Club Resort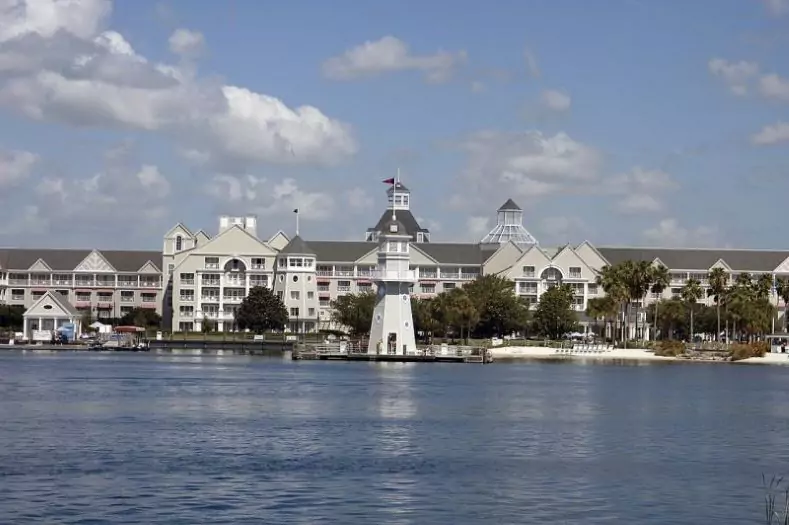 The best pet-friendly hotel at Disney World is the Yacht Club Resort.
There are currently four Disney Resort hotels that have designated dog-friendly accommodations. These resorts are:
The Cabins at Fort Wilderness Resort
Disney's Art of Animation Resort
Disney Port Orleans Resort – Riverside
Disney's Yacht Club Resort
Quite frankly, any of these resorts will work out fine if you want to bring your dog. We chose to highlight Disney's Yacht Club Resort because the pet-friendly rooms have easy access to outdoor walkways.  Guests can bring their dogs outside for exercise, relief, and to play with the other dogs.
Certain floors of these Disney Resort hotels, including Yacht Club, are designated as dog-friendly and dogs must remain in these sections only. Dogs are not permitted in common areas, theme parks, or other recreational spaces. Dogs are to be properly vaccinated, leashed in public areas, and generally well-behaved.
Upon check-in, guests receive a complimentary Pluto's Welcome Kit with goodies for you and your dog.
As for Disney's Yacht Club Resort itself, this grand New England-style hotel is known for its plush lobby and the exquisite dining at Yachtsman Steakhouse, and hearty fare at Ale and Compass Restaurant.  With its sister resort, Disney's Beach Club Resort, the Yacht Club also shares a 3-acre water complex called Stormalong Bay, the best pool at any Disney resort (in our opinion).
Bottom Line
Disney Yacht Club is a great choice if you want to bring Fido to Disney World. The hotel is like the elegant, preppy version of Disney's Beach Club Resort, with upscale dining and amenities, and a really fun pool area. You and you're dog will love it!
Best Disney World Hotel for Nature Lovers
Disney's Cabins at Fort Wilderness / Disney's Campsites at Fort Wilderness
The Cabins at Fort Wilderness Resort, and Campsites at Fort Wilderness Resort, are the best Disney World resorts for nature lovers.
Situated on 750 wooded acres, The Cabins at Fort Wilderness is a frontier-themed resort with rustic-chic cabins. Each cabin sleeps up to 6 guests and comes equipped with a full-sized kitchen, bunk beds, a queen bed, and a double-sized sleeper sofa.
The resort is a great choice for outdoorsy and active families. You can ride bikes around the campground, take a leisurely walk through the wooded paths, or rent a golf cart and cruise around. There are 2 pools, an animal ranch with pony rides, archery, watersport rentals, a nightly campfire, and more.
The Cabins at Fort Wilderness has its own boat launch that can take you to and from Magic Kingdom with ease.
For an even more rustic experience, try the Campgrounds at Fort Wilderness Resort. It's a great option for larger parties and those who are willing to bring their RV or tent.
The Campgrounds offers four types of campsites that will accommodate everything from tents to large RVs. There is a maximum of 10 guests per site and the rates are among the least expensive in all of Walt Disney World (depending on which type of campsite you choose).
Bottom Line
The Cabins at Fort Wilderness are a nature lover's dream. They aren't cheap, but you do get all the creature comforts on regular Disney resorts PLUS you're own kitchen.
If you are on a tight budget and/or enjoy roughing it, then the Campsites at Fort Wilderness Resort are probably your best bet.
Note: Disney's Wilderness Lodge Resort is another resort with an outdoorsy theme – but in a much more refined way. It's one to consider if you want an outdoor feel without actually roughing it.