Tipping service workers like waitstaff, bellhops, and housekeepers is standard practice. However, tipping at Sandals Resorts works differently: there is a no-tipping policy (with a few notable exceptions). In this blog post, we will explain who and when you can tip at Sandals Resorts and how much to tip. We will also provide recommendations on maximizing your tipping experience at Sandals and answer other common questions about tips at Sandals.
Tipping on the Way to Sandals Resorts
Tipping begins before you arrive at Sandals. Below are some situations in which tipping may be possible.
Luggage Carrying Services at the Airport
Upon landing at your destination's airport, you may be greeted by attendants who offer to carry your luggage. These friendly folks are not Sandals employees but are very insistent on their services, especially in Jamaica. You are not obligated to use their services, but if you do, don't forget to tip them! If you don't tip, they may act aggressively, so it's best to have cash on hand. There is no need to tip them anything extravagant, but a few dollars will do. They provide excellent service and help make your airport arrival more enjoyable.
When staying at Sandals, you'll be pleased to know that the cost of the transfer shuttle from the airport is included in your room rate. However, it's customary to tip the shuttle driver, who picks you up and brings you to the resort.
While there's no set amount that you should tip, a few dollars is a nice gesture, depending on the level of service you receive. Remember that these drivers are typically responsible for picking up and dropping off multiple guests throughout the day, so a little bit of gratuity can go a long way in showing your appreciation.
Cab Drivers and other Private Drivers
While the shuttle bus is free for guests, a taxi may be a more attractive option for those willing to pay a little extra for private transportation. It's important to remember that taxi drivers expect tipping in many countries, so be sure to have some cash on hand before you hail a cab or other type of private vehicle.
Tipping at Sandals Resort Properties
The tipping process at Sandals Resorts may seem straightforward, but there are a few nuances you need to know.
No-Tipping Policy
Unlike other resorts that claim to be all-inclusive but charge you for things like bottled water and alcohol, at Sandals, everything is really included.
The cost of Sandals already includes tipping, so there's no need to tip most employees you encounter during your stay. In fact, Sandals maintains a no-tipping policy for the majority of its employees. Among them are maids, bellhops, concierge, bartenders, and wait staff, as they are already getting paid for their service. Since employees could get fired for accepting a tip, the best option for everyone's sake is to play by the rules and not attempt to tip Sandals employees.
Exceptions to Sandals No-Tips Policy
There are three notable exceptions to Sandals' no-tipping policy: Butlers, Red Line Spa service attendants, and Barbados-based employees.
Sandals allows tipping for this category because personal butlers offer a level of service beyond what's expected from everyday staff.
If you book a room in one of the higher Butler categories, you will be assigned two or three butlers to assist you throughout your stay. You can tip them for their service if you wish, and it is customary to do so.
There is also butler service offered on the beach or in other areas of some Sandals locations. These butlers are also tippable.
Guests are allowed to tip Red Line Spa employees because it's a 3rd-party company providing an optional service. Red Line Spas automatically include 12.5% gratuities in their invoices, but you can increase that if you choose.
Under Barbados law, Sandals (or any other employer) cannot prohibit tipping. Therefore, Sandals employees based in Barbados can accept tips without penalty. Despite this, Sandals still strongly discourages the practice, even in Barbados.
These are the only three exceptions to the no-tipping policy; all other Sandals employees should not be tipped, and many wear buttons around the resort to remind you of this. If you don't use the spa or book a Butler-level room, you'll save money on a Sandals vacation since you won't be tipping at all during your stay.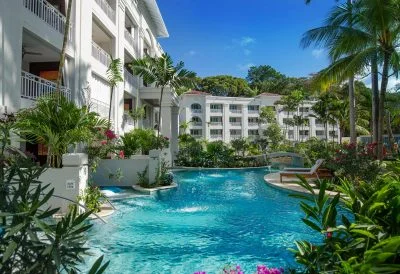 Tipping Off Sandals Resort Property
When you are off Sandals property, follow the same practices as you would at home. It would be best if you tipped non-Sandals service providers such as tour guides, wait staff, bartenders, and others. Cash is the preferred payment method, as many businesses in the area may not accept credit cards. Following these local customs and tipping guidelines will ensure that everyone involved in making your vacation enjoyable is adequately compensated.
Tipping on Excursions
Island Routes is an independent tour company that offers excursions for guests of Sandals Resorts. Their extensive excursion program covers most of the major islands in the Caribbean, with activities ranging from biking and hiking to snorkeling and kayaking.
The company's policy is to provide excellent customer service, and they do. We recommend tipping Island Routes employees for the superb service they provide. Cash is the preferred method of payment for these tips.
How Much Should You Tip Sandals Butlers and Spa Employees?
Even though tipping is not mandatory in these instances, it is customary, expected, and the right thing to do, especially if you receive good service. Here's what we suggest:
Tipping Sandals Butlers: How Much?
Sandals' blog post on 6/10/21 suggested that guests tip their butlers $20 – $25 daily, depending on how good their service was. Considering inflation, we recommend $25 – $30 per butler daily.
Tipping Spa Employees: How Much?
Depending on the total cost and your level of satisfaction, you can decide how much to tip Red Line Spa employees. We suggest giving 15-20% unless you want to give more. It is essential to check your invoice before tipping since the Spa automatically includes a 12.5% gratuity charge.
Tipping Non-Sandals Employees: How Much?
It is customary to tip cab drivers, tour guides, and off-property wait staff based on the total cost of the service and your satisfaction. Generally, tipping in the Caribbean should be done the same as at home, so you should expect to tip at least 15%. If you are unsure, give a little extra, and they will appreciate it!
When to Tip at Sandals Resorts
Even though butler service is included in your stay when you book a butler-level room, you're still expected to tip your butlers for their dedication and hard work. You can tip your butlers at the end of your stay or daily. We recommend tipping each butler day by day for a few reasons.
First, you are assigned 2 or 3 butlers at the beginning of your stay, but things can change, and you may be assigned a replacement butler at some point. The departing butler is less likely to receive proper compensation if you wait until checkout to tip. Daily tipping ensures the tip is given to the butler on duty that day.
Second, if you tip just once at the end, it's not guaranteed that Sandals will evenly distribute the tip between every butler who helped you during your stay. Maybe you don't want it evenly distributed – some butlers may be better than others, and you want to reward them accordingly. That's why tipping daily, butler by butler, is the way to go. You'll have much more control over who gets what tip.
Furthermore, a butler will pay more attention to you during your stay if they know you're a good tipper. By waiting until the end of your stay to tip, the butler won't know whether you're a good tipper or if you're going to stiff them. It's always best to tip every day.
How to Tip Butlers at Sandals Resorts: Cash or Credit?
The preferred method of tipping butlers at Sandals Resorts is cash. US dollars are accepted at all locations, and cash is easier to split between butlers. You can allocate tips as you wish, and butlers prefer it, too, since they don't have to pay taxes on cash tips on the islands where Sandals are located.
If you rather pay with a credit card, you can do that at the front desk. However, it is a bit of a complicated procedure, and you cannot pay day by day.
We recommend cash since it gives you more flexibility and control, the butlers appreciate it, and it is just easier overall.
Are Butlers Necessary at Sandals? 
Sure, you could carry your luggage and pour your drinks, but where's the fun in that? When you're on vacation or a Sandals honeymoon, you should be able to relax and enjoy yourself, and that's where butler service comes in.
At Sandals, the team of skilled and professional butlers are there to attend to your every need, whether it's unpacking your bags or making sure you always have a refreshing drink by the pool. And don't worry – it's only weird for a short time. After a few hours of being waited on hand and foot, you'll start to feel like royalty. So go ahead and enjoy butler service – it's what they're there for!
Although butlers are wonderful, they are more of a luxury than anything else. Sandals staff will always be happy to assist you, regardless of whether you have a butler room or a room in another category. Even among Sandals' cheapest resorts, the level of royal service is hard to match.
Are You Ready to Book Your Sandals Vacation (and Save)?
Sandals Resorts offer sun, sand, and luxury. Discover how The Vacationeer's travel planning services can help you book the tropical Caribbean vacation of your dreams!
There are many reasons to book Sandals with a travel agent like The Vacationeer.  They can help you determine the best time to go to Sandals, narrow down the best Sandals resort for your relaxing or romantic couples vacation, or to help you find the best Beaches resort for your family vacation (or just describe the differences between the two). They are there to assist you if you have a question or need a recommendation or tips for your vacation.
The Vacationeer's travel agents can also help you save money and even schedule a payment plan, so you don't have to pay all at once. And, maybe best of all, the services of The Vacationeer won't cost you a dime!
Click here for your free, no-obligation quote.