As magical as Disney World may be, it can also be crowded, hectic, and exhausting. Sometimes you just need to find a peaceful place to relax.
Below we have selected the top 37 Places to Relax in Walt Disney World Resort to help you recharge. These suggestions are in no particular order other than being grouped by the theme park, resort, and elsewhere within Disney World. A few on our list are activities (not places, per se).
So take a break from the action, take a deep breath, and relax at these places around Disney World.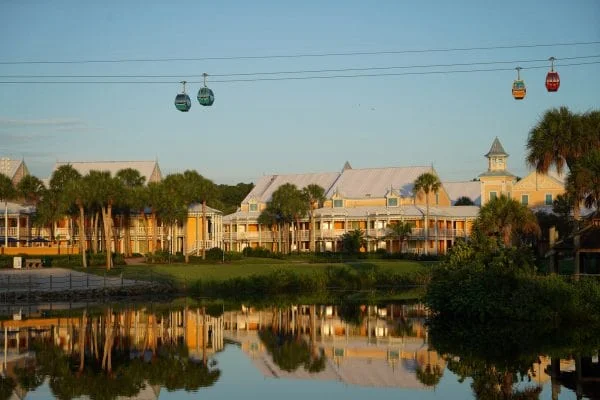 Places to Relax at Disney's Magic Kingdom
1. Tomorrowland Transit Authority People Mover
Magic Kingdom is Disney's oldest AND most popular park. You are sure to encounter crowds any time of the year. There are a few low-key and peaceful Magic Kingdom rides and attractions that will allow you some time to relax and sit down. The best example of this type of ride is the Tomorrowland Transit Authority PeopleMover.
The ride travels around the Tomorrowland section of Magic Kingdom where you'll experience spectacular views from overhead. No, it's not air-conditioned but you'll likely encounter a  nice breeze.
PeopleMover is possibly the most relaxing ride in all of Disney World, and even the kids will enjoy the views.
2. Tomorrowland Terrace
The Tomorrowland Terrace dining location is a great place to relax and recharge while you enjoy stunning views of Cinderella Castle. A quick-service menu (courtesy of the Columbia Harbour House) offers yummy seafood items like lobster rolls and fried shrimp, as well as other favorites like chicken nuggets.
3. The Carousel of Progress
The Carousel of Progress is a rotating audio-animatronic stage show located in the back of Tomorrowland. The chairs are comfy, the show is lengthy, and the auditorium is dark and cool. This is one of the best places to relax at Magic Kingdom.
4. Ye Olde Christmas Shoppe
Head over to Liberty Square and check out the open space behind Ye Olde Christmas Shoppe. The nicely shaded area has benches and plenty of room to recharge, stretch your legs, and get off the main walkways for a while.
5. Main Street, U.S.A.
While Main Street USA may seem like the last place on Earth for relaxation, there's really no better place to do some quality people-watching.  So grab a hot dog at Casey's, find a bench along Main Street, and watch the families as they round the corner and see Cinderella Castle for the first time. Plus, you can interact with the Citizens of Main Street while you're there.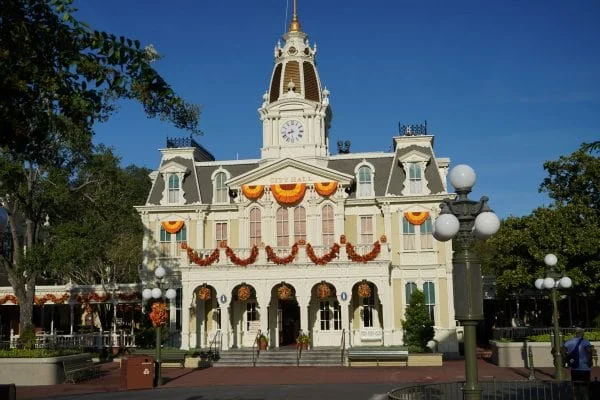 Places to Relax at Disney's EPCOT
6. Spaceship Earth
 Epcot has plenty of great places to relax and take a break from the crowds and the heat.
One good spot to rest is Spaceship Earth, the iconic geodesic sphere that serves as the symbol of Epcot.  Head inside the structure for a slow-moving dark ride attraction with refreshing air conditioning.
Like Carousel of Progress, this Epcot ride will give you plenty of time to recharge so you'll be ready for more action when you're back outside.
7. The Japan Pavilion
The courtyard of the Japan Pavilion includes a Japanese Pagoda, Japanese pools, and beautiful gardens. Look for the area between Katsura Grill and the koi ponds for a tranquil space to relax.  The areas by the ponds, waterfalls, and bridges are well-shaded and provide plenty of tranquility to put your mind at ease. Listen for the Taiko drummers in the distance.
8. The Morocco Pavilion
Morocco Pavilion has long been a World Showcase fan-favorite. With its stucco walls, arches, and mosaics, it's a great section of the park to spend some time exploring and relaxing. 
The pavilion has 6 shops to explore and a quiet little hideaway behind Tangerine Cafe to escape the crowds for a while.
9. The Seas with Nemo & Friends Pavilion
Another low-key area at EPCOT is The Seas with Nemo & Friends pavilion.  The area is themed as an underwater exploration base and features several oceanic exhibits.
The pavilion's main selling points are a dark ride attraction (The Seas with Nemo & Friends), an aquarium, the Turtle Talk with Crush show, and the Coral Reef Restaurant.  Overall, it's a peaceful oasis to relax and recharge before venturing out into the more crowded areas of the park. 
10. The Gardens around World Showcase
World Showcase is a 1.3-mile-long celebration of global culture and cuisine. In total, there are 11 pavilions (countries) with wonderful gift shops, exhibits, and dining. Although often overlooked, World Showcase is also home to some fantastic gardens.
The most notable gardens can be found in the UK Pavilion, Canada Pavilion, and, as mentioned before, the Japan Pavilion. Each of these gardens has quiet areas where you can sit down and relax for a while. 
11. American Heritage Gallery at American Adventure Pavilion
The American Heritage Gallery at the American Adventure Pavilion is spacious, air-conditioned, and situated right on the 1st floor of the building. It's a great place to rest, use the bathrooms, cool off, and meander through the gallery. The gallery is currently exhibiting American Indian art.
Places to Relax at Disney's Animal Kingdom
12.  Walkway

Between Pandora and Africa 
Disney's Animal Kingdom is known for its roaming animals, lush greenery, and spacious feel compared to Disney's other parks. It's no wonder that's relaxation is easy to find in this park.
For a quiet and shaded area – away from the hustle and bustle – look for the secret walkway between Pandora – The World of Avatar and Africa.  It's shaded and tranquil (but there's no seating).
13.  

Na'vi River Journey
Na'vi River Journey attraction is perhaps the most tranquil of all Animal Kingdom rides. It moves slowly and has soothing blue lights. What a magical way to relax!
14. Tree of Life and Surrounding Trails
The Tree of Life is a 145-foot baobab tree with 325 animals carved into its truck. This iconic structure provides the perfect place to rest while you take in the beauty and craftsmanship of this sculpture. The walking trails surrounding the tree also provide a nice respite from the noise and crowds of the park.
Places to Relax at Disney's Hollywood Studios
15. Exit of Tower of Terror
As you exit Tower of Terror, turn to the right and look for the brick ledge. It's a great place to sit and relax. There's also a good spot to rest behind the coffee cart.
16. Baby Care Centers
If you are a parent, then you should familiarize yourself with Disney's Baby Care Centers. They can be found in Hollywood Studios and in the other three theme parks. Baby Care Centers are well-stocked with baby supplies, kitchen facilities, bathrooms, nursing/changing areas, and living room areas for everyone in the family. Rest, relax, and recharge.
17. Walt Disney Presents
The Walt Disney Presents attraction is located in Hollywood Studio's Animation Courtyard. Here you can learn all about Walt Disney, the man who started it all. The low-key attraction includes fascinating multimedia presentations and rare artifacts. When it's over, look for the group of benches near the exit and sit for a while.
Places to Relax at Disney World Resort Hotels
18. By The Pool
There are plenty of opportunities to rest at Disney World's resort hotels, none more popular than spending some time at the pool.
Whether it's taking a mid-afternoon break from the theme parks or a morning/evening swim, Disney World's pools are all about fun and relaxation.
Most pools offer a selection of food items and both alcoholic and non-alcoholic drinks. So grab a frosty beverage, lay back in a comfortable chair, go swimming, and enjoy the pool atmosphere.
Reminder: Guests must be staying at the resort to use the pool facility.
19. Jogging Trails and Gyms
Jogging is a great way to relax at Disney World.
There are walking pathways throughout Disney World, but the majority of Disney's resorts have dedicated jogging trails.  For example, there's a 1-mile-long, paved jogging trail connecting  3 Disney Value Resorts – All-Star Movies, All-Star Music, and All-Star Sports. There's also a 3.1-mile-long pathway surrounding Disney's Fort Wilderness Resort & Campground, and a 1.38-mile trail near Disney's Art of Animation Resort.
Additionally, all of the Disney Deluxe Resorts have fitness centers, along with one Disney Moderate Resort (Disney's Coronado Springs Resort).  Fitness centers are free for guests staying at those resorts.
20. Spas
What better way to relax than indulging in a spa treatment.
Disney has several full-service luxury spas and salons so you have plenty of ways to pamper yourself while at the resort. 
Disney World's spa locations include Disney's Grand Floridan, Disney's Riviera Resort, Disney's Dolphin Resort, and Disney's Old Key West Resort.
21. Movies Under the Stars
Movies Under the Stars is a fun, family-friendly movie feature for guests staying at a select number of Disney resort hotels.
The movie event is held outdoors and is free of charge.  Days, times, and movies (often a Disney classic movie) vary nightly and are subject to favorable weather conditions.
Check with your hotel for updates. What a great way to relax!
22. Arcades
Are you – or members of your family – gamers? If so, you'll be happy to learn that most Disney resorts feature an arcade right on hotel grounds.
If you are looking for something to do on rainy days, or just to de-stress after a long day at the parks, head over to the nearest arcade.
23. Resort Hopping
Resort-hopping is a fun way to see a variety of Disney resort hotels. You don't have to be staying at a resort to stop by and check out the lobby, theming, dining spots, and shops.
The easiest and most popular way to resort hop is by monorail. This Magic Kingdom monorail loop makes stops at three classic resorts: Disney's Polynesian Village Resort, Disney's Grand Floridian Resort and Spa, and Disney's Contemporary Resort.
Remember: Disney World transportation is always free of charge!
24. The Lobby at Disney's Grand Floridian Resort & Spa
Of all the Disney hotel lobbies, none is grander than the lobby at Disney's Grand Floridian Resort & Spa. It's spacious, elegant,  and there's often a piano player there providing some lovely background music.
The ambiance and couches make this lobby a great place to relax. It's also one of the most magical places at Disney World during the Christmas season.
25. Rocking Chairs at Disney's Wilderness Lodge
A visit to Wilderness Lodge Resort is always relaxing…in an outdoorsy sort of way. The beautiful lobby is worth a visit, but be sure you head up to the upper level where you'll find a whole bunch of rocking chairs by the fireplace. This is as close to Montana as you'll find in Central Florida!
26. Geyser Point at Wilderness Lodge
Geyser Point is a low-key outdoor bar and grill at Wilderness Lodge Resort. The poolside eatery offers a walk-up window with delicious grab 'n' go bites where you can enjoy on the restaurant's outdoor deck (while sitting in a lounge chair).
Geyser Point is a relaxing spot to soak up the sun and enjoy the peaceful surroundings.
27. The Wooded Path between Wilderness Lodge and Fort Wilderness
Head over to the wooded path between Wilderness Lodge and the Campsites at Fort Wilderness. Here you'll feel like you are far away from the hustle and bustle of Disney World (and more like somewhere in the Pacific Northwest).
28. Outdoor Activities at Disney's Fort Wilderness
Sticking with Fort Wilderness, another thing guests will love about the camping-themed resort is all of the activities they offer. You can go horseback riding (ages 9+) through wooded trails, rent boats, kayaks, and canoes, try your hand at archery,  or enjoy the resort's comedy dinner show, Hoop-Dee-Doo Musical Revue. What a fun way to relax!
29. Nomad Lounge at Animal Kingdom
Animal Kingdom's Nomad Lounge is known for having a lengthy cocktail menu with libations and spirits from around the globe. Furthermore, the cuisine here is wonderful and will even satisfy Disney World foodies.   
The freshly prepared menu includes items like Togarashi-spiced Tuna Nomad Bowls, Chicken Manchurian, and artisanal cheeses. What's more, the world travel-themed lounge is nicely air-conditioned and oh-so relaxing. Adults and couples will love unwinding at Nomad Lounge.
30. Crescent Lake at the Epcot Resort Area
The Epcot Resort Area runs between Epcot and Disney's Hollywood Studios. The area consists of six resorts, five of which are connected to each other via walking paths and waterways surrounding Crescent Lake.
Whether you are going for a jog, a sunset stroll, or just sitting on a bench and watching families walking by, the Crescent Lake area is a beautiful place to relax at Disney World.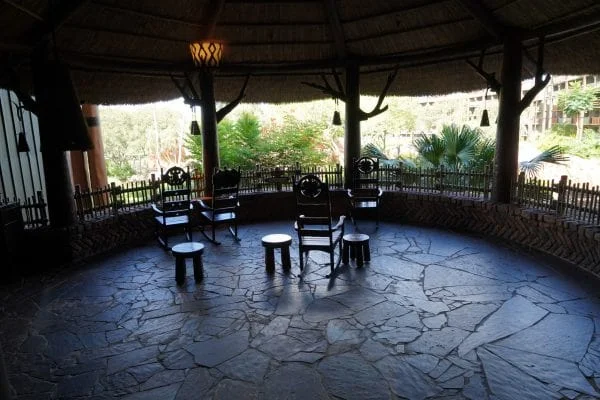 Other Places to Relax at Walt Disney World Resort
31. Disney's Water Parks
Nothing beats the summer heat like a water park. Fortunately, Disney World has two water parks — Blizzard Beach and Disney's Typhoon Lagoon.
Yes, they can get crowded, but you'll still be able to relax on a beach chair, drifting down a lazy river, taking a private surf lesson with a certified instructor, or zooming down a steep slide and splashing down into a refreshing pool of water.
What a fun place to cool off!
32. The BoardWalk
Disney's BoardWalk is a quarter-mile promenade filled will unique shops, energetic nightlife. and amazing dining locations.
For rest and relaxation, there's nothing like strolling the water's edge or sitting back and watching the street performers as the sun sets in the background. There's fun for all ages here, but fun-loving adults will especially like the dueling piano bar Jellyroll or the nightclub atmosphere of Atlantic Dance Hall.
33. Disney Springs
Like the BoardWalk, Disney Springs is another fun and relaxing place to spend some time. The shopping, dining, and entertainment complex doesn't require a theme park ticket or any fee to enter, and there are fun activities for the entire family.
Disney Springs has around 60 restaurants, bowling at Splitsville Luxury Lanes, a 24-screen, dine-in AMC movie theatre, and many other activities and places to shop. 
34. The Skyliner, Monorail, or Water Taxi
Disney transportation provides scenic relaxation and gives you a chance to explore different areas of the resort without hopping in an Uber.
Whether is the monorail, Skyliner, water taxis, or buses, you can find different routes and modes of transportation. Plus, it's 100% free to use and you don't have to be staying at a Disney resort or even have park tickets to use it.
Recommendations: Take the monorail around to different Magic Kingdom-area resorts, ride the new Skyliner from Epcot (or Hollywood Studios) to one of the hotels along the way, or take a water taxi over to Disney's Wilderness Lodge or Disney Springs. 
See our Disney World Transportation Map.
35. Fishing Holes
Fishing at Disney World? Yes, that's right.
Any age and any ability can enjoy fishing at Disney. Grab a rod and head over to the dock at Disney's Port Orleans Resort – Riverside, or participate in a guided fishing excursion at World Showcase Lagoon, Seven Seas Lagoon, Bay Lake, or Crescent Lake. 
36. Golf Courses
Experienced and novice golfers have several choices at Disney World. There are four official golf courses on the property, as well as another course at the Four Seasons Orlando. 
Want to brush up on your swing? Guests ages 7 and older can book a golf lesson with PGA pro.
If mini-golf is more of your thing, Disney has two locations: Disney's Fantasia Gardens and Disney's Winter Summerland.
What a fun and relaxing way to spend your evening (or off-day) at Disney World!
37. Biking
Biking at Disney World is a great way to stay in shape and see the sights and sounds of the park.
For some guests, there's nothing more relaxing than cruising along a lakefront promenade or coasting through woodland trails.
Bike rentals are available at eight different locations throughout the resort.  You can also rent a 2 or 4-person surrey bike at six different locations.
So much fun!