Most people think booking a Sandals Resort vacation is a simple process. However, if you want to ensure your trip goes as smoothly as possible, we recommend booking through a travel agent specializing in Sandals. Here are seven reasons to book Sandals with a travel agent.
1. Sandals Travel Agents Have First-Hand Experience with the Resorts
As the world's leading provider of luxury all-inclusive vacations, Sandals Resorts offers travelers a wide range of options for their next getaway. But with so many choices, it can be challenging to know where to start. That's where Sandals Resorts travel agents come in.
With first-hand experience at Sandals Resorts around the Caribbean, they can provide valuable insights and share insider tips to help you plan the perfect trip. In many cases, you cannot find these recommendations anywhere online.
Your travel advisor will give you the feedback you need on your vacation choices, whether recommending a Sandals resort location, a romantic restaurant, an exciting excursion, a pristine beach, or advising on the best time to go to Sandals.
Bottom Line:  Before you land in the Caribbean, you should know what to expect at a Sandals Resort. These Sandals experts can answer any questions you have since they have been there and have first-hand experience. They can tell you the differences between Sandals Royal Barbados, Sandals Royal Plantation, Sandals Royal Bahamian, and Sandals Royal Caribbean (and any of the other resorts), and help you pick the best one for you. Sure, you can do some research online, but wouldn't you feel better speaking with someone who's actually been there? That's where a Sandals agency comes in. Using a vacation planning expert will alleviate stress related to vacation planning because they guide you throughout the process and provide informed recommendations.
2. Sandals Travel Agents Save You Money
One of the best reasons for booking Sandals with a travel agent is their ability to find the lowest prices. With their knowledge of the booking process and how to take advantage of special offers and discounts, agents can often help their clients save a lot of money on their vacations.  This is especially important for an all-inclusive destination like Sandals… because there's only a single, all-inclusive price for your trip, you want to be SURE it's the lowest price available!
In addition, Sandals travel agents are always up-to-date on the latest deals and promotions, so you can be sure that you're getting the best possible price when you book. They can also keep an eye on prices and availability so that you can book your Sandals vacation at the perfect time. Sandals promotions often include instant credit, free nights, and last-minute travel deals.
Finally, couples who book their stay through a Sandals Resort travel agent can rest assured that they are getting the best possible price because Sandals has the Best Price Guarantee. Sandals will refund the difference if you find a lower price for the same room type and dates within 24 hours of booking. Your Sandals travel agent will handle all the details so you can be confident that you're getting the best deal.
Bottom Line: It's always a good idea to compare prices before you book your vacation. We recommend speaking to a Sandals Resort travel agent before you book your trip, as they can often find deals you may not be able to locate on your own.
3. A Sandals Travel Agency Will Save You Time
When it comes to planning a vacation, there are a lot of details to take care of. Whether it's booking flights and hotels, renting cars, or making restaurant reservations, the list of things to do can seem endless. And that's not even counting the research you need to do to find the best deals.
Using a Sandals Resort travel agent can save you time. First, discuss your ideal Sandals vacation with your travel advisor, including your preferred location, accommodations, excursions, activities, and budget. From there, they will handle the rest.
Your dedicated Sandals travel advisor will find you the best deals and put everything together into a single package. That way, you can relax and pack your bags without worrying about the reservations and logistics.
Bottom Line: Work with a Sandals Resort travel agent to save time and hassle. You'll be glad you did!
4. A Sandals Agency Helps with Rebooking if Your Plans Change or You Find a Better Deal
One of the reasons to book Sandals with a travel agent is their flexibility. They can change your reservations if necessary and save you from the hassle and headache of calling Sandals directly.
Sandals Travel agents can help you reschedule your trip or refund your money if you cannot go due to unforeseen circumstances. Moreover, If a better deal becomes available after you've booked, they will rebook your trip at the discounted lower rate.
Bottom Line: Here's another example of how a travel agent saves you time, money, and hassle. Your Sandals travel advisor will modify your reservation if your plans change or a vacation package price changes. Furthermore, you won't have to worry about monitoring Sandals' recently released promotions because they will do it for you — your agent can save you money without you having to do anything at all!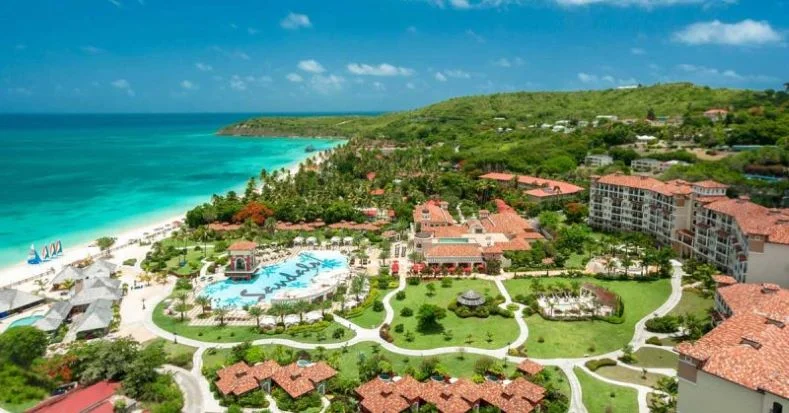 5. One Travel Agent to Help You Through the Entire Process
One of the biggest strengths of a Sandals travel agency is their attention to detail. They will work with you to understand your needs and then take care of all the little details to ensure that your trip is everything you dreamed it would be.
When you book a trip with a travel agent specializing in Sandals vacations, you can rest assured that you'll be in good hands. You'll be assigned a dedicated travel agent to get to know you and your preferences.
By giving you their full attention, they will be able to answer all your questions and ensure that your Sandals trip is customized to meet your needs. They will work with you to choose the perfect resort and create an itinerary that includes all the activities that interest you. They will also provide insider tips on the best beaches, restaurants, and excursions — and make sure the resort is aware of any special request you might have.
Bottom Line: Most travel agencies do not operate like call centers, so you can be assured that you will always receive consistent, one-on-one service from the same person each time you communicate. If you've ever played call center roulette getting a different person each time after a lengthy wait on hold, you know that this along is a great reason to work with an agency. As your travel agent knows your file, they can ensure you have a great experience.
The Vacationeer is the right choice if you want personalized attention and care. Contact them today for a free, no-obligation quote.
6. Sandals Travel Agents Can Set Up a Layaway Plan
If you're dreaming of a Luxury Included Sandals vacation but aren't quite ready to pay in full, the Layaway & Playaway Program is the perfect solution. You can lock in your trip at today's rates and spread the cost over many months, with no fees and no interest. Plus, your Sandals travel agent can help you set up your payment plan (or do it for you).
All you have to do is make a small down payment to get started, and then you can choose to pay the remaining balance in 3- to 24-month installments. Here's how it works:
You must pay a deposit when you (or your travel agent) book your vacation
Choose an installment payment option (3 to 24 months)
An automatic charge will be made every 30 days to the credit card on file
You must pay off the balance 45 days before travel
Bottom Line: Although the payment plan does not save you money on Sandals vacations, per se, it can make them more affordable. Just pay off a little each month, and by the time you leave for your trip, you'll have it paid off in full!
7. It's Free to Use a Sandals Travel Planner's Services
Many people are surprised to learn that the services of a Sandals travel agent are free. That's right – there is no extra charge to utilize the services of a Sandals vacation planner.
Sandals pays travel agencies a commission to help clients plan their trips. At no time is a fee passed along to you. It's truly a win-win situation for everyone, especially YOU!
It's their job to help you plan the perfect Sandals vacation. They can help you choose the right resort, make dining and activity reservations, and even assist with booking ground transportation. In short, a Sandals travel agent can take care of all the details so that you can relax and enjoy your vacation. And best of all, their services are free!
Bottom Line: If you're planning a Sandals vacation, we recommend you take advantage of the free services offered by a Sandals travel agent. They can save you time, money, and hassle, and their assistance won't cost you a dime. There's really nothing to lose!
Conclusion: Reasons to Book Sandals with a Travel Agent
When planning a trip to a Sandals resort, couples can choose to book directly through the resort or through a travel agent. While there is no fee for booking directly with the resort, there are several advantages to using a travel agent.
First, travel agents are familiar with the various Sandals resorts and can help travelers choose the best one for their needs. They can also provide valuable insights into the activities and amenities offered at each resort. In addition, travel agents can often find the best deals and most significant discounts on rooms and packages. They can also rebook your trip if you need to cancel, reschedule, or take advantage of a brand new discount.
A Sandals travel advisor can provide peace of mind by handling all the trip details so travelers can relax and enjoy their vacation.  Best of all, there is no extra charge for their services!
So when planning a trip to a Sandals resort, consider using a travel agent to take advantage of all these benefits.
Thanks for reading our 7 Reasons to Book Sandals with a Travel Agent. Enjoy your trip!
Are You Ready to Book Your Sandals Vacation?
You deserve sun, sand, and luxury at a Sandals Resort. Learn how The Vacationeer can help you choose from various Sandals resorts for your tropical Caribbean vacation with their travel planning services. The Vacationeer can recommend the best Sandals Resorts for a honeymoon (or even for a wedding!), the best Sandals resorts in Jamaica, or anything else you need. And they an help you decide between Sandals and Beaches destinations, and compare them against other options such as Atlantis.
The Vacationeer's travel agents can help you select the perfect Sandals resort for your vacation, help you save money, and even help you schedule a payment plan.
Click here for your free, no-obligation quote!