Taking advantage of last-minute discounts on Disney cruises can be a great way to save money on your dream vacation. By being flexible with your schedule and stateroom details, you can access last-minute Disney cruise deals at a significantly lower price than standard fares. Here you will find information about Disney Cruise Line's Restricted Guarantee fares so you can decide if they are right for you.
What Are Last-Minute Disney Cruises (Restricted Guarantee Fares)?
If you want to save money on booking Disney cruises, have flexibility, and can travel on short notice, consider Disney's last-minute Restricted Guarantee fares. These can provide substantial savings without sacrificing your magical Disney cruise experience.
Let's take a look at how it works.
Occasionally, Disney offers Restricted Guarantee staterooms in slow seasons or on less popular sailings. Since Disney cruises usually sell out quickly, such discounts are rarely required. But suppose Disney cannot fill a specific cabin category fast enough. In that case, they will offer discounted Restricted Guarantee fares as a booking incentive to fill the remaining rooms before sailing.
It's a great deal, but there are some conditions.
Guarantee Rates are typically offered 60-90 days before a ship sails, sometimes even earlier. Once booked, a Guarantee stateroom cannot be changed or canceled, and full payment is required at the time of booking.
As another condition, last-minute Disney cruise deals do not allow guests to reserve a specific room when booking. Disney guarantees that you will receive the stateroom type specified in the promotion — or perhaps a higher level (i.e., if you book an Oceanview room, you'll most likely receive an Oceanview room, but Disney may even upgrade you to a Verandah). The difference is that when you book, you won't know your exact room number or location (like you would on a regular cruise booking).
The actual stateroom assignment usually takes place two weeks before embarkation, but it may even occur on departure day.
Get a Quote on Last-Minute Disney Cruises
If you're looking to book a last-minute Disney cruise, then it's time to speak with the Disney experts. The Vacationeer, a top-selling Diamond Level Authorized Disney Vacation Planner agency, has access to all the last-minute restricted stateroom rates departing from Miami, Port Canaveral, Galveston, New York, and other Disney ports worldwide.
The Vacationeer can answer your questions about Disney cruise destinations, what's included on a Disney cruise, and how to save money. In addition, they offer generous Disney onboard credit as an added booking bonus that will save you even more!
Time is of the essence with these deals since they come and go quickly, so contact The Vacationeer today. Their services are completely free, so you have nothing to lose!
How Much Can You Save With Last Minute Disney Cruises?
The lowest prices and best selection on Disney Cruise Line voyages are usually found within a few days of their initial release, which is generally 15 months before departure. If you cannot (or will not) book that far in advance, the next best way to save is by looking for one of these last-minute Disney cruises. These discounted fares are the hidden gems of Disney Cruise Line pricing.
Last-minute Disney cruise fares – often called Restricted Guarantee staterooms or Guaranteed fares – let you choose your room category, but Disney determines which room you get within those categories.
By allowing Disney to choose the cabin and agreeing to the other "last minute" terms and conditions, guests can save up to 35% off the cost of a regular Disney cruise. Families and couples can save hundreds, if not thousands, of dollars with these guaranteed staterooms with restrictions.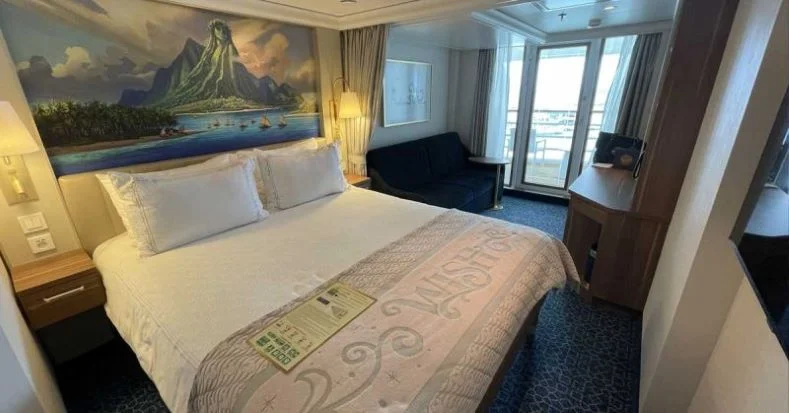 Ultimately, how much you save with restricted guarantee staterooms depends on how expensive that cruise is at regular prices. However, this deal represents substantial savings as the price has been slashed by a third. Last-minute Disney cruises can often mean the difference between being able to afford a Disney cruise and those who could not otherwise afford it.
Last-minute cruises also allow guests to stretch their vacation budgets by spending less on their fare and more on luxury items such as Port Adventures, premium dining, and souvenirs.
Additionally, combining these last-minute Disney cruises with onboard credit offered by travel agencies can save you even more!
Codes for Last-Minute Disney Cruise Deals
Whenever you search for Disney cruise deals, you will find the cruise date, duration, price, and specific Disney ship listed for that particular cruise.
Additionally, you'll notice a code like IGT, OGT, or VGT placed with the promotion. This code identifies the type of stateroom available for the specific deal.
The following list shows the Restricted Guarantee room categories (and their codes) available on selected last-minute Disney cruise deals.
IGT – Category for Guaranteed Inside Stateroom with Restrictions, meaning that staterooms are guaranteed to be Inside or better (at least a category 11C).
OGT – Category for Guaranteed Oceanview Stateroom with Restrictions, meaning that staterooms are guaranteed to be Oceanview or better (at least a category 9D).
VGT – Category for Guaranteed Verandah Stateroom with Restrictions, meaning that staterooms are guaranteed to be Verandah or better (at least a category 7A).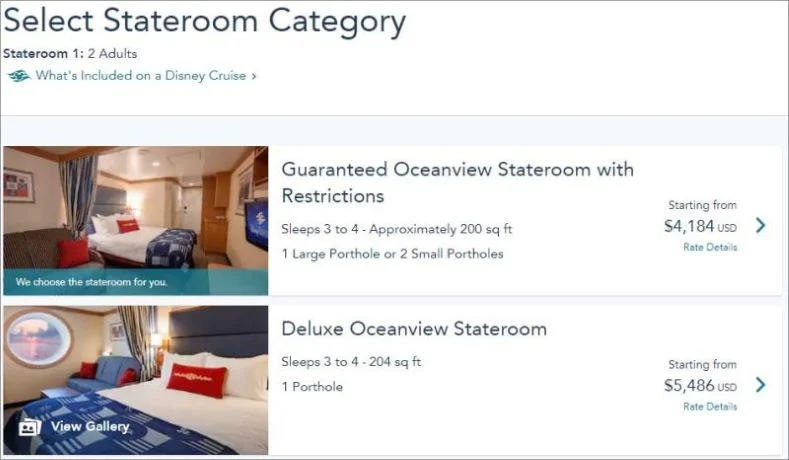 Let's examine the stateroom categories on a Disney cruise, so you know what to look for when searching for Restricted Guarantee fares.
Room Categories for Last-Minute Disney Cruises
Those unfamiliar with Disney cruises may need clarification on these codes. Here's all you need to know about stateroom categories on Disney cruises.
There are four main types of staterooms on the Disney Cruise Line: Concierge (the most expensive), Verandah, Oceanview, and Inside (the cheapest). Within these four types are even more specific categories in which the corresponding prices get lower as you go down – typically starting with Category 1 as the most expensive, followed by Category 2, and so on until you reach Category 11, which is the least costly.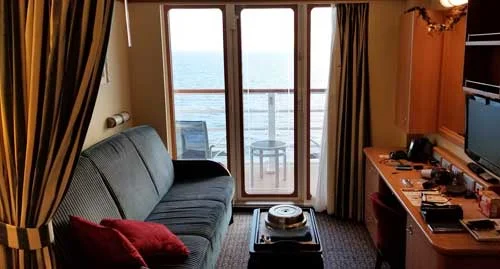 Regarding last-minute Disney cruises, discounted fares are not offered at the Concierge level but are available in the three less expensive stateroom categories. Here is a brief overview of these three categories.
Inside staterooms offer comfortable and stylish furnishings without an ocean view. The rooms are designed for three or four guests and are Disney's cheapest rooms.
Oceanview staterooms provide stunning ocean views with porthole windows and offer affordable accommodations for three, four, or five guests.
Verandah staterooms offer greater comfort, luxury, and a balcony outside the ship. Verandah staterooms are available in several styles and are more spacious than Inside and Oceanview (and more expensive).
If you want to learn more about finding the best staterooms on Disney cruises for your needs, please get in touch with The Vacationeer.
Whether it's your first Disney Cruise or your 25th, they'll make smooth sailing out of it!
They can help you select a last-minute Disney cruise in either the IGT, OGT, or VGT category.
Current Last-Minute Disney Cruise Deals
Booking a last-minute Disney Cruise can be a great way to save money while still getting the magical cruise vacation of your dreams. The following are some of the current Disney Cruise Line Restricted Stateroom deals.
At the time of writing, there are several last-minute Disney cruises from the Port of Miami where you can save up to 35%. Among them is a 4-Night Bahamian Cruise from Miami on the Disney Magic, priced at only $1,288 per person for double occupancy, plus taxes and fees. Similarly, a 5-night Eastern Caribbean cruise from Miami on June 24, 2023, is available for only $1,095 per person. Both options are within the IGT category (Guaranteed Inside Stateroom with Restrictions).
These deals are also available from Port Canaveral. Guests can save 30% on select sailings from Port Canaveral, including a VGT option departing June 17, 2023, for only $2,114 per person. There is a similar last-minute cruise departing on July 1, 2023, for only $2,121 per person (VGT).
While it's of course easiest for Florida residents to take advantage of these discounts, it's not just Disney cruises from Florida that offer last-minute deals. Several packages offer up to 35% off sailings from various domestic and global cruise ports, such as the Port of New York, Galveston, San Diego, New Orleans, Vancouver, San Juan, Barcelona, Copenhagen, and more. The Vacationeer can assist you in selecting the best itinerary and departure port for your vacation.
Terms & Conditions for Last Minute Guaranteed Staterooms
Last-minute Restricted Guarantee fares have the following terms and conditions:
You can combine these deals with The Vacationeer's onboard credit!
You cannot combine this offer with any other Disney promotion or discount.
Disney typically assigns your stateroom within a week of your cruise departure, although it may even be the day of departure. You cannot choose a stateroom number or make special requests.
Restricted Guarantee fares apply to new bookings only. It is not possible to modify existing reservations to these new categories.
There is no booking hold. Payment must be made in full at the time of booking.
There are no refunds for Restricted Guarantee rooms (unless Disney cancels the cruise, in which case you will be refunded).
Applied payments and reservations are non-transferable.
It is not possible to change the sailing date, stateroom category, or cruise itinerary once booked.
Restricted Guarantee bookings are limited to four people per stateroom.
Additional guests can be added to your stateroom after booking, subject to space limitations. Restrictions and booking rules may apply.
When you book two or more Restricted Guarantee staterooms, Disney cannot guarantee that they are next to one another or even on the same deck. They will do their best to place them close together, but sometimes they do not have any remaining rooms.
All stateroom occupants must provide their full legal names and birthdates at the time of booking. No name changes can be made after booking.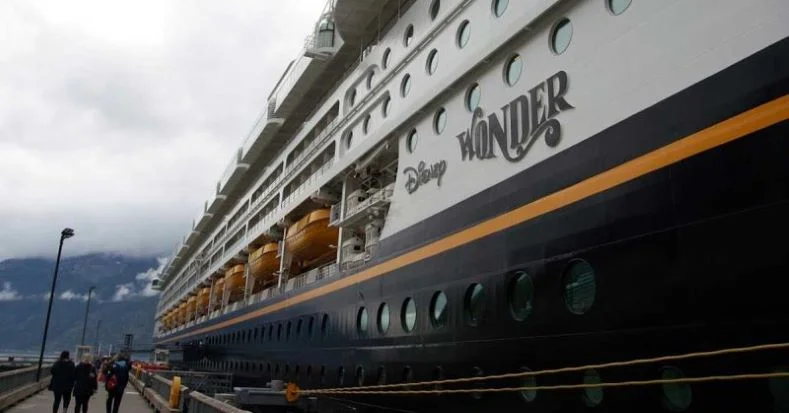 Other Considerations for Last-Minute Disney Cruises
All Disney Cruise staterooms can hold up to three passengers, but some can hold four. (Again, last-minute Guaranteed fares do not apply to 5-passenger rooms.)
Last-minute availability is generally highest for three or fewer guests per room.
Prices are essentially the same for single guests and two passengers. Disney Cruise Line's base price applies to two passengers per cabin.
Discounts on cruises fluctuate as room inventory changes. If you cannot find the deal you're looking for, it's worth contacting Disney travel agents to see if they can locate a similar discount. Alternatively, they can monitor the availability and contact you when the right deal becomes available.
Disney's website labels its last-minute Disney cruise promotion as "Guaranteed Inside/Oceanview/Verandah Stateroom with Restrictions." If you need help locating these deals, it's best to contact The Vacationeer.
When Do Last Minute Disney Cruise Offers Become Available?
Disney Cruise Line usually releases its schedules around 15 months in advance so that guests can schedule cruises well in advance. On the other hand, last-minute Disney cruise offers are generally released 60-90 days before departure.
Disney maintains a list of active last-minute cruise offers that are updated weekly (sometimes even daily). These offers may expire or sell out quickly, so knowing what's available at the present moment is essential.
The Vacationeer can help you find guaranteed savings and the perfect Disney cruise. This highly-regarded Disney travel agency specializes in planning everything you need for a memorable vacation at a fraction of the cost.
The Vacationeer can help you find the best Disney cruise ship and the best itinerary for your dream vacation. They can also act as your personal assistant for your Disney vacation, providing Castaway Cay tips and information about what is included with a Disney cruise.
Your dedicated Vacationeer will also find Guaranteed stateroom discounts that match your unique needs and quote you different prices until you find the right one.
Don't miss out on these unbeatable deals. Act now and start planning your dream getaway today!
Do Disney Cruises Get Cheaper Last Minute?
Disney cruises often become cheaper last minute thanks to Restricted Guarantee fares. As the departure date approaches, Disney Cruise Line offers last-minute discounts on stateroom categories to entice passengers.
Last-minute deals on Disney cruises can provide substantial savings of 30% to 35% off the regular price. These Restricted Guarantee stateroom fares are released 60-90 days before a sailing date, sometimes even further in advance.
For the best prices and room selection, Disney recommends booking your cruise as soon as the dates are announced (around 15 months before departure). Many people find it unattractive to book so far in advance. Therefore, last-minute guarantee rooms are ideal for those who don't like to plan ahead, want to save money, and are flexible on travel dates and accommodations.
What Is a Guaranteed Stateroom on a Disney Cruise?
A guaranteed stateroom on a Disney cruise refers to those bookings in which you select your stateroom category, but Disney assigns the specific room or location just before sailing. Being guaranteed alone doesn't necessarily mean you'll find a discount.
Restricted guarantee staterooms offer savings can up to 35%, so it's an attractive deal if you have flexible plans and the willingness to accept Disney's room assignment.
Certain restrictions come along with those deals, such as that they are non-refundable and you must pay in full at the time of booking. Additionally, they are released only a few months before the cruise departure.
If you are okay with forgoing some of the peace of mind that comes with preplanned accommodations, consider a restricted guaranteed stateroom. You can save a lot on these last-minute Disney cruises without compromising the magic of Disney cruises. For this reason, they are worth it!
Book your Last Minute Disney Cruise Today!
When it comes to planning your dream Disney cruise, The Vacationeer is the travel agency you should trust. Their team has access to all the best last-minute deals out there, so they can help you find the perfect Guaranteed fare for your travel dates and budget.
Additionally, your dedicated travel planner will answer your questions, offer advice, and provide price quotes, so you know exactly how much your Disney cruise will cost.
The Vacationeer's onboard credit is one of the most generous available and can be used for everything from alcohol to luxury spa treatments to gratuities — even for aqua trike rentals on Disney's private island!
Additionally, Disney vacation planners make trip planning easy; no more hassle and stress of booking everything yourself because they'll handle it for you! So if you want to ensure your vacation goes off without a hitch, get in touch with The Vacationeer today.
Best of all? Their services are completely free!
Don't wait – book now and take advantage of everything this top-notch travel agency offers!