At MagicGuides we've dedicated ourselves to bringing you the most comprehensive Disney World and Disneyland Travel Planning Information.  Check out our Crowd Calendars, Packing Lists, Tips & Tricks, Park Secrets, and much more.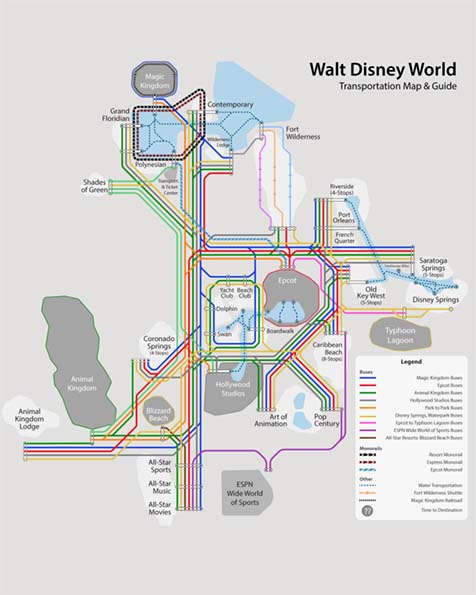 Our Disney World Transportation map shows all the transportation options throughout Disney World.  Click on your Resort and see the travel times to each Disney Park.
Our Disney Dining Plan Calculator will help you decide which Dining Plan, if any, is right for you, and help you save money in the process. It's fully interactive.  Give it a try today!
Our Disney World Crowd Calendar will help you know which is the best time of year to visit Disney World to maximize your time on the rides and minimize your time in line.
Wondering when is the right time to start booking Disney Resort reservations, Dining Reservation, and Fastpass+ reservations?  Check out this Disney planning timeline article.
Our Tips & Tricks Page gives you dozens of great ideas for saving money at Disney World, saving time in line, and just having an all-around better vacation experience.
A great Disney Packing List will help you make sure you don't forget to pack anything important.  Our packing list includes all the items you'll need for a great trip!
Walt Disney World's Magic Kingdom is the most popular theme park in the world, but most guests don't realize how many additional hidden experiences and quirky facts lie beneath Magic Kingdom's surface.
Epcot can really take you to a different world. The park was designed with an amazing attention to detail, so much so that many guests overlook the hidden places and secret spots which make Epcot truly shine.
Animal Kingdom is much more than just another Disney World theme park. There is so much to see and experience at Animal Kingdom that it's easy to miss some of the best parts. We bet some of these secrets will surprise you.
Download FREE eBook!
Enter your name and email address and we'll email you this 46-page eBook , The Ultimate Guide to Walt Disney World Vacation Planning!
Have you ever wondered how many people actually visit Disney World and other Theme Parks?  Well, here's the Total Annual Park Attendance data from the major U.S. Theme parks for 2018.  It's pretty enlightening information and can help you understand where the majority of vacationers are choosing to spend their vacations. (source)
Disney's Magic Kingdom – 20.859 Million
Disneyland – 18.666 Million
Disney's Animal Kingdom – 13.75 Million
Disney's Epcot – 12.444 Million
Disney's Hollywood Studios – 11.258 Million
Universal Studios Orlando – 10.708 Million
Disney's California Adventure – 9.861 Million
Island's of Adventure – 9.788 Million
Universal Studios Hollywood – 9.147 Million
Sea World (FL) – 4.59 Million
THE LATEST AND GREATEST DISNEY KNOW-HOW
It's no surprise that Disney World vacations can be expensive. Between flights, park tickets, lodging, meals, souvenirs, and other often unforeseen expenses, costs really add up quickly. We'll tell yo what steps to take to keep your Disney World vacation within your budget?
Florida is nicknamed "The Sunshine State," but the weather at Disney World isn't always predictably sunny. But don't fret – In the event of bad weather, there are still plenty of Disney attractions to escape the rain until the sun returns. We'll help you plan ahead so you won't get drenched.
Are you interested in becoming a Disney travel agent? It seems like the ultimate job for a Disney fanatic because you get paid to talk about Disney all day long. But is it really as fun and rewarding as it seems? We'll give you all the information you'll need to decide if this career is right for you.
Throwing a Party with Disney Friends? Running a Trivia Night? Just love Disney? Well, we have some great Disney Trivia that we think you'll find amazing!
A Disney Vacation can be very expensive. Here are some things at Disney World that you may not have known are absolutely FREE!
LOTS MORE DISNEY INFO COMING SOON!!!
You've loved our many Disney related articles. Well, we have many more coming soon!