How to Book Disney Cruise Line Vacations
What you need to know about Booking a Disney Cruise Ship Package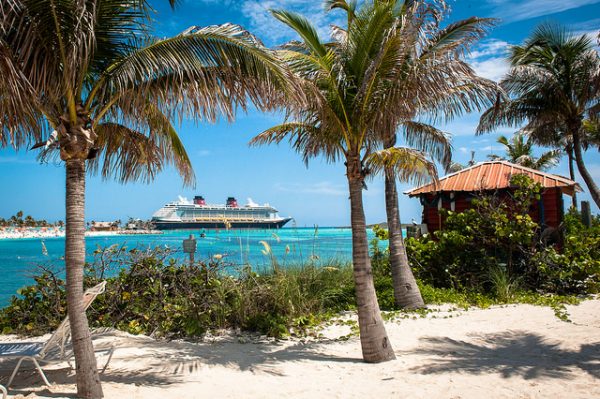 Disney Cruise Line was incorporated in 1996 as a subsidiary of The Walt Disney Company. The operation is headquartered in Celebration, Florida, and currently has 4 cruise ships in its active fleet with plans to add three more ships over the next several years. In addition to the cruise ships, the subsidiary also owns a private island in the Bahamas named Castaway Cay. This tropical oasis is used as an exclusive port-of-call for their cruise ship guests.
If you know someone who has embarked on a Disney Cruise Line adventure, you have probably heard what a magical experience these sailings can be. While there are similarities between each ship in the fleet, each Disney Cruise ship has its own unique take on dining, entertainment, amenities, destinations, and onboard activities for guests of all ages.
In this article, we will investigate your options on how to book Disney Cruise Line vacations, as well as highlight the key features and attributes of each Disney cruise ship. Hopefully, this information will help you decide if this type of vacation is something you wish to pursue.
How to Book Disney Cruise Line/Ship Vacations
If this is your first Disney Cruise Line adventure, the best advice we could give you is to book through a travel agency that specializes in Disney vacations.  We prefer this route over going it alone and booking a vacation package directly through Disney.
There are a few reasons why booking with a Disney travel agent is the way to go.
For starters, their services are entirely free to you, the client. Yes, it's true. Disney pays agents a small commission to help you but at no time do you pay anything extra.
Secondly, a travel planner who specializes in Disney vacations will be able to answer your questions and give you helpful advice. After all, it's their job to do so. They will (or should) know the pros and cons of Disney Cruise Line vacations based on their own first-hand experience. Your Disney Travel agent will give you the lowdown on the different ships, activities, dining options, destinations, etc.
Lastly, a Disney travel agent will book all of your reservations and details of your trip so that you won't have to. Relax and feel secure in knowing that everything is taken care of for you!
See our Disney Travel Planners page to find an agency that can help you book your Disney Cruise Line vacation package.
Onboard Credit
Look for a Disney travel agency that will offer you something called "onboard credit."
Onboard credit is a common industry practice whereby a travel agency will give their clients a bonus reward for booking through their respective agency.  Your onboard credit is essentially free money that is linked to your stateroom account to be used to pay for practically anything on the ship or at Castaway Cay.
Some of the ways to spend onboard credit include meals, drinks, merchandise, spa treatments, activities on the ship, shore excursions, gratuity, and more.
Ask your Disney travel agent about onboard credit before you book your Disney Cruise line vacation package. If they don't offer it, then move on to another agency who does. It's certainly a great perk and you want to take full advantage of it!
For more information on this wonderful perk, please see our Disney Cruise Onboard Credit page, or check out The Vacationeer's Onboard Credit promotion.
Ships in the Disney Cruise Line Fleet
The latest industry numbers indicate that Disney Cruise Lines have a 2.3 percent share of the of the worldwide cruise ship market. With 3 additional ships soon to be added to the roster, we should only expect Disney to increase their market-share over the coming years.
As of now, the 4 active ships in the fleet are:
Disney Magic
Disney Wonder
Disney Dream
Disney Fantasy
Each of these cruise ships has it's own unique history and defining characteristics. Let's examine the benefits of these Disney's cruise ships:
Disney Wonder Cruise Ship
Disney Wonder Overview
Disney Wonder is the second ship in the Disney Cruise Line fleet and made its maiden voyage in August 1999. She is constructed in a nearly identical fashion as Disney Magic, although the ship's interior is decorated in the Art Nouveau style rather than Art Deco. Disney Wonder has 11 public decks, 875 staterooms, a crew of roughly 950, and can accommodate 2,400 passengers. This Disney cruise ship has a length of 974 ft and a gross tonnage of 83,000.

Routes: The routes include the Bahamas, the Caribbean, Alaska, and the USA's West Coast
Disney Wonder Dining
Disney Cruise Line uses a dining rotation where guests rotated to a different restaurant each night. Guests are seated at the same table number – with the same table guests and wait staff – for every night they are on board. This creates less confusion and a friendly commodore among the guests.
Disney Wonder has three main restaurants: Triton's, Tiana's Place and Animator's Palate. Triton's features French cuisine in an Art Deco dining room, Tiana's Place serves southern cooking with live jazz music, and Animator's Palate is a dining show offering contemporary cuisine and Disney characters. The other dining and food options include Cabanas, a buffet-style restaurant for breakfast and lunch and a casual eatery at dinner, a sandwich and salad shop called Daisy's de-Lites, Pinocchio's Pizza, and the adult-oriented Palo where Italian-inspired food and décor are complimented with live music.
Disney Wonder Entertainment
Some of the entertainment and lifestyle highlights of Disney Wonder include Crown & Fin Pub, an adults-only British style pub, Frozen, A Musical Spectacular, and the relaxing and rejuvenating Senses Spa and Salon. Check here for a list of all onboard activities.
Disney Wonder Activities for Kids
Like Disney Magic, Disney Wonder offers the Oceaneers Club and the Oceaneers Lab for children ages 3-12. The Club provides several TVs, costumes to play dress-up, a slide, and some counselor-led activities. The Lab is geared towards the older age-ranges, and offers video games, TVs, computers, cooking classes, and more.
Disney Dream Cruise Ship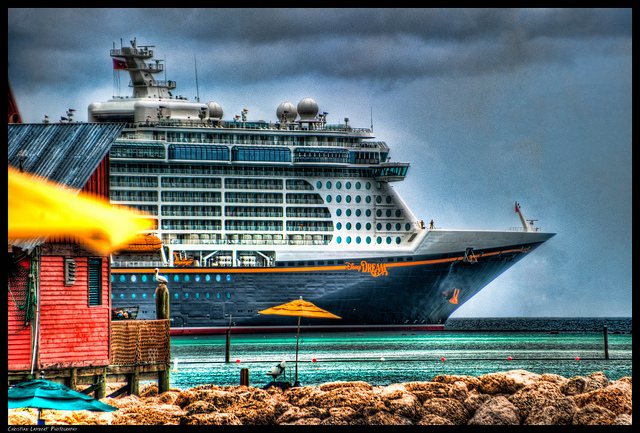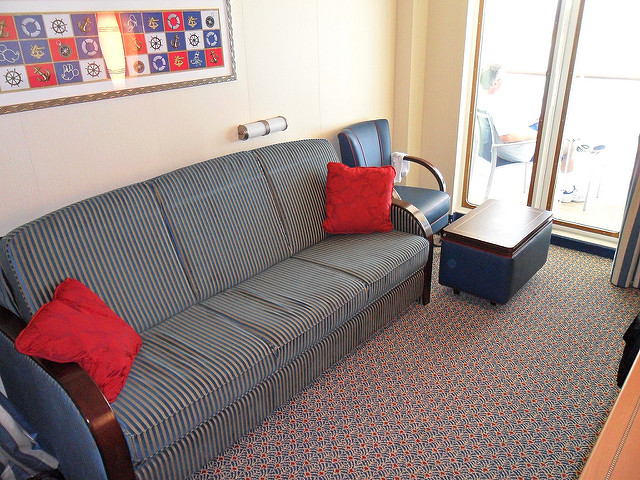 Disney Dream Overview
Disney Dream is the 3rd Disney Cruise Line cruise ship operated by The Walt Disney Company and has been active since 2011. The ship currently sails three-day, four-day, and sometimes five-day cruises to the Bahamas.  It has a capacity of 2,500 (double occupancy) or 4,000 passengers maximum and has a crew of 1,458.  Disney Dream is 1,114 ft in length and has a gross tonnage of 83,000.
Routes: 3, 4, and occasionally 5-day Bahamas cruises originating out of Port Canaveral, Florida.
Disney Dream Dining
Disney Dream has Rotational Dining where you will get to experience 3 different restaurants each night of your cruise. The ship is home to a "state-of-the-art" dinner show at 
Animator's Palate
, a classic Disney fairytale feast at 
Royal Palace
, and 
Enchanted Garden
set in a serene conservatory setting. For a more casual dining experience, head to 
Cabanas
 for a casual breakfast, lunch, or dinner. Or check the pizza, chicken, burgers, salads at 
Flo's Café
, For a delicious icy treat, head to 
Frozone Treats
or 
Eye Scream
.  The Italian inspired Palo and the French-inspired 
Remy
are both high-end, adult-only dining options. In-room dining is available 24-hours a day.
Disney Dream Entertainment
Disney Dream onboard activities include digital sports simulators, a 9-hole mini-golf course, a full-sized basketball court, volleyball court, pitch, and a walking track.
Disney Wonder is also home a "water roller coaster" called the AquaDuck, Mickey's Slide, and has three pools. The ship also boasts two theaters: the Walt Disney Theater, (live Broadway-style performances) and the Buena Vista Theater (first-run Disney movies).
Disney Dream Activities for Kids
Like the other Disney cruise ships, Disney's It's a Small World Nursery, Oceaneer Club, Oceaneer Lab, Edge, and Vibe are geared to kids of all ages.
Disney Fantasy Cruise Ship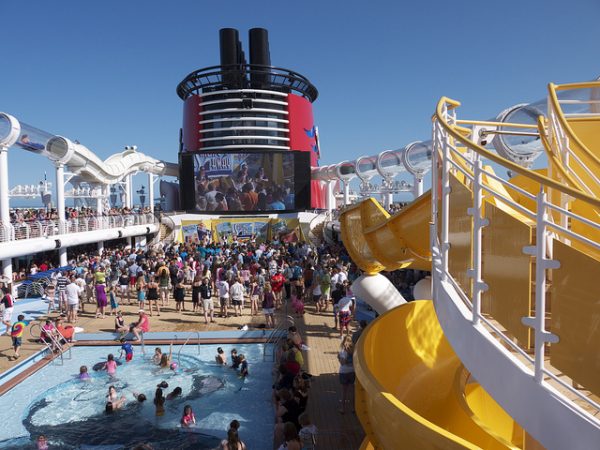 Disney Fantasy Overview
Disney Fantasy – the sister ship of Disney Dream – was launched in 2012 as Disney Cruise Line's latest ship. Guests can choose between a seven-night Eastern or Western Caribbean cruise. This ship has a length of 1,114.8 ft and a gross tonnage is 129,750, and, like Disney Dream, the cruise ship has an onboard guest capacity of 2.500 (double occupancy) and 4,000 (max occupancy) with a crew of over 1,400.
Disney Fantasy Dining
Disney Fantasy offers Rotational Dining between the always entertaining dinner show named Animation Magic at it Animator's Palate restaurant. The ship's other dining locations include the magical Enchanted Garden and fairytale dining room of Royal Court while the casual dining options include Cabanas,  Flo's Café, and snacks at Eye Scream and Frozone Treats. The Northern Italian cuisine of Palo,  or French-inspired Remy – provide a few upscale and intimate options for adults.
Disney Fantasy Entertainment
Disney Fantasy onboard activities include a "water roller coaster" called the "AquaDuck,"  the nightclub district called Europa, several pools, pubs, theatres, and more!
Disney Fantasy Activities for Kids
Like the other Disney cruise ships, Disney's Fantasy cruise ship has plenty of individual and instructor-led activities geared to kids of all ages.
We hope that our How to Book Disney Cruise Line Vacations page gives you a little more color into what Disney cruises are like. For more useful Disney World information, please review additional pages on MagicGuides like our Disney Dining Plan Calculator, Disney Transportation Map, and Disney World Tips and Tricks articles.
If you need help planning and booking your magical Disney Cruise Line vacation, please contact our friends at The Vacationeer. Their services are always helpful and totally free of charge!
Thank you for reading our page, and we hope you have a fantastic vacation out at sea!