Eating is one of the most satisfying aspects of a Disney World vacation.
The total cost of food at Disney World ends up being $200 – $300 per day for a family of four.  With that said, our estimate varies depending on how much you eat, what you eat and drink, and where you dining.
There are so many Quick Service, Table Service, and other dining options in the parks and resorts. With such a wide variety of price ranges, you can easily spend less or a lot more than $200 – $300 per day.
Let's explore the difference between Quick Service and Table Service restaurants, and what you can expect to pay for meals, drinks, and snacks at Walt Disney World when all the costs are added up. This will help you take the general estimates provided in our Disney World Cost Calculator and narrow them down a bit more based on your dining habits.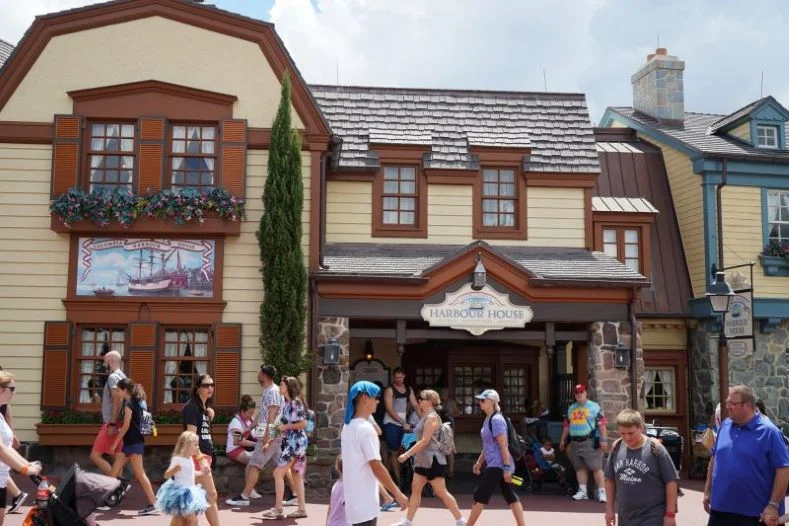 The Cost of Quick Service vs. Table Service Restaurants
There are 2 main types of restaurants at Walt Disney World: Quick Service and Table Service.
What Are Quick Service Restaurants?
Casual atmosphere
Self-service (order at a counter and then seat yourself)
Less expensive than Table Service
Advanced Dining Reservations are NOT required
The Average Cost of Quick Service Meals at Disney World
Walt Disney World is home to 0ver 100 Quick Service dining locations throughout the park. They are located in Disney Springs, Disney's resort hotels, and at Disney's water parks and theme parks.
The menu at a Quick Service restaurant usually focuses on standard American fares like hamburgers, hot dogs, chicken, pizza, salads, and at least one vegetarian/vegan option. Some have an international theme with international cuisine.
Burgers with fries usually run in the $11 – $13 range, individual-sized pizza can be $10 – $11, and something like a Pork Carnitas Rice Bowl costs around $12.
An adult should expect to pay roughly $12 per Quick Service entrée and about $7 per kids' meal.
The main dish does NOT include a beverage, so plan on an additional $3 – $4 for a fountain drink or non-alcoholic bottled beverage.
A side dish adds another $4 or $5 on average, and desserts would tack on another $4 – $6.
Total Cost of Quick Service Meals
When you combine 2 adult entrees and 2 kids' meals – plus four fountain drinks –  it will cost a family of four about $50 – $60 to eat at a Disney Quick Service restaurant. The cost jumps to $60 if two people order desserts.
Quick Service restaurant the less expensive option and totally adequate for most families on the go. If you don't mind spending more for a sit-down meal, or if you want a few high-quality and memorable meals at Disney, then you should focus on Table Service restaurants.
What Are Table Service Restaurants?
The atmosphere varies from casual to fancy, depending on the restaurant
Not self-service (you are seated by a host/hostess and a server takes your order, brings your food/drinks, and you are expected to pay gratuity)
More expensive than Quick Service
Advanced Dining Reservations ARE usually required
The Average Cost of Table Service Meals at Disney World
Disney's Table Service restaurants are full-service and typically have an elaborate theme.  They can be family-oriented, fun, kitschy, exotic, or upscale and classy.
You can count on fantastic customer service and delicious food and drinks at Disney's Table Service restaurants.
There's also a huge range of prices amongst Table Service restaurants but they always cost more than Quick Services restaurants. We think it's worth splurging while you're on vacation but you certainly don't need Table Service for every meal.
Cost of Regular Table Service Restaurants
Let's look at 50's Prime Time Cafe (in Disney's Hollywood Studios) as an example of what you might expect from a casual table-service location. It's open for lunch and dinner and serves classic American fare like fried chicken, pot roast, salmon, meatloaf, and other hearty items.
Entrees at 50's Prime Time Cafe (and similar Table Service restaurants) vary from $15 – $30 for both lunch and dinner.  Kid's menu items range from $10 -$15.
Cost of Family Style Table Service Restaurants
Some Table Service restaurants offer "all-you-care-to-eat" family-style meals. With this option, you pay a set price and have the freedom to sample all kinds of different foods.
As an example, Liberty Tree Tavern (in Disney's Magic Kingdom) is a family-style dining location serving both lunch and dinner for $39  (adults)/$21 (kids ages 3-9). You receive three courses: a mixed salad to start, the main course is a Patriot's Platter with roasted turkey breast, pot roast, and oven-roasted pork with mashed potatoes, seasonal vegetables, herb stuffing, and house-made macaroni and cheese, and Oooey Gooey Toffee Cake for dessert.
Cost of Disney Character Dining Meals
Disney's  "Signature Dining" restaurants are Disney's top-of-the-line dining locations…and destinations unto themselves. They offer creative cuisine and memorable experiences in a fine dining environment.
There are Signature Dining locations at most Disney Deluxe Resorts and at least one at each theme park.
Victoria & Albert's, located in Disney's Grand Floridian, is a AAA Five Diamond Award-winning restaurant.
Magic Kingdom has Cinderella's Royal Table; EPCOT has Le Cellier (Canada Pavilion), Monsieur Paul (France Pavilion), and Takumi-Tei (Japan Pavilion); Disney's Hollywood Studios has Hollywood Brown Derby; Disney's Animal Kingdom has Tiffins.
Signature Dining entrees tend to be in the $30 – $60 range.
Appetizers at Table Service restaurants typically cost $11 -$15 and desserts average in the $10 – $16 range.
Count on about $8 for a beer and $18 for a glass of wine or cocktail.
You can see how a Signature Dining experience for 2 adults can easily cost $150, and upwards of $200 when you include two kids.
Total Cost of Table Service Dining
It will cost a family of four (two adults, two kids) anywhere from $75 to $200 on average to eat at a Disney Table Service restaurant.  The total cost depends on what you order and the type of Table Service restaurant you choose.
Disney Dining Plans
One way to even out the cost of dining at Disney World — and to make budgeting for food easier — is to add a Disney Dining Plan. After having been suspended for several years due to the pandemic, the Disney Dining Plan returns in 2024.
There are two options for 2024:
Disney Quick Service Dining Plan: includes two quick service meals per day

$57.01 per night for adults (ages 10+)
$23.83 per night for kids (ages 3-9)

Disney Dining Plan (standard): includes one table service meal per day (with dessert), plus one quick service meal per day

$94.28 per night for adults (ages 10+)
$29.69 per night for kids (ages 3-9)
Both plans also include:
A daily snack or additional non-alcoholic beverage
A beverage mug that offers free refills at your hotel's food court throughout your stay
Will using the plan save you money versus buying each meal out of pocket? Maybe. It really depends on how you eat. Do you regularly order dessert? Get appetizers? Eat mainly quick service? Order the cheapest or most expensive thing on the menu? All of these are factors in whether it's a good deal, so you'll have to do a bit of math to determine if it works for you. Disney does claim that for kids, it can represent up to a 20% savings. Your mileage may vary.
Even if it doesn't work out to be an actual savings, some folks prefer these plans because it lets them essentially pre-pay (and budget for) most of their meals without having to worry about in-the-moment spending.
The most informal and cheapest way to get food at Disney World are:
Food Carts
Most carts sell drinks and snack item popcorn and frozen treats
They don't sell entire meals but some sell egg rolls, meat on a stick, or turkey legs
Some Disney Springs carts just sell alcoholic beverages
Festival kiosks
You'll find these are Epcot during their festivals like the Epcot Food & Wine Festival
Kiosks serve small-sized portions.  They are great for sampling a variety of different types of food and beverages
Cost of Beverages:
The average cost of fountain drinks is about $4.00
The average cost of a canned beer is about $8.00
The average cost of an alcoholic cocktail drink is about $10 at Quick Service restaurants and $12.00 at Table Service restaurants
Other types of specialty drinks (without alcohol) cost about $5 each
You can always get free cups of water at Quick Service Restaurants
Final Thoughts – How Much Does Food Cost at Disney World?
How much should you budget for food at Disney?
When you consider all of the various ways you can eat at Disney World, a family of four should expect to spend roughly $200 – $300 per day on dining. This estimate is based on one Quick Service meal, one Table Service meal, and one purchase of snacks and drinks for all four people.
Our estimate does not factor in breakfast, alcohol, or gratuity at table-service locations as these can be a large factor or a non-factor depending on your dining plans. A Starbucks or Kiosk type of breakfast could add an additional $20 – $30 but a full breakfast meal could add another $50 – $70 or so.  Two beers per day would add about $16 while two glasses of wine would add $$25 – $40.
Like we said: there are a lot of variables and a family of four could certainly keep costs under $200 per day or easily exceed $300 per day.
If you're looking to cut back on some of your dining costs, be aware that Disney World DOES allow guests to bring their own food into the parks. Coolers cannot be larger than 24″ long by 15″ wide and 18″ high.  Coolers with loose ice aren't allowed but ice packs are. Alcohol and glass bottles are prohibited. Food is permitted but you will not be able to heat your food inside the parks.
Ready to Book your Trip?
Dining is a large part of the Walt Disney World experience.  Plan ahead and make your reservations as soon as you're able to so you can savor the flavors!
If you need help budgeting for food at Disney World, feel free to reach out to the Disney Travel Agents at The Vacationeer. Not only can they make your restaurant reservations, they'll also handle booking your hotel rooms, securing theme park tickets, and explaining Lightning Lane and Genie+. They can even set up a Disney World payment plan to make paying for your vacation more manageable!
The Vacationeer will get you the best rates and make sure every aspect of your trip is as magical as possible, all at no additional cost to you.