Itinerary for the Disney Star Wars Hotel

Day-by-Day on Galactic Starcruiser
Would you like to experience Star Wars in the most immersive way possible? If so, the Star Wars: Galactic Starcruiser may be just what you're looking for. Designed as a two-night, all-inclusive voyage, Disney's new out-of-this-world hotel gives passengers a chance to explore the Star Wars universe like never before. Every moment of the voyage is filled with engaging activities, so you'll never have a chance to be bored. Below is a sample itinerary for the Disney Star Wars hotel to give you an idea of what to expect each day.
Daily Itinerary for Disney's Star Wars: Galactic Starcruiser
The Star Wars: Galactic Starcruiser is nothing short of extraordinary. With its immersive theater, themed surroundings, and delicious food, this hotel offers a unique role-playing experience like no other. Your journey will include activities, missions, character encounters, and adventures beyond anything you've ever experienced on vacation.
Your unique Star Wars adventure will be determined by the choices you make and the surprises you encounter along the way. Will you pledge allegiance to the First Order or join the Resistance in a covert operation? Will you haggle with smugglers or sit back and relax with a drink while you watch everything from a safe distance? When you step aboard, you can choose your own adventure in the most immersive Star Wars story yet!
Some Story Moments are mentioned in the sample itinerary provided below, while others will emerge from onboard activities that may go differently than planned. These spontaneity-inducing experiences will enhance your time aboard, so embrace them! They're an important part of what makes this astounding experience worth the cost.
You have a galaxy of possibilities when it comes to your itinerary for the Star Wars hotel.
Below you will find a detailed itinerary of what you can expect on the Star Wars: Galactic Starcruiser. To find out about your individual itinerary (which may vary slightly from this itinerary), you'll need to check Star Wars: Datapad in the Play Disney Parks app 30 days before your departure date. Excursions are subject to change without notice.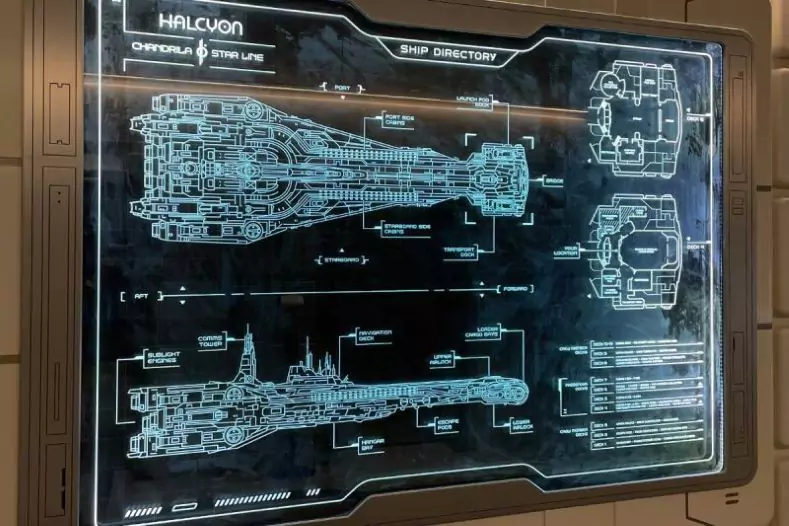 Upon arrival at the terminal, guests will board a launch pod that will take them to the Halcyon galactic starcruiser. Once on board, they will receive a ship orientation and enjoy some light refreshments. Then there will be Sabacc lessons and performances on the ship, including Munster and Outer Rim Regalia. The Captain's Reception takes place in the evening, followed by dinner featuring delicious food with live entertainment. Finally, guests can enjoy some special atrium entertainment before going to bed.
The following is an example itinerary for Day 1 at the Star Wars hotel.
1:00 PM: Arrive at the Terminal
1:15 PM to 1:30 PM: Launch Pod to Starcruiser
1:45 PM to 2:15 PM: Ship Orientation
3:00 PM to 3:30 PM: Light Refreshments
3:30 PM to 4:00 PM: Sabacc Lessons
4:00 PM to 4:30 PM: Muster
4:30 PM to 5:00 PM: Captain's Reception
5:30 PM to 7:00 PM: Dinner with Live Music
7:15 PM to 7:30 PM: Outer Rim Regalia
7:30 PM to 8:00 PM: Unexpected Story Moment
As an example, you might:
Join an elite smuggling ring and prove your mettle
Help the Resistance by hiding a stowaway
8:00 PM to 8:45 PM: Bridge Training
8:30 PM to 8:45 PM: Special Atrium Entertainment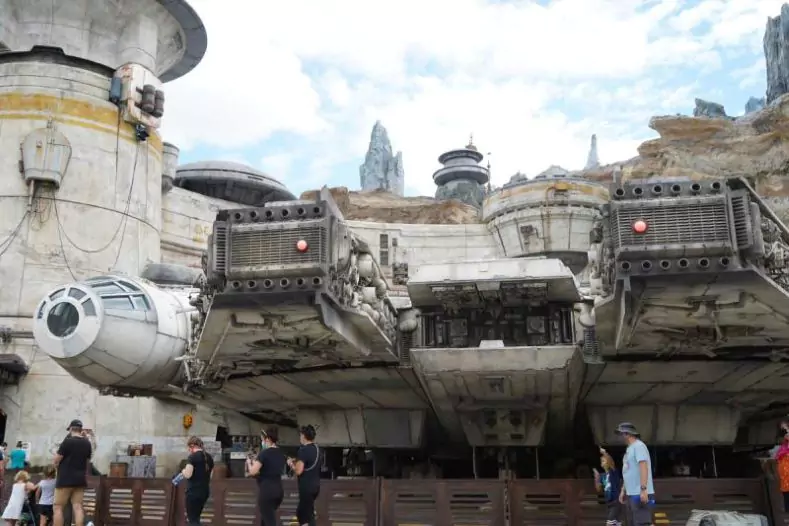 Day 2 of the Star Wars: Galactic Starcruiser hotel at Walt Disney World promises to be an action-packed day. The shuttle takes you to Batuu, where you will enjoy two of the best rides at Hollywood Studios: Star Wars: Rise of the Resistance and Millennium Falcon: Smugglers Run. There will also be a chance to participate in a lightsaber training session and a droid racing competition back at the hotel. After a day of exploration, guests can relax with a cocktail at the Sublight Lounge or enjoy a "Taste Around the Galaxy" dinner. You will end your day with a spectacular finale that will delight Star Wars fans.
7:00 AM to 8:00 AM: Breakfast
8:15 AM to 8:25 AM: Transport Shuttle to Batuu
8:45 AM to 9:30 AM: Star Wars: Rise of the Resistance (Attraction)
9:30 AM to 9:50 AM: Story Moment
For example, you might:
Help to broker a heist
Plan to steal a ship from the First Order
10:00 AM to 10:30 AM: Millennium Falcon: Smugglers Run (Attraction)
11:15 AM to 11:45 AM: Lunch at Docking Bay 7 Food and Cargo
12:40 PM to 12:50 PM: Transport Shuttle Back to the Galactic Starcruiser Hotel
1:00 PM to 1:30 PM: Lightsaber Training
2:30 PM to 2:50 PM: Droid Racing Competition
3:00 PM to 3:30 PM: Build Model Ship
4:00 PM to 5:00 PM: Sabacc Tournament
5:00 PM to 5:30 PM: Cocktails at Sublight Lounge
5:30 PM to 7:00 PM: "Taste Around the Galaxy" Dinner
7:30 PM to 8:45 PM: Story Moment
As an example, you might:
Activate your heist plan!
Bring the stolen ship aboard, but watch out for the First Order!
10:00 PM to 11:00 PM: Spectacular Finale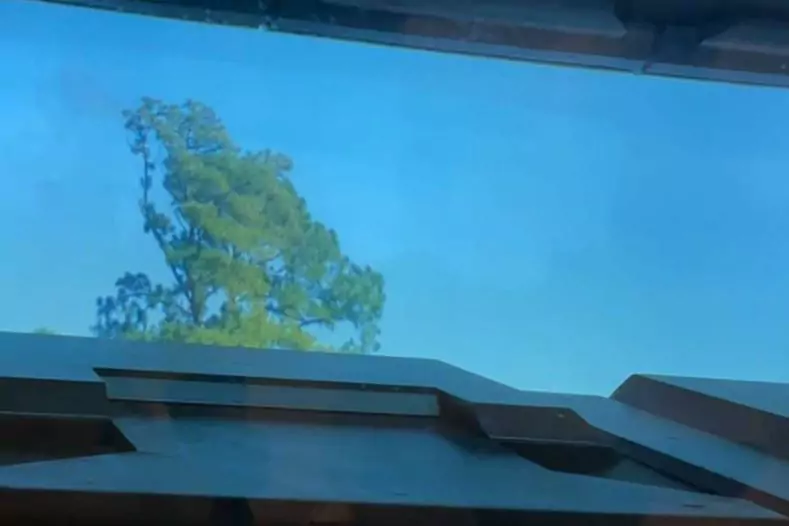 On Day 3 of a stay at the Star Wars hotel, guests will enjoy breakfast before heading to the Terminal to begin their journey home. From there, they will either stay at Disney World to extend their trip or head off to the airport for their return flight.
8:30 AM to 9:30 AM: Breakfast
9:30 AM to 10:00 AM: Launch Pod to Terminal
To learn more about the itinerary for the Star Wars hotel or to book your trip, contact The Vacationeer. They can assist you with every step of your Disney vacation – from choosing a cabin to making reservations to adding magical extras. Your Vacationeer will also tell you how much it will cost and whether any discounts are available. Don't miss this opportunity to experience all that the Star Wars universe has to offer. Click HERE for your free, no-obligation quote, and let The Vacationeer take care of all the details.
Activities in the Star Wars Hotel Itinerary – Explained
Bridge Training
The Star Wars hotel offers a once-in-a-lifetime opportunity to explore the inner workings of a legendary starcruiser. The Bridge Training activity gives visitors a hands-on look at how the Halcyon navigates through dangerous space, with interactions led by the ship's experienced crew. Guests will learn about the critical systems that keep the ship running smoothly and how to use them in emergencies. With its unique blend of education and entertainment, Bridge Training is sure to be a highlight of any visit to the Star Wars hotel.
Lightsaber Training
Lightsaber training is typically part of the itinerary for the Disney Star Wars hotel. The epic experience begins with a personal fitting for each participant, as every Jedi needs their own tailored weapon. Once you have your lightsaber in hand, you will face off against a remote training device. Using all the skills you have learned, you must defeat your opponent. Although it may be difficult at first, remember that the force is strong with you! This activity is exclusive to guests of the Star Wars hotel and is sure to be a memorable experience.
Planet Excursion to Batuu
As part of the Day 2 itinerary for the Disney Star Wars hotel experience, guests will board a shuttle for a trip down to Black Spire Outpost on Batuu. Once they arrive on the remote planet, guests can explore Star Wars: Galaxy's Edge and participate in various missions. These missions will directly impact events back on the ship, making each guest's experience unique. In addition, guests will have one-time access to attractions such as Star Wars: Rise of the Resistance and Millennium Falcon: Smugglers Run. This allows guests to immerse themselves in the Star Wars universe and create their own story within the film's iconic setting.
Sabacc Tournament
The Sabacc tournament is one of the many activities on the itinerary for the Star Wars hotel. The competition will be open to all hotel guests, and the winner will receive a prize. Several games are played simultaneously in the Crown of Corellia Dining Room, with winners advancing through each stage.
The Sabacc card game is popular in the Star Wars universe and uses a special deck of cards. There are several opportunities for passengers to learn how to play Sabacc, either through formal instruction classes or simply by asking a crew member. These types of activities will help to create an immersive experience for guests, and they will provide an opportunity to learn more about the Star Wars universe. It's also a great way for passengers to socialize and make new friends.
Relax at The Sublight Lounge
The Sublight Lounge is the perfect place to relax and unwind after a long day exploring the galaxy. Sit back and enjoy a drink while watching the action unfold around you. You can also try your luck at holo-Sabacc, a game of chance that is popular among travelers and smugglers alike. If you're feeling lucky, you can even wager a few credits on the game's outcome. Whether you're looking to relax or gamble, the Sublight Lounge is the perfect place to spend the evening.
Shopping on the Halcyon Starcruiser and at the Terminal
The Star Wars: Galactic Starcruiser offers a unique shopping experience for guests, with options both on the ship and at the terminal. Guests can find everything from souvenirs to dress up for the end-of-voyage gala celebration. There is something for everyone, with various merchandise available featuring all your favorite characters from the Star Wars universe.
The Halcyon starcruiser offers guests a unique shopping experience with its exclusive Chandrila Collection. This boutique features an array of Star Wars-themed clothing, collectibles, and toys that are sure to impress even the most discerning fan. The collection includes authentic fashion inspired by iconic Star Wars looks and exotic headwear for those who want to add a bit of flair to their outfit. In addition, the store offers a collectible lightsaber training hilt and shield, which can be customized with an attachable letter icon written in Aurebesh. And for those looking for a challenging game, the Chandrila Star Line edition of Sabacc is perfect.
The Star Wars: Galactic Starcruiser Terminal Shop offers souvenirs to commemorate your voyage on the Halcyon starcruiser. This shop features a variety of Star Wars: Galactic Starcruiser-branded merchandise, including apparel and trading pins. You'll be able to find something for everyone on your list, and the knowledgeable staff can help you pick out the perfect item.
Dining Aboard the Star Wars Galactic Starcruiser
The Star Wars: Galactic Starcruiser hotel offers a range of dining experiences that will please any fan of the Star Wars franchise. Breakfast and lunch are served buffet-style in the Crown of Corellia Dining Room, with a variety of both traditional and intergalactic dishes to choose from.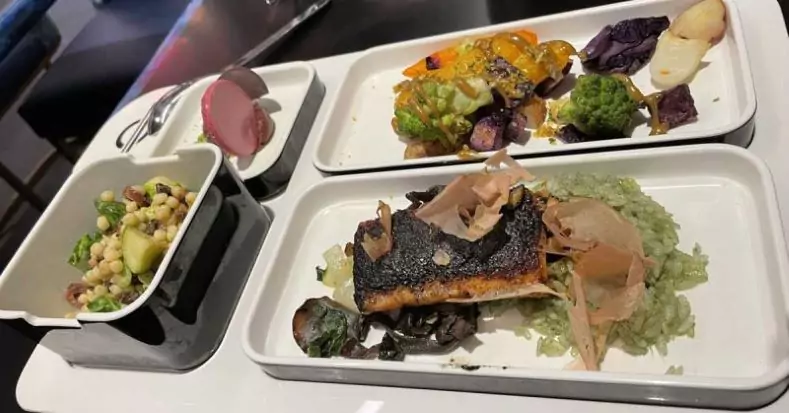 In the evening, guests can feast on a multi-course dinner (served family-style) with live entertainment and character encounters.
For the Day 2 planet excursion, guests can eat lunch at a quick-service restaurant of their choice. Our recommendation is Docking Bay 7 Food and Cargo, which has one of the best menus in the galaxy.
With so many options available, guests are sure to find something to suit their taste at the Star Wars: Galactic Starcruiser hotel. See our Food at the Disney Star Wars hotel article for more information.
What to Wear (Disneybounding)
You may be wondering what to wear to the Disney Star Wars hotel. Ultimately, it's up to you. However, Disney encourages guests to dress up in cosplay because it makes the experience more fun and immersive.
Combined with Star Wars: Galaxy's Edge, the Galactic Starcruiser hotel is one of the best destinations for Star Wars fans. What better way to show your fandom than by Disneybounding as your favorite Star Wars character? Whether you choose to dress as Rey, Finn, or Poe Dameron, you're sure to turn heads while onboard the ship. You will get extra attention from Cast Members and other hotel guests.
If you decide to go Disneybounding at Star Wars Galaxy's Edge as part of your Batuu excursion, it will enhance your experience and make it even more immersive. However, it's important to stress that you are not required to dress up at any time during your stay. The hotel has no dress code, and many guests do not dress up at all. Just make sure your packing list includes comfortable clothes whether you dress up or not.
How to Book your Disney Star Wars Hotel Vacation
When it comes to planning a Disney vacation, there's a lot to consider. What are your dining options? How will you get around? What theme park tickets do you need? And of course, where will you stay? Fortunately, The Vacationeer can help.
As one of the best Disney travel agencies in the business, The Vacationeer can take care of everything from start to finish. Your dedicated vacation planner will work with you to choose the right vacation package, book your tickets and dining reservations, and even arrange ground transportation. Plus, they'll ensure you get the best deals and discounts on your trip, and their services are completely free!
When it comes to staying at the new Star Wars: Galactic Starcruiser resort, the Vacationeer can help you book the perfect room and prepare for your journey to a galaxy far, far away. So whether you're a die-hard Star Wars fan or just looking for a unique vacation experience, The Vacationeer is the perfect place to begin your Disney Star Wars vacation planning. They realize that your vacation is a big investment, and they'll help make sure you get your money's worth.
Click HERE for a free, no-obligation vacation quote.