Wizarding World of Harry Potter Tips
Discover the Top 13 Best Wizarding World of Harry Potter Tips 
This article will take you through the top 13 tips for your next trip to The Wizarding World of Harry Potter. By incorporating these tips into your Universal Orlando vacation planning, you can save time and money.
Universal Orlando Resort is overshadowed by its neighbor, Walt Disney World. This is totally understandable because Disney is so much larger and better known. But one thing Walt Disney World doesn't have – and Universal does – is the Wizarding World of Harry Potter. If you are a fan of the Harry Potter series, this themed area of Universal Orlando Resort is certainly not to be missed. But even non-Harry Potter fans will appreciate the enchantment of Wizarding World because, well, it's just that good.
The next time you plan a trip to Disney World, make sure you allow for at least a couple of days at Universal Orlando Resort as well. But, of course, even just a trip to Universal Studios and Islands of Adventure is worthy of a dedicated vacation. So with that said, let's take a look at the top 13 best Wizarding World of Harry Potter Tips for your next visit to Orlando.
Universal Studios Orlando Resort's Harry Potter Land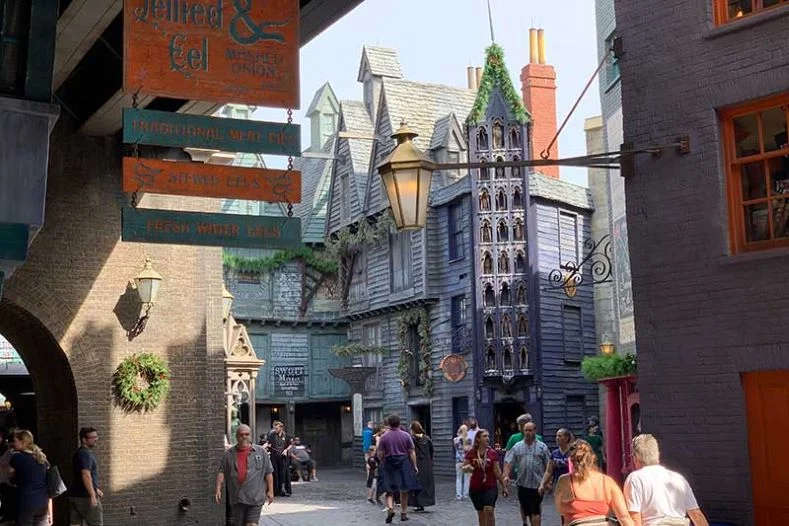 Universal Studios Florida. It's inspired by the Harry Potter media franchise. It incorporates many of the themes from the film and novels (by J. K. Rowling) into its design.
The Wizarding World of Harry Potter's first phase opened at Islands of Adventure on June 18, 2010. This area's flagship ride is Harry Potter and the Forbidden Journey ride, which we consider to be one of the best rides in Islands of Adventure.
Other noteworthy features include The Flight of the Hippogriff and Hagrid's Magical Creatures Motorbike Adventure rides and a re-creation of Hogsmeade (with gift shops and restaurants).
Wizarding World's theme park land second phase expanded the area into Universal Studios Florida theme park and was opened to the public on July 8, 2014.
The expansion includes a full-scale replica of the Hogwarts Express, which transports guests between the two lands., the flagship ride of Harry Potter and the Escape from Gringotts (a 3D dark/simulator ride), and areas modeled after Diagon Alley and London.
Now, on to the list…
Top 13 Best Wizarding World of Harry Potter Tips
Here is our list of the top 13 Wizarding World of Harry Potter Tips.
1.

Visit Both Universal Parks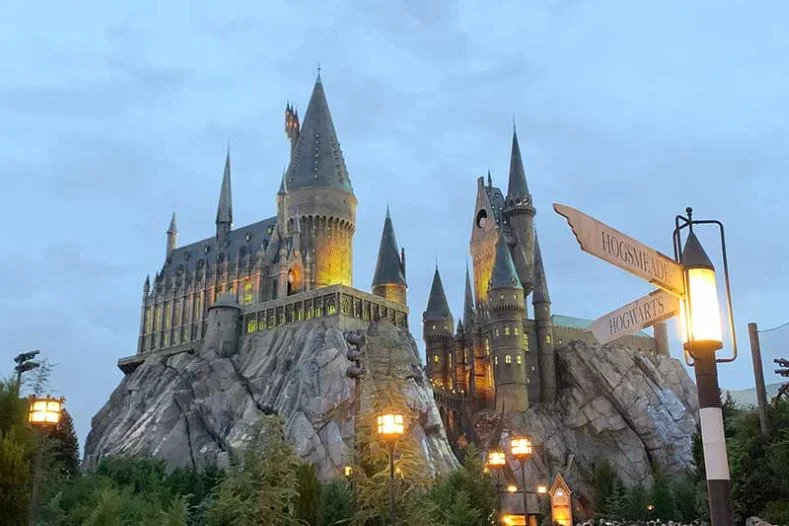 Don't waste much time debating whether to go to Universal Studios or Islands of Adventure. In order to get the full experience of The Wizarding World of Harry Potter, you really need to visit both Islands of Adventure and Universal Studios Florida theme parks. And you'll need at least two days at Universal to see all of it.
The rides and shops of Diagon Alley are located in the Islands of Adventure. Hogsmeade and Hogwarts Castle are located in Universal Studios, Florida.
These areas are connected via a short (and fun) train ride called the Hogwarts Express, which travels between the two parks. Access to Hogwarts Express is available only to those who buy park-to-park tickets.
Another way to travel between the parks is via the Universal City Walk. This area of Universal Orlando is the shopping, dining, and entertainment district. While Universal City Walk is accessible without a ticket, you will need a park-to-park ticket to travel between the two parks.
2. Purchase the Universal Express Pass
Nobody likes to spend more money than they have to. But remember, you are on vacation and want the best experience possible.
Universal Orlando's Express Passes will allow you to skip the normal lines on nearly all Universal Studios and Islands of Adventure rides. This does include all of the Harry Potter-themed rides, except for the newest ride, Hagrid's Magical Creatures Motorbike Adventure. Like Disney World, the lines at Universal can consume much of your in-park time, so do weigh the cost vs. benefit of skipping the long lines.
We recommend Express Passes Unlimited if this is your first visit to The Wizarding World of Harry Potter. Give yourselves more time to discover rare magical creatures and giant spiders and see what other hidden dangers lurk in the forbidden forest or have magical fun while taking a spellbinding journey through Hogwarts castle and the rest of the Wizarding World of harry potter theme park land.
Pro Tip: Universal's Premier hotels (Hard Rock Hotel, Loews Portofino Bay, and Loews Royal Pacific) offer complimentary Express Unlimited Pass included in the room reservation at no extra cost.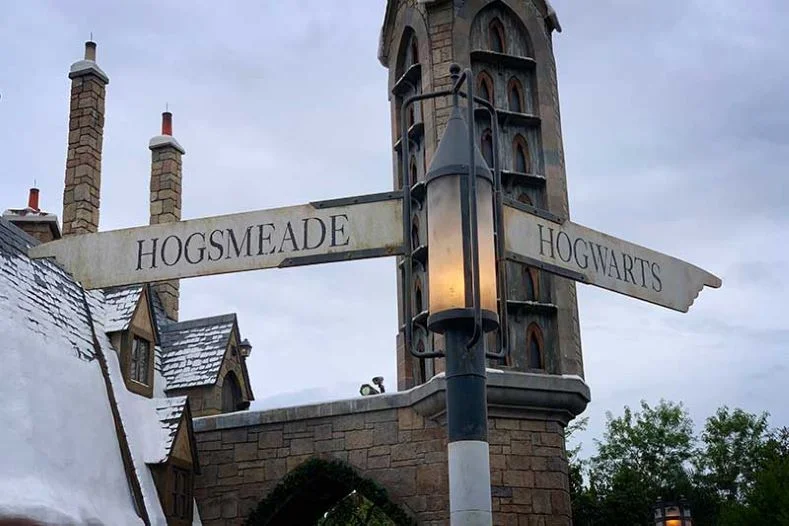 Plan to get to Universal at least 15 minutes before the park opens.
Once the gates open, then hot-foot-it straight to The Wizarding World of Harry Potter because this is the only time of the day when you won't have crowds to contend with.
You will normally have at least 30 minutes to explore the nooks and crannies of Hogsmeade and Diagon Alley – or try your hand at spellcasting – before the crowds begin to swell.
Then, once the crowds start to arrive, head over to Forbidden Journey or Escape from Gringotts and use your Express Pass to bypass the normal lines.
Be sure to wear comfortable walking shoes because you'll be on your feet for most of the day. It will take a few minutes to walk from the parking lot to the entrance gates, then another 10-15 minutes to the entrance of Hogsmeade. And if you are coming with little ones, be sure to come prepared with your stroller (or rent one).
4. Know the Height Requirements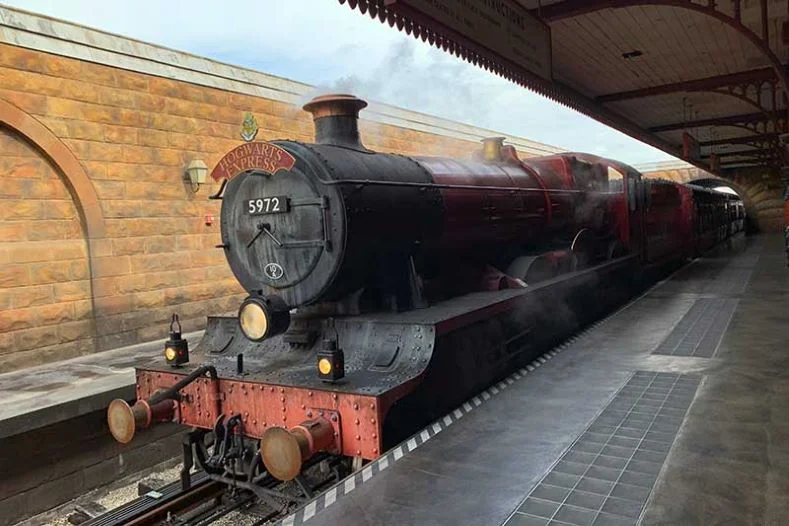 Nothing is worse than getting excited about something only to find out that you – or your child – don't meet the requirements. Such is the case with theme park rides. Unfortunately, many rides have height requirements that your children may not meet.
Like other rides at Universal Orlando, we recommend that you check the height requirements before you go. Here are the height requirements:
Harry Potter and the Forbidden Journeys: 48 inches
Flight of the Hippogriff: 36 inches
Harry Potter and the Escape from Gringotts: 42 inches
Hagrid's Magical Creatures Motorbike Adventure: 48 inches

Hogwarts Express: NO minimum height requirement
5. Ride Solo to Save Time
If you visit Universal Orlando with children, this may not work for you. But if your kids are older, or you are an adult and hate waiting in long lines, you may want to use the single-rider line at the Forbidden Journey at Hogsmeade or Escape from Gringotts in Diagon Alley.
Riding solo will cut down on wait times, which may be more important than experiencing the ride together.
6. Enjoy the Ride – Twice!
The jury is out on which Wizarding World attraction is best. Still, for many, Harry Potter and the Escape from Gringotts or Harry Potter and the Forbidden Journey come out on top.
Be aware that the Universal Express line is a different experience than the standard entry line inside Hogwarts. So, if you are a huge Harry Potter fan and have an Express Pass, you may want to check out the standard line first thing in the morning, then go again with your Express Pass once the lines begin to swell.
7. Buy 1 Interactive Wand
It's all young wizards' dream of walking into Olivander's and letting the wand choose its master. If you go this route (purchasing a wand in Wizarding World), arrive early and go to their flagship store at Diagon Alley instead of Dervish and Banges (in Hogsmeade). This store will have shorter lines and a wider selection to choose from.
Half of the fun of Hogsmeade and Diagon Alley is the dozens of opportunities to cast spells using interactive wands sold at shops like Olivander's. Once you have a wand, search for the small brass plaques in the ground. The plaques will show you what motion to make with the wand to trigger the spell.
The trick is no matter how many people are in your group, you can all share one wand since only one person can cast any of the spells at a time. You can even bring a wand back for your future trips to the Wizarding World, so there's no need to buy another wand.
Pro Tip: If your wand is ever damaged, or even if you just don't like it anymore and want to try another, you can head back to any of the wand shops (bring the wand's box with you) and ask for a "Wand Repair." They'll exchange your wand for a brand-new one. 
8. Stay at a Universal Hotel
There are several advantages to purchasing a Universal Orlando Vacation Package and staying at one of Universal's hotel properties.
For one, you will be much closer to the theme parks, so you will have easy access to The Wizarding World of Harry Potter and all of Universal's attractions through complimentary transportation or walking paths. This is especially convenient if you do not have a car.
If you stay at Loews Portofino Bay Hotel, Hard Rock Hotel®, or Loews Royal Pacific Resort, your Universal Express passes are included and complimentary for each day of your visit, as well as priority seating at select restaurants throughout the resort.
All Universal on-site guests receive Early Park Admission to The Wizarding World of Harry Potter (and Universal's Volcano Bay) one hour prior to the park's opening.
You can compare the Universal Hotel perks here.
Pro Tip: Universal's Unlimited Express Pass is included from the day of check-in until the day of check-out, so you can get 2 days of Express Pass for your family for just the cost of a 1-night stay at a Premiere Resort. If you'd like help planning and booking your Universal Orlando Resort vacation package, please contact the totally free Orlando vacation specialists at The Vacationeer. Click HERE for a free, no-obligation price quote today!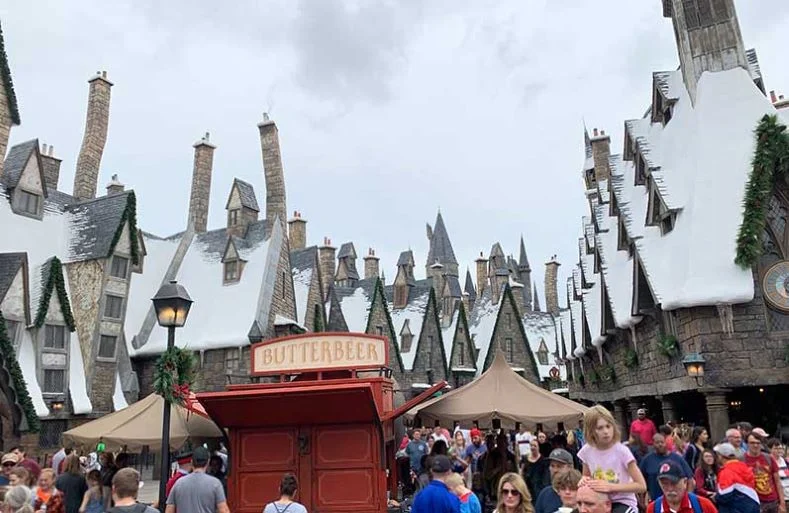 No trip to The Wizarding World of Harry Potter is complete without trying Butterbeer. It's delicious and worth the price of admission on its own!
Butterbeer is a non-alcoholic creamy butterscotch soda that comes in cold, hot and frozen varieties. It's sold through the Harry Potter areas of Universal, and some of the locations give you a replica goblet or beer stein souvenir to go with your beverage. This sweet treat is not to be missed!
Butterbeer is very popular, and you will encounter long lines where it is sold. We recommend that you make your way over to the Hog's Head pub in Hogsmeade because 1. the lines will be shorter and 2. you can sip your Butterbeer in the cool air-conditioned pub or out on the pub's back porch (great views of the lagoon!). If you crave Butterbeer while in Diagon Alley, head over to The Hopping Pot or the Fountain of Fair Fortune.
Leaky Cauldron in Diagon Alley and The Three Broomsticks in Hogsmeade both serve traditional British-style cuisine inside dining rooms that look like film sets.
If possible, we suggest you avoid the busy 12-2 PM time slot and schedule your meal early (around 11 AM) or sometime after 2:30 PM to avoid the crowds and have less of a wait time for your meal.
11. Visit the Gringotts Money Exchange
Stop into the Gringotts Money Exchange when you are in Diagon Alley. There you can chat with the goblin banker at the counter and exchange your regular muggle currency for authentic Gringotts banknotes.
They are available in denominations of $10 and $20, come in a Gringotts Bank sleeve, and can be used to make in-park purchases at stores and restaurants or kept as souvenirs.
12. Head to Owl Post and Send a Letter
Owl Post is a cute little shop in Hogsmeade that sells stationery, writing supplies, and owl plushes. Guests can also mail a letter or postcard from this location. When you do so, you will receive a special Hogsmeade postmark proving the letter was mailed from The Wizarding World of Harry Potter.
13. Don't Skip Knockturn Alley
Knockturn Alley is a spooky little area tucked away down one of Diagon Alley's dark corridors. Unfortunately, it's easy to miss. The shop within Knockturn Alley is called Borgin and Burkes. It is filled with skulls, Death Eater masks, and other spooky souvenirs that sinister wizards may enjoy. Here you can also view the Vanishing Cabinet from the Harry Potter films.
Enjoy your Universal Orlando Resort vacation!