We know Disney's resort hotels have some of the best pools anywhere, but what about lazy rivers?
The only Walt Disney World Resort hotels with a lazy river are Disney's Beach Club Resort and Disney's Yacht Club Resort. There are lazy rivers at Disney's water parks, non-Disney hotels, and several more in the Orlando area.
Here's what you need to know about which hotels have a lazy river at Disney World.
Where to Find Lazy Rivers in and around Walt Disney World and Orlando
Since lazy rivers are all about relaxation and soaking up the sun, there's no better place on Earth than Orlando Florida to enjoy a lazy river. And there's no better time to enjoy relaxing on an inner tube than after a busy day at the theme parks.
In case you don't know, a lazy river is a water "ride" found in hotel pools, water parks, and other recreation areas. They usually have a shallow pool that flows like that of a river, a slow current with just enough current to gently move you along on a tube. It's all about de-stressing and cooling off on those warm Florida days.
Please note: Some lazy river experiences may be closed or temporarily modified as a result of Covid-19. Be sure to check with your Disney Travel Agents for the current status.
Lazy Rivers at Disney World Resort Hotels
1. Disney's Beach Club and Disney's Yacht Club Resorts
Guests at these two Disney World resort hotels share access to Stormalong Bay, a 3-acre water wonderland located between the resorts. Here you can enjoy loads of water features including a massive sand-bottomed pool, a 230-foot-long waterslide, 3 whirlpool spas, an elevated tanning deck, and a relaxing lazy river.
Be advised that the lazy river is the deepest area of Stomalong Bay.  It ranges from roughly 5 ft deep to 8 ft deep at certain points (so it's deeper than most lazy rivers).
There are lifeguards stationed around the pool at all times, but you're more than welcome to use a lifejacket as an extra precaution. They are free to use.
Stormalong Bay has a large stash of inner tubes for guests to use. You can always just swim around the river without any floatation device but it's much more of a workout.  If your goal is to relax and catch some rays, then, by all means, grab an inner tube.
The river itself is not particularly long, but it does give you plenty of space to float around without feeling overly crowded.  There's a gentle current to keep you moving along.
Hurricane Hanna's is located on the backside of the lazy river and a great place to grab a drink or a bite to eat.
So, if you are looking for a Disney World resort with a lazy river, Disney's Beach Club and Disney's Yacht Club are your best (and only) bets!
We should also note that we voted Stormalong Bay as the best pool at a Disney World resort hotel.
2. Four Seasons Resort Orlando at Walt Disney World
Although it's not owned by Disney, the Four Seasons Resort Orlando is still located within the parameters of Walt Disney World Resort. It's roughly 3 miles from both Magic Kingdom and Disney Springs.
This luxury hotel at Disney World offers nightly fireworks viewing (from Park View rooms), a golf course, a 13,000 sq ft spa, a gym, and easy access to the theme parks.
Four Seasons' 200-acre Explorer Island sits at the center of the hotel. Here you can enjoy the interactive fountains, water slides, splash zones, and lazy river with a 9′ towering waterfall and a stretch of rapids. All this set amidst the resort's lush tropical landscaping.
Lazy Rivers at Disney World's Water Parks
Cross Country Creek at Disney's Blizzard Beach Water Park
Lazy Rivers at Universal Orlando Resort (Universal Studios Florida)
Volcano Bay Water Park at Universal Orlando Resort
Kopiko Wai Winding River is located within Universal's Volcano Bay water park. This lazy river drifts through lush tropical landscaping and the volcano itself. You'll encounter secluded caverns, open spaces, and several surprising sprays of water along the way.
Cabana Bay Beach Resort at Universal Orlando Resort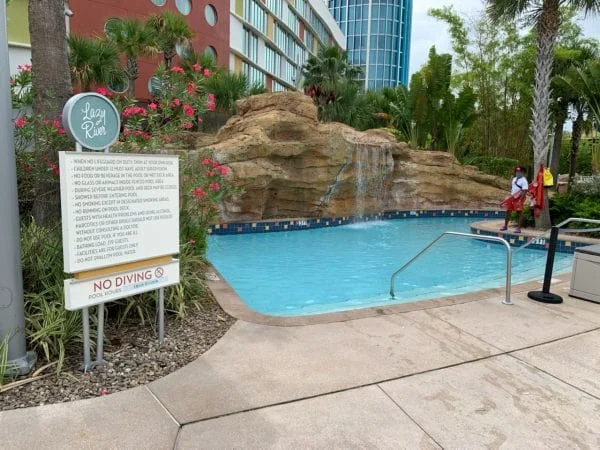 Cabana Bay Beach Resort is themed to 1950s and 1960s Florida beach culture. The resort's lazy river is true to this retro theme and features pop jets and waterfalls. Be warned that the resort sells inner tubes but doesn't rent them to guests. You're free to bring your own flotation device (or just swim in the lazy river) if you do not wish to purchase a tube.
Lazy Rivers at Orlando Area Hotels
Hilton Orlando's lazy river gently meanders along a beautiful 892-foot long course. As you glide down the lazy river, you'll encounter water cannons, waterfalls, and fountains.
Hilton Orlando Bonnet Creek
Hilton Orlando Bonnet Creek's lazy river is set amid a subtropical environment. You can even catch Walt Disney World's spectacular fireworks as you drift down the river. Inner tube rentals are free.
The Grove Resort & Water Park Orlando
The Grove Resort offers one of Orlando's most refreshing lazy rivers,  As part of the resort's own Surfari Water Park, the lazy river takes guests on a 695-foot winding adventure through the park.  Safari Water Park also has duel water slides, FlowRider Double Surf Simulator, zero-entry pools, and various kid's activities. Inner tubes are free to rent.
Holiday Inn Vacations at Orange Lake Resort
Holiday Inn Vacations at Orange Lake Resort's pool complex, River Island, features a 1,200-foot-long lazy river, perfect for some relaxation time after a day at the theme parks. In addition, the pool complex offers 2 water slides.  Play passes and tube rentals are extra.
JW Marriott Orlando, Grande Lakes
Construction of the lazy river at JW Marriott Orlando, Grande Lakes took over 400 million man-hours and 1 million sq ft. of tile and stone. We think the waterfalls and beautiful natural landscaping make it all worth the effort.
Omni Orlando Resort at ChampionsGate
The 850-foot long lazy river at Omni Orlando Resort at ChampionsGate is a thing of beauty. Kids and adults of all ages can float on inner tubes at speeds ranging from 2 mph to 8 mph. The course travels through gentle rapids, tunnels, and hidden canyons.
Lazy Rivers at Other Orlando Theme Parks
Grab an inner tube and drift down Loggerhead Lane, the lazy river attraction at SeaWorld Orlando's water park. The course travels through a grotto, a waterfall, and even floats by the park's dolphin exhibit.
LEGOLAND Water Park at LEGOLAND Florida Resort
Build-a-Raft River at LEGOLAND Florida's water park allows kids to imagine, design, and build their own unique LEGO vessel and then use it to float around the 1,000-foot-long lazy river.  The course includes palm trees, fun LEGO models, and flowering vegetation amidst the lush landscaping.