Tipping is often a source of confusion on Disney cruises. Does gratuity come with the fare? If not, when should you tip, and how much? How does tipping work on a Disney Cruise?  Here are the answers you need to know.
Note: Disney updated its standard gratuity amounts in July 2022.  This article has been updated to reflect the new amounts.
Is Tipping Included in the Cost of a Disney Cruise?
The cost of a Disney cruise covers your stateroom, activities, and dining experiences (except for specialty dining). But there's one thing that's not included in the base price of a Disney cruise: gratuities. Even though gratuities are technically optional, it is customary to tip certain crew members, and Disney expects you to do it.
In some situations, gratuities are automatically added to your stateroom account; in others, you decide whether to tip.
When are Automatic Gratuities Added to your Account?
There are four Crew Members Disney always expects you to tip, as they serve you for the entire duration of your cruise.  To simplify the tipping process, Disney automatically charges these gratuities to your onboard account at the end of your cruise (unless you have prepaid the gratuities or instructed Guest Services not to add them).
Which Crew Members Are Covered by Automatic Gratuities?
The four tipping positions associated with automatic gratuities are your stateroom host/hostess and three members of your regular dining room serving crew:
Server
Your designated dining room server is responsible for taking care of the table service at your rotational dining restaurant.
Disney adds $4.75 (per passenger, per night) in automatic gratuity for your Server. 
Here's what you can expect to pay the Server for the length of your cruise (in total):
For a 3-night cruise: $14.25
For a 4-night cruise: $19.00
For a 7-night cruise: $33.25
Assistant Server
This person assists your dining room server with the drinks, food, and cleanup.
Disney adds $3.75 (per passenger, per night) in automatic gratuity for your Assistant Server.
Here's what you can expect to pay the Assistant Server for the length of your cruise (in total):
For a 3-night cruise: $11.25
For a 4-night cruise: $15.00
For a 7-night cruise: $26.25
Dining Room Head Server
The Head Server acts as a maître d'. You will be assigned a Head Server, who will check in with you and ensure you are satisfied with your dining experience, and oversees the other servers.
Disney adds $1.25 (per passenger, per night) in automatic gratuity for your Head Server.
Here's what you can expect to pay the Head Server for the length of your cruise (in total):
For a 3-night cruise: $3.75
For a 4-night cruise: $5.00
For a 7-night cruise: $8.75
Stateroom Host/Hostess
Your Stateroom Host/Hostess is the person who cleans your stateroom every day. They are responsible for making your bed, turning it down at night, leaving chocolate, etc.
Disney adds $4.75 (per passenger, per night) in automatic gratuity for your Stateroom Host.
Here's what you can expect to pay the Stateroom Host for the length of your cruise (in total):
For a 3-night cruise: $14.25
For a 4-night cruise: $19.00
For a 7-night cruise: $33.25
For those staying in a Concierge-level room, additional tipping is customary for the Stateroom Assistant Host and the Concierge Lounge staff.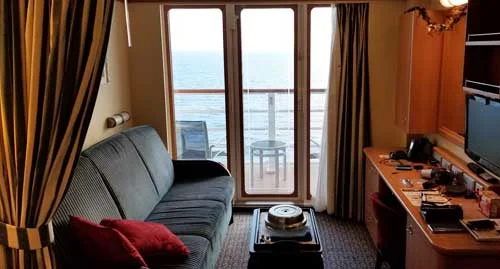 To calculate the total amount of automatic gratuity you are expected to pay, add up the total nightly tips for each of these four categories ($4.75 + $3.75 + 1.25 + $4.75 = $14.50), then multiply that by the number of people sailing (regardless of age) and by the number of nights your cruise will last.
For example, a couple on a 3-night cruise should expect to tip $87.00 ($14.50 x 2 x 3).
A family of four on a 7-night cruise will have a suggested tip of $406 ($14.50 x 4 x 7).
Most people find that Disney's automatic gratuities process helps simplify the tipping process. However, you may wish to do things differently. You can request to adjust these amounts, pay gratuities in cash, or pre-pay before your cruise begins (see below).
Note: The Dining Room Manager may also be tipped, though most people do not. Additionally, if any of the service crew members do not provide the quality of service you expect, please let management know immediately. Disney Cruise Line will do everything it can to rectify the situation. They will also accommodate your dietary needs if you make them known before ordering.
How do you Pre-Pay Gratuities on a Disney Cruise?
Gratuities are added to your Disney cruise account automatically prior to the end of your cruise as a default. It is also possible to pay the suggested tip in advance by contacting either Disney Cruise Line or your travel agent no later than three days before the cruise starts.
If you prefer to pay for everything before you step aboard, that's great! Just make sure you pre-pay the tips at least three days before your departure date, and you'll have nothing to worry about on your cruise.
If you have questions about tipping on Disney cruises, want to step up your pre-payments, or wonder how much a Disney cruise will cost, it's time to contact The Vacationeer. They can provide up to $1,000 in FREE Disney onboard credit, Disney's best available pricing, and expert planning advice and assistance.
Can you Remove Gratuities on a Disney Cruise?
Yes, you can remove, reduce, or increase the automatic gratuities on a Disney cruise by visiting Guest Services during the cruise. 
Disney automatically charges your onboard account the standard tip amounts (unless you pre-pay). No tip amount is set in stone, so Disney allows you to adjust them before the cruise ends if you want to give more or wish to give less; just contact Guest Services onboard your Disney Cruise.
How Do my Crew Members Know I Tipped Them?
At the end of your cruise, you will receive four envelopes and a sheet detailing all automatic tips that have been charged to your room folio.  This sheet is perforated so you can separate the section relating to each Crew Member and place it in the envelope (along with additional cash should you desire).
You may give these envelopes directly to the serving team on the last night at dinner or at breakfast on your final morning.  For your stateroom hostess, you may give the envelope to them in person or leave it in your room.
Don't worry if you don't have a chance to pass a tip envelope to a particular Crew Member… they'll still receive the appropriate amount designated for them in your stateroom folio (but of course won't get any actual cash you might have included).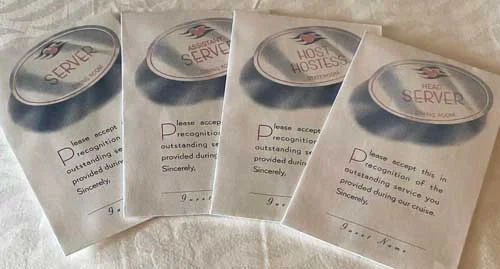 To summarize how Disney's automatic gratuities work, you can 1. let Disney charge your account automatically, 2. pre-pay your gratuities, or 3. pass out individual envelopes with cash. It's up to you! Just let your travel agent or Guest Services know if you wish to do something other than automatic gratuities.
Are Tips included at Palo and Remy?
Specialty dining on Disney cruises is a step above the regular dining room experience and is not included in a Disney cruise's base price. You can choose between Palo and Remy, which both offer exquisite cuisine and an intimate setting.
Regarding tipping, an 18% gratuity will automatically be applied at dinner at Palo & Remy. However, you can also add additional gratuity if you feel that the service warrants it. For brunch, tips are included in the dining charge, but you can add gratuity if you desire. Ultimately, it's up to you to decide how much to tip, but remember that the staff greatly appreciates the extra gratuity.
Bar, beverage, wine, and deck service tabs will be automatically charged an 18% gratuity. Gratuities may be charged to your stateroom folio.
A gratuity of 18% will be automatically added to any drink ordered from a bartender, whether it is non-alcoholic or alcoholic. Sodas, bottled water, and alcohol ordered from room service will also have an automatic gratuity. Additionally, your server will add a gratuity to your bill if you order bottled water, a smoothie, or alcohol in the dining rooms.
Do you Tip for Room Service on a Disney Cruise?
Room service is one of the many perks of being on cruising with Disney. You can order anything you want, and it will be brought right to your stateroom door. Best of all, with the exception of a few packaged items and drinks, room service is complimentary. However, even though there is no charge for the food, it is customary to tip the person who brings it to your room.
You can add a tip to your onboard account when you sign the bill or give a cash tip. Most people leave a tip of at least $5. Whether or not you choose to tip is up to you.
Are Gratuities Included for Spa Services?
Senses Spa & Salon offers a wide range of spa services, including massages, facials, and other pampering services. Unfortunately, the cost of spa services is not included in the Disney cruise nor its per-night automatic gratuities.
That said, an 18% gratuity will automatically be applied to all spa services you receive. You do not need to add more unless you are so inclined.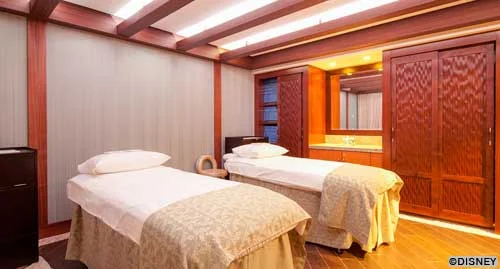 Can you use Cash on a Disney Cruise Ship?
When planning a Disney cruise, one question that often arises is whether you can use cash onboard the ship. The answer is that all onboard purchases are charged back to your stateroom folio, but you can use cash to pay that folio.  You can also give tips via cash if you wish.  Here are a few things to keep in mind.
To begin with, you may use the credit card on file, American Express Travelers Cheques denominated in USD (United States Dollars), or pay with cash. Secondly, you must settle all charges before you leave the ship. This means that if you plan on using cash, you'll need to have enough to cover your entire bill (or at least have a second payment method to use as well). Lastly, remember that gratuities are not included in your cruise fare, so you'll need to have cash on hand to tip bus drivers, porters, tour guides, etc
When you're off the ship at a port (except for Disney's private island Castaway Cay), your shipboard folio is no good for payment.  Local currency or a credit/debit card is needed.
It's generally best to bring a mix of cash and other forms of payment when cruising with Disney. That way, you'll be prepared for anything.
How Much Do you Tip a Porter on a Disney Cruise?
Remember to bring small bills with you. This will make it easier to tip porters and bus drivers without breaking larger bills. Second, if you use Disney transportation (or any other transportation services), consider giving your bus driver a few dollars after arriving.
You should also tip people who assist you with your luggage, whether they're unloading your bags from a bus or bringing them to your stateroom. It's up to you how much you tip.
Should you Tip the Tour Guides on Port Adventures? 
If you're taking a Disney cruise, consider bringing some cash to tip your tour guides and drivers. While it's not required, it's good etiquette to show your appreciation for their service with a gratuity.
Most guides and drivers are very familiar with the customs of their home country, so they can be a valuable resource for information about what to see and do during your trip. They may also be able to provide insights into the culture that you wouldn't get from reading a guidebook.
Tipping is generally done in cash, and US dollars are widely accepted in many foreign ports, so if you're planning to take an excursion while on your cruise, be sure to bring some cash to show your appreciation for your guides and drivers.
How Does Tipping Work for the Concierge Level?
Prepare to tip even more if you are sailing at the concierge level. Concierge hosts rely heavily on tips, so be sure to tip generously. How much you tip is always up to you, but Disney now recommends at least $8 per passenger, per night, for the Concierge Lounge hosts.  In addition, you'll find your Concierge Stateroom Assistant Host is factored into the nightly automatic gratuities normally reserved only for the Stateroom Host and dining room staff. Remember that your concierge hosts are there to make your cruise as enjoyable as possible, so don't hesitate to give them a little extra if they go above and beyond.
Are you expected to Tip for Disney Babysitting Services?
On a Disney Cruise, gratuity is not expected for babysitting services. However, if you feel that the babysitter did an exceptional job and you would like to show your appreciation, you may do so at your discretion.
We hope our How Does Tipping Work on a Disney Cruise article will help you prepare for your magical vacation at sea. Happy sailing!