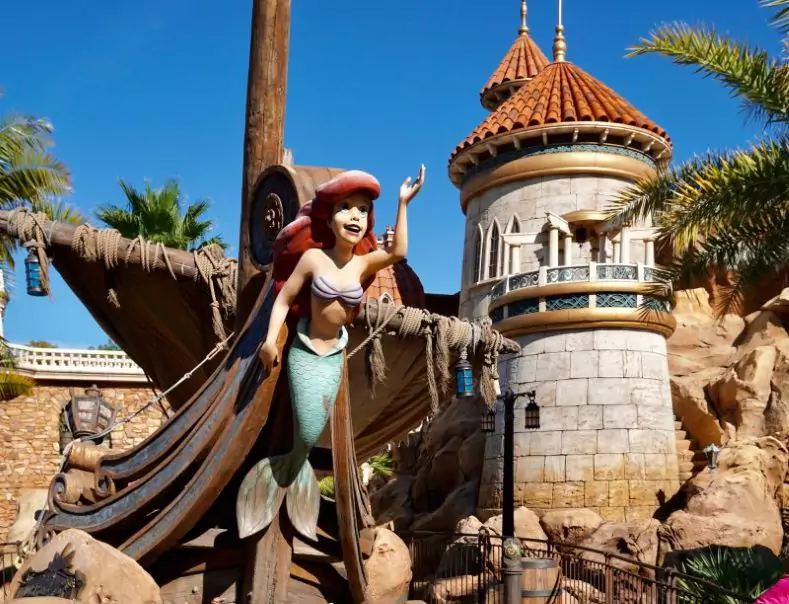 Disneybounding Outfits
Disney World's Costume Policy and Disneybound Ideas
Disneybounding is the cross-section of creativity, fashion, and Disney fandom.  In a nutshell, to Disneybound is to go to a Disney theme park while dressed as a Disney character. But we are not talking about cosplay because Disney doesn't allow adults to dress in costumes. Rather, the art of Disneybounding lies in its subtlety. This fashion trend gives you a way to be creative and put your love for Disney on display when you are visiting a Disney park – all without violating their costume policy.  In this article, we will explain what Disneybounding is, the rules and regulations of Disney's dress policies, and then give you some affordable DIY Disneybounding ideas for Disney World and Disneyland.
Back in 2011, a Disney enthusiast named Leslie Kay started the whole Disneybounding trend at Disney parks. The idea was to come up with a way for adult Guests to pay homage to their favorite Disney characters by dressing like them.
Disney has a fairly strict set of rules and restrictions on what you can wear to Disney World and Disneyland. Therefore, Disneybound outfits had to be subtle rather than full-blown costuming.
The fun of Disneybounding is its creativity.  Guests are tasked with finding ways to dress like the character you are trying to emulate while also sticking within the boundaries of Disney's dress code. Most Disneybounders want other Guests to be able to figure out who they are emulating, so the outfits must contain clues to tip off other Guests.
Clues? Yes, things like color patterns and accessories are the best ways to signal who you are…
Let's dig a little deeper into what Disneybounding is, the rules of costuming and outfits at Disney World and Disneyland, and then take a look at some stylish Disneybounding ideas for your next trip!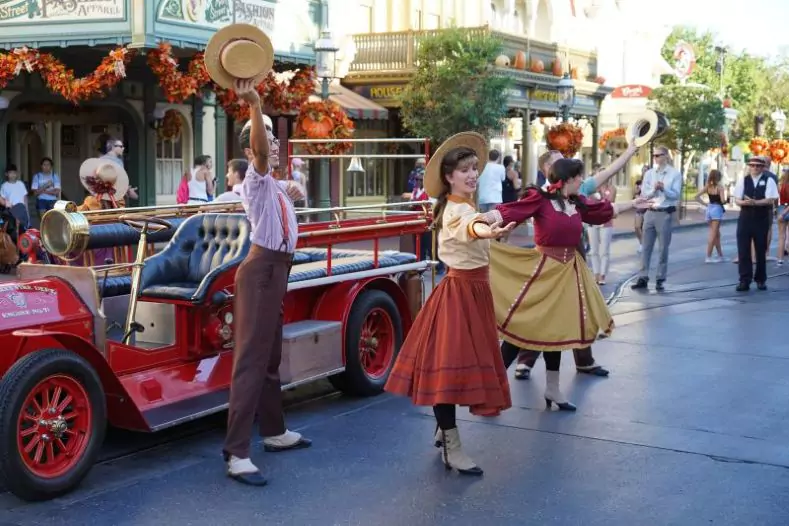 Disneybounding / Costume Policy at Disney Parks
It's important to know the guidelines for how to dress at Disney's theme parks and water parks. If you show up in "inappropriate" attire, you run the risk of being turned away at the gates.
So what are Disney's rules on costuming and clothing in general, and how do Disneybounding outfits fit into these guidelines?
First off, Disney suggests that guests check the weather reports before they arrive. Dress weather-appropriately and wear comfortable shoes because you will be outside and on your feet for much of the day.
As far as outfits go, use common sense when coming to Disney's parks. The atmosphere is casual and family-oriented, of course, but appropriate attire is required. For example, all Guests must wear shoes, shirts, and family-friendly clothing at Disney parks.  As far as Disneybound outfits go, here are some rules to follow:
Inappropriate Attire
Wearing inappropriate attire may result in the denial of entry into the parks.
Disney's policy on inappropriate attire includes, but is not limited to, the following:
Guests 14 years of age or older are not permitted to wear costumes in Disney parks
Adult Costuming Exceptions: Some adult costumes may be permitted during select special events such as Mickey's Not-So-Scary Halloween Party and Mickey's Very Merry Christmas Party. In addition, some Star Wars-inspired costumes may be permitted (see this costuming for Star Wars: Galaxy's Edge article for more information).
Adult Masks: Masks are not to be worn by Guests 14 years of age or older (except for medical purposes). That said, some masks may be allowed during special events such as Mickey's Not-So-Scary Halloween Party and Mickey's Very Merry Christmas Party.
Upon entry, clothing w/ multiple layers are subject to search
Excessively torn clothing
Clothing or tattoos w/ objectionable material (i.e., obscene language, violent graphics, etc.)
Risque clothing – which exposes excessive portions of the skin – that may be deemed inappropriate for a family-friendly environment
Costume Guidelines: Seasonal Events
Mickey's Not-So-Scary Halloween Party and Mickey's Very Merry Christmas Party
While Disney encourages creativity, they also value good judgment and safety. Here are the latest rules and regulations in case you are planning to attend one of these special events:
General Rules
Disney has the right to deny admission to or remove any person wearing inappropriate attire or attire that may detract from the experience of other Guests.
Costumed Guests may not pose for pictures or sign autographs for other Guests
Costumes must be family-friendly and not violent, offensive, obstructive, or otherwise objectionable
Costumes must not contain any weapons that could be mistaken for an actual weapon
Costumes must not contain pointed or sharp objects or materials that could accidentally strike other Guests
Guests must adhere to these guidelines or else they may be refused entry into, or removed from, Disney parks unless the costume can be modified to conform to Disney's standards
For Guests ages 13 and under:
Costumes are allowed and some masks may be worn, so long as it doesn't cover the entire face and the eyes are visible
For Guests ages 14 and older:
Disney strongly discourages layered costumes or props that surround the entire body and may conduct additional security screening on any Guest who dresses in this manner
Costumes must not reach the ground or drag on the ground (i.e., a full-length Princess dress)
Capes are permitted as long as the length doesn't go below the waist
The following are acceptable: themed T-shirts, sweatshirts, blouses, and hats; accessories such as toy swords, plastic light sabers, transparent wings, tutus, and headwear that doesn't cover the face.
Any kind of mask may not be worn
Review Walt Disney World Resort's Property Rules
Walt Disney World Resort requests that you review their updated Property Rules before you visit to avoid any disruptions.
DIY Disneybounding Outfit Ideas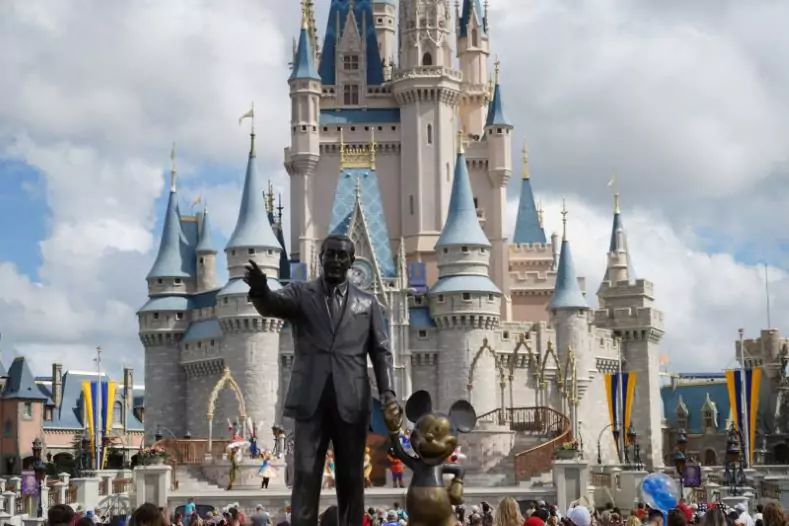 How to Choose a Disneybounding Outfit
If the Disneybounding fashion trend sounds like something you would like to try, here is some advice on how to choose your outfit.
First, choose a Disney character you would like to emulate. Pick a character that other people in the park will recognize (unless you want to stay totally incognito).
Next, research the character's outfit and color scheme so you know what to look for as you shop. For example, you will want a light blue outfit for Cinderella. a black, red, yellow, and white outfit for Mickey Mouse, and so forth. You can certainly dress as more obscure Disney characters but we think it's easier to pattern yourself after the classic, iconic Disney characters.
And lastly, now it's time to accessorize!  Think of what pins, bags, hats, jewelry, enamel pins, etc. may help add to your look and give other Guests clues as to which character you are inspired by.
Where to Buy Disneybounding Outfits
After you decide who you want to be – and how you may want to dress – then it's time to purchase your Disneybounding outfits. Amazon is a good place to browse for Disneybounding ideas, as well as in department stores, costume stores, thrift shops,  or any place that sells outfits and accessories.
Keep in mind that Disneybounding is not the same as cosplaying and Disneybound outfits avoid the campy and overt types of costumes.  Instead, Disneybounding focuses on the understated, so much so that you could go to work or run errands without drawing attention to what you are wearing. Disneybounding outfits are simply a creative and subtle way for fans to give a nod to their favorite characters through a series of barely visible wardrobe clues.
To help you brainstorm some of your own Disneybounding ideas, here we present to you some ideas below. Who is ready to get fashionable and have some fun?!
Snow White Disneybounding Outfit
Snow White and the Seven Dwarfs is Disney's earliest feature-length film. The story is based on the German fairy tale by the Brothers Grimm, and the film version was produced in 1937 by Walt Disney Productions.
In the classic animated film, Snow White wears a long yellow skirt with a top of blue, red, and white. The Snow White Disneybounding outfit below is more of a modern (and sexy) take on this classic look.
Mickey Mouse Disneybound Outfit
Mickey Mouse needs no introduction. Here's a basic Mickey Mouse Disneybounding idea in the classic black, red, yellow, and white color scheme.
Sourcerer Mickey Disneybounding Outfit
Sorcerer Mickey is  – of course – Mickey Mouse, but in his magical form. Mickey first appears as a sorcerer in the animated film Fantasia (1940).
Sorcerer Mickey is best known for wearing a  long red cloak (with a blue shirt under it) and a pointy blue sorcerer's hat with stars and moon decorations. This Disneybound outfit sticks with the same color scheme but only an astute Disney fanatic will pick up on the subtle cues. However, the star earrings may give it away!
Aurora Disneybounding Outfit
Princess Aurora (also known as Sleeping Beauty or Briar Rose) is the protagonist of Disney's animated feature film, Sleeping Beauty (1959).  The storyline involves an evil fairy named Maleficent and a curse on a newborn princess (Aurora).  On her 16th birthday, the spell is broken by a kiss from her true love, Prince Phillip.
Princess Aurora is best known for wearing the blue version of her famous color-changing ballgown. This Disneybounding outfit is a modern take on the classic (for cooler days at the park).
Maleficent Disneybound Outfit
Maleficent appears in Walt Disney Productions' 1959 animated feature film, Sleeping Beauty as well as in the 2014 fantasy film Maleficent starring Angelina Jolie. She is the self-proclaimed "Mistress of All Evil" who curses the infant Princess Aurora after not being invited to the christening.
The character of Maleficent is recognizable by her black horns and purple and black gown. With this Disneybound outfit, it's unlikely that anyone will be puzzling as to who you are trying to emulate.
Cinderella Disneybounding Outfit
Cinderella's cruel stepmother and her two jealous stepsisters keep her in rags and slaving away at chores. There is no way she will be attending the royal ball. But when her fairy godmother appears to magically transform her dreams into reality, Cinderella enchants the Prince Charming at the royal ball.  The spell wears off at midnight and Cinderella must now face the wrath of her angry stepmother and sisters.
Cinderella is best known for her light blue grown. This Disneybound outfit is sure to enchant any Prince Charming walking by.