Atlantis Bahamas Statistics

The History and Facts Behind The Paradise Island Resort
Atlantis Bahamas is a luxurious tropical paradise that draws tourists year-round. Its pristine beaches, elegant accommodations, and exciting attractions make it easy to see why anyone would want to escape reality and spend their days in this slice of heaven. But what lies just beneath the surface? What are the Atlantis Bahamas statistics and facts driving this incredible destination? To provide further insight into this Paradise Island resort, we will examine Atlantis' history, key figures, numbers, facts, dates, and economic impact – providing a comprehensive overview of one of the world's most spectacular vacation destinations.
Key Statistics for Atlantis Bahamas Resort
Location: Paradise Island, Bahamas
Total Rooms: 3,805
Opening Date: 1968 (as Paradise Island Hotel and Casino) / December 11th, 1998 (as Atlantis Paradise Island)
Developer: Kerzner International Resorts
Current Management: Brookfield Asset Management
Number of On-Site Hotels: 5 (The Cove, The Royal, The Reef, The Coral, and Harborside Resort)
Website: www.atlantisbahamas.com
Address: One Casino Drive, Suite 41, Paradise Island, Bahamas
Phone Number: +1 242-363-3000
The History of Atlantis Bahamas Resort
Here's a brief history of how Atlantis Bahamas grew into the massive resort it is today.
Early Tourism on Paradise Island
The history of Atlantis Bahamas Resort is intriguing. It all began in 1967 when Huntington Hartford sold his interests to Resorts International, and the development of the first Paradise Island bridge began. The historic Atlantis Bahamas Resort can trace its roots back to 1968 when the Paradise Island Hotel and Casino first opened. Within a short period of time, the new tourist attraction gained international notoriety for its rapidly expanding entertainment scene and casino gambling.
In 1987, Donald Trump bought a 67 percent stake in Resorts International for $79 million. One year later, a group led by US media mogul Merv Griffin purchased the company from Trump and invested large sums in its development.
Atlantis Construction Begins
Paradise Island saw a significant transformation in 1994 when South African hotel magnate Sol Kerzner and Kerzner International Limited purchased the property. Sir Sol's vision for the development of Paradise Island was to create a world-class tourist destination that would not only attract visitors from around the globe but also contribute to boosting the overall standard of living in the local population. His plans paid off, as Kerzner International invested a whopping $800 million into creating an incredible new resort facility on the island.
Construction of Atlantis began on land that was previously an airport. In 1998, the resort officially opened with Coral Towers and Beach Tower. Soon afterward, Royal Towers opened, and Paradise Island was renamed Atlantis Paradise Island. The Royal Towers was the Caribbean's largest casino and was home to millions of dollars worth of artwork.
The Expansion of Atlantis Bahamas Continues
Atlantis Paradise Island was transformed into the "Monté Carlo of the Americas" in 2005 after the construction of the 75,000-square-foot Marina Village and surrounding Marina. It became the premier yachting destination in The Bahamas and began offering visitors world-class dining, shopping, and entertainment.
In 2007, two new luxury hotels – the 600-suite The Cove Atlantis and the 497-room The Reef – were opened on the island. In the same year, the company expanded Aquaventure Water Park and the marine habitats.
In 2012, the resort opened CRUSH, a teen hangout spot, and Atlantis Kids Adventure.
The property was purchased by Brookfield Hospitality in July 2014, and it joined the Marriott Bonvoy loyalty program in October 2014.
Atlantis Bahamas Recent History
The recent history of Atlantis Bahamas has been one of expansion and improvement. Further renovations followed in 2017 when $20 million went into revamping the Coral Towers and adding new poolscapes to The Cove and The Coral. The following year saw upgrades to The Reef, and in 2019 The Cove underwent further renovations. And, as a grand finale to their Caribbean tour of 2022, Prince William and Kate Middleton spent two nights at The Cove.
Today, this once-ordinary strip of land is a renowned tourism mecca. Indeed, over the past three decades, Atlantis, Paradise Island has stood witness to a remarkable journey from an ordinary island to one of the world's premier tourist destinations. The resort features the world's largest open-air marine environment, the Caribbean's largest water park and casino, multiple hotels, lagoons, waterfalls, a megayacht marina, a championship golf course, and more. It will be exciting to see what Atlantis Bahamas resort has in store for the future!
Atlantis Bahamas vacation planning can be time-consuming and frustrating. Fortunately, The Vacationeer simplifies the process.
Atlantis Bahamas travel agents like The Vacationeer can provide accurate quotes for all aspects of an Atlantis Bahamas vacation, ensuring that you get the best possible package at the lowest price. Plus, The Vacationeer's friendly staff can answer any questions about your trip and provide insightful information about what Atlantis offers.
The best part is that their services are free! Start planning today – The Vacationeer awaits! Click here for a free, no-obligation quote.
Statistics and Facts about Atlantis Bahamas
Business Statistics for Atlantis Bahamas
With over 7,500 employees, Atlantis Bahamas is the largest private employer in the Bahamas.
Brookfield Asset Management LLC owns Atlantis Bahamas, and Marriott International's Autograph Collection Hotels operates the resort.
Atlantis Bahamas generates around $359 million in revenue annually.
Crowd Statistics and Facts for Atlantis Bahamas
Holiday weeks, school vacations, and peak season (December – April) are the most crowded times to visit Atlantis Bahamas.
Crowds and prices are lower during the off-peak season, which runs from August to November.
It is estimated that more than 7 million tourists visit the Bahamas annually, many of whom stay at Atlantis Bahamas.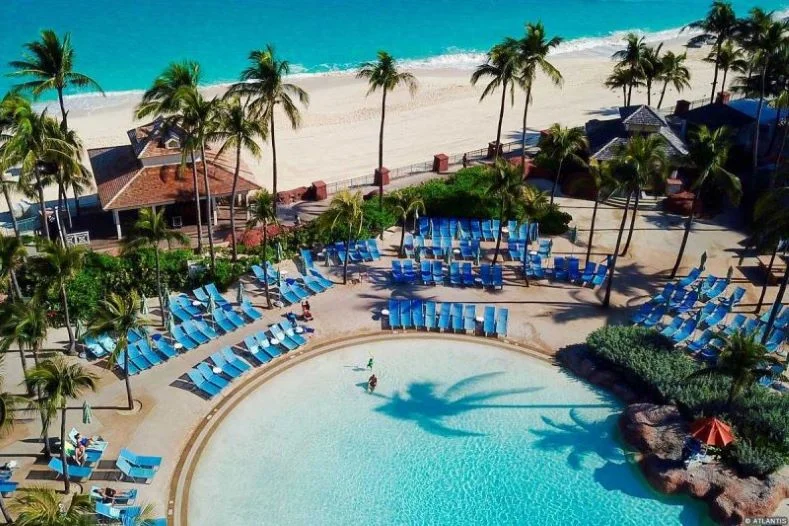 Atlantis Bahamas Cost Statistics and Facts
It is estimated that a family of four will spend $300 to $800 per night on their room at Atlantis Bahamas.
For 2023, the least expensive room rate is $206, although prices fluctuate daily due to supply and demand.
During the holidays, some opulent suites cost upwards of $7000 (or more) per night.
An average couple will pay between $525 and $825 per day, which equates to $4,725 per week. A family of four will spend about $900 to $1,700 daily, which equates to $9,100 per week. Flights, hotels, meals, and experiences are included in these figures.
Several factors influence the cost of a stay at Atlantis Bahamas, from the hotel and room you select to the time of year and whether you want to add on fee-based experiences and meal plans.
The Aquaventure Atlantis Water Park is free for guests staying at the resort.
There are several ways to save money at Atlantis, including visiting during the off-season, which runs from August to November.
Dining Statistics for Atlantis Bahamas
Atlantis has 21 restaurants serving everything from Japanese to Caribbean cuisine.
There are 12 restaurants with kids' menus that are ideal for quick snacks or casual meals.
Nineteen bars and lounges are available at Atlantis Bahamas, where you can enjoy fine wines, cigars, and dancing until dawn.
Atlantis has two different dining plans: the two-course Aqua Dining Plan and the three-course Trident Dining Plan. Neither plan includes lunch, but both include a full breakfast and dinner.
With the purchase of an adult dining plan, children six and under eat free!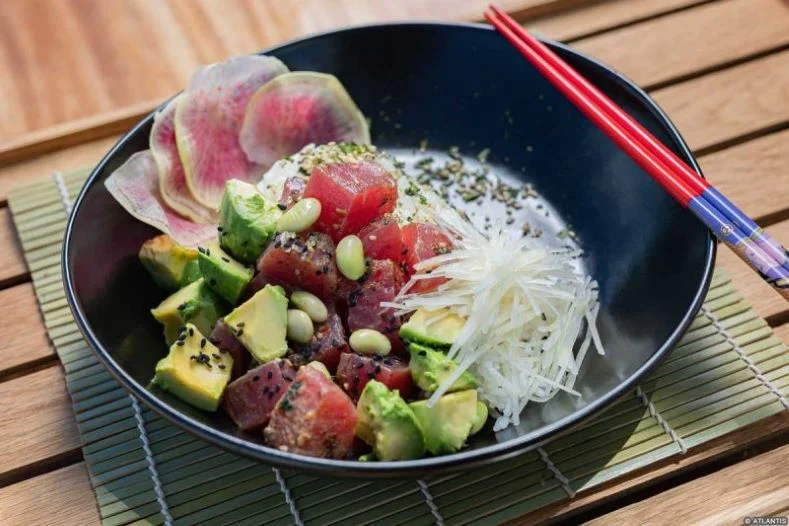 Atlantis Bahamas Statistics for Its Water Park, Pool, and Beach
The Aquaventure Water Park covers 141 acres and is the largest waterpark in the Caribbean.
Aquaventure Water Park welcomed 1.81 million visitors in 2019, making it the world's fifth-most-visited water park.
The resort utilizes 20 million gallons of water to fuel the energy, excitement, and entertainment at Aquaaventure.
The six-story tall Mayan Temple is home to several water rides, including The Leap of Faith slide, which plunges nearly vertically from 18 meters (60 feet).
There are four water slides in the Power Tower, which is the tallest feature at Aquaventure.
Atlantis is home to more than 20 swimming areas and 14 refreshing, distinctive pools.
The Cove Pool is a four-level adults-only (18+) pool available exclusively to guests of The Cove.
Nearly 750,000 gallons of water fill the Baths Colonnade Pool, with a sun deck covering 2.5 acres.
Poseidon's Playzone is a new 9,000-square-foot water play zone for kids that features 40 water play elements, including a 300-gallon water bucket.
The mile-long Rapids River tube ride is the longest river in the Bahamas and features drops of up to 7 feet.
Atlantis features six beaches with over 5 miles of white sand beaches, including Cove Beach, Royal Beach, Paradise Lagoon, and Atlantis Beach.
Though not an all-inclusive resort, a stay at Atlantis includes free access to the water park, pools, beaches, marine habits, health club, movie theatre, and more.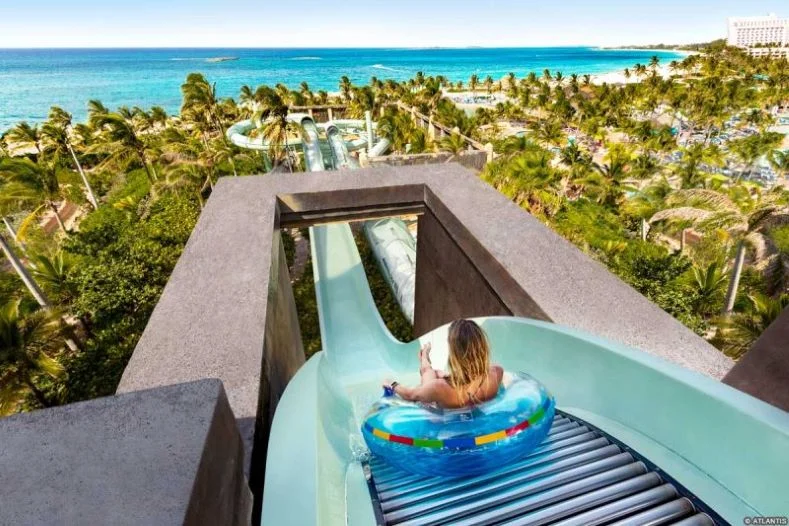 Atlantis Marine Attraction Statistics and Facts
Atlantis Bahamas is home to the world's largest open-air marine habitat.
There are 250 marine species, 50,000 marine animals, 14 lagoons, and 8 million gallons of saltwater in the aquatic habitat of Atlantis Bahamas.
An array of marine species live there, including sharks, barracuda, rays, eels, piranha, and the endangered alligator gar.
The Dig attraction simulates the 11,000-year-old, long-lost continent of Atlantis, and its goal is to make guests feel as though they are living in the fabled city.
A Predator Lagoon features a 100-foot (30 m) underwater tunnel made of clear acrylic, which provides visitors with an unobstructed view of marine life.
Dolphin Cay is home to a 14-acre marine habitat for rescued bottlenose dolphins, manta rays, and sea lions.
More than 100 marine wildlife specialists care for Dolphin Cay's dolphins and sea lions.
Atlantis guests can snorkel with lobster and snapper in the Ruins Lagoon's colorful reef.
Nurse sharks rest on the bottom of Reef Lagoon's shallows.
In the Stingray Lagoon, guests can feed and touch stingrays in a shallow, sandy lagoon.
Founded in 2005, the Atlantis Blue Project Foundation is a 501(c)3 non-profit organization dedicated to saving sea species and their habitats. Many of the resort's fee-based experiences and programs go to support The Blue Project Foundation.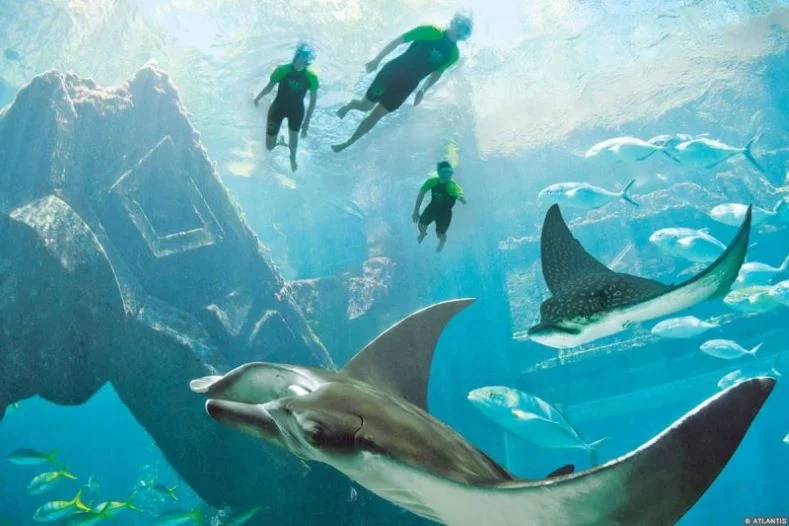 Atlantis Casino Statistics
The Atlantis Casino spans a seven-acre lagoon and has 60,000 square feet of space, making it one of the Caribbean's largest casinos.
At Atlantis Casino, you'll find 85 table games and more than 750 slot machines with denominations ranging from $1 to $100.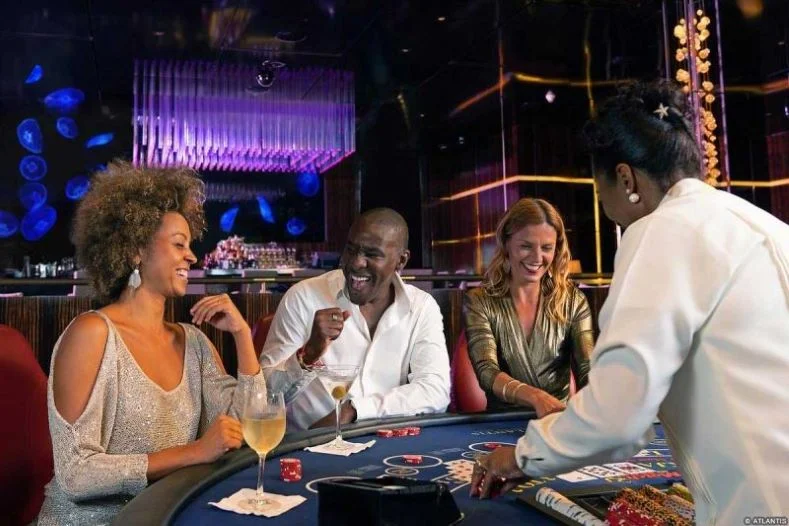 Ocean Club Golf Course Statistics and Facts
The Ocean Club was founded in 1962 by wealthy American businessman Huntington Hartford, with a course designed by Dick Wilson.
Tom Weiskopf redesigned the Ocean Club Golf Course in the 1990s.
The resort's Ocean Club Golf Course is a private 18-hole, par 72 championship course with a restaurant and bar.
The course stretches over 7,100 yards, with two returning nines crisscrossed by lagoons, wetlands, and waste areas.
"Spyglass," a 208-yard hole at the 12th, is one of the most memorable.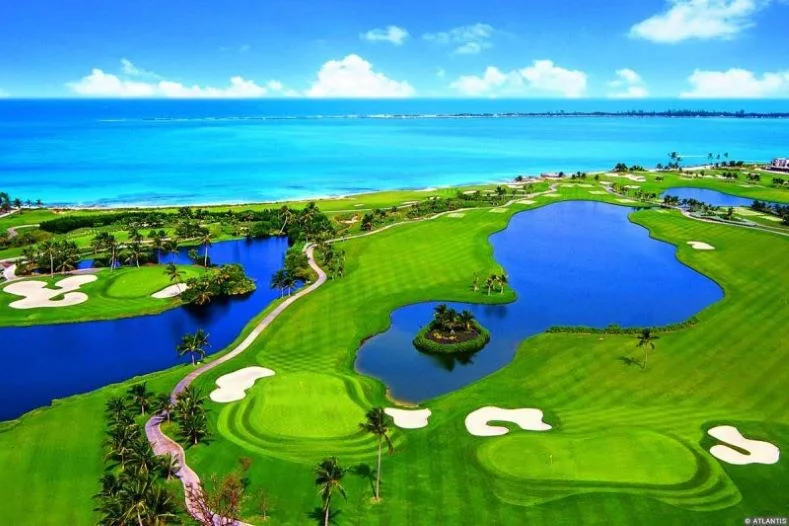 Atlantis Bahamas Statistics for Its Conference Centers
The Crown Ballroom can accommodate groups of up to 1,450, with a 13,000-square-foot junior ballroom and seven meeting rooms ranging from 702 square feet to 2,907 square feet.
The Grand Ballroom offers a dramatic setting for one-of-a-kind meetings and themed events with 25,000 square feet of floor space.
The Imperial Ballroom can accommodate 4,000 people and features a soaring 26′ ceiling with adjustable hang points, double air walls for acoustic isolation, electric signs, and state-of-the-art lighting.
Fitness Facility Statistics for Atlantis Bahamas
The resort's 10,000 sq. ft. Fitness Facility features two movement studios for spinning and yoga, a full gym, and a wellness area.
Atlantis Bahamas offers a four-lane, 25-meter lap pool next to the fitness center.
Statistics for Experiences at Atlantis Bahamas
With Pieces of 8 Tours, Atlantis guests can explore the nearby islands by chartering a powerboat. The Fountain powerboats measure 38 feet (12 meters) in length and cruise at 45 mph (72 kilometers per hour).
A five-day stay at Atlantis is the ideal amount of time to enjoy all the best things to do at Atlantis Bahamas.
Atlantis Bahamas Location Statistics
It takes 31 minutes (18.5 km) to drive between Atlantis Bahamas (Paradise Island) and Lynden Pindling International Airport via John F Kennedy Drive.
Almost exclusively a tourist destination, Paradise Island measures 5 miles long and 1 mile wide.
Weather Statistics for Atlantis Bahamas
For many, the best time to visit Atlantis is during its peak season, which lasts between December and April. During this period, there are sunny days with moderate temperatures above 60 degrees and little precipitation.
Hurricane season in the Bahamas occurs from June 1st to November 30th.
Atlantis Bahamas statistics show that August is the hottest month, with an average temperature of 84°F.
January is the coldest month, with an average temperature of 72°F.
The wettest month is August, while the driest is January.
The cloudiest month is June, and the clearest month is February.
July is the best month for swimming.
Atlantis Bahamas Shopping Statistics and Facts
Marina Village, a 65,000-square-foot outdoor marketplace next to Atlantis, features over 20 designer shops and retail outlets, as well as a variety of restaurants, grab-and-go food, and Starbucks.
The Crystal Court Shops feature the best in women's and men's fashion, including Michael Kors, Amici, Cole's of Nassau, Gucci, Tory Burch, Versace, and David Yurman, among others.
Escape at The Cove is a beautifully curated designer boutique.
The Logo Stores feature Atlantis souvenirs and gifts for adults and children.
The Pro Shop offers a complete selection of sports apparel, tennis racquet rentals, and lessons with the pro.
Contact Information for Atlantis Bahamas
Reservations: 1-888-877-7525 or 954-809-2100
Questions: 1-888-877-7525 or 954-809-2100
Customer Service Hours: Monday – Thursday, 9 AM – 11 PM; Friday – Sunday, 9 AM – 9 PM
Email: [email protected]
Post Travel Questions: 1-888-847-3299 or email [email protected]
Casino: 1-800-PLAY-711 or email [email protected]
Group Sales/Conferences: 1-800-722-2449 or email [email protected]
Weddings: 1-888-528-9758 or email [email protected]
Celebrations/Special Occasions: 1-888-343-5007 or email [email protected]
Travel agent requests: [email protected]
Press Contact: 1-954-809-2517
Company Addresses for Atlantis Bahamas
Atlantis Paradise Island
One Casino Drive
Paradise Island, The Bahamas
Phone: 1-242-363-3000
Brookfield Hospitality Properties, LLC
1000 South Pine Island Road
Plantation, FL 33324
Phone: 1-954-809-2100
Ready to Book Your Atlantis Bahamas Vacation?
Atlantis Bahamas is an idyllic paradise in the sunny Caribbean that is well worth the money. However, before booking your trip, contact The Vacationeer to find the best Caribbean vacation package at the lowest price. Their vacation planners will provide all the information you need, including details on Atlantis' accommodations, dining options, and activities that are perfect for your Caribbean getaway.
In addition to Atlantis, The Vacationeer also has an extensive knowledge base of other popular Caribbean vacation spots, such as Sandals or Beaches, so booking with them can save you time and money. The best part is that their services are completely free!
All in all, The Vacationeer makes it simple to enjoy a hassle-free Atlantis Bahamas getaway. Click Here for a free, no-obligation quote, and start planning your trip today!
Thanks for reading our Atlantis Bahamas Statistics article. We hope these stats and data have provided you with a few fun facts and some key information about this fantastic destination. Enjoy your trip to paradise!