The Best Universal Orlando Restaurants: What You Need to Know
There is no shortage of places to eat while visiting the Universal Orlando parks. Between Universal Studios, Islands of Adventure, CityWalk, and the Volcano Bay water park, deciding where to eat can take as much time as standing in line for Harry Potter and the Escape from Gringotts™! Save some time (and sanity) with our breakdown of the best Universal Orlando restaurants. Plus, we'll give you some tips for getting the most out of dining at Universal Orlando.
Want personalized recommendations on Universal Orlando dining?  Ready to book your trip?  We strongly recommend reaching out to the Universal specialists at The Vacationeer.  Their planning services cost you nothing, so get a free quote today! 
Best Restaurants at Universal Studios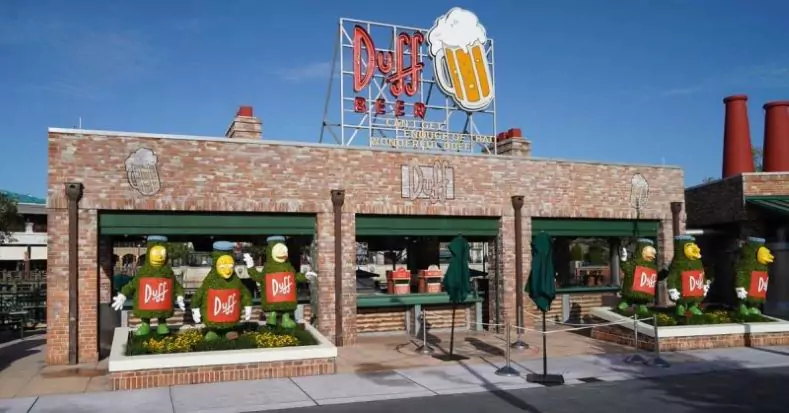 Fast Food Boulevard – Springfield, USA
Theme parks have upped their food game. It's no longer an endless buffet of pizza, hot dogs, and hamburgers. However, when you're craving something along these lines, head over to The Simpsons™ themed land at Universal Studios Florida. Fast Food Boulevard is a collection of quick-service dining locations in a mall food-court-style hub. Enter one of the many facades along the boulevard to access the restaurants inside. Fast Food Boulevard is best for those traveling with a group who can't decide on a single place to eat for lunch or dinner. From chicken and waffles to vegetarian wraps and sandwiches, there's a little something for everyone. The eateries are themed after dining establishments from the Simpsons series, including Moe's Tavern and the Krusty Burger. You can purchase Simpsons' themed drinks like Buzz Cola, Duff Beer, and a Flaming Moe. Here's a complete list of the restaurants inside Fast Food Boulevard:
Cletus' Chicken Shack—Chicken and waffles and chicken finger platters
Lisa's Teahouse of Horror—Vegetarian, vegan, and grab-n-go sandwiches
The Frying Dutchman—Fried seafood, tater tots, and hushpuppies
Krusty Burger—Burgers, "ribwiches," and hot dogs
Flaming Moe's—Milkshakes, assorted soft drinks, Duff beer, and the Flaming Moe (which tastes like orange soda)
Luigi's Pizza—Personal-sized pizzas and milkshakes
Moe's Tavern—The place to get a Duff beer
The Bumblebee Man's Taco Truck is also nearby, providing even more variety.
Finnegan's
Finnegan's is an Irish American pub located in the New York section of the park. This sit-down restaurant offers traditional Irish dishes like Bangers and Mash and Sheperd's Pie. It also serves American entrees like burgers and salads. Occasionally, there is live music while you enjoy your meal.
Mel's Drive-In
Step back in time at this authentic, 1950's style diner. This quick-service dining location will get you ready for the sock hop, complete with neon lights and signage, black and white checkered floors, and vintage cars parked outside. Put a coin into the jukebox to hear some classic Golden Oldies. The meals are what you'd expect from a diner: burgers, fries, chicken fingers, root beer floats, and milkshakes.
Best Places to Eat at Islands of Adventure
Mythos
Mythos is by far one of the best Universal Orlando restaurants. Located in the Lost Continent, this table service restaurant serves award-winning cuisine featuring a combination of Asian, Mediterranean, and American flavors. It's been named the Best Theme Park Restaurant by Theme Park Insider 10 times—the first restaurant ever to do so. You can't miss Mythos' commanding facade, with a mythological being and waterfalls chiseled out of stone. Meal selections include roasted chicken, sea scallops, lamb shank, Pad Thai, and wild salmon. Reservations are recommended and can be made by calling 407-224-FOOD.
Green Eggs and Ham™ Cafe
This delightful and flavorful eatery is fun for kids and adults! Surely you've read about Sam's initial distaste (and eventual love) for Green Eggs and Ham, so why not give it a try? Head over to Seuss Landing for this famous dish, along with Who Hash, hamburgers, and fries.
Thunder Falls Terrace 
Thunder Falls is the only place for prehistoric eats at Islands of Adventure, located in the Jurassic Park area. Step in and devour a selection of ribs, turkey legs, rice bowls, and salads. The seating area also offers views of the Jurassic Park River Adventure, where you can watch riders' reactions as they get drenched.
Did we forget something? Don't worry—we haven't been the subject of an "obliviate" charm. We discuss the dining options at The Wizarding World of Harry Potter™ further below.
Best Restaurants at Universal CityWalk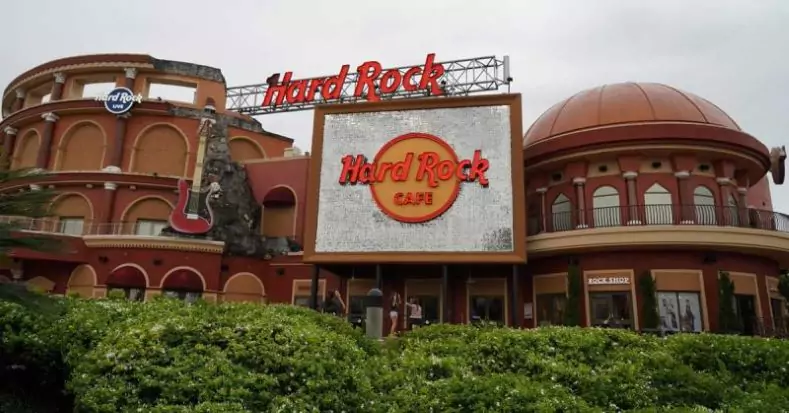 Hard Rock Cafe®
Jam out at the largest Hard Rock Cafe in the world! Music memorabilia fills every nook and cranny of the restaurant, from Elvis' suit worn in Viva Las Vegas to Buddy Holly's signature black glasses. The Hard Rock Cafe serves classic American meals like burgers, sandwiches, salads, and cocktails. The atmosphere will keep you entertained.
Toothsome Chocolate Emporium
Dessert before dinner? Yes, please! Toothsome is a full-service restaurant that includes a gourmet confectionery and milkshake bar. Known for outrageous chocolate creations like the Red Velvet milkshake (topped with a full-sized red velvet cupcake) and the S'mores sundae (complete with a giant s'more), they also serve a wide range of savory treats like flatbreads, sandwiches, pasta, and even filet mignon. All of this is set with 19th-century steampunk theming.
Do You Need a Reservation for Toothsome Chocolate Emporium? 
The milkshake counter and confectionery offer walk-up counter service, but you'll want a reservation if you wish to eat inside.
Jimmy Buffet's® Margaritaville®
Island vibes thrive at Margaritaville. No wasting away here. Escape to this restaurant for live entertainment, tropical cocktails, seafood, teriyaki bowls, and a Cheeseburger in Paradise®. If only we could find our lost shaker of salt…
Cowfish Sushi Burger Bar
Sushi and burgers— who would've thought they'd be a winning combination? Cowfish serves bento boxes of sliders and various sushi rolls. Feeling adventurous? Try the Cheeseburgooshi, a cheeseburger made to look like—you guessed it—sushi.
Best Snacks at Universal Orlando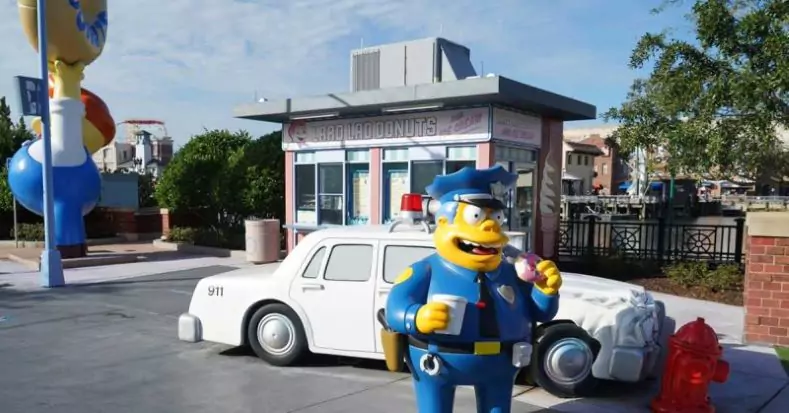 If you think snacks are better than a meal, you'll find plentiful options at Universal Orlando. Check out The Big Pink donut at the Lard Lad Donuts in Springfield, USA. It's usually enough for two to four people to enjoy.
Speaking of donuts, head over to Voodoo Doughnut at CityWalk and enjoy over 50 types of over-the-top doughnuts, like the Universal Orangesicle, filled with Bavarian cream and topped with citrus icing and chocolate pearls.
Of course, any trip to the Wizarding World of Harry Potter wouldn't be complete without Butterbeer™. Enjoy it hot, cold, frozen, and alcoholic. After you've had your fill of Butterbeer, step over to Florean Fortescue's Ice Cream Parlor for adventurous flavors like Chocolate Chili, Earl Grey and Lavender, and Sticky Toffee.
Best Vegetarian and Vegan Dining at Universal Orlando
Most restaurants offer vegan and vegetarian options on their menus. However, the best vegetarian and vegan dining is at the TODAY Cafe at Production Central and Lisa's Teahouse of Horror in Fast Food Boulevard in Springfield, USA.
Need help planning your Universal Orlando vacation? Get with the Universal travel agents at the Vacationeer. Get a free quote for your trip here!
Where to Eat at Volcano Bay
There are four quick-service dining locations, two food stands, and two bars at Volcano Bay. To get the most out of your experience, use TapTu Pay™ and connect your credit card with your TapuTapu bracelet to pay for food and drinks without carrying around your wallet. Here are the quick-service food options at Volcano Bay:
The Feasting Frog: This food stand is shaped like a tiki frog, so you can't miss it. It serves appetizers like tacos and poke bowls, and cocktails.
Kohola Reef Restaurant & Social Club: Serves up an array of chicken and seafood platters, burgers, and BBQ.
Whakawaiwai Eats: A pizzeria with a tropical twist. Pineapples are definitely involved.
Bambu Jungle Kitchen: Offers a large variety of American fare, from burgers to chicken sandwiches.
Best Universal Orlando Restaurants in Harry Potter World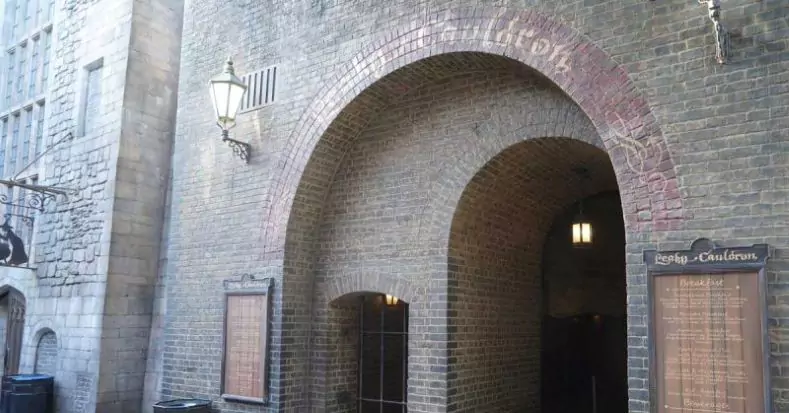 Some of the Universal Orlando's best restaurants are inside the Wizarding World of Harry Potter. Each Harry Potter-themed land has one quick-service casual dining restaurant, several snack carts, and a few bars. Diagon Alley™ (at Universal Studios) is home to The Leaky Cauldron™, and Hogsmeade™ (at Islands of Adventure) has the Three Broomsticks™.
Which Harry Potter Restaurant is Better at Universal Studios?
The best restaurant in the Wizarding World of Harry Potter is the Leaky Cauldron. The Leaky Cauldron features traditional English dishes that allow you to be fully immersed in wizarding London. This popular pub from the series was a frequent meeting place for witches and wizards and served as Harry's home for a few weeks before starting his 3rd year of Hogwarts, as detailed in Harry Potter and the Prisoner of Azkaban. Try a Toad in the Hole with traditional English sausage, Yorkshire pudding, and onion gravy. Or, sample a cottage meat pie or beef, lamb, and Guinness stew.
Best Family Meal at Universal Orlando
While the Leaky Cauldron is the best restaurant for authentic English fare, the best family meal at Universal is the Three Broomsticks. Known as "The Great Feast," this meal serves four people and includes a whole rotisserie chicken, corn on the cob, potatoes, and ribs.
Which is Better for Breakfast: Leaky Cauldron or Three Broomsticks?
The best restaurant for breakfast is the Three Broomsticks. It serves breakfast until 10:30 am daily and offers one price for adults or children. Breakfast selections include hearty pancake platters and continental breakfasts, with more variety than the Leaky Cauldron. Get your day started on the right foot with the Traditional English Breakfast, including scrambled eggs, sausage, black pudding, English bacon, baked beans, grilled tomato, mushrooms, and breakfast potatoes. Don't forget to wash it down with Pumpkin Juice™!
Is Leaky Cauldron a Sit-Down Restaurant? 
No. The Leaky Cauldron at Universal Studios Orlando is a quick-service dining location. You enter a queue line, place your order at the counter, and are given a magical candlestick that allows a server to find your table and bring your food to you in the seating area.
Do You Need Reservations for Three Broomsticks?
No. Three Broomsticks does not offer reservations because it is a counter-service dining location. Dining in the seating area is first-come, first served.
Can You Eat in Hogwarts at Universal Orlando?
There's no dining inside Hogwarts Castle. Since Hogwarts Castle is the line for the Harry Potter and the Forbidden Journey™ attraction, there isn't a place to sit and eat a meal, at least the way Harry, Ron, and Hermione do in the books and films. However, you can bring a Butterbeer to enjoy while you wait in line—so that's something, right?
Money-Saving Dining Hacks at Universal Orlando
Can You Take Snacks into Universal Studios Florida? 
Yes. The equivalent of four 16.9oz water bottles and factory-sealed snacks that don't require heating or cold storage are allowed at Universal Studios. Universal Orlando does not permit homemade food items. Baby food and formula are also allowed.
Can You Get Free Water at Universal Studios?
Yes. You can get a cup of tap water for free at any quick service or table service dining location. You can also refill water bottles at any Freestyle Coke machine located in the park.
Does Universal Have a Dining Plan?
No. Universal Orlando does not currently offer dining plans, and there is no word on when the Universal Dining Plan may return after halting these plans during the pandemic shutdowns.
What Does It Cost to Eat at Universal Studios? 
When calculating all the costs to factor into your Universal vacation budget, you can't forget about budgeting for food. Quick service meals are typically $15 to $20 per person, with a drink. Table service restaurants are more expensive, starting at $25 per person. For a more-exact estimate, check our complete overview of Universal Orlando food prices.
Can You Share Meals at Universal Orlando? 
Yes. Several locations offer share-worthy meals. As mentioned above, the Big Pink donut at Lard Lad's in Springfield, USA, is a snack that two people can easily share. The Great Feast at The Three Broomsticks at Hogsmeade is made to serve a family of four for one price. You can also split a New-York style pizza at Louie's Italian Restaurant in the New York section of Universal Studios.