Being a parent is hectic, especially during a busy Disney family vacation. If you're looking for some alone time, and wonder if there are childcare and babysitting services at Disney World, the answer is YES.
There are a few options to give adults a chance to enjoy a night out with the peace of mind knowing that your kids are in good hands. Kid's Night Out is Disney in-room babysitting service and Camp Dolphin is the park's drop-off childcare center. Rates for both services are very affordable and it's couldn't be any more convenient.
Let's explore these two childcare/babysitting options at Disney World.
Kid's Night Out Babysitting Services
Are couples entitled to a little "alone time" away from their kids during their Disney family vacation? We think so!
Maybe it's a romantic dinner at one of Disney's many fabulous dining spots. Or maybe it's relaxing at a lounge, nightclub, or sports bar.
You may want to stroll the BoardWalk or shop at Disney Springs.
Whatever the occasion, Disney's childcare services have has you covered!
Your first option is Kid's Night Out. This service will provide you with one-on-one babysitting right to your Disney World resort hotel room.  Your childcare provider will engage your children in activities such as reading, crafts, and playing games.
The service is available for children 6 months to 12 years of age.
How much does Kid's Night Out cost?
Rates
| | |
| --- | --- |
|  Number of Children | Price Per Hour |
| 1 | $20 |
| 2 | $23 |
| 3 | $26 |
| 4 | $29 |
Please note:
Disney charges a one-time transportation fee of $12 per booking. Furthermore, a $2 per hour charge will be added after 9 pm.
Rates are subject to change and reservations should be made at least 2 weeks in advance. To make your reservations, contact your Disney Travel Agent (we recommend The Vacationeer), or call the Kid's Night Out hotline at (407) 828-0920.
Details about Kid's Night Out
For children 6 months to 12 years of age
Babysitters are available 24/7
4-hour minimum
Endorsed by Disney (but not run by Disney)
All childcare providers are 18+ and insured and bonded
They all have previous childcare experience and training in basic first aid and child/infant CPR
Hire a Helper for In-Park Assistance
You can also hire a Kid's Night Out provider to give you an extra set of hands when you (the parent or parents) are present.
Guest can reserve a childcare specialist on a per-hour basis. They will accompany your family as you visit the theme parks.
The "nanny" will help you organize, push a stroller, give you tips, and just lend a helping hand when needed, They will make your day go as smoothly as possible.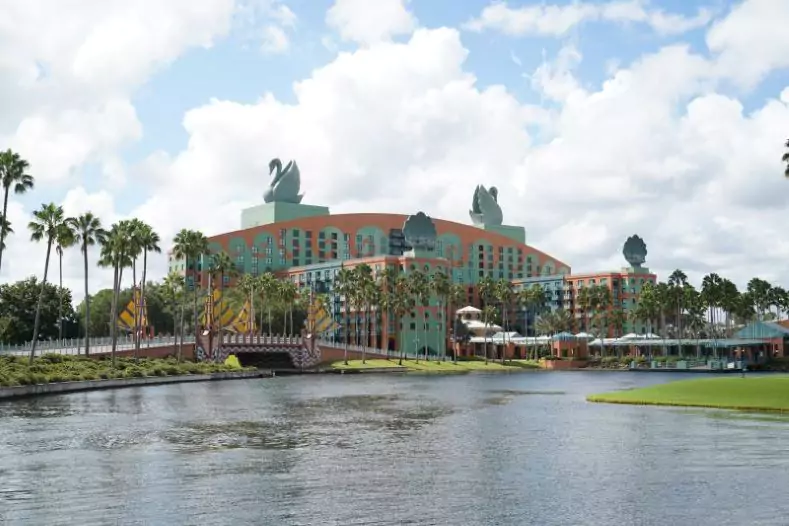 Camp Dolphin
Another option at Disney is Camp Dolphin.  This children's activity center is located on the first floor of Walt Disney World Dolphin Hotel, not far from Hollywood Studios and Epcot.
At
Camp Dolphin
, you simply drop off your kids and head off to enjoy your evening out. Meanwhile, your kids will engage in fun activities like play games, coloring, crafting, and more.
Activities change nightly, there are
souvenirs
and prizes, and the activity center even offers a special dinner-and-dessert program. Children tend to love it!
Camp Dolphin is staffed with trained and caring counselors (childcare providers). They will keep your children stay entertained and safe while you, their parents, enjoy a quiet (or eventful) evening to yourself.
Cost of Camp Dolphin
Camp Dolphin costs $12 per hour, per child (subject to change) for the supervised children's program. A minimum of 2 hours is required.
A kid's meal can be included for an extra $10. No outside food is allowed on the premises.
Discounts for Camp Dolphin
Guests dining at Todd English's Bluezoo, Shula's Steak House, or Il Mulino New York Trattoria  – or guests receiving spa services at Mandara Spa – are eligible to receive up to 2 free hrs at Camp Dolphin.
One child is admitted (to Camp Dophin) for free per adult entree ordered or per 75-minute spa treatment at Mandara Spa. A valid receipt is required.
Details about Camp Dolphin
For children ages 4 through 12 years
Hours of Operation: Daily: 5:30 PM – 12:00 AM
A secure environment with trained childcare providers
This children's activity center is operated by Disney's Swan and Dolphin hotels.
Activities: Disney movies, video games, board games, read books, play with new friends, and arts and crafts
Children must be potty trained (no pull-ups allowed)
Reservations are required. Call (407) 934-4241, or better yet, have The Vacationeer make all your arrangements at no cost to you!
Baby Care Centers – Hosted by Huggies
Another thing worth mentioning is Disney's Baby Care Centers, hosted by the diaper brand Huggies).
Baby Care Centers are areas that provide parents with a convenient place to nurse, feed, and change their infants and toddlers. They are located within all 4 of Disney's theme parks:  Magic Kingdom, Epcot, Animal Kingdom, and Hollywood Studios.
These parenting zones provide privacy and plenty of helpful amenities so you can tend to your little ones.
Details about Disney World's Baby Care Center
Open during normal park hours
Facilities are staffed and free to use
Changing rooms (includes tables and women's restrooms)
Private nursing room w/ rocking chairs
Feeding area w/ highchairs
Changing Stations
Main room w/ seating, table, and tv
Kitchen w/ sink and microwave
On-site shops offer baby food, formula, diapers, wipes, juice, over-the-counter medications, sunscreen, and clothing for purchase
Lost Children
If a child is separated from their parents while in one of Disney's theme parks, a Cast Member will escort the child to the Baby Care Center. Here they'll be cared for until the parent(s) comes to claim the child.
Other Baby Care Centers Locations?
Disney World's resort hotels, Disney's water parks, and Disney Springs do not have Baby Care Centers.  However, baby changing stations are located in most restrooms at these locations.