Anyone staying at Disney World property had always received a complimentary MagicBand, but this policy was changed in 2021.  Are MagicBands free now, or do you have to pay?
MagicBands are no longer free for Disney Resort hotel guests. However, anyone can still purchase a MagicBand online or at participating retail locations.
Let's take a closer look at this policy change.
What are Disney Magic Bands?
In a nutshell, a MagicBand is a wearable device that lets you tap into the magic of Walt Disney World Resort.  It gives you the freedom to ditch your paperwork (and wallet) and travel lighter for the duration of your Disney World vacation.
MagicBands are colorful wristbands that seamlessly connect you with your My Disney Experience information. The all-in-one device allows you to enter the theme parks, buy food and merchandise, unlock your Disney hotel room door, link PhotoPass and Memory Maker, and gives you access to all the other experiences you've reserved.
Once you've received (or purchased) a MagicBand, you can then link it with your My Disney Experience account. Now you'll enjoy a seamless and hands-free user experience. It's such a convenient little gadget and they look cool too!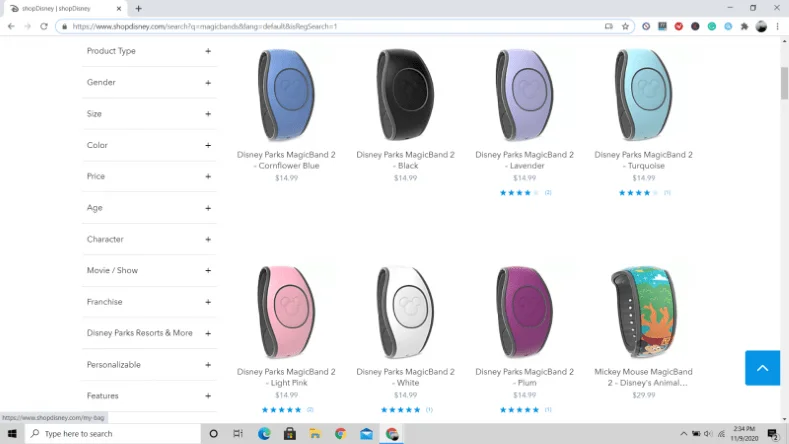 How Much do MagicBands Cost?
As I mentioned above, anyone staying at one of the Disney World Resort hotels was eligible to receive a complimentary (free) MagicBand. It was announced that this longstanding policy was to change at the end of 2020.
As of December 31, 2020, Magicbands will no longer be provided on a complimentary basis for anyone with check-in reservations.
This news was a bit disappointing but not all is lost. You can still use MagicBands in the park and you can still purchase your MagicBand online or at select retail locations.
And another good thing: MagicBands are quite affordable.  They will cost you between $15 to $39 – depending on which model you choose.
The basic MagicBands are a solid color. You can choose between 8 different colors and they are priced at just $14.99 each.
The customizable MagicBands are brightly colored with lively graphics of your favorite Disney characters. The graphical MagicBands cost between $24.99 and $39.99, which is more than the solid MagicBands but well worth it in my opinion.
Disney has also announced a new type of MagicBand called MagicBand+, which falls somewhere between a Magic Band and a Smart Watch.  In addition to lighting and vibration effects, MagicBand+ also promises in-park interactive features that will make the wristband function somewhat like the interactive wands in Wizarding World of Harry Potter.  The new MagicBand+ starts at $34.99 for a basic solid-color model and has been fully available since July 27, 2022. We expect additional specialty graphic models will eventually be offered, likely at a higher price.
Where Can you Buy MagicBands?
Guests can purchase their MagicBands via any one of the following"
Online via the shopDisney website
Walt Disney World theme park retail locations
Walt Disney World Resort hotel retail locations
At a select number of Disney Springs retail locations
Other participating merchandise and retail locations
After you've received your Magic Band,  you can now link your MagicBand or theme park ticket to your Disney account
Are Disney Magic Bands Worth It?
First of all, nobody is required to buy a MagicBand. In fact, you can just use your RFID-enabled ticket card to perform the same functions as a MagicBand.
MagicBands and Disney World RFID-enabled tickets have the same touch-to-enter functionality in the parks. The difference is that MagicBands offer extra convenience since it's a wearable device and you don't have to pull it out of a wallet, pocket, or backpack like you do with the ticket.
So are MagicBands worth it? Yes! They aren't necessary but they are definitely "worth it."
MagicBands make life much easier and provide you with all of your data on one easily-accessible, wearable device. Even though you'll now have to shell out money for one, MagicBands are still worth the cost.
If you need help planning and booking your Walt Disney World vacation, please call the The Vacationeer! Their services are 100% free and their advice, expertise, and dedication will prove invaluable!
Have a magical day!