Although Disney cruises may seem expensive compared to other cruise lines, there is more value under the hood than it appears. The base price of a Disney cruise includes nearly everything you need. However, there are a few additional costs that you should be aware of. This article will provide information about what is included on a Disney cruise and what's extra so you can budget for your family vacation.
What IS Included in Your Disney Cruise Fare
Here is what is included in the cruise fare quoted to you by Disney Cruise Line or your Travel Agent:
✔️ Staterooms: Included
Not surprisingly, your stateroom accommodations (cabins) are included in the price of a Disney cruise. Guests will receive the following standard amenities at no additional cost:
Split bathrooms (most staterooms)
Complimentary bath, shower, and spa toiletries
TV and in-room movies
Mini-fridge
Hairdryer
Plenty of storage space for luggage
Privacy curtains dividing the primary bed area from the living area (most staterooms)
Housekeeping services (two times a day)
When you book a Disney cruise, you're not just booking a vacation; you're booking an experience. And part of that experience is spending time in one of Disney Cruise Line's innovative and modern staterooms.
Each stateroom on a Disney cruise ship is designed with your family in mind. Whether you choose a cozy cabin or an extravagant suite, your family will have just about everything they need.
Standard amenities include split bathrooms in most staterooms (privacy curtains make getting ready easier for everyone), ample storage space for your luggage, a refrigerator, a hairdryer, television, in-room movies, and twice-daily housekeeping service with downturn service. Disney also includes H20 Plus-branded spa, bath, and shower toiletries in every bathroom, so there's no need to bring your own as everything above is included in your Disney cruise fare.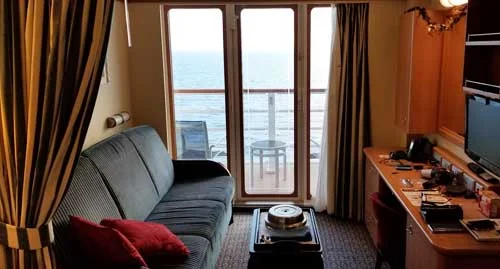 ✔️ Dining: Included
Food is one of the best things about a Disney cruise. Lucky for you, food is included in the cost of a Disney cruise. Here are the highlights:
Meals at one of three themed dining restaurants
Buffets and quick-service dining options
Complimentary soda, tea, coffee, and water in the dining rooms and on the deck
"All-you-care-to-enjoy" soft-serve ice cream
Room service is available 24/7
You'll have access to three elaborately themed Main Dining restaurants, quick-service dining, 24-hour room service, and all-you-care-to-enjoy soft-serve ice cream. You'll also enjoy complimentary tea, coffee, and soda on the deck and in the dining rooms — a bonus you get when you cruise with Disney (most cruise lines charge extra for this). And if you're looking for a late-night snack, you can find it in the adult nightclubs and lounges.
All of this is "free" because it's included in the cost of your Disney cruise. So whether you're a picky eater or just looking for something different, you're sure to find something to suit your taste on a Disney cruise. Enjoy upscale restaurants, casual dining, poolside snacks, and 24-hour room service.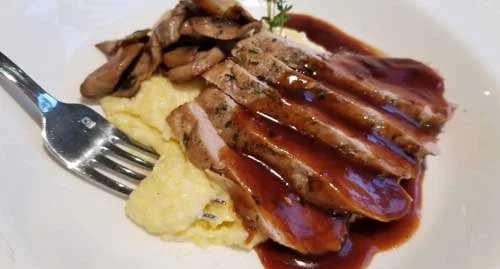 Here is a further breakdown of what's included when it comes to dining on Disney Cruises:
⚠️ Restaurants and Buffets: Partially Included
All meals in the main dining rooms on Disney's cruises are free, and you can order as much food as you want. This includes your nightly dinner rotation as well as breakfasts and lunches.
The specialty restaurants reserved exclusively for adults, such as Remy and Palo, are not part of the Disney cruise package. See further below for more details.
✔️ Meals on Castaway Cay Island: Included
The cost of a Disney cruise includes meals at Castaway Cay restaurants and soft drinks at their soda stations. See our Castaway Cay Tips article for more on this exclusive Disney island paradise.
⚠️ Beverages: Partially Included
Disney cruises offer unlimited free soda, coffee, tea, milk, juice, and water at meals. The pool deck also has a few free all-you-can-drink soda stations.
Alcohol, specialty drinks, and bottled beverages are extra (see below for more details).
✔️ Self-Serve Ice Cream: Included
The pool deck features a self-service ice cream machine. You can eat as much as you want and it's totally free of charge. The kids will love this feature, and so will you!
✔️ Room Service Items: Included
You can order room service for breakfast, lunch, dinner, and snacks as part of your cruise fare.
Although room service meals are free, Disney still expects you to tip the staff.
✔️ Cruise Entertainment and Activities: Included
Disney Cruise Line's entertainment offerings are impressive! This is Disney, after all!
The ship features spectacular fireworks, professional musicals, festive deck parties, and the latest Disney movies in 3D. There are numerous activities and experiences included in the cost of a Disney cruise, including:
Nightly entertainment
Spectacular stage performances
First-run and classic Disney movies on the deck or in a state-of-the-art theatre
Immersive kids' clubs with well-trained Youth Coordinators on hand
Bars, lounges, and nightclubs that are exclusively for adults
Deck parties featuring unique themes and your favorite Disney characters
Disney Character meet-and-greets at select onboard locations
Let's take a closer look at what is included on a Disney cruise in the entertainment and activities category.
✔️ Disney Movies and Theater Shows: Included
Movies and performances at Walt Disney Theater and Buena Vista Theatre are free on Disney cruise ships.
Walt Disney Theatre, Disney Cruise Line's majestic performance venue, presents Broadway-caliber productions every evening.  You will experience everything from original Disney musicals to full-feature films to fun variety acts with comedians,  jugglers, singers, and hypnotists. This glitzy theatre at sea is the ultimate venue for live performances!
Buena Vista Theatre is a beautiful Art-Deco movie theater where you can watch the latest blockbusters during your cruise. Designed in the Art Deco style, the lavish cinema plays first-run films, popular motion picture releases, and Disney classics.
Again, there is no admission because your Disney cruise fare covers it.
✔️ Pools and Waterslides: Included
There's no need to worry about paying to use the pools and water slides on Disney cruise ships because they're included.
✔️ Fitness Centers: Included
All Disney cruise ships have free fitness centers with weights, treadmills, and other fitness equipment, as well as free changing rooms and showers.
✔️ Sports and Games: Included
On Disney cruises, there is free basketball, mini-golf, ping pong, shuffleboard, and board games in the lounges.
⚠️ Character Meet and Greets: Partially Included
You can't go on a Disney Cruise without meeting your favorite Disney Characters. The standard Disney character meet and greets are free on Disney cruises; however, some character meetings will require advanced booking.
Do you have questions about what's included in a Disney cruise, or are you ready to book your next family vacation? Contact the DCL experts at The Vacationeer. Their services are 100% free to you and oh-so-helpful!
⚠️ Castaway Cay: Partially Included
If your cruise stops at Disney's private island, Castaway Cay, you'll be happy to know that the lounge chairs, beach umbrellas, and on-island dining are included in Disney cruise fares. Moreover, participation in the Castaway Cay 5k race is free of charge.
Most arranged activities, equipment rentals, and specialty beverages will cost extra. See below for more details.
✔️ Kids Clubs (ages 3 to 17): Included
You can find free entertainment for kids, teens, and tweens at Disney's youth clubs for kids, tweens, and teens. These themed play spaces include Edge, Vibe, Disney's Oceaneer Club, and Disney's Oceaneer Lab. It's no wonder Disney is the best cruise line for kids!
What is NOT Included in Your Disney Cruise Fare
Here is a list of extra expenses you may incur on a Disney cruise, not included in your cruise fare:
❌ Airfare and Ground Transfers: Not Included
Disney does not provide free transportation to the cruise ship. The guest must pay for airfare and ground transfers to the Disney cruise port. Some departure ports, such as Port Canaveral, Dover, and Galveston, are quite a distance away from the nearest airport so transportation can be a notable expense. If you're driving to the port, you'll be responsible for any fees charged to park at the port during your cruise.
❌ Specialty Restaurants: Not Included
Remy, Palo, Palo Steakhouse, and Enchanté are upscale fine-dining restaurants that aren't included in cruise fares. These restaurants require extra charges for meals, drinks, and gratuities.
Are these specialty restaurants worth the extra charge?
Remy: Besides having some of the most fabulous dining options on a Disney ship, Remy is an adult-only restaurant serving French cuisine on the Disney Dream and the Disney Fantasy. It's worth the price if you want an upscale dining experience.
Palo: Palo is an elegant adults-only restaurant offered in one form or another on every Disney cruise ship. On most, Palo serves traditional Northern Italian cuisine with a contemporary twist. Definitely worth the splurge if you love Italian food (who doesn't?)! On the Disney Wish, it's known as Palo Steakhouse with a menu that keeps the Italian flair but adds in the highest-quality beef available.
Enchanté: Chef Arnaud Lallement, a recipient of three Michelin Stars, helms this world class luxurious dining onboard the Disney Wish.
❌ Gratuity (Tips): Not Included
Tipping your cruise staff members is expected, but these expenses are not included in the base package. 
Your stateroom attendant and your dining room staff (server, assistant server, and head server) are assigned to you for the duration of your cruise.  The suggested total tip amount for these four Crew Members is a combined $14.50 per passenger, per night.  You can:
Prepay this suggested amount in advance of your cruise, or…
Disney will automatically charge the suggested amount to your room folio on the final day of your cruise.
If you wish to use cash instead, or want to pay more or less than the suggested amount, you can visit the Guest Services desk to adjust the amount charged to your folio.
For most other crew, gratuities are at your discretion.  For more information, visit our complete guide to gratuities on Disney Cruise Line.
❌ Bottled Beverages: Not Included
Drinks like sodas and water are free with meals and at the soda stations, but bottled beverages will cost extra. If you find yourself ordering bottled water or bottled soda by the pool, be aware that it's customary to tip your server.
❌ Alcohol, Smoothies, and Other Specialty Drinks: Not Included
All alcoholic drinks cost extra on Disney cruises, as do mocktails, fruit smoothies, and specialty coffees.  Expect to pay extra for purchases at bars and cafes and by the pool, with the exception of the complimentary soda stations.
❌ Popcorn, Peanuts, and other Snacks: Not Included
Food items like popcorn, peanuts, and packaged snacks are available for purchase around the ship and outside the theaters.
❌ Shore Excursions: Not Included
Disney Cruise Line contracts with local tour guides to give visitors a taste of the local life. These shore excursions (also called Port Adventures) cost an additional fee. You may choose to book shore excursions independently if you want a more personalized experience (or to save money). Don't forget to get back on the ship before it leaves!
Note: There's no charge to simply leave the ship at any of the ports of call it visits during the cruise.  If you don't want to pay for a guided experience, you can still freely walk around the port/city, perhaps enjoy a meal at a local restaurant, and do some shopping and sightseeing on the cheap.
❌ Senses Spa & Salon: Not Included
In an elegant spa with ocean views, the Senses Spa & Salon offers a variety of beauty treatments and salon services. You can choose from a wide range of spa and beauty treatments, including massages, facials, body wraps, aromatherapy, manicures, pedicures, teeth whitening, hair styling, and men's grooming services.
Spa and salon services are not included on Disney cruises. Prices vary depending upon the service, and gratuity is suggested.
❌ Souvenirs: Not Included
It's probably no surprise to anyone that souvenirs from gift shops are not included in the price of a Disney cruise.
⚠️ Internet: Partially Included
Guests can connect to the Wi-Fi to use the Disney Cruise Line Navigator at no charge; you don't need to purchase connectivity if that's the only app you want to be able to use while onboard your cruise.
But what most people would consider typical internet usage — checking email, regularly scrolling through and posting to social media, automatically backing up photos from your phone, and watching an occasional video — is not included in the cost of your cruise and requires the purchase of one of the Disney Cruise Wi-Fi packages.
On most of the ships, these packages are priced based on the type of usage; a package that just allows you to post text and photos to social media is cheaper than a full package that lets you check email or watch YouTube videos.
But on the Disney Wonder, packages are priced based solely on data usage, regardless of type.  Guests can activate 50 MB of free data per stateroom, but you'll probably find it goes very quickly.  If you want more data, you can pay as you go or take advantage of discounts for pre-purchased bundles of 100, 300, and 1,000 MB.
❌ Laundry: Not Included
Self-serve laundry is available (but not included) on every Disney cruise ship.
The machines are small, but guests can do loads in 45 minutes for a few dollars a load. There is a vending machine stocked with soap and dryer sheets for purchase.
There's no charge to use the irons provided in the laundry rooms; Guests cannot bring travel irons to use in staterooms.
Dry cleaning and laundry services are also available on the cruise for an additional charge.
⚠️ Photography: Partially Included
Disney Cruise Line's professional photographers will capture your magical cruise moments while your focus is on having fun. However, while it's free to have your photo taken, purchasing the photo packages can be expensive.
You can save money by having a Cast Member take pictures using your own camera. They will do it for you for free.
❌ Castaway Cay Rentals & Alcohol: Not Included
There are lots of free things for you to do on Castaway Cay, but you can also rent bikes, snorkeling equipment, watercraft, and private cabanas for an additional fee.
Alcoholic drinks, mocktails, and refreshing specialty drinks are available for purchase at any of Castaway Cay's bars.
❌ Nursery Care (6 months to 3 years old): Not Included
The "it's a small world" nursery! offers childcare at the following rates:
$4.50 per half-hour for the first child
$4.00 per half-hour for any additional children in your family
Note: You may want to check with The Vacationeer for the latest information, as the nursery is listed as "temporarily closed" at the time of this article's publication. 
❌ Calls to Shore: Not Included
There is a per-minute charge for making phone calls from the cruise ship to home (or any other location on the shore). It's not cheap — several dollars per minute — but you have that option if you need it.
❌ Bibbidi Bobbidi Boutique: Not Included
Every Disney cruise ship has an onboard salon that provides elaborate princess, prince, and pirate makeovers (perfect for theme nights such as Pirate Night). The salon offers hair, nail, makeup, and costuming services. None of these services are free, of course.