Blizzard Beach vs Typhoon Lagoon
Do you know that Walt Disney World Resort is home to two world-class water parks? Heading to either Disney's Blizzard Beach or Disney's Typhoon Lagoon is guaranteed to be a fun and refreshing way to spend an afternoon outside of the theme parks. Doesn't relaxing on a lazy river, whizzing down a water slide, or splashing around a wave pool sound like a wonderful alternative to theme parks? If you think so, then this article will help you determine which Disney water park is better for your family.  Below, we give you a comparison of Blizzard Beach vs. Typhoon Lagoon to help you decide!
Everyone knows that Magic Kingdom is Disney World's most iconic theme park.
The other Disney theme parks – Epcot, Animal Kingdom, and Hollywood Studios – also get plenty of love, and for good reason.
But ask someone to name Disney's two water parks, and you may have them stumped. 
It's a shame Disney World's water parks – Blizzard Beach and Typhoon Lagoon – are often overlooked because they are some of the park's most enjoyable and thrilling areas.  This oversight may result from not having enough time to experience all of the Disney World parks during a short three or 4-day vacation. Very understandable.
However, if your Disney vacation will last 5 days or more – and everyone in your group likes water activities – there's really no excuse for skipping Disney's water parks entirely.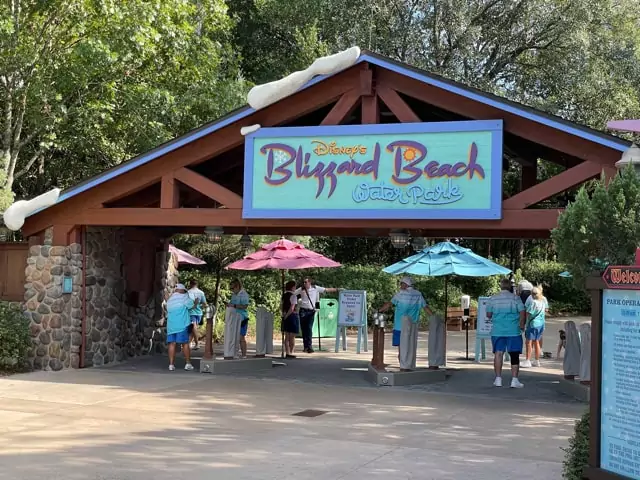 When is the Best Time to go to Typhoon Lagoon or Blizzard Beach?
As for when to go to a Disney water park, they tend to be less crowded during the first few days of the week (Mondays, Tuesdays, Wednesdays) and during the first couple of hours and the last few hours of the day. It probably goes without saying that holidays, weekends, and school vacations will surely be busy times.
See our Disney Travel Planners page to find a Disney travel agent who will help you review your best ticketing options.
With that said, let's now review and rank some of the best elements of Blizzard Beach and Typhoon Lagoon.
Disney Water Parks: Stats and Themes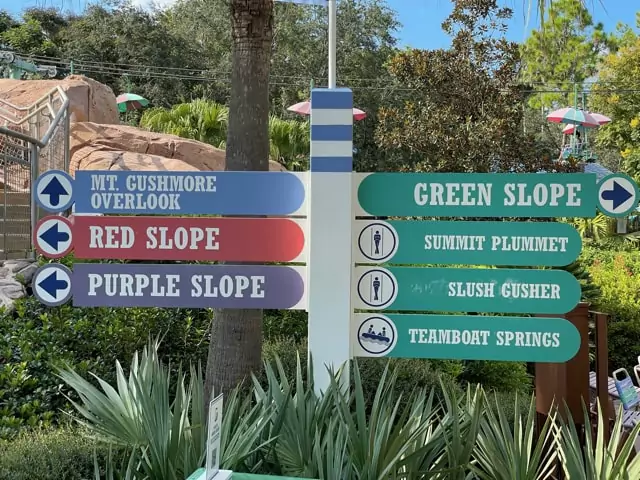 Blizzard Beach
Opening in 1995, Blizzard Beach is Disney World's slightly smaller water theme park. 
It hosts around 2.1 million guests per year, making it the third most-visited water park in the world (right behind Typhoon Lagoon). 
In prior years, Blizzard Beach was open year-round except for a brief closure for annual maintenance; as of late, the closures have expanded to around half of the year, with Typhoon Lagoon being open during the "opposite" months.
Despite its frigid Christmastime ski resort theme,  the water temperature of each attraction is heated to approximately 80 degrees (except for the "melting snow" in Cross Country Creek). 
Most of Blizzard Beach's major attractions are located atop Mount Gushmore, the park's dramatic 90-foot tall artificial "mountain."  Mount Gushmore features three colored slopes – Green, Red, and Purple – meant to aid guests in navigating their way around the park. 
Typhoon Lagoon
Typhoon Lagoon opened to the public on June 1, 1989.
With an annual attendance of nearly 2.3 million visitors, the park is the second most visited water park in the world. 
Its biggest claim-to-fame is its huge wave pool,  one of the largest outdoor wave pools in the world.
In prior years, Typhoon Lagoon remained open year-round except for a brief maintenance break. But since reopening following COVID, the water parks have tended to operate on an alternating schedule, with Blizzard Beach and Typhoon Lagoon each operating for about half of the year (with only one open at a time).
The theme of the Typhoon Lagoon is based on a "Disney legend" of a typhoon that has devastated a tropical paradise.  
The centerpiece of the park is "Miss Tilly," an impaled shrimp boat situated on top of an erupting geyser called "Mount Mayday."
Boats, surfboards, and fishing gear are strewn throughout the lagoon to give the effect of a ravaged paradise. Typhoon Lagoon's mascot is "Lagoona Gator."
Now let's take a look at some of the attractions and features of each Disney water park.
Maps of Disney World's Water Parks
Here is a map of Disney's Typhoon Lagoon water park:
Here is a map of Disney's Blizzard Beach water park:
If you would like to see more maps of Disney World, then please view our Disney World map page.
Blizzard Beach vs Typhoon Lagoon: Ranking the Best Attractions
Best Theme
We think that Typhoon Lagoon's theme of a tropical paradise hit by a massive storm is a good fit for a water park – and it certainly pulls off the lush tropical feel very well. But with its frozen decorative features, ski lifts, and Christmas music, Blizzard Beach clearly has a more elaborate and creative theme.
We think that adults may prefer the relaxing elements of Typhoon Lagoon, but Blizzard Beach's magical frosty theme is more interesting and more appealing to kids (and the kid-at-heart).
Yes, it's kitschy…but it's also a lot of fun.
Winner: Slight Edge to Blizzard Beach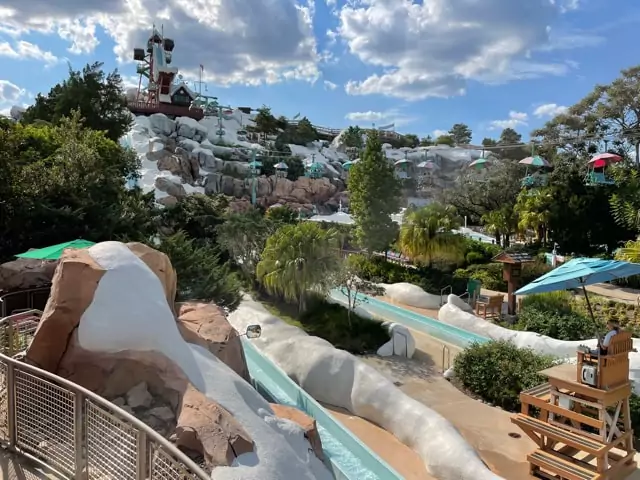 (Blizzard Beach)
Best Body Slides
If you are after thrills, Blizzard Beach is the place to be.
The massive 120-foot slope of Summit Plummet makes this attraction one of the world's fastest and most extreme body slides. Modeled after a ski jump, you just push off and let gravity take hold as you plunge down 12 stories, race through a dark tunnel, and then re-emerge into spraying whitewater at the end of this 360-foot-long run.
Other fun body slides include the 90-foot-tall Slush Gusher and the short body slide named Freezin' Pipe Springs.
As for Typhoon Lagoon, Humunga Kowabunga's three enclosed "speed slide" flumes send guests down five stories in a matter of seconds!  There's also the Storm Slides, a series of three body slides that plummet guests down three stories with some twists and turns along the way.
Winner: Blizzard Beach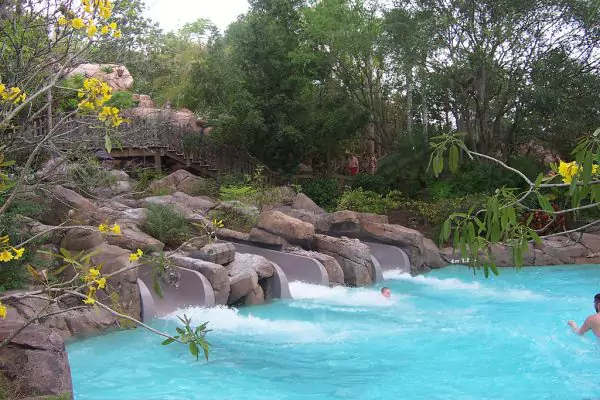 Best Tube Ride
Blizzard Beach's Downhill Double Dipper involves 2 inner tube water slides positioned side-by-side. The slides are meant to resemble a downhill ski race – with digital stop clocks and all – and you race your opponent to the bottom. It's lots of fun but younger kids will not be able to go on the ride as they do not meet the height requirement.
Overall, Typhoon Lagoon offers better family slides, including the Miss Adventure Falls (a tube ride for the whole family) and the two-person water coaster raft Crush 'n Gusher.
Both parks have fun tube rides but Typhoon Lagoon's attractions can involve the entire family, including the young ones.
Winner: Typhoon Lagoon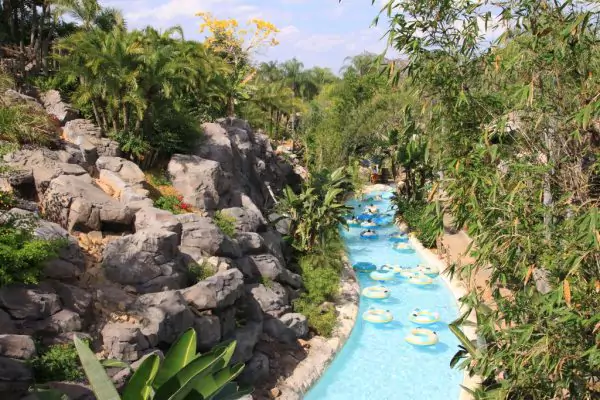 Best Lazy River
The Castaway Creek lazy river winds around all sections of Typhoon Lagoon. This continuously flowing, 2,100 ft long river passes through lush vegetation, calming waterfalls, and misting screens. Guests can even bring their own float (or just use the park's inner tubes).
It's a great way to travel around the park and into other sections, but – more importantly – Castaway Creek is your opportunity to relax and soak up some sun.
Blizzard Beach's lazy river is called Cross County Creek. It winds 3000 ft around the park and can be used for transportation or relaxation.
It's not really that much different than Typhoon Lagoon's other than you do go through caves and come across a few surprises (like a polar cave with falling ice water).
So which lazy river is better?
Typhoon Lagoon wins for relaxation and Blizzard Beach wins for distance and frosty surprises.
Winner: Tie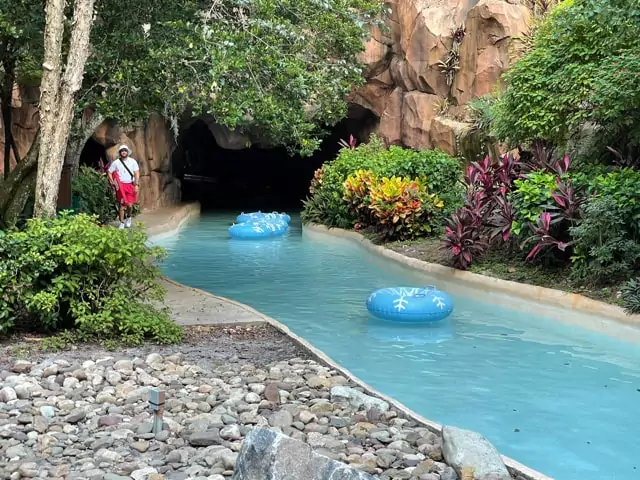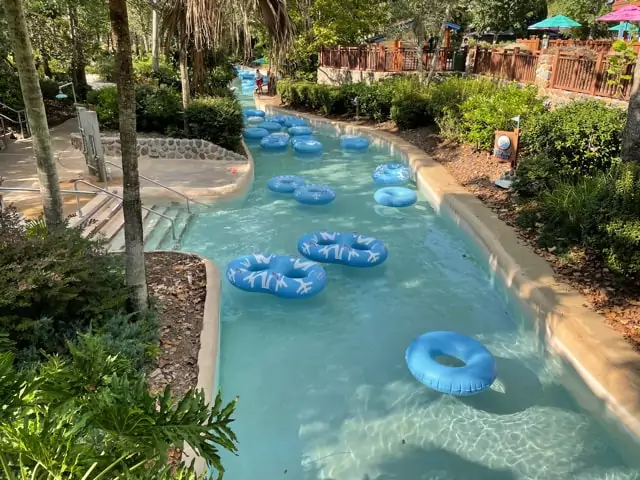 (Blizzard Beach)
Best Wave Pools
Blizzard Beach's Melt Away Bay is situated at the base of Mount Gushmore where a constant waterfall of "melting snow" provides small waves to the pool.
If you are looking for a thrilling wave pool, look elsewhere because Blizzard Beach's 1-acre Melt-Away Bay is all about relaxation.
At the other end of the spectrum, Typhoon Lagoon's Surf Pool is one of the world's largest and most thrilling wave pools. It blasts thunderous 6-ft high waves every 90 seconds, giving you plenty of opportunity to body surf on top of the waves.
The park also offers its guests an opportunity to take surfing lessons (extra fees apply).
If you are wondering why Typhoon Lagoon tallies more annual visitors than Blizzard Beach, their wave pool has a lot to do with it!
Winner – Typhoon Lagoon (obviously)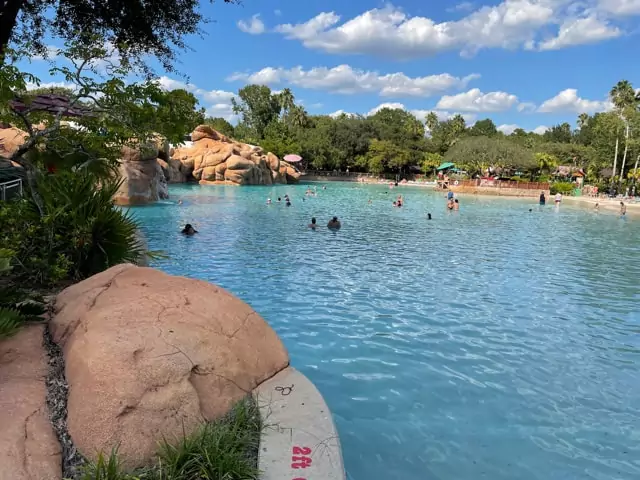 (Blizzard Beach)
Best Children's Area
Kids under 48″ (4 ft) tall are probated from entering certain attractions. Therefore – if your little one's enjoyment level is the top priority – you surely want to focus on the areas of the park where they will be able to participate in the fun.
The children's section of Typhoon Lagoon – called Ketchakiddee Creek – has ten activity areas and attractions like small side-by-side slides, tame inner tube rides, waterfalls,  fountains shaped like animals, crawl chutes,  and a waterfall cave.
Blizzard Beach has two separate areas for those under 48″: Tike's Peak and Ski Patrol Training Camp.
Tike's Peak is oriented towards younger children and offers small slides, water jets, a snow castle fountain, and a shallow water section.
The Ski Patrol Training Camp section is geared towards older kids who aren't quite ready for adult-size attractions. This area offers larger curving water slides and tube slides, a T-bar zip line called Fahrenheit Drops, and a floating iceberg balancing course named Thin Ice Training Course.
These two designated sections are great for families with children of various ages because each of them will be able to participate in activities geared toward their respective age brackets.
Winner: Blizzard Beach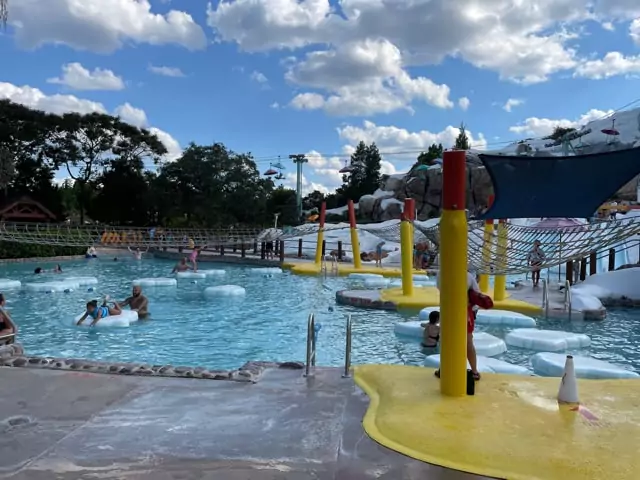 (Blizzard Beach)
Blizzard Beach vs Typhoon Lagoon: The Best Disney Water Park
Typhoon Lagoon wins in a lot of areas.  It has a wonderful lazy river, a family raft ride, and an amazing wave pool.  There's a more relaxing theme and a nice laid-back, tropical feel. Overall, Typhoon Lagoon's low-key atmosphere has a slight edge for adults.
That said, many people head to the water parks with their kids in mind or to seek out thrilling attractions. In this respect, Blizzard Beach has the edge.
It doesn't have a world-class wave pool, but it does have thrilling slides, tube rides, two kid's sections, a long and surprise-filled lazy river, and an over-the-top theme.
Blizzard Beach has more of the "wow factor" that many families look for.  We vote for Blizzard Beach as the best water park at Disney World by a slight margin.
But don't take our word for it; try both for yourself and see which one your family likes better!
Winner: Blizzard Beach (by a narrow margin)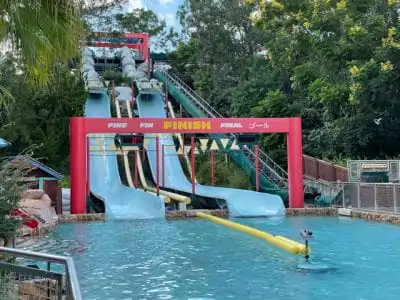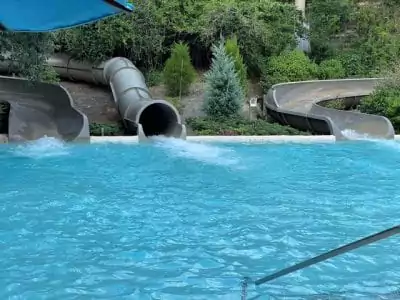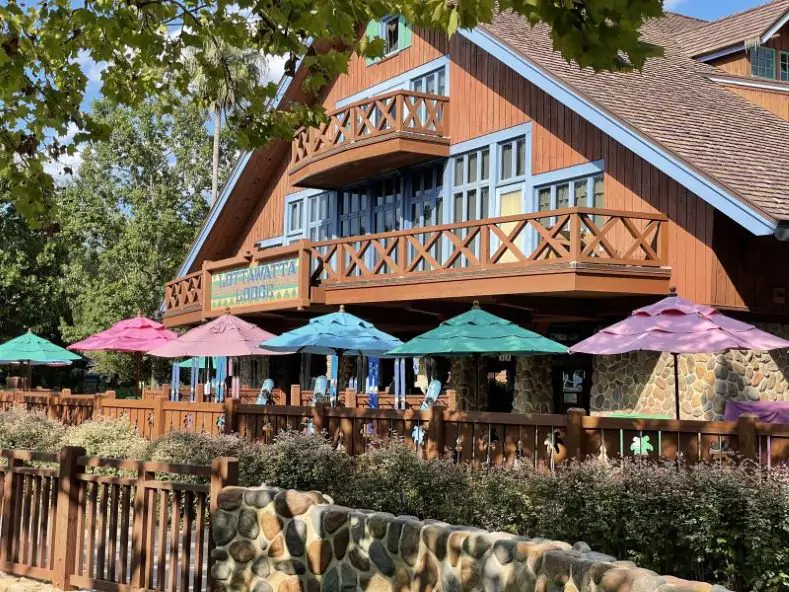 (Blizzard Beach)