The Disney resort hotel you choose for your honeymoon is one of the most important decisions you will make. As newlyweds, you may want to stay somewhere fun and lively or quiet and romantic.  Or maybe you just want a nice resort within walking distance to Magic Kingdom or Animal Kingdom. The options are endless!
There is something magical about Disney World honeymoons, but they do require some planning to get it right. Let's take a look at the 7 best resort hotels for Disney honeymoons.
7 Best Disney World Resorts for Honeymoons
1. Grand Floridian Resort & Spa
The Grand Floridian is Disney World's flagship resort and its most luxurious property. If you are willing to splurge for your honeymoon, this is the spot to go. Hey, why not – it's your honeymoon, right?
With its opulent lobby, charming live orchestra, and regal grounds, the Grand Floridian is like something out of a fairy tale. The rooms are likewise quaint and majestic.
The property boasts some of Disney's best restaurants, including Narcoossee's, Citricos, and the award-winning Victoria & Albert's. Pamper yourself at the wonderful on-site spa or book a relaxing couple's massage for both of you to enjoy together.
Yes, the Grand Floridian is the ultimate bucket-list destination. If there ever was a bucket-list moment, it's probably your honeymoon. As Nike says- "just do it!"
2. Port Orleans Resort – French Quarter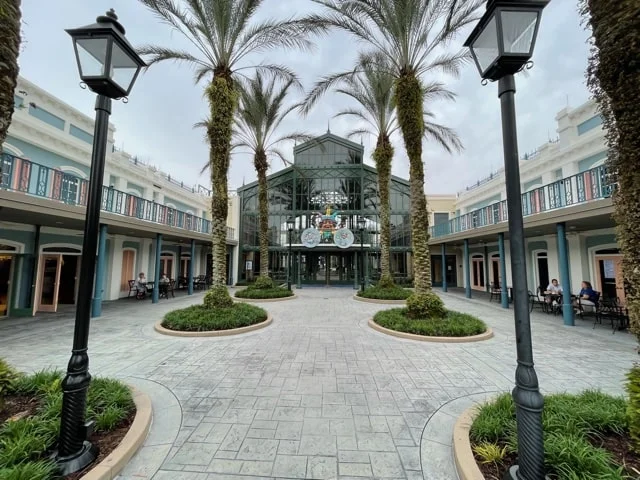 While we all love Port Orleans – Riverside, its sister resort Port Orleans – French Quarter is better for honeymoons.
First off, it's a Disney Moderate Resort so it's less expensive than the Disney Deluxe Resorts I highlight in this list. So if you're looking for a budget-friendly option without sacrificing charm, then you should consider French Quarter.
At Port Orleans – French Quarter, newlyweds can revel in the romance of New Orleans's famous French Quarter district.  Walk along the cobblestone streets, complete with wrought-iron balconies, gas lamps, and the sweet smells of the magnolia blossoms. The sounds are jazz is in the air and there are colorful Mardi Gras characters throughout the property. Go for a romantic evening stroll along the lush banks of the Sassagoula River and discover why French Quarter is a perfect Disney resort for honeymoons.
The resort's small size makes getting around very easy. There's only one bus stop on the property so transportation is pretty straightforward. However, it's not right next to any theme park so you will have to rely on the bus when you leave French Quarter. That said, there is much to love about the charm and romance of Port Orleans – Franch Quarter.
3. Polynesian Village Resort
If you are looking for a tropical honeymoon – done in Disney fashion – then look no further than Disney's Polynesian Village Resort.
At the Polynesian, you'll truly feel like you are on a vacation away from the hustle and bustle. Yet Magic Kingdom is right next door!
The Polynesian Village Resort offers spectacular pools, a relaxing beach, Trader Sam's Grog Grotto, and much more. There isn't any signature dining restaurant here, but you do have some great options in Captain Cooks, 'Ohana, and Kona Cafe. And you're within close proximity to Grand Floridian and Contemporary if you wish to dine there.
If you want to take your Polynesian honeymoon to the next level, then the Polynesian bungalows will provide that extra "wow factor." These exotic floating villas give you an awe-inspiring view of Cinderella's Castle across Bay Lake and a wonderful view of the fireworks at night. Book your own secluded veranda on the water and relish in the tropical romance of the Polynesian bungalows.
4. Animal Kingdom Lodge
Animal Kingdom Lodge is the #1 spot in Disney World for foodies. For this reason (and many others), it's also a great spot for a honeymoon.
Between the absolutely stunning lobby and the (real) safari animals roaming outside the resort,  Animal Kingdom Lodge is a truly stunning place to stay. It's a visual masterpiece and the food matches the aesthetic.
The two standouts are the critically-acclaimed Sanaa and Jiko restaurants. Adventurous eaters and wine lovers will especially delight in the exotic flavors and high-quality libations.
Animal Kingdom benefits from being right next to the Animal Kingdom theme park, However, one downside is the proximity to other theme parks (and bus transportation). Also, the rooms tend to be smaller than those of other Deluxe resorts. But if you don't mind its remote location, it's a unique and magical place to spend your honeymoon!
5. Fort Wilderness Resort & Campground
If your idea of a Disney honeymoon is seclusion and being out in nature, then Fort Wilderness Resort & Campground is right up your alley.
Even though you're surrounded by 750 acres of wilderness,  guests are only a short boat ride away from all the action of Magic Kingdom.
Newlyweds have a couple of options when they stay at Fort Wilderness.
You can book a rustic, fully furnished, private cabin that provides all the creature comforts like a living room, patio, full bathroom, and an outdoor charcoal grill.  There's also a modern kitchen with a dishwasher, refrigerator, 2 countertop burners, and a microwave oven. Dirty dishes? Relax, housekeeping will handle that!
For those who really crave outdoorsy (or inexpensive), check out the Campsites at Fort Wilderness.
There are 4 types of campsites and they accommodate everything from huge RVs to basic camping tents. The campsites are equipped with water, electric and cable hookups, privacy-enhancing landscaping, grills, and a picnic table. The majority of campsites include sewer hook-up and some allow pets.
Yes, it's not for everyone but the Campsites at Fort Wilderness would be perfect for those honeymooners who want to "rough it" at Disney World.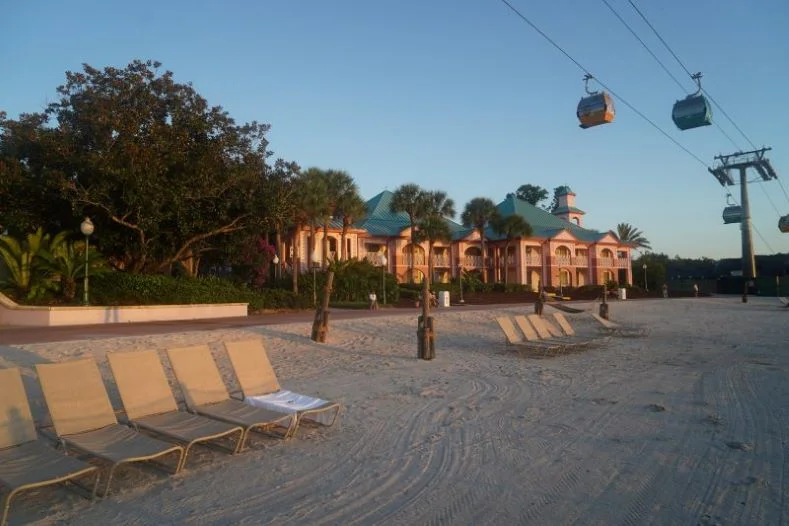 6. Caribbean Beach Resort
Caribbean Beach is a relaxing resort in the Epcot area of the park. The resort surrounds a 45-acre lake known as Barefoot Bay.
The promenade around the lake provides a host of outdoor activities like walking, jogging, and biking, or you can bask in the sun along the sandy shores, play beach volleyball, or rent a boat. The Banana Cabana pool bar is a great place to grab a drink and the Caribbean-influenced cuisine of Shutter's at Old Port Royale is excellent.
Caribbean Beach also benefits from being one of the resorts along the Skyliner route.  This new form of transportation provides easy access to Epcot, Hollywood Studios, and some nearby resorts.  So if a resort with a leisurely Caribbean vibe and excellent transportation to the theme parks sounds good to you, then Caribbean Beach Resort is an excellent resort for a Disney honeymoon.
7. Pop Century
If I had to choose the best Disney Value Resort for honeymoons, it would have to be Pop Century. It's a no-frills type of hotel but it also has really fun theming (especially for adults).  At Pop Century, you step back in time with the toys, dances, catchphrases, and fashions that were popular during the 1950s, 1960s, 1970s, 1980s, and 1990s. Outlandish and playful elements are everywhere which means that there will be plenty of photo opportunities for your new spouse.
Pop Century features 3 quirky outdoor pools including a 1960s-themed pool called the "Hippy Dippy Pool" (complete w/ flower-shaped water jets and a poolside bar),  the groovy Everything Pop Shopping and Dining food court, a video arcade, and bike rentals.
Pop Century only offers standard-size rooms and transportation to the theme parks is by bus only. However, Pop Century is a fabulous mix of over-the-top theming, fun and lively atmosphere, and in-park affordability wrapped int0 one resort. It would be a fun place to stay on your Disney World honeymoon.