Best Hollywood Studios Rides 
Hollywood Studios opened in 1989 as Walt Disney World's third theme park. It was originally called the Disney-MGM Studios Theme Park and first developed as both a working production studio and a show-business-inspired theme park. But once the park was renamed Hollywood Studios in 2008, the park has focused its attractions and theme around the imagined worlds from theater, music, television, and film.  And with its wide array of entertaining and exciting attractions, we are happy to report that these efforts have been wildly successful! So, with that said, here's our list of the 5 best Hollywood Studios rides and top attractions. Hopefully, these choices will help you prioritize your FastPass+ selections so you'll get the most out of your Disney trip!
Guide: Hollywood Studios Rides and Attractions

The 6 Lands of Hollywood Studios
Disney's Hollywood Studios is divided into 6 distinct lands. Each of these themed areas takes its inspiration from real-life areas within Los Angeles and Hollywood California.
The themed-areas of Hollywood Studios are Animation Courtyard, Echo Lake, Grand Avenue, Hollywood Boulevard, Sunset Boulevard,  and Toy Story Land. Now that Disney's Star Wars: Galaxy's Edge land is now open. it has recently become the 7th themed area.
Below is a map of Hollywood Studios and its rides and attractions:
Hollywood Studios Rides and Attractions
There are 17 rides and attractions at Disney's Hollywood Studios theme park with 4 of these attractions slated to open when Star Wars: Galaxy's Edge is fully operational. Currently, there are 2 rides open at Star Wars: Galaxy's Edge.
Please keep in mind that certain Hollywood Studios rides have a minimum height requirement, but most of the park's attractions are suitable for any age.
Here's a breakdown of Disney's Hollywood Studios rides by themed area (or land):
Current Hollywood Studio Attractions and Rides
Animation Courtyard
Disney's "Dumbo" Sneak Peek
Star Wars Launch Bay
Star Wars Launch Bay Theater
Star Wars: Path of the Jedi
Walt Disney Presents
Echo Lake
Star Tours – The Adventure Continues
Star Wars: Path of the Jedi
Sunset Boulevard
Lightning McQueen's Racing Academy
Rock 'n' Roller Coaster starring Aerosmith
The Twilight Zone Tower of Terror
Toy Story Land
Alien Swirling Saucers
Slinky Dog Dash
Toy Story Mania
Star Wars: Galaxy's Edge (Coming Soon)
Millennium Falcon: Smugglers Run
Star Wars: Rise of the Resistance
Star Wars: Galaxy's Edge on Play Disney Parks Mobile App
Other
Star Wars photo Opportunities (multiple locations)
What are the Best Hollywood Studios FastPass+ Rides and Attractions?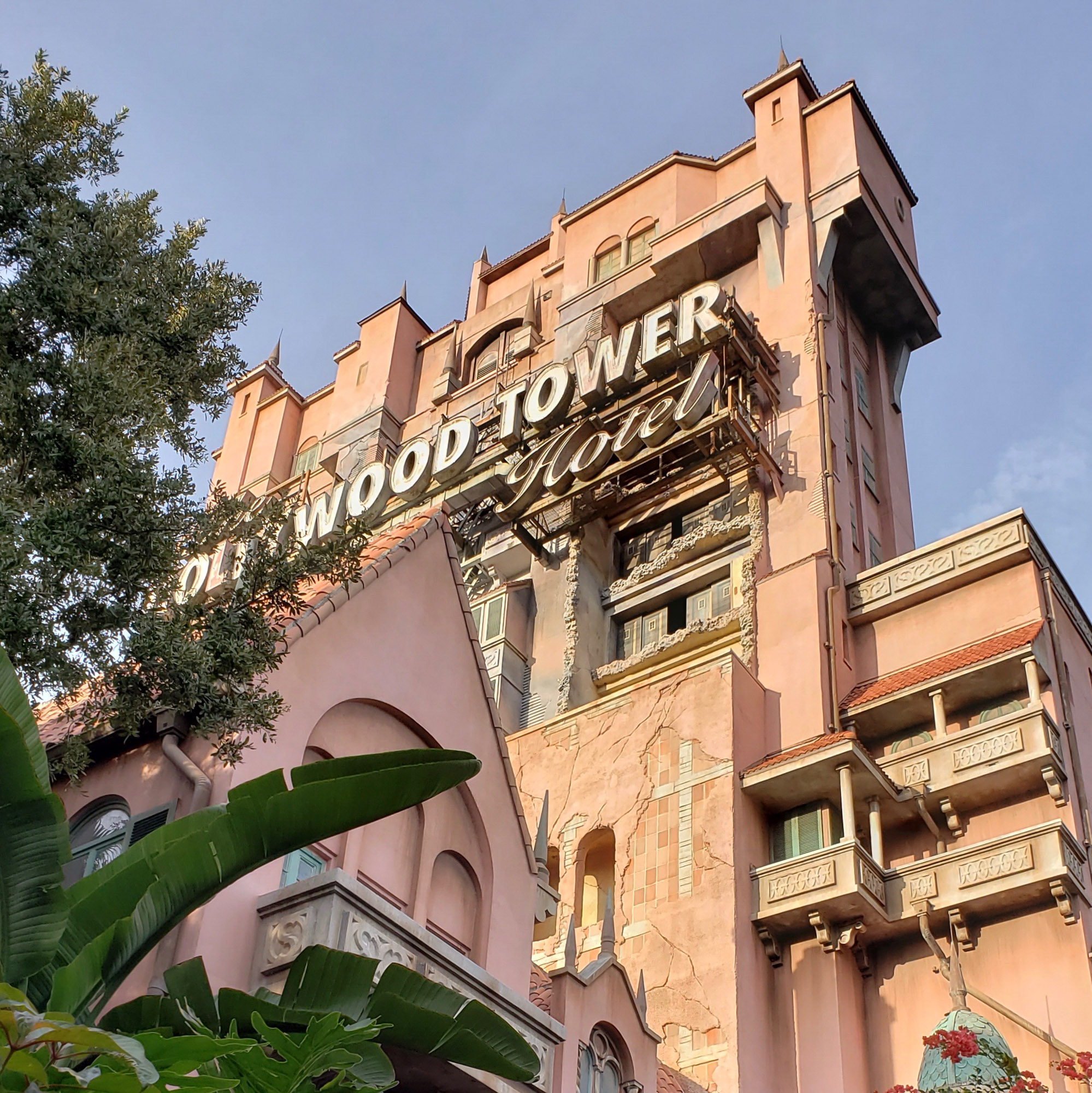 Disney's Hollywood Studios has fewer attractions than the other Disney parks, but there's certainly plenty to see and do here. And like Magic Kingdom, Animal Kingdom, and Epcot, you probably won't have time to experience everything here in a single day.
As far as the Hollywood Studios FastPass system goes, each guest is will have at least 3 FastPass+ choices per day.
You should certainly take advantage of this perk because you will experience lines at any time of the year. However, choosing your FastPass+ selections wisely will help you cut down on the time you'll spend in lines so you can experience more of the rides.
Our Disney Crowd Calendar and Strategies to Avoid Lines pages will help you come up with a strategy to avoid the crowds.
FastPass reservations should be made as soon as you are able. You are able to make your reservations 60 days in advance of Disney resort check-in date, or 30 days if you choose to stay at a non-Disney property.
The Best Tier 1 FastPass at Hollywood Studios
There are two tiers of FastPasses at Hollywood Studios. You will be able to book one Tier 1 attraction and two Tier 2 attractions (or three Tier 2 with no Tier one).
The current Tier 1 attractions at Hollywood Studios are:
Mickey & Minnie's Runaway Railway

Millennium Falcon: Smugglers Run

Slinky Dog Dash
Due to their popularity as brand new attractions, we recommend either Runaway Railroad or Millennium Falcon: Smugglers Run as your top choice, and Slinky Dog Dash as a solid 3rd choice.
The Best Tier 2 FastPass at Hollywood Studios
Again, you will be able to reserve two Tier 2 rides or attractions (or three if you opt-out of a Tier 1 attraction). The 10 current Hollywood Studios Tier 2 attractions are:
Toy Story Mania!
Alien Swirling Saucers
The Twilight Zone Tower of Terror
Rock 'n' Roller Coaster Starring Aerosmith
Star Tours: The Adventures Continue
Voyage of the Little Mermaid
Disney Junior Dance Party!
For the First Time in Forever: A Frozen Sing-Along Celebration
Indiana Jones Epic Stunt Spectacular
Muppet*Vision 3D
Fantasmic!
Beauty and the Beast – Live on Stage
We recommend The Twilight Zone Tower of Terror and Rock 'n" Roller Coaster as the highest priority Tier 2 FastPasses.  These rides tend to have the longest wait times at the moment. Star Tours would be our third choice.
Do you need some help planning and booking your Disney vacation and FastPass+ selections? See our list of the best Disney Travel Agents article for some commission-free assistance!
Top 5 Best Hollywood Studios Rides and Attractions

What are the 5 best Hollywood Studios rides? Here's our list:
Muppet*Vision 3D has been a Hollywood Studios fan-favorite ever since the attraction opened in 1991.
This 3D film/live theater experience takes place in Muppet Theater, a near-perfect replica of The Muppet Show's theater. And, as you may have guessed, this attraction is based on the classic TV show and features all of your favorite Muppets, including Kermit, Miss Piggy, and the rest of the gang.  Jim Henson Productions and Walt Disney Imagineering collaborated on this attraction to add to the authenticity.
Henson both directed the attraction's film and lent his voice to Kermit the Frog.
The film combines 3D with in-theater 4D effects.  Imagineers used a variety of lighting effects, projections, soap bubbles, smoke, live performers, and Audio-Animatronics to complete the experience. With the dazzling special effects, the fun on-screen musical numbers, and a queue which winds through Dr. Bunsen Honeydew's "Muppet Labs", Muppet*Vision 3D is a lighthearted and enjoyable experience for kids of all ages.
Our only complaint would the the the attraction could use an update since its basically the same show since its initial launch.
That said, Muppet*Vision 3D is one of those unique and classic Disney attractions that everyone should experience at least once.
The show is only 15 minutes long, air-conditioned, family-friendly, and you won't need a FastPass, so there is really no reason to skip this one!
Category: 3D Movie and Stage Show
Height Requirement: Any
Good for: All
Times: 10 AM – 6 PM; shows on the hour
FastPass+: Tier 2; Low Priority (not recommended)
Toy Story Land opened in 2018 to much fanfare. But now that Star Wars: Galaxy's Edge has opened, some of that excitement has shifted away from Toy Story Land. As such, lines at the Toy Story Land's attractions are starting to taper back to manageable levels.
That's great news for anyone who has yet to experience Slinky Dog Dash, Toy Story Mania, or Alien Swirling Saucers!
While all of the Toy Story Land attractions are great, we would opt for Slinky Dog Dash over Toy Story Mania as the one ride to prioritize in this new area of the park.  This is because Slinky Dog Dash is our absolute favorite family-friendly coaster in all of Disney World.
On this attraction, Andy has assembled the "Mega Coaster Play Kit" and you join Slinky Dog for a wild ride through Andy's backyard. You will travel past giant toys as you gently coast up and down hills and curve around hairpin turns.
Yes, this isn't the scariest coaster at Disney World by any stretch of the imagination, but that's perfectly ok.
If you want a wild roaster coaster ride, then see out #2 pick.
As for Slinky Dog Dash, this attraction is simply pure joy and fun for anyone of any age.
Slinky Dog Dash is a very popular ride so we would recommend a FastPass+.
Category: Thrill Ride, Small Drops
Height Requirement: 38″ or taller
Good for: Kids, Tweens, Teens, Adults
FastPass: Tier 1; High Priority
#3 – Star Tours: The Adventures Continue
If you are a Star Wars fan, then there has never been a better time to plan your next visit to Disney's Hollywood Studios!
Star Tours – The Adventures Continue bills itself as "The Ultimate Star Wars Adventure!" and we agree.
This flight simulator attraction will take you to a galaxy far, far away without leaving your seat (or entering Star War: Galaxy's Edge). The attraction is inspired by The Last Jedi film, so you if enjoyed that film, you will love this ride!
Guests first step aboard the Starspeeder 1000 and buckle up for a thrilling adventure.  The journey begins when your starship launches prematurely and C-3PO takes over the controls. Then suddenly the ship is intercepted by First Order—or Imperial—forces as they search for the Rebel Spy. You begin a harrowing flight through the farthest reaches of the galaxy as you avoid being captured and attempt to make it back to the base in one piece.
Star Tours uses digital 3D video technology, in-cockpit special effects, music, and Audio-Animatronics characters to fully immerse the rider in an authentic Star Wars experience.
Hollywood Studios attraction will take you smack-dab in the middle of a raging battle and give you an unforgettable intergalactic experience like nothing else.
Star Tours is categorized as a Tier 2 FastPass and we do recommend that you make your reservations early if this attraction appeals to you.
Category: Small Drops
Height Requirement: 40″ or taller
Good for: All
FastPass: Tier 2, Moderate Priority
#2 – Rock 'n' Roller Coaster
If Slinky Dog Dash is too tame for your liking, then head over to Rock 'n' Roller Coaster starring Aerosmith.  This fast-paced roller coaster is sure to kick your adrenaline into high gear!
The attraction begins with a glimpse of the legendary rock band Aerosmith as they complete a recording session. But when the band realizes that they're late for a concert on the other side of town, then they must leave in a hurry.
You are in luck because they invite you along for the ride in their limo!
Riders climb aboard the limousine (roller coaster) and buckle up before racing off into the night.  Aerosmith's signature songs blast from a 32,000-watt audio system as you zoom through the city on this wild roller-coaster-style attraction.
Guests will speed through the darkness, past legendary Hollywood landmarks and skidding through traffic jams, and loop into 3 inversions (2 rollovers and one corkscrew loop).
Rock 'n' Roller coaster reaches speeds of up to 57 mph which makes it one of the fastest rides in Disney World.
This ride is short and sweet and should be a top priority on every adrenaline junkie's list!
Category: Thrill Ride, Big Drops, Loud
Height Requirement: 48″ or taller
Good for: Kids, Tweens, Teens, Adults
FastPass: Tier 1; High Priority
#1 – The Twilight Zone Tower of Terror
The Twilight Zone Tower of Terror attraction is located inside the massive (and foreboding) Hollywood Tower Hotel structure.
As you enter, you'll find a dusty old lobby that seems eerily stuck in time.
Rod Serling, the host of the classic television series The Twilight Zone, welcomes you into this "other dimension" and informs you that some hotel patrons have mysteriously vanished in the elevator during a violent storm in back 1939. They were never seen again and the hotel has been vacant ever since. Now it's your turn on the elevator. Yikes!
Guests enter the elevator-style lift and buckle up for a journey into the darkest corners of your imagination.
Will you make it out alive or vanish into the twilight zone like the elevator's past guests?
This Hollywood Studios attraction hurdles you up and down the rickety old elevator shaft as you hear ominous sounds like banging metal and snapping cables.
The attraction has dark and scary elements, eerie special effects, an interesting storyline, and plenty of exciting and thrilling sequences to get your heart racing.
The Twilight Zone Tower of Terror is one of Disney World's best attractions and certainly on the must-do list for your visit to Hollywood Studios.
This ride is considered a Tier 2 FastPass+ attraction and we highly recommend that you book it asap!
Category: Thrill Ride, Big Drops, Scary, Dark
Height Requirement: 40″ or taller
Good for: Kids, Tweens, Teens, Adults
FastPass: Tier 2, High Priority
Enjoy your trip to Hollywood Studios!