Walt Disney World for Couples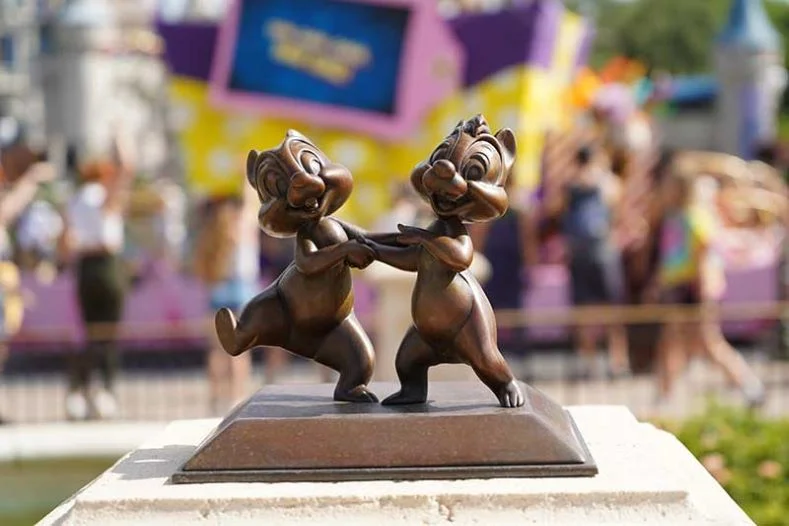 by Alexondra Lee
Most people don't think of romance when they think of a Walt Disney World vacation, but I beg to differ. There are secret, hidden gems for couples to indulge in and around every corner of the mouse's world. When the magic of the kingdom intersects with the romance of a loving couple, the possibilities are endless. So let me give you the best of the best when it comes to finding romantic enchantment in the most magical place on earth.
Best Places To Stay at Disney World for Couples
First off, if you're coming to the mouse's house with your significant other, you will want to splurge on your accommodations. Some of the Disney resorts can make it feel as though you are on your honeymoon all over again.
The highest on the list to cast love's spell is Disney's Grand Floridian Resort which is truly the fairest in the land. With its incredibly opulent, romantic lobby and enchanting live orchestra that fills the air nightly, just checking in can seem like a fairy tale. The rooms are majestic and nostalgic. In addition, an absolutely gorgeous spa offers a couple's massage for both of you to relax those tired muscles after hours in the theme parks.
Animal Kingdom Lodge & Disney's Polynesian Villas & Bungalows
Another wonderful option for couples is The Animal Kingdom Lodge. A room overlooking the savanna will never disappoint. Sit out on your balcony under the stars, have a glass of wine, and listen to the crunch of munching trees while the giraffes have dinner just a few feet from your room. The sights and sounds are nearly impossible to beat.
Lastly, for an epic indulgence, the Polynesian bungalows take exotic passion to the next level. These extravagant floating villas have the most awe-inspiring view of the Cinderella castle across Bay Lake. Taking in the fireworks from your own secluded veranda on the water is as enthralling as it gets. If he hasn't proposed yet, chances are you won't get to check out time without a ring on your finger.
Best Restaurants for a Romantic Dinner
There is a plethora of lovely dining experiences to be had, but it takes a little know-how to find those secret gems away from the crowds.
California Grill is high on the list for spectacular food and an unparalleled view. Having a delectable meal for two overlooking the best view of Cinderella's Castle doesn't get much better until… the lights dim and you step out onto their private rooftop to watch the fireworks – music and all.
Romance in the Magic Kingdom Park
If you happen to be feeling amorous and you find yourself in the middle of The Magic Kingdom, there is a fantastically magical place to enjoy the romance – The Be Our Guest Restaurant. Not only will you meet Beast in his castle, but the food is really delicious – get the wine flight and the scallop entrée – wonderful! Be sure to request the Rose Room in order to get the most romantic table in the house. Trust me; you won't be sorry.
Another option is the San Angel Inn in the Mexico pavilion. Again, arrive early and ask for a table that is waterfront. Feasting on scrumptious fajitas and spicy margaritas is delish. Still, the view is everything – watching the charming boats of The Three Caballeros float by and into the tunnel of love makes this an absolutely idyllic spot.
Lastly, for the ultimate splurge, take an afternoon nap, shower off the park, throw on some high heels, and head over to Victoria's and Albert's. The word of the day here is indulgence. Order champagne, caviar, and the tasting menu, and prepare to be swept off your feet.
There are scary, fast, fun, relaxing, and… romantic rides. At the top of my list is Na'vi River Journey. Grab the front row and melt into your significant other's shoulder as you peacefully float down a psychedelic river of color and relaxation.
The Three Caballeros is another romantic slow boat ride but with a funny, exotic flair – grab the last row and watch the antics of these 3 crazy gentlemen.
Spaceship Earth gives you and your love a private journey into the past and future while smoothly floating through the world's largest golf ball.
And, the most classic of them all, The Haunted Mansion. This is the perfect spot to wrap your arms around your loved one and feign absolute fright to get many more cuddles. Being scared has never been so romantic.
Best Bars at Walt Disney World for Couples
Disney World has so many fun, exciting bars; where do I begin? For super lively, entertaining bars, how about a themed bar? The magic bar, Abracadabar on the Boardwalk, has all the nostalgic mystery of an old-timey Houdini haunt. The Tiki Room at Disney's Polynesian Village Resort has volcanos that explode every few minutes and drinks big enough to fit your head in. The Tutto Gusto wine-tasting bar in Italy Pavilion is an Italian wine lover's paradise. Finally, the Jelly Rolls dueling piano bar on The Boardwalk will have you and your partner belting out Sinatra.
If you need a break while in the park, try The Brown Derby's outside patio bar at Disney's Hollywood Studios. This spot not only has spectacular cosmopolitans, but you can order the famous cobb salad while indulging in the BEST people-watching anywhere. A little hidden gem is the Restaurantosaurus Lounge in Dinoland at Animal Kingdom – they have great cold drinks and a fantastic cheese dip.
But for the best of the best and a little bit of everything, just simply drink around the world at Epcot.
Most Romantic Experiences at Walt Disney World Resort for Couples
After my fiancé's first trip to Disney with me, the number one thing he raved about more than anything was the Savor the Savannah Private VIP Safari Tour. This experience is unparalleled if you love seeing wild, exotic animals up close and having beautiful cocktails and hors d'oeuvres. This is all while watching the sunset from a luxury villa in the middle of the savanna. You heard that right – it's real and as amazing as it sounds. It was worth every penny, and it was unforgettable.
Another extraordinary experience for couples is renting a boat from the Yacht Club Resort to head out to the middle of the lake to experience the Epcot fireworks. You will indulge in every luxury possible as a private boat driver takes you and your love (and 8 of your friends if you choose) on a pontoon into the heart of Epcot's lake for the best view of the best fireworks on earth – IMHO. This is pure romance and a once and lifetime experience.
Disney offers some classic experiences throughout the year that can make your couples' trip that much more special: The Food and Wine Festival is a must-do and is ideal for couples to love or hate new and exotic foods together. The dessert parties are worth the splurge to sit and relax together, enjoying decadent desserts while having attained the best seat in the house for the fireworks. Finally, Disney After Hours events are the perfect time for couples to enjoy the theme park and spend a little alone time on their favorite rides.
So, yes, we know the kids love Disney, but every now and then, if you look hard enough, you will find a quiet corner for two, just waiting for you and your one true love.
About the Author:
Alexondra Lee is a writer, tv producer and Disney fanatic living in Los Angeles. She writes a travel blog called alexadores.com.
Editor's note: Special thanks to Alex for providing us with these amazing recommendations! She has now confirmed what many of us have long suspected: that Disney World is for lovers! Be sure to visit her travel blog and support her work.
And if you need help planning and booking your next magical Disney vacation, or romantic getaway – or to hear more Disney World for Couples recommendations from other Disney experts – then please contact  The Vacationeer. Their services are always helpful and totally free of charge. Why do it yourself when a dedicated Disney travel planner can make all your arrangements for you? Call 1-833-4MY-TRIP or click HERE for a free, no-obligation price quote.