Are you planning a tropical getaway to Atlantis Bahamas resort? Whether you're booking for two or traveling as a family, this world-famous paradise island is the perfect destination for travelers of all budgets. But how much does Atlantis Bahamas cost when considering all the expenses? In this blog post, you'll find everything about the costs associated with visiting one of the most iconic destinations on Earth – from room rates and dining options to airfare and activities. Find out exactly how much money you'll need to spend in order to maximize your time while staying within your budget.
What is the Average Price of an Atlantis Bahamas Vacation?
A visit to the paradise island of Atlantis is a great experience for everyone, but not for your wallet! Generally, a couple may expect to pay between $525 and $825 per day, totaling around $4,725 per week. Similarly, a family of four usually spends between $900 and $1,700 daily – an average weekly cost of $9,100. The estimated cost includes resort accommodations, meals, flights to the Bahamas, and a couple of premium activities, such as snorkeling at the ruins of Atlantis or kayaking with dolphins. Our estimate includes VAT, resort fees, gratuities, and other fees.
Determining Costs at Atlantis Bahamas
The cost of an Atlantis Bahamas vacation depends on several factors. Hotel selection is important, as different properties within Atlantis offer varying prices and amenities. The room you choose can also affect pricing; for example, a large room with an ocean view will come at a higher rate than a smaller room with an interior view. Additionally, holidays and peak season months tend to have higher rates than non-peak season dates. It is also essential to consider the days of the week you book – midweek stays can often save travelers money compared to weekend getaways. Lastly, you can save money by taking advantage of special offers, while choosing dining plans, activities, and excursions can add additional costs. The factors listed above should be taken into consideration when setting your budget.
Our next step is to break down the expenses at Atlantis Bahamas – including the room rates, food, activities, travel, other fees, and special offers. We'll also go into the factors involved in determining these costs.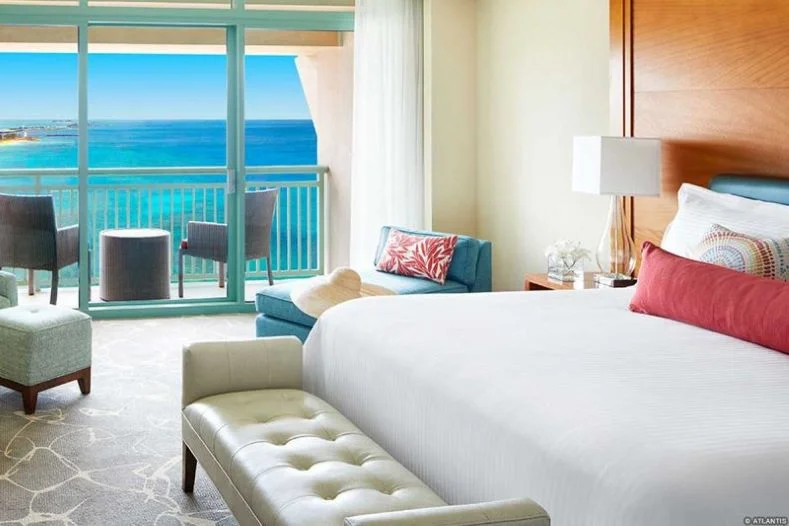 Things can quickly add up when planning a getaway with the family. Generally, a family of four can expect to spend between $300 and $800 per night at Atlantis Bahamas; however, prices can fluctuate due to supply and demand.
We searched prices for 2023 and found that the cheapest option is off-season at The Coral for $206 per night. If you stay at Harborside Resort, you're looking closer to $300, while options at The Royal or The Reef average between $350-$400 on their cheapest dates. If your taste is more luxurious, check out The Cove – an all-suite resort that lacks anything under $600 per night. These quotes are just the low end of the spectrum (and are subject to change).
When planning a trip to Atlantis, the time of year you choose can make a world of difference. Hotels ramp up their prices significantly during peak season, school breaks, and holidays. It is common for prices to double, triple, or even quadruple what you would pay during the off-season. Take The Coral, for instance; if you book your stay there during April vacation, be prepared to pay around $700 per night – compared to the usual price in the $200s during the low season. Perhaps even more astonishing are the rates found at The Cove during Christmas and New Year's week, with some room costs reaching as high as $7,300 per night!
If your budget is important, consider that visiting Atlantis during peak times will likely come at a premium. It's essential to consider all factors to strike the right balance between affordability and satisfaction.
Costs at Atlantis Bahamas Depending on Where and When You Stay
Visiting the Bahamas' Atlantis resort is a dream come true, but the price tag is undoubtedly high. The cost of a room at Atlantis Bahamas depends on various factors, such as size, location, and amenities. Here are some things you should consider to get the room you want while staying within your budget.
How Hotel Choices Can Affect Costs
Atlantis Bahamas offers five distinct hotels, each providing a unique combination of amenities and rates that range from budget-friendly to luxurious. Previously the Beach Tower was the least expensive option at Atlantis, but it is closed until further notice. The Coral is the least expensive hotel available as of 2023, followed by the Harborside Resort. If luxurious resort amenities and lavish surroundings are something you're looking for, then The Royal or The Cove would be the best choice; however, they come at a higher price.
How Room Types Can Affect Costs
When planning a stay at Atlantis Bahamas, the cost is often one of the primary considerations when selecting a room type. In general, smaller rooms will be less expensive than larger and multi-bedroom options, while rooms with sweeping ocean-view balconies typically cost more than those with interior views. All rooms come equipped with the necessary amenities. However, higher room rates are associated with more luxurious options. So consider your budget and prioritize what is most important to you before choosing a room.
How the Seasons Can Affect Costs
When determining the costs for a stay at Atlantis Bahamas, there are a few factors to consider in addition to the hotel, room type, and amenities. The time of year can significantly influence the price; August through mid-November is referred to as the off-season in the Bahamas and is typically cheaper, though there is an added risk of hurricanes. During shoulder season from mid-April to June, travel is still relatively affordable, but hurricanes are less likely to strike. Some weeks in May are just as inexpensive as those in the off-season. Peak season, which runs from mid-December to mid-April, has the highest costs due to low hurricane risk and cold weather in the US (everyone is eager to go to the Bahamas when it's cold).
How Days of the Week Affect Costs
The cost of a trip to Atlantis Bahamas may vary depending on the day of the week. Weekday rates (Monday through Thursday) are often more affordable than standard weekend costs (Friday through Sunday). If you're looking for ways to save money at Atlantis Bahamas, limit your exposure to weekend stays. Moreover, holiday weeks/weekends are significantly more expensive than other times, regardless of the day of the week. Simple changes to your travel dates can help you save money while still enjoying your Atlantis trip to the fullest.
Do you have questions about how much Atlantis Bahamas costs? Contact The Vacationeer!
Planning a Bahamas vacation can be overwhelming, especially when deciding where to stay. Room rates for Atlantis Paradise Island may vary from day to day or season to season, making it difficult to determine the best time to go and if it is worth the cost. The Vacationeer provides a hassle-free experience so travelers can make the most of their Atlantis vacation.
Whether it's seasonality, amenities, dining plans, kid-friendly activities, or anything else, your dedicated travel planner will keep all the details in mind to make your trip truly memorable. The Vacationeer will even help you find special offers and discounts to get the lowest rate possible. All of this comes without extra costs — yes, their services are free — making The Vacationeer an easy choice when planning Atlantic Bahamas vacations!
Find out why booking Atlantis through a travel agent like The Vacationeer makes sense. Click HERE for a free, no-obligation quote.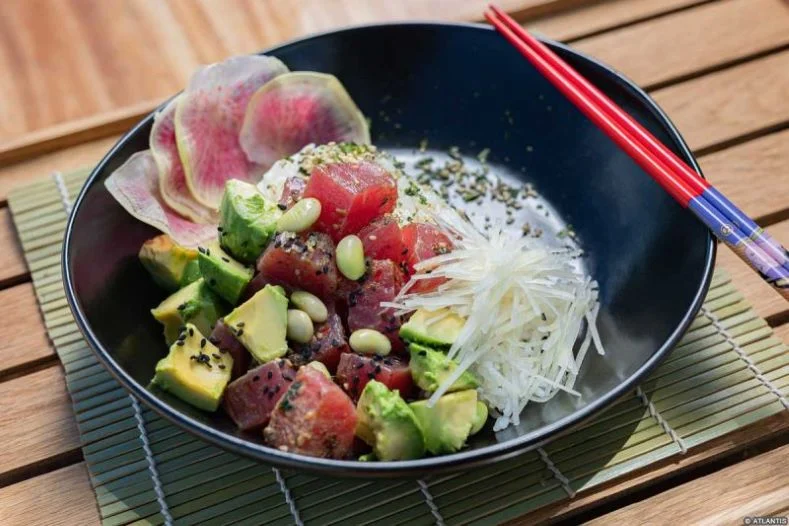 A family of four could easily spend $300 – $500 daily on food at Atlantis Bahamas, including resort dining plans, lunch, snacks, beverages, and a couple of alcoholic drinks. Food costs may be less if you pay out of pocket, especially if you eat light or eat off-property, but you would have to make some sacrifices to keep your budget under $200 or even $300.
Dining Options at Atlantis Bahamas
Atlantis Bahamas offers both inclusive dining experiences and pay-as-you-go options, so travelers should carefully weigh their choices. Although eating at Atlantis Bahamas isn't cheap, there are ways to make it more affordable. You can opt for a dining plan or bypass it altogether. Ultimately, guests will base their decision on their dietary needs, preferences, kids' ages, and budgets.
The Cost of Dining Plans at Atlantis Bahamas
Two full-service dining plans are available at Atlantis Bahamas, allowing resort guests to enjoy their stay to the fullest. The Trident Plan includes a full American or Continental breakfast and a three-course dinner nightly at $135.00 per adult and $57.00 per child (ages 7-11) per day. The Aqua Plan is slightly more economical as it offers a two-course dinner for $114.00 per adult and $44.00 for children (ages 7-11) per day. On both plans, children six and under eat free, making it an economical choice for some families.
Out-of-Pocket Dining at Atlantis Bahamas (No Dining Plans)
While buying a meal plan may seem like the best idea at first, more often than not, those who are budget conscious or prefer lighter meals will find more benefit in avoiding dining plans entirely. Instead, guests can simply pay out of pocket for each meal and keep an eye on their spending. If done correctly, this can result in significant savings. Atlantis' dining plans can be expensive, so opting for lighter meals, dining at an off-site restaurant, or buying items from a nearby market could save you money during your vacation at the resort.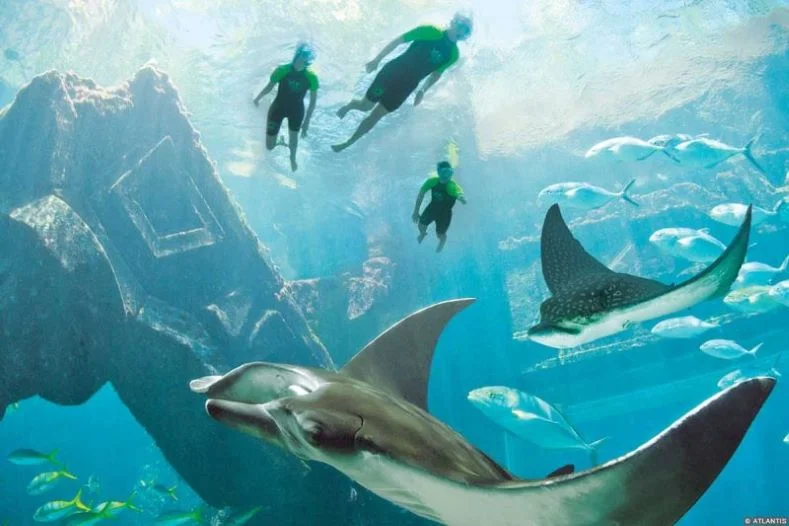 A wide range of activities and services are available to guests at Atlantis, both included and fee-based.
Fee-Based Activities at Atlantis
Taking part in the exciting activities offered by Atlantis can be expensive, but it will surely enhance your experience. Those who want to get up close with the dolphins and sea lions will have to pay for a service such as Kayak with Dolphins, which costs $125 and is suitable for those over six years old. If you prefer exploring the ruins of Atlantis underwater, Snorkel the Ruins at Atlantis is a 2-hour session for $225. There are also educational options like Swim in Wonder, where you join rescued bottlenose dolphins for a deep-water adventure for $300. Moreover, if you're looking for something special, Playtime with Sea Lions and Junior Ultimate Trainer for a Day will set you back US$300 and US$550, respectively. Private Cabanas are perfect for families and groups, but rentals start at $1,250! You can also purchase spa treatments, personal training sessions, and fitness classes (some are free).
Included Activities at Atlantis
While Atlantis is not an all-inclusive resort, guests can enjoy many complimentary services and resort attractions, making it a great value. It is home to some of the best attractions on earth, including access to the world's largest open-air marine habitat and miles of white sand beaches. Guests also enjoy complimentary access to the dazzling Aquaventure Waterpark, over a dozen swimming pools, a 10,000 sq. ft. fitness club, and even a movie theatre with free screenings! With such an unparalleled array of things to do at Atlantis Bahamas, it's no wonder why people are willing to pay more to stay at Atlantis for their Bahamas visit.
Flying to Atlantis Bahamas is far more affordable than you may expect, but it can depend on the season and time of year. For example, if you're departing from New York, the average round-trip price to Nassau is around $414, but during low season or if you're lucky to find a good deal, it could be as low as the $200s. However, prices tend to go up around school vacations and popular holidays, so keep that in mind when making plans. Flight prices tend to be highest in December and lowest in January and September.
When planning a trip to Atlantis Bahamas, it is crucial to consider the cost of transportation from Nassau Airport (NAS), as this will affect your budget. The quickest and most convenient way to get to Atlantis from the airport is to take a taxi, which costs between $60 – $75 and takes around 15 minutes. Shuttle buses are the cheapest option at only $15. It takes nearly the same amount of time as a taxi but at a much lower cost. Alternatively, you could hire a town car at a slightly higher price of $85 -$100. These various options allow you to make transportation decisions that suit your needs and wallet. Once you arrive at Atlantis Bahamas, transportation within the resort is free!
Your stay at the Atlantis Bahamas resort is impacted by several hidden costs.
Value-Added Tax (VAT)
Guests of The Coral, The Royal, The Cove, and The Reef must pay a 21% charge covering VAT and other taxes. As a visitor to the Bahamas, this is how things work. They make their money on tourism.
Resort Fee
The Daily Resort Fee for The Coral and The Royal is $64.90 per room per night and $77 for The Reef and The Cove. This includes free access to Aquaventure Waterpark, unlimited access to Predator Tunnel and The Dig, Wi-Fi All Access in guest rooms & resort lobby areas, 2 Reusable Souvenir Water Bottles, complimentary use of the fitness center, scheduled complimentary Resort Guest Activities. Guests staying at Harborside Resort will be required to pay a utility service fee instead of a resort fee. Additionally, all guests ages 12+ will need to pay the resort fee or utility service fee regardless of the length of stay.
Gratuity
A 15% gratuity is usually added to your bill in most Bahamas restaurants. If your bill already includes gratuity, you do not need to tip anything else. However, if you receive exceptional service, you may add more if you wish.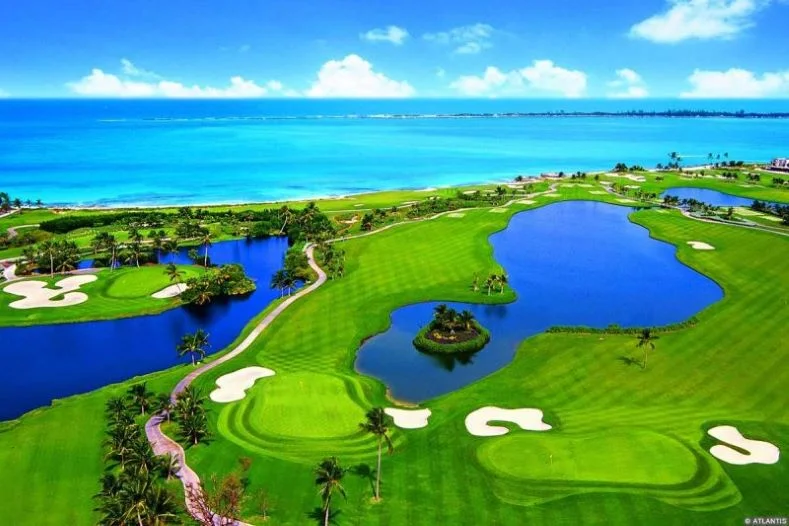 If you're considering a trip to Atlantis Bahamas, you'll find plenty of special offers that can significantly reduce your costs. From the "Air + Hotel & Save" package with bundled savings to the "Dates With Hot Rates" package for last-minute getaways and the "Golf Getaway Package" with discounts and a free round of golf, there are creative ways to help lower your expenses.
For couples, there's even the "Love Is Here" package that offers generous dining credits. Special rates are also available for Marriott Bonvoy members, military personnel, teachers, nurses, and first responders.
And if you need extra time to pay for your vacation, you may be eligible for the Book Now. Pay Over Time program. Planning a vacation has never been so wallet-friendly! Contact The Vacationeer to learn more.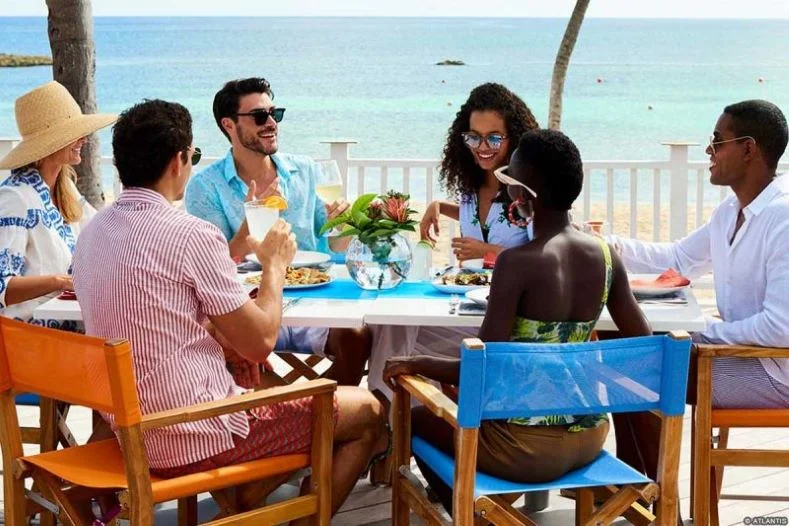 Visiting Atlantis Paradise Island comes with an average cost that can vary dramatically depending on your choice of accommodations, travel dates, activities, and other included services. As we mentioned above, for a couple, the cost usually lies between $525 to $825 per day or approximately $4,725 per week. The total price for a family of four is generally between $900 and $1,700 per day – an average of $9,100 per week. These figures include accommodations, food, flights, some paid activities, VAT, resort fees, gratuities, and other fees.
While these prices may appear steep initially, you can find ways to balance them by choosing less expensive resort accommodations, avoiding fee-based activities, and eating sensibly. However, for those looking to indulge in high-end dining options and luxury experiences, the bill could quickly go up to $10,000 or more. Fortunately, there is plenty of wiggle room for Atlantis Bahamas vacations – your choices ultimately determine its cost.
When is the Cheapest Time to Visit Atlantis Bahamas?
Visiting Atlantis Bahamas doesn't have to cost a fortune if you plan ahead. The best time to score the lowest prices is during the off-peak season, which runs from mid-August through early November, but this also means traveling during hurricane season, so if that makes you uneasy, skip that option. Alternatively, some dates in January and February and some weeks in May can be very cheap. Just watch out for high-demand periods, such as holidays and weekends, as those tend to drive up prices considerably. All in all, there are plenty of opportunities to experience the Atlantis on a budget if you take the time to research and plan accordingly. Better yet, let The Vacationeer handle everything for you!
Is it cheaper to stay at Atlantis or a nearby hotel?
The question may arise as to whether staying at Atlantis Bahamas is cheaper than staying at another nearby hotel. You can get a night at Atlantis for as little as $206 in the lowest room tier, but if you want a more luxurious room or are visiting during peak season, you may pay over $1,000 per night. On average, a stay at Atlantis costs roughly $550.
For those looking to stay elsewhere to save money, a three-star hotel on Paradise Island offers slightly lower prices, with an average cost of around $165 and options beginning at about $70. If you want something higher-end, four-star hotels start from $293.
If you book elsewhere but still plan to visit Atlantis for its water park, aquariums, beaches, or swimming pools, you must purchase the Atlantis Day Pass for all family members. Your bill will be significantly higher as a result. The cost of an Atlantis Day Pass for adults (13 years and older) is $190, while the cost for children (ages 4-12) is $95. During peak times, these prices may increase, so keep this in mind when making your decision. However, admission to all of these features is free when staying on property, so definitely factor that into calculating your final cost! It's worth the money to stay at Atlantis instead of elsewhere.
Are you Ready to Book Atlantis Bahamas Resort?
Planning a trip to Atlantis Bahamas has never been easier. With The Vacationeer's team of experienced vacation planners, you can have your dream vacation outlined and ready to book in no time. Their stress-free process considers Atlantis Bahamas statistics, so you know exactly how much the package will cost. At the same time, they handle all the details, from resort reservations to ground transportation and room selections to dining plans. Best of all, the services they provide are completely free! So don't hesitate; book Atlantis Bahamas now with The Vacationeer and get ready for an unforgettable experience at the best price. Click HERE to get started!
We hope the information in our How Much Does Atlantis Bahamas Cost article has been helpful and informative. Now that you know what to expect regarding costs, you can plan your trip with more confidence. Do not forget to check out our other articles on the resort — they include some great tips or suggestions for activities to maximize your fun and savings. Thanks for taking the time to read this article, and enjoy your trip to Atlantis Bahamas!