Planning a vacation takes time and effort, especially when going to a massive resort like the Atlantis Bahamas. Thankfully, working with an experienced travel agent can save you time, money, and stress while increasing your enjoyment. Here are seven reasons why booking Atlantis with a travel agent is your best option for planning the vacation of your dreams!
1. Provides Free Price Quotes Before You Make a Decision
Travel agents specializing in Atlantis vacations can offer you a customized price quote specific to your budget and desired travel plan. There are five distinct hotels at Atlantis Bahamas, each with different amenities, room types, and price points. An experienced travel agent can help you find the best fit for your goals and finances. Plus, they can provide you with price quotes for all the extra activities you may be interested in, such as dining plans or fee-based activities like snorkeling or kayaking with dolphins. Knowing how much Atlantis will cost before booking your vacation will allow you to prioritize what's essential and what can be left out.
If you are still trying to decide whether Atlantis suits you, your travel agent can provide accurate quotes from other vacation spots, helping you compare costs and book the best deals. For example, your agent can compare Sandals and Beaches resorts to Atlantis resorts. With their knowledge of the Caribbean and ability to provide accurate quotes, you can be sure that you'll get the best vacation package for your needs.
Get a Free Quote for Your Atlantis Bahamas Vacation
It can be challenging to plan a vacation on your own. Before you commit, it's always wise to contact a travel agent to get price quotes on vacation packages. This is especially useful for couples and families planning a tropical getaway to Atlantis Bahamas, as prices can vary drastically depending on the selected dates, rooms, activities, and dining plans.
Thankfully, The Vacationeer is here to help. They provide accurate price quotes on all aspects of an Atlantis Bahamas vacation. Contacting The Vacationeer can ensure you get the best package for your upcoming Bahamian adventure at the best price. Don't hesitate to take advantage of their excellent (and FREE) services today!
2. Offers Expert Advice As You Plan Your Atlantis Bahamas Vacation
Planning a trip to Atlantis Bahamas can be overwhelming, especially if it's your first visit. That's where a travel agent can help. They can advise you on all aspects of the resort and recommend hotels, rooms, dining options, activities, and transportation based on your budget and goals. With experience in all of these areas, they can give you the advice to maximize your trip.
Atlantis travel planners know all the hotels – The Coral, The Cove, Harborside Resort, The Reef, and The Royal. They're also familiar with all types of rooms, from simple and smaller ones to luxury and large ones, and can make an informed recommendation based on your preferences. In addition, they can advise you whether to purchase a dining plan or pay for individual meals (out-of-pocket).
Even though Atlantis isn't an all-inclusive resort, you will receive many complimentary activities during your stay. A travel planner can recommend exciting and educational activities, such as visiting the free Atlantis waterpark, Dolphin Cay, The Dig, or watching movies at the Atlantis Theatre. They can also suggest worthwhile fee-based activities, such as snorkeling at the ruins of Atlantis, swimming or paddleboarding with dolphins, Nassau city tours, and yacht charters. A travel agent has a wealth of knowledge and experience that could be invaluable in creating your Paradise Island escape!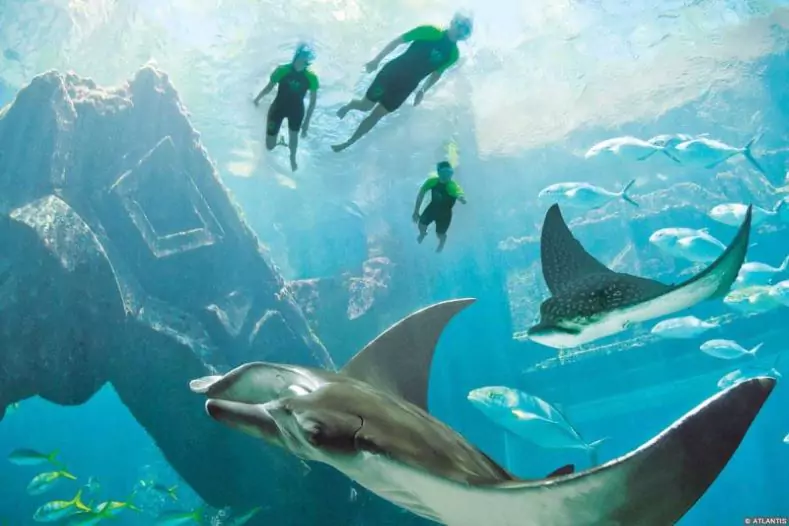 3. Assists You Before, During, and After Your Trip
Your dedicated travel agent will help you plan and book your Atlantis Bahamas vacation. They will also be available to answer all your questions before you go. If any issues arise during your stay, the agents are available for you to contact for assistance – ensuring that all of your questions or concerns are addressed and resolved quickly. No need to do the leg work on your own! They can provide the answers you need, such as when the water park opens, if cabana rentals are available, or where to find airport shuttles. With Atlantis travel agents by your side, you can leave all of your vacation worries behind and instead look forward to a relaxing getaway.
Finding a reliable resource to assist you with Atlantis Bahamas can be challenging. With The Vacationeer, you will get a dedicated travel planner who is familiar with all the ins and outs of the resort to guide you through the entire process. Your dedicated Atlantis travel agent will provide personalized customer service, answer all your questions and concerns, and be available by phone before, during, and after your stay. It's like having a personal assistant at your disposal! When you work with a dedicated travel planner at The Vacationeer, you have a friend by your side to ensure a hassle-free and enjoyable experience at Atlantis Paradise Island.
4. Makes Booking Atlantis a Hassle-Free Experience
Atlantis travel agents make it their mission to ensure your trip is as stress-free as possible. From the initial budget and planning discussions to booking reservations and making payments, the agents ensure you have peace of mind throughout the process. Their easy payment plan allows travelers to pay in installments without worrying about making a large lump sum payment at once, which can often be stressful. And since they handle all aspects of your Atlantis Bahamas trip – including reservations, transportation to and from your lodging, dining plans, activities, and ground transportation – travelers enjoy a hassle-free adventure knowing that all the details are taken care of by professionals. With assistance from an Atlantis vacation planner, creating lasting memories is easy and enjoyable!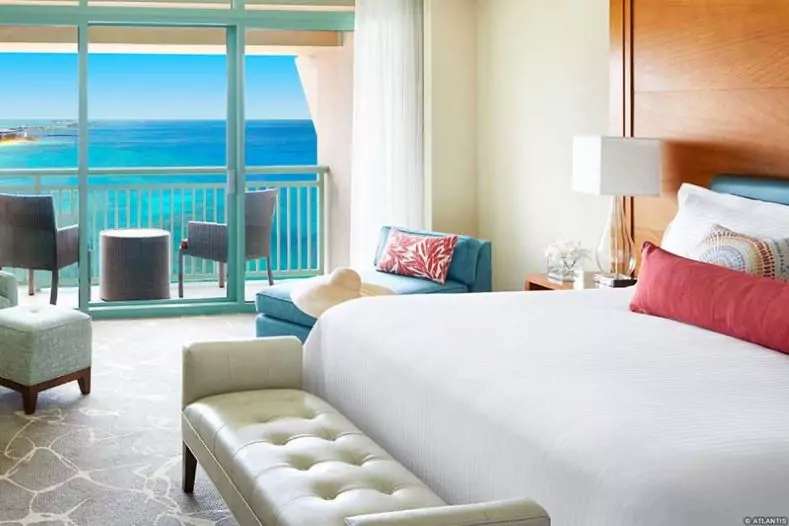 5. Gets You The Lowest Prices on Atlantis Vacations
Atlantis travel can be challenging, but with experienced Atlantis vacation planners, it doesn't have to be. Travel agents understand that prices fluctuate based on seasonality, week-to-week, and even day-to-day. That's why they work diligently to research the best time to go to Atlantis (i.e., when prices are lowest) and apply discounts to your trip to ensure you get the best savings.
Atlantis vacation planners can also help you find the best discounts and packages to save the most money. They can assist you with the following special offers:
With Atlantis' AIR + HOTEL & SAVE deals, you can bundle flights and accommodations for up to $300 off.
For those looking for the lowest rates, the DATES WITH HOT RATES offers last-minute getaways at a bargain price.
Atlantis has special promotions tailored to golf lovers with their TEE TIME package, which includes rounds of golf plus other exciting amenities and perks.
The A LITTLE SUITER package offers discounted luxury rooms.
Couples who book a LOVE IS HERE stay will enjoy complimentary breakfast daily, a romantic dinner for two, and late checkouts!
With the help of an Atlantis travel agent, you can find the best deals for a romantic couples' getaway or an exciting family vacation. They can also share other ways to save money at Atlantis, like taking advantage of exclusive discounts for military members, teachers, nurses, and first responders!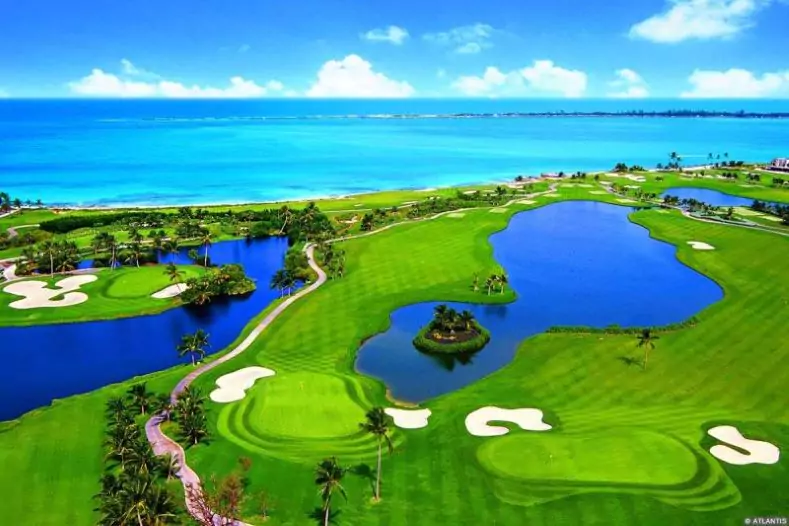 6. You Can Trust Travel Agents To Book Everything Correctly
Working with experienced travel agents can give you the confidence that they will book everything correctly. They are trained and knowledgeable professionals who, with their expertise, can save you time and reduce stress. From organizing an itinerary and recommending the best attractions at Atlantis to finding the most suitable rooms, experienced travel agents can assist you in every way possible. They also book all necessary dining reservations on time and ensure you get the lowest rates when booking your vacation package. All you have to do is sit back and relax while they take care of everything for you and ensure there are no discrepancies in the process. With their knowledge, efficiency, friendly customer service, and professionalism, they will make all the necessary reservations and preparations for you so that you can enjoy looking forward to your vacation without worry!
7. The Services of An Atlantis Travel Agent are Free!
Booking a vacation at Atlantis Bahamas is a breeze when you work with a travel agent, and the best part is that there's no fee to use their services! Your Atlantis vacation planner will offer personalized assistance to create the perfect vacation for you without ever charging you an extra fee. You'll get the lowest possible rates and have access to exclusive packages and deals. Plus, you won't have to worry about searching online or navigating a confusing booking website – you can focus on what's important, like packing and looking forward to your trip. Unlike other "free" services, there's no catch here – they really are free. It doesn't get much better than that!
Is a Travel Agent Worth It for Atlantis Bahamas Resort?
Planning a vacation to the exotic Atlantis Bahamas resort can be overwhelmingly tedious. Hours of research, price comparisons, and planning can annoy even the most seasoned traveler. Thankfully, you don't need to suffer through all the stress of booking Atlantis – working with a trusted travel agent is your best option!
A reliable travel agent has the expertise and experience required to help make sure your Atlantis vacation is everything you dreamed it would be. They're capable of providing insights about the location, like insider tips and special offers, so you get more for your money – time you could otherwise spend relaxing and packing. And they do all of this for free! The knowledge, resources, and personalized details available at the fingertips of your trusted travel agent will ensure that you have everything necessary to get from point A to point B without running into any unforeseen errors or surprises along the way. So, using a travel agency for Atlantis Bahamas is worth it! Contact a reliable travel agent today and book Atlantis for the trip of a lifetime!
Ready to Book your Atlantis Bahamas Vacation?
Let The Vacationeer take the hassle out of your dream getaway. They'll provide a friendly and helpful service with the knowledge and capability to compare prices, promotions, and destinations. With their ability to find you the absolute lowest prices, you'll get the best deal on your trip to Paradise Island. And if life happens while traveling and plans change, The Vacationeer is there to help every step of the way. All of this is available to you for free!
For those still undecided, The Vacationeer can also provide price quotes for other tropical destinations for comparison. For example, they can show you how the best Sandals resorts and best Beaches resorts stack up against Atlantis. Regardless of your choice, they strive to provide you with the ultimate vacation experience.
Don't waste your time reading unreliable reviews and calculating cost statistics about Atlantis Bahamas. Make The Vacationeer your one-stop travel agency and experience their unbeatable personalized service and top-notch travel advice. Click HERE to get started!
Thanks for reading our Why Book Atlantis With A Travel Agent article. Enjoy your trip to paradise!