Magical wands are an essential part of The Wizarding World of Harry Potter experience.
Traditional wands and interactive wands are available for purchase at several Universal Orlando retail locations. As of August 2023, the cost of a standard wand is $55 and the cost of an interactive wand is $63. Engraving is offered for an additional fee.
Let's take a closer look at how much wands cost at Universal Studios Orlando.
About Wands at Universal Orlando Resort
Guests have a choice between two types of wands. They can purchase a cheaper traditional wand or a slightly more expensive "interactive" wand.
All of the wands sold at Universal are imported, hand painted, and made from sculpted resin instead of wood (at the request of J. K. Rowling herself). There are dozens of different designs to choose from.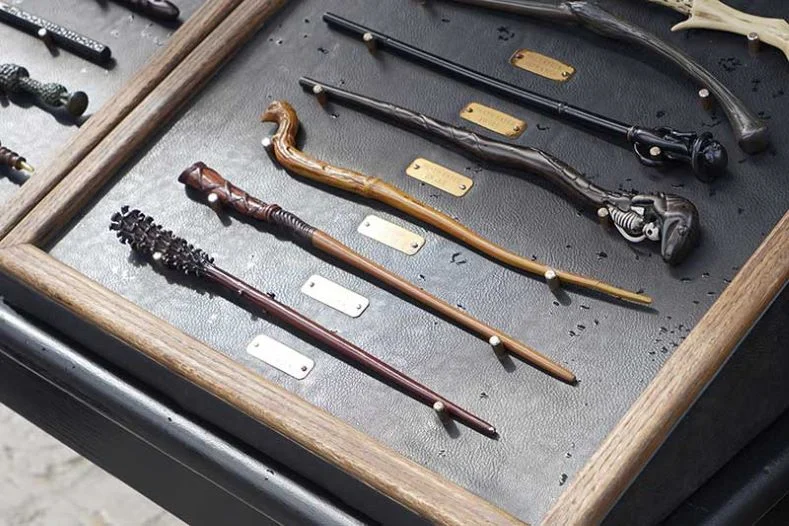 Traditional Wands
The original wands come are thin and come in a neat little box. Most are about 14″ to 16″ in length, depending on the model.
Historically, there were about two dozen different designs (models), including the Draco Malfoy™ Wand, Professor Dumbledore™ Wand, Ginny Weasley™ Wand, Harry Potter™ Wand, Hermione Granger™ Wand, and others. Over the years, the selection has dwindled a bit, and now appears to be down to about four or five key characters such as Harry and Hermione.  The focus has clearly shifted toward the newer interactive wands.
Maps are not included with traditional wands because they are not meant to interact with anything in the park. These are great souvenirs but don't possess any magical (technological) powers.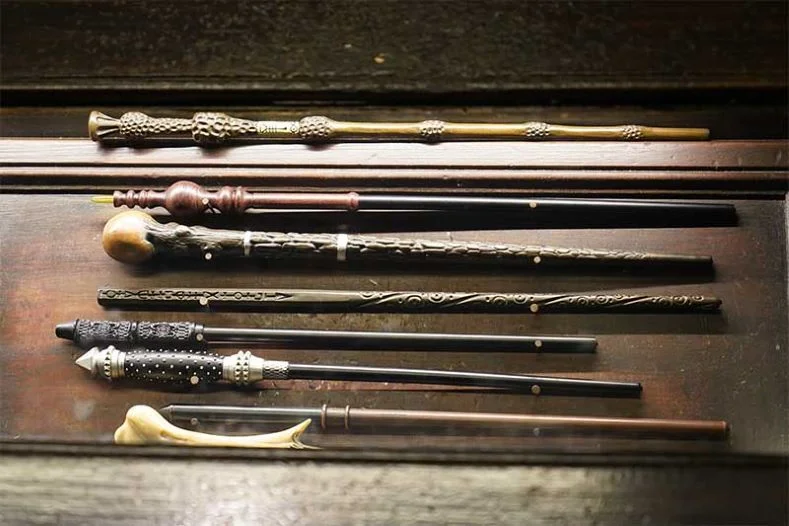 Interactive Wands
Unlike the traditional wands, an interactive wand will allow you to cast magical spells throughout The Wizarding World of Harry Potter™—Hogsmeade™, and Diagon Alley™.  These wands have a rounded, reflector tip that is used to interact with the sensors around the park.
Interactive wands are slightly thicker than the traditional wands,  roughly the same length, and come in a cute little box with a double-sided fold-out map.  These are great little souvenirs but it will also help you find the "marked" magical spots in Universal Studios and Island of Adventure. Even if you want to keep your map in pristine condition, make sure to unfold it at least once in Knockturn Alley to see some neat glowing effects.
There are a few dozen different interactive wand designs to choose from, including the Interactive Ollivanders™ Alder Wand, Interactive Ollivanders™ Ash Wand, Interactive Ollivanders™ Birch Wand, Interactive Ollivanders™ Elder Wand, Interactive Ollivanders™ Hawthorn Wand, Interactive Ollivanders™ Hazel Wand, Interactive Ollivanders™ Holly Wand, Interactive Ollivanders™ Ivy Wand, Interactive Ollivanders™ Oak Wand, Interactive Ollivanders™ Reed Wand, and others.
You can purchase an interactive wand that's modeled after characters (Harry, Hermione, Sirius Dumbledore), or you can buy "unclaimed" wands that aren't modeled after a Harry Potter character. For example, are 13 wands with Celtic designs.
How Much Do Wands Cost at Universal Orlando?
In addition to the style and functionality differences, there's also a slight difference in price between the two wands types. As we stated above, the interactive wands are $63 (plus tax), and the traditional (non-interactive) wands are $55 (plus tax). Wand stands are sold separately for $35 each. A recent addition is the option to have your wand engraved with either your name or the name of a character from the Wizarding World — this costs an additional $30 or so and has some limitations.
There are a few additional outliers to this pricing. The 2023 collector's edition interactive wand is $75, the Weasley Wand Collection (2 traditional wands w/ display rack) is $100, Triwizard Champions Wand Collection (4 traditional wands w/ glass case) is $195. and Dumbledore's Army Wand Collection (a special set of authentic replica wands w/ display parchment) is $295.
*Prices and selection are subject to change
Plan Your Visit to the Wizarding World of Harry Potter
If the Owl carrying your Hogwarts letter clearly took a wrong turn at Hogsmeade and hasn't arrived yet, fear not! You can still find your way!
The Universal planning experts at The Vacationeer can guide you every step of the way. You'll get a single, dedicated agent (no waiting on hold with a giant call center) to help plan your trip from start to finish.
Think of your Vacationeer as your own personal Sorting Hat! They take what they've learned about you — consider your suggestions and requests — and help you find the perfect hotel, dining, and theme park tickets for your vacation — and then book them all for you!
And because The Vacationeer doesn't charge any planning fees, you'll be able to save those hard-earned Galleons to spend on more important things… like Butterbeer! Your trip won't cost a single Knut more than if you'd booked it yourself, but you'll benefit from all of their expert advice.
It doesn't matter if you're traveling by Hogwarts Express, Floo Network, or Flying Ford Anglia (mind the Whomping Willow) — The Vacationeer can help make your trip pure magic.
Where to Buy 
Wands

 at Universal Orlando Resort

There are several places to buy wands at Universal.

Wands are sold at Ollivanders in Diagon Alley (Universal Studios Park), Wands by Gregorovitch (the Carkitt Market area of Diagon Alley), Ollivanders in Hogsmeade (Islands of Adventure Park), and at a cart selling wands on the path to Hogwarts.

You can also purchase wands at the various souvenir shops near the front gates of the two theme parks plus at the huge gift shop in the CityWalk section.
Best Place to Buy a Wand at Universal Orlando
For the full experience, I recommend you skip the gift shops and head over to Ollivander's in Diagon Alley. The Diagon Alley location for Ollivanders has more rooms and usually short lines. Go first thing in the morning if you want to beat the rush.
As you'll remember, Harry was brought to these "makers of fine wands since 382 BC" by Rubeus Hagrid as a rite of passage in the wizarding world.
Inside you'll discover row after row of wand boxes stacked up to the ceiling.
There's something magical about Ollivanders and that's why I believe it's the best place to buy a wand at Universal Orlando Resort. Only here can you witness the magic of the wand choosing its wizard, an interactive experience in and of itself.
The Ollivanders in Hogsmeade is my #2 spot to buy wands, only because the tiny store can accommodate just 24 people at a time. Although the tiny layout feels a bit more accurate to the books and films, nothing can really beat the intimate wand choosing ceremony at the Diagon Alley location.
Note: Wands cost the same amount in every retail location (whether you purchase your wand at Ollivander's or in a gift shop).
Best Wand for The Wizarding World of Harry Potter
For me, it's definitely worth paying the extra cash to get the interactive version of a wand. That is – if you are already in the park.
The traditional (non-interactive) wands are really amazing keepsakes but they won't do you any good in parks. And don't buy one online, because you may be disappointed with what you get. Inspect and select your wand in-person, at Ollivanders, and you won't regret your purchase.
After you buy an interactive wand, you can then open the map and locate the spellcasting spots. There are 11 in Diagon Alley, 5 within Knockturn Alley, and 9 in Hogsmeade. Follow the map, watch for the metal medallions in the ground, and have fun!
My favorite wand spells to cast are Metelojinx (which causes rain and thunder around an umbrella), Incendio (which lights an entire window full of lamps or sets off some firework-type effects), and Descendo (which triggers a bit of light toilet humor at Weasleys' Wizard Wheezes). But there are plenty to try, some a bit more difficult than others. Don't be shy about asking other nearby wizards for help!
Keep in mind that the price of your interactive wand includes unlimited activations of the park's hidden effects.  Plus, you won't have to pay any more money to recharge your wand on your next visit (or replace any batteries). If you make multiple visits to the parks, you can bring your wand back year after year!
Thanks for reading How Much do Wands Cost at Universal Studios Orlando. Have a great time!
For more on Universal, see our Ultimate Universal Orlando Planning Guide, Universal Studios Orlando Map, Best Rides at Universal Studios Orlando, Harry Potter Universal Studios. How to get from Disney World to Universal and Disney Travel Specialists. We also have dozens of pages on Disney World.