Disney launched its fifth cruise ship in July 2022.  After a ten years with no new ships, expectations were high for the newest cruise ship in the Disney fleet.  In many ways, the Disney Wish cruise ship has completely smashed expectations; but there are a few areas where we feel that it may have fallen just a tiny bit short of its potential.
That said, we also know you want to have all the information to make your own decision and determine if it's the right ship for you.  So, here we'll present a complete guide to all the facts and figures of the Disney Wish.  We'll also provide reviews of the ship and its venues. Whether you're still planning your first Disney Cruise or are a Pearl-level Castaway Club member, there's a lot to learn about the newest ship in the fleet!
Disney Wish Ship Overview
In many of the big categories, the Disney Wish is exactly like the other Disney Cruise ships. But once you start looking at smaller details, there are a lot of differences.
You still have four main types of passenger staterooms with lots of individual categories and subcategories.  But some of those individual categories include never-before-seen rooms like a Tower Suite that's actually located inside one of the giant red funnels (smokestacks) on top of the ship.
There are still three main restaurants onboard for your nightly dinner rotation, but two of them feature live entertainment during your meal.
There's still a gigantic kids club area that takes up almost an entire deck, but it's much more intricately themed than prior offerings.
There's still a waterslide-type ride onboard, but it adds some video animation effects to "plus up" the ride.
We'll go in-depth below about each of these categories — and more — to help you get you bearings on the newest Disney Cruise Ship.
Let's start with an overview and review by our favorite Disney YouTube channel, The Vacationeer:
How is the Wish Different from Other Disney Cruise Line Ships?
The Disney Magic and Disney Wonder are sister ships to one-another, meaning that they are more or less structurally identical to each other.  Similarly, the Disney Dream and Disney Fantasy are sister ships.  As of 2023, the Disney Wish is distinct from all other Disney Cruise Line Ships.  Disney Wish is expected to eventually have two sister ships: the Disney Treasure is set to begin sailing in December 2024, and another as-yet-unnamed sister ship is expected to be completed sometime in 2025.  Separately, another Disney ship — the Disney Adventure — is also expected to join the fleet in 2025, but it will be different from all the others.
Now let's look at some of the major elements of this fantastic new ship!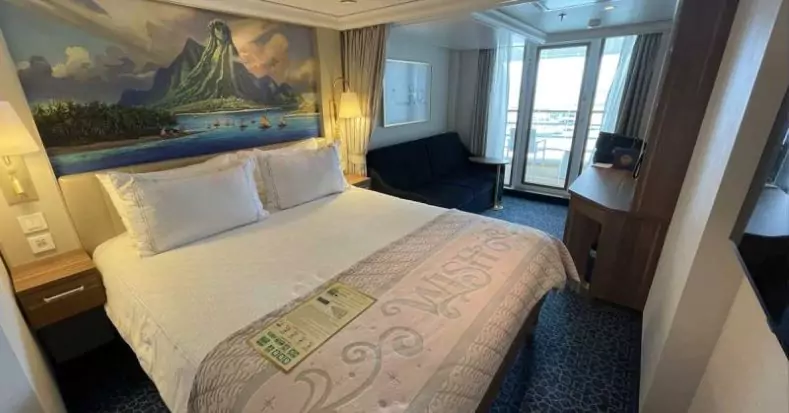 Let's start by looking at where your own private quarters onboard the ship.  Your stateroom (passenger cabin) is the equivalent of your resort hotel room at sea, and this ship has plenty of them!
The Disney Wish has 1,254 staterooms.  Each of those staterooms falls into one of four primary types of rooms; each of those four types is further divided into multiple categories and subcategories.  Which category you choose will have a rather substantial impact on the cost of your cruise, so it's wise to research ahead.
If you've never cruised before — or you're just curious to see what the décor of these rooms is like — check out this general overview from The Vacationeer.
Here is a consolidated list of the room types offered onboard.  They are listed here generally from least expensive to most expensive, though there may be some price overlap among categories/subcategories.  (For a more in-depth look at each of these room types, see the descriptions and photos posted on our Disney Cruise Staterooms article).
Inside Staterooms on the Disney Wish
Inside Staterooms have no porthole window or balcony.
Category 11 — Standard Inside Stateroom

11C:  Deck 2
11B:  Decks 6, 7, 8
11A:  Decks 9, 10, 11

Category 9 — Deluxe Inside Stateroom

9D:  Decks 6, 7
9C:  Deck 8
9B:  Deck 2
9A:  Decks 7, 8
Oceanview Staterooms on the Disney Wish
Oceanview staterooms offer an outside view through a round porthole window which does not open.
Category 8 — Deluxe Family Oceanview Stateroom

8C:  Decks 6, 7
8B:  Decks 8, 9
Verandah Staterooms on the Disney Wish
Verandah staterooms offer private outside balcony which can be accessed through sliding glass doors.
Category 7 — Deluxe Oceanview Stateroom with Verandah
Category 6 — Deluxe Oeanview Stateroom with Verandah

6B:  Decks 6, 7
6A:  Decks 8, 9

Category 5 — Deluxe Oceanview Stateroom with Verandah

5C:  Decks 6, 7
5B:  Decks 8, 9
5A:  Deck 10

Category 4 — Deluxe Family Oceanview Stateroom with Verandah

4E:  Decks 6, 9, 10
4C:  Decks 6, 7
4B:  Decks 8, 9
4A:  Decks 10, 11
Concierge Staterooms on the Disney Wish
Concierge staterooms offer extra personalized service, concierge staff, and access to an exclusive Concierge Lounge and sun deck.
Category 3 — Concierge Family Oceanview Stateroom

3B:  Deck 11
3A:  Decks 12, 13

Category 2 — Concierge 1-Bedroom Royal Suite with Verandah

2B:  Decks 12, 13
2A:  Deck 12

Category 1 — Concierge 2-Story Royal Suite with Verandah

1C:  Deck 10
1B:  Deck 13
1A:  Deck 14 (Wish Tower Suite)
Ready to see all that the Disney Wish has to offer?  Get in touch with the Disney Cruise experts at The Vacationeer.
As diamond-level Authorized Disney Vacation Planners, they book thousands of vacations every year and have agents who specialize in Disney Cruises.
Whether you need help picking a stateroom type or need help understanding what's included in the price, their Disney Cruise experts can help you plan the perfect vacation.
There's never any charge for their planning services, and your cruise won't cost anything more than if you'd booked it yourself.  You might even find you save a bit thanks to The Vacationeer's knowledge of the latest Disney travel deals (and plenty of other money-saving tips and tricks).
So what're you waiting for?  Make your Disney Wish come true!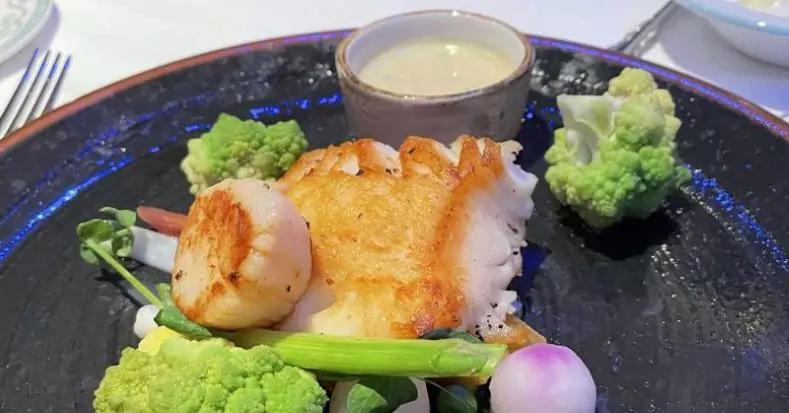 Pretty much everybody knows that one of the biggest draws on any cruise ship is the food.  The Disney Wish is no exception, with three outstanding main dining restaurants, two elegant adult-only dining options, and plenty of places to grab a quick meal or a snack on the go.
Cruise Dining Tip: Thanks to the international crew and clientele of Disney Cruise Line, you'll often find international fare onboard the cruise ships.

One of the things I look forward to on every cruise is my daily breakfast; that's because in addition to the usual bacon and eggs, I can enjoy things I can't normally get stateside — like a hearty bowl of European muesli with dried fruits and nuts, or even an Asian-inspired breakfast fried rice and miso porridge.

At dinner, I'll eagerly try something new and maybe even a little scary because it doesn't cost anything extra to try!  Occasionally my suspicions that I won't like something are confirmed in no uncertain terms, but most of the time I find myself pleasantly surprised.  Turns out I absolutely love escargot — who knew?!

Either way, I've tried something new and the worst possible outcome is one unpleasant bite that didn't lighten my wallet by a single penny.  So go ahead… order the pâté and broaden those cultural and culinary horizons!  You might just surprise yourself with how sophisticated your palate can be!
Here's a video overview of dining onboard the ship; below, we'll investigate each restaurant more completely.
Rotational Dining Restaurants on the Disney Wish
Like all Disney Cruise Ships, the Disney Wish offers something called rotational dining during the nightly dinner service — a Disney Cruise Line innovation.  Rotational dining doesn't mean you're sitting in a revolving restaurant.  Diners are pre-scheduled to visit a different restaurant on each night of the cruise on a schedule called a dining rotation.
You pick a dining time when you make your reservation, but otherwise there's no need to pre-reserve your spot.  You'll always be at (for example) table 29 during the 8:15PM seating on every night of the cruise, no matter which restaurant you're scheduled to be in.  And you'll have the same waitstaff for the duration of the cruise, so they'll get to know you, bring you your favorite drinks right away, and remember how you like your steak cooked.
Dinner at these three restaurants is included in the cost of your cruise.
You may also have a chance to dine at one of these restaurants for breakfast or lunch at no additional cost, but note that the menu will vary and you won't experience any of the "show" aspects noted in the descriptions below.
Here are the three rotational dining restaurants on the Disney Wish:
Arendelle: A Frozen Dining Adventure
One of the most eagerly-anticipated experiences onboard is Arendelle: A Frozen Dining Adventure.  At this restaurant, you're an honored guest of Queen Anna and Kristoff as they celebrate their engagement (right around the time that the movie Frozen 2 ends).
Of course you'll find Norwegian-inspired cuisine and Frozen-themed items, such as the Frozen Fractals cocktail, Worth Melting For non-alcoholic specialty drink, Elsa's Royal Baked Scallops, Sven's Favorite Carrot Soup, Arendelle Kjottkake (meatballs), Queen Iduna's Potato Lefse, and Norwegian Pancake Roulade for dessert.
But the real star of dinner is the live entertainment.  Thanks to a stage at the center of the dining room, you'll enjoy a great view of live musical performances from Elsa and Olaf, along with other frozen friends.  Even Wandering Oaken wanders in.  And thanks to a little Disney magic, you'll feel as if you're right in the middle of the Aurora Borealis (northern lights)
Worlds of Marvel
This super hero themed restaurant offers a worldly menu inspired by the Marvel Cinematic Universe.  Like the Arendelle restaurant, there's a "dinner and a show" aspect to dining at Worlds of Marvel.  You'll also get an up-close (and maybe too personal) demonstration of Super Hero technologies, with appearances by Ant-Man and the Wasp.  Fortunately everything turns out alright in time for dessert.
Sample menu items include the Widow's Bite cocktail, Steamed Bao Buns, Cream of Porcini Mushroom Soup, Berbere Spiced Pork Chop, Ricotta Gnocchi, and Subatomic Sticky Date Pudding.
1923
This restaurant offers a dining experience steeped in the golden age of Hollywood.  Named after the year the Disney brothers founded their first studio, you'll enjoy the flavors of California while surrounded by relics reminiscent of the early days of animation.  You'll be seated in either the Walt Disney section or the Roy Disney section, but no matter which you're assigned to, you're in for a feast for the eyes and the stomach.
Sample menu items include Hyperion Four-Cheese Tri-Color Tortelloni, Pulled Guinea Hen Corn Chowder, Italian Flat Parsley and Rosemary-crusted Rack of Lamb, Moroccan-Spiced Roasted Kabocha & Butternut Squash, Churros Calientes, and Flourless Orange Almond Cake.
Casual Dining on the Disney Wish Cruise Ship
There are plenty of places to enjoy a low-key breakfast, lunch, or dinner onboard the ship.
Marceline Market
While you might be familiar with Cabanas on the previous four Disney Cruise Line ships, the large buffet-style restaurant on Disney Wish is called Marceline Market. The overall concept is the same — plenty of variety, already cooked, and ready to serve.  It's great spot for breakfast or lunch — and even for dinner if you're not thrilled with the menu at your assigned rotation restaurant.
One distinction versus Cabanas is that Marceline Market is set up a bit more like a farmer's market in that there are individual "stalls" (stations) for different types of food rather than one long buffet line.  At some of these, you'll serve yourself — at others, a crew member will dish up your food.
Marceline Market is the go-to spot for breakfast and lunch on the ship (though one of the rotational dining restaurants is usually also open for breakfast and lunch).  Almost everything here is included with the cost of your cruise, including sodas, juices, milk, tea, and traditional coffee.  If you want one of the specialty coffees or other premium drinks prepared at the restaurant's "cafe," you'll need to pay separately for those.
At night, Marceline Market transforms into an alternative option for those not interested in dining at their assigned rotational dining restaurant (especially popular for folks who don't want to observe a semi-formal or formal night on longer cruises).  During dinner, the restaurant provides a table service experience with entrees made to order (still included in the cost of your cruise).
Mickey and Friends Festival of Foods
Located on Deck 11 near the main pool complex is Mickey and Friends Festival of Foods. Here, you can grab a quick bite to eat without even drying off!  The hours are usually pretty generous, too, so if you miss regular lunch and dinner hours at the other restaurants you can still find food here most of the time.  But note that no breakfast items are served here.
This group of quick-service windows offers several unique options, such as Daisy's Pizza Pies (pizza by the slice), Donald's Cantina (tacos and burritos), Goofy's Grill (burgers/dogs and chicken tenders), Mickey's Smokestack Barbecue (brisket/chicken/pork), and Sweet Minnie's Ice Cream (as many soft serve ice cream cones as you can handle!).
Like Marceline Market, most of the items here are included with the cost of your cruise.  But you'll still find specialty drinks available for purchase.
Lounges, Bars, and Snacks on the Disney Wish
The number of bars and lounges onboard the Disney Wish are almost too numerous to list (though we do, indeed, attempt to do so in our deck-by-deck guide later on this page).  Here, we'll point out a few of the highlights.
Star Wars: Hyperspace Lounge
For grown-ups wanting to get their Star Wars fix, Hyperspace Lounge is a great spot.  This adult-exclusive lounge features exotic drinks along with a starfield view out the window thanks to some video technology reminiscent of that used in Skyline onboard the Disney Dream and Disney Fantasy.  You might even notice a few familiar spaceships jetting by the windows, in between the hyperspace jumps.
Keg & Compass
Drink up at this Norwegian-inspired bar.  Keg & Compass is designed to feel like a viking ship, but with modern elements including TVs to catch up on the latest sports.  Enjoy three unique craft beers available exclusively onboard.
Nightingale's
Fine Wines, handcrafted cocktails, and a shimmering chandelier set the scene at this chill piano bar aboard the Disney Wish.  Your piano player might even know a few obscure Disney parks tunes if you ask politely enough.
The drinkware itself even adds to the theme of this lounge, which is inspired by Cinderella's rendition of "Sing Sweet Nightingale" from the 1950 Disney classic movie.
The Rose
Sip a cocktail in an elegant setting, replete with antique mirrors and floating rose petals.  This elegant, adult-exclusive lounge is reminiscent of the enchanted castle from Beauty and the Beast, and is the perfect prelude or postscript to a sophisticated meal at Enchanté or Palo Steakhouse.
The Bayou
New Orleans-inspired cocktails and refreshments are served up in this informal lounge inspired by the magical marsh Disney's The Princess and the Frog. Among the magnolia blossoms and twinkling fireflies, you'll find live musical performances and other events.
Room Service on Disney Wish
Many Guests are surprised to learn that Room Service is included at no additional charge on their Disney Cruise.  Almost everything on the room service menu — with the exception of a few items such as prepackaged candies or canned soft drinks — can be brought to your room at no additional charge.  Just don't forget to tip the Crew Member who brings the food to your door.
You can typically pick from several different salads, soups, burgers, chicken tenders, sandwiches, and hot wings.  You'll also typically find a couple of flatbreads and pasta selections.  For dessert, cookies and slices of cake/pie are the standard.  A classic DCL favorite item is the All Hands on Deck, a cheese and fruit plate that is perfect for noshing on as you watch the ocean go by.
If you don't mind shelling out just a bit of cash, you can add on wines, beer, sodas, specialty coffees, juices, and the like.
Best Bets for Each Meal on the Disney Wish
Below we list each of the main meal periods onboard the ship, and your best options for each.
Breakfast:

Primary option: Marceline Market is where most of the ship goes for breakfast.  It offers generous hours, a very wide selection, and plenty of food so you don't start your day hungry.  The downside of this location is that, well, it's where most of the ship goes for breakfast.  It can feel a bit hectic at times and might even be a bit of a sensory overload that early in the day.
Secondary option: One of the three rotational restaurants — typically 1923 — usually offers a table-service breakfast.  The menu is a bit more limited than at Marceline Market, but this can be a less-hectic option than joining the masses there.  You'll be served at your table — no roaming around to fill your plate or find a table.  And let's be honest — some mornings, you just need a little more quiet time before you brave all those people.
Other options: You can opt for room service breakfast, but it's not the best option.  Room service menu options for breakfast are extremely limited.  You won't find any "hot breakfast" options — no eggs, bacon, sausage, oatmeal, etc.  You can get juices, coffees, pastries, cold cereals — and not much else.  Does room service breakfast have some merits?  Absolutely.  It's delightful to have a croissant and a cup of coffee while sitting on your verandah balcony watching the sun rise — but in our view that's sort of pre-gaming the "real" breakfast.  If you're looking for a filling meal so you can start the day with a full tank, you'll need to leave your room.
Lunch:

Primary option:  Like at breakfast, Marceline Market wins lunch thanks to its wide variety.  You'll find flavors from all around the world, including some you might not get to experience back home.  Iced jumbo shrimp and crab claws are a favorite item, along with freshly grilled meats and plenty of side items.  And the desserts are not to be missed.
Secondary option: Should your idea of a perfect onboard experience include lounging by the pool all day, you'll likely include plans to have lunch at Mickey and Friends Festival of Foods.  No need to dry off and head inside.  Just drip your way on over to the window, get your tacos or barbecue, and enjoy a quick meal.  The options are more limited than Marceline Market, but there's still a surprising variety — great for families with a wide range of tastes.  It's also a chance to give kids just a tiny bit of freedom (and feeling grown up) by having them go all on their own to the window to pick up their chicken tenders.  And the extended hours mean you can dine here even if you missed lunch hours at Marceline Market or get hungry before dinner time.
Other options: Room Service is another good option for lunch, with the obvious caveat that if you're waiting in your room for your meal, you can't be out enjoying the ship.  But if you're taking a midday break, it's a decent choice.  Your menu options won't be that exotic, but you can still get a filling meal that won't cost you anything extra beyond a tip and maybe an optional add-on like candy or soda.
Dinner:

Primary option: Your assigned rotational dining restaurant is the place to be for dinner.  It's the heartbeat of the Disney Cruise dining experience and your dedicated service team that follows you all voyage long can make it into something really special.  Don't be shy… ask for two entrees.  Order three desserts. Calories don't count on vacation!
Secondary option: As an alternative to your pre-scheduled rotational dining restaurant, you might opt to enjoy Marceline Market.  The restaurant will be an entirely different experience than the buffet-style offerings that are the mainstay of breakfast and lunch. You'll be seated at a table, and a server will present you a menu that features some of the most popular selections from other restaurants. This is typically a rather laid-back meal without quite as much hustle and bustle as the main dining rooms.
Other options: Beyond the above two options, there are of course the adult-exclusive restaurants to pick from, though we'd hesitate to call them an "alternative" to your regularly-scheduled dinner; they're a special experience in and of themselves.  Otherwise, you can always grab quick food from Mickey and Friends Festival of Foods up on the pool decks, or order room service.
Off-hours Eating and Snacking:

Primary option: For those off-schedule cravings, your best bet is Mickey and Friends Festival of Foods. The generous "drop in almost anytime" hours make it a great choice starting around lunch time and going into the later hours around dinner.  And, while it's still all-you-can-eat, individual portions tend to be a bit more "snack sized," meaning it's easy to grab a relatively light bite to keep you going without spoiling your appetite for your next big meal.
Secondary option: Room Service is the champ of anytime eating onboard, though you'll certainly find a better variety at Mickey and Friends Festival of Foods.  With 24-hour operation, you'll be able to order something from room service starting from the time you get onboard the ship all the way until around 1:30 AM on the very last morning of the cruise.  Whether you want a full meal, a midday snack, buffalo wings at 3AM, or just some cookies and milk at bedtime, it's only a phone call away.
Most of your meals are included in the price of your cruise; but some specialty meals, alcohol, and the offerings at most bars and lounges cost extra.
Here's a no-brainer tip on how to save money on those upcharge experiences — let somebody else pay for them!
Booking through a Disney Travel agent like The Vacationeer earns you an onboard credit that can be used to pay for drinks, specialty meals, and even spa activities and port adventures (shore excursions).  Depending on the details of your cruise, this credit could be as much as $1,000!
To get your free onboard credit (and free help planning your Disney Cruise), contact the Vacationeer today!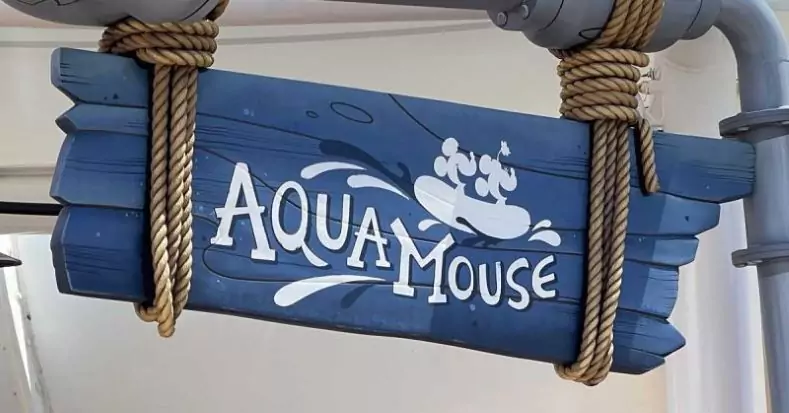 AquaMouse
Perhaps the most-anticipated addition to water activities onboard the Disney Wish is the AquaMouse.  Following in the dripping-wet footsteps of the AquaDuck (Disney Dream & Fantasy) and the AquaDunk (Disney Magic), the AquaMouse is a waterslide-type attraction.
Guests board a small two-person raft.  That raft then slowly carries them up a lift hill, during which time video screens mounted on the wall show very brief animations, drawn in the style of the newer Mickey Mouse short cartoons.
We've seen a few different storylines in our rides onboard, including one taking place in an alpine ski village, and another during a scuba diving adventure.
Once you've enjoyed your lazy lift to the top of the ride, the lift hill ends and the raft takes off for a brief splashy downhill ride.
Pools and Splash Pads
There's no shortage of pools and water splash zones onboard; ten, to be exact!  Deck 11 is the home to most, though you'll also find smaller ones scattered about elsewhere.  With multiple smaller pools rather than one or two giant pools, you're more likely to find one that better fits the vibe you're looking for… packed with kids so younger travelers can make new friends… secluded and adult-exclusive allowing for a more-relaxing experience… and everything in between.
Note that some pools may be unavailable during portions of the cruise so they can be covered and used as stages/viewing areas for live entertainment.
We offer a full list of every pool on board further down the page in our "deck-by-deck" section.  In the meantime, here are a couple of highlights.
Toy Story Splash Zone
For little tykes eager to make a splash, Woody, Jessie, and friends present a perfect place.  Much like the fun Finding Nemo splash zones onboard the Disney Wish and Fantasy, young kids not quite ready for the pool can splash in fountains, whisk down slides, and safely bounce around a bit on the soft padded areas while cooling off.
Quiet Cove
Adults will appreciate this pool, sundeck, and bar that's made just for them.  We all love our family time, but there's nothing like a little getaway just for the grown-ups while the kids are spending time at the youth clubs.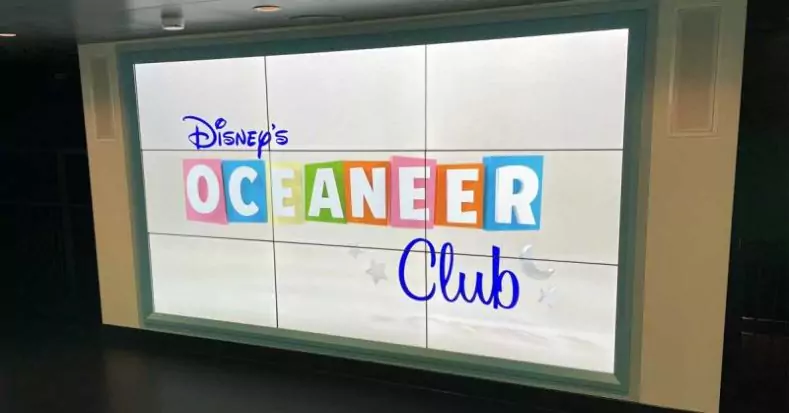 The wide array of onboard youth activity clubs is a big reason why we named Disney Wish as the best Disney cruise ship for kids.  Kids who've sailed onboard a Disney Cruise before are no doubt still talking about the time they spent at the kids clubs onboard. In what seems to be a continuing theme of this article, the Disney Wish takes the concept to an entirely new level.  Let's explore some of these dedicated spaces:
Disney's Oceaneer Club
To access this exclusive space, kids age 3-12 literally slide down from the Grand Hall atrium into the check-in for the day.  Once they're here, they can pick from several distinctly themed areas.
Marvel Super Hero Academy
Children become young Avengers, training alongside their favorite Marvel Super Heroes.  Spider-Man, Black Panther, Ant-Man and The Wasp are regulars here as kids team up, select their super suit, and battle infamous villains of the Marvel Universe.
Star Wars: Cargo Bay
Home to the Star Wars Galactic Creature Keepers adventure, kids here will become intergalactic creature handlers, feeding lifelike, interactive creatures and encountering some of the most dangerous beings in the galaxy. Don't worry, though — with the help of Rey and Chewbacca (and the Force), everything will turn out just fine.
Fairytale Hall
Fairytales come to life in this royal retreat.  Enjoy visits from the Disney Princesses while making royal crafts at Rapunzel's art studio, acting out stories in Belle's Library, and crating a bit of ice magic at Anna & Elsa's Sommerhus.
Walt Disney Imagineering Lab
This is the place for hands-on learning and fun.  A highlight is the ability to design your own virtual roller coaster, then hop inside a simulator capsule to experience it.
Mickey and Minnie Captain's Deck
The youngest Oceaneers will enjoy this nautically themed play space.  Enjoy pipe slides, ship's wheels, activities and games, and even an occasional visit from Captains Mickey and Minnie.
Edge
The spot for tweens aged 11-14, Edge is a New York City inspired loft-style hangout.
Vibe
Teens aged 14-17 will enjoy Vibe, a laid-back space that features movies and games.
The Hideaway
Older teens and young adults (age 18-20) have a space designed just for them onboard the Disney Wish — the first ever on a Disney cruise ship.  With a dance floor, DJ booth, and occasional karaoke contests, this space is a great "transition" space for those not quite ready to hit the adult clubs.
it's a small world nursery!
Infants as young as six months old — up through toddlers just shy of their third birthday — are cared for in this secure nursery onboard.  Specially-trained counselors keep everyone fed, changed, happy, entertained, and ready for visits by Disney friends.  Fees apply.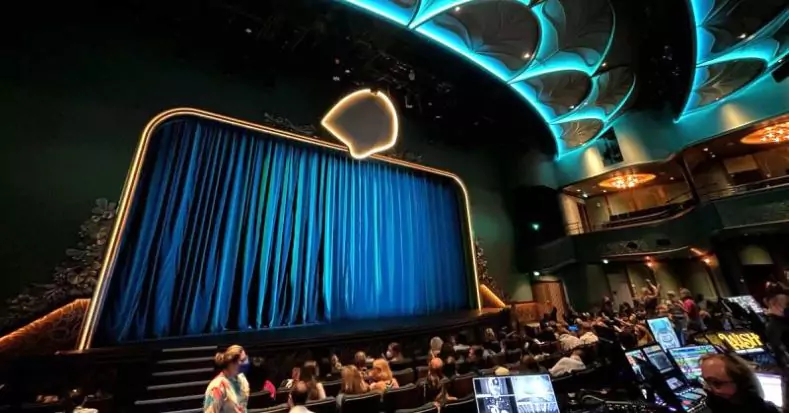 Your Disney Cruise is only as lazy as you choose to make it — there's always something going on, so no one will ever get bored onboard!
Broadway-Style Shows
Disney Cruises have long been known for their abundant live entertainment — and especially for the Broadway-style performances staged nightly in the Walt Disney Theatre.  There are three primary shows onboard the Disney Wish, two of which were made exclusively for the new ship.
Disney Seas the Adventure
Start your cruise out right with Disney Seas the Adventure, an embarkation celebration on the first night of your cruise (not to be confused with the sail-away party that happens earlier in the day).  This nighttime performance starts out innocently enough, as Captain Minnie hands the helm over to Goofy.
The ensuing journey features a fabulous musical voyage into favorite films such as Hercules, The Princess and the Frog, Finding Nemo, Moana, Frozen II, and Brave.  As the show reaches its crescendo, a cavalcade of Characters leads Guests out of the theatre and into the Grand Hall for an unforgettable sendoff — the ultimate "kiss goodnight."
Disney's The Little Mermaid
This one-of-a-kind theatrical adaptation of the beloved 1989 Disney animated film was created exclusively for the Disney Wish.  With innovative theatrical design, dazzling special effects, and artistic choreography, the all-new script and score goes beyond the film to find new ways to delight.
Guests of all ages will delight in seeing the innovative puppets — reminiscent of those which debuted in Disney's Animal Kingdom's Finding Nemo: The Musical and Finding Nemo: The Big Blue… and Beyond! — which help bring favorite characters to life
Disney's Aladdin — A Musical Spectacular
Already a favorite of those traveling onboard the Disney Fantasy cruise ship, Aladdin is also performed onboard the Disney Wish.  After all, how could you name a ship "Wish" and not have Genie represented?  Spectacular special effects and just a little magic from the lamp bring this timeless tale to the stage with music and comedy.
Pirates Rockin' Parlay Party and Fireworks at Sea
Pirate Night holds a place of honor on many Disney Cruise itineraries, and the Disney Wish is no exception.  And once again, Disney Wish's version seems to add just a little extra to the experience you find onboard the other ships.
The Disney Wish's version of the pirate party features a rollicking rock-and-roll soundtrack of live music, remarkable stunts, special effects, and plenty of surprises.  The show is heralded by Captain Redd, descendant of the famous red-headed icon from the Pirates of the Caribbean attraction. She and a band of head-banging buccaneers provide the soundtrack for an unforgettable night that includes Captain Jack Sparrow (you have heard of him?) and the industry-first fireworks display at sea.
Wonderland Cinema and Never Land Cinema
A Disney Cruise is a great way to catch up on the latest released from Disney, Marvel, Pixar, and Lucasfilm.
Onboard most Disney ships, the Buena Vista Theatre is the place to go — but continuing with the bigger and better theme, Disney Wish is home to two movie theaters: Wonderland Cinema and Never Land Cinema.
There's no need to buy a ticket — just find a seat and enjoy the show.  A nearby snack bar sells popcorn, candy, and soft drinks (for an additional charge).
Disney Uncharted Adventure
Following in the footsteps of onboard interactive experiences such as Midship Detective Agency (onboard the Disney Dream and Disney Fantasy), Disney Uncharted Adventure is a new first-of-its kind experience that takes classic Disney storytelling to new heights.
The story goes that an unknown evil force has attacked the Wishing Star, splitting its magic into pieces that land in far-off realms. To bring back the Star's powers, Captain Minnie needs Guests to help navigate the ship toward these uncharted worlds.
Guests onboard join Captain Minnie, Captain Mickey, and other favorite Disney Characters on a multidimensional search for the magic across storybook worlds.  You might spot Moana, Nemo, Princess Tiana, Peter Pan, and others through your "enchanted spyglass" (which looks suspiciously like your mobile device).  But don't worry – you won't be staring at your phone the entire time; rather, it's a tool used to unlock magic all around the ship.  Just be sure you download the Disney Cruise Line Navigator app before your cruise begins.
Hero Zone
This versatile venue hosts action-packed physical challenges and game-show-style competitions, and is home to a sports court during other hours.  Check the onboard navigator app to see what's happening each day!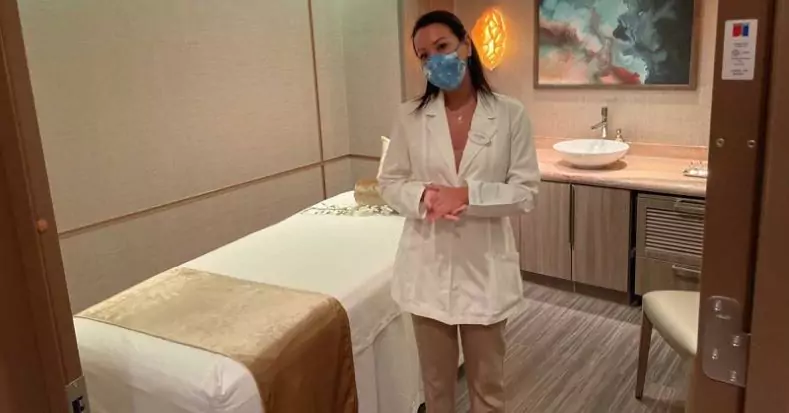 There's no shortage of places onboard to be pampered.  From spa treatments to salon stylings, you'll be able to step out in high style on the high seas.
Senses Spa and Salon
Like the other Disney Ships, Disney Wish features a Senses spa onboard.  Unlike the other ships, this one is in a league of its own.  In addition to the expected spa and beauty treatments, you can relax and unwind in the Rainforest — an indoor area with heated lounges, fountains, an aromatherapy steam room, a dry sauna and a calming pool; and an exterior area featuring shade canopies and refreshing outdoor pools.
Untangled Salon
Untangled Salon is the perfect place to let your hair down.  This high-end salon is inspired by Rapunzel from Disney's Tangled, and offers a wide variety of hairstyling and other treatments.
Hook's Barbery
Gents will enjoy getting a haircut, shave, or nail/skin treatment at Hook's Barbery.  The upscale salon is inspired by Captain Hook's private quarters aboard the Jolly Roger from Disney's Peter Pan.  Guests 21 and older can also enjoy a hidden bar featuring the finest whiskies, bourbon, and rum — with drinks served during treatments and during select special events.
Bibbidi Bobbidi Boutique
Fear not, princesses in need of a magical makeover!  The Bibbidi Bobbidi Boutique has made its way to the Disney Wish.  Youngsters can enjoy the same royal treatment they receive on land at Walt Disney World resort, thanks to a few Fairy Godmother's apprentices who've made their way to the ship.
Spa treatments and salon services cost extra, but you can offset the cost when you book through a professional Disney Travel Planner such as The Vacationeer.
The Vacationeer provides its clients with onboard credits of up to $1,000 to use toward spa/salon services and other purchases on the ship!  What's more, there's no charge to use their planning services, and they always make sure you get the best possible price for your cruise.
Free help planning your cruise and free funds to use while onboard — it's win-win!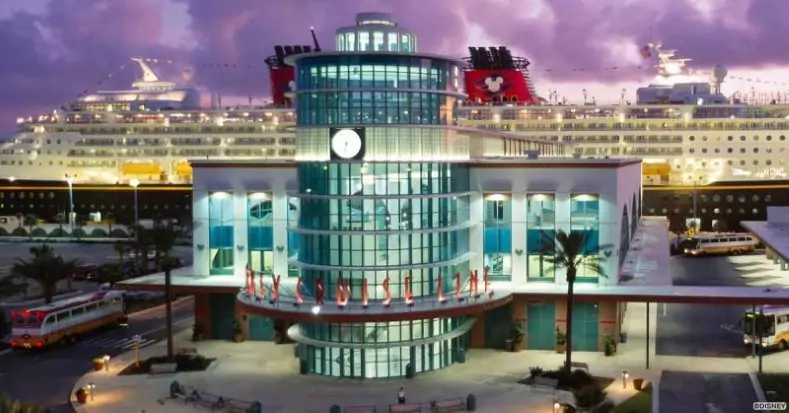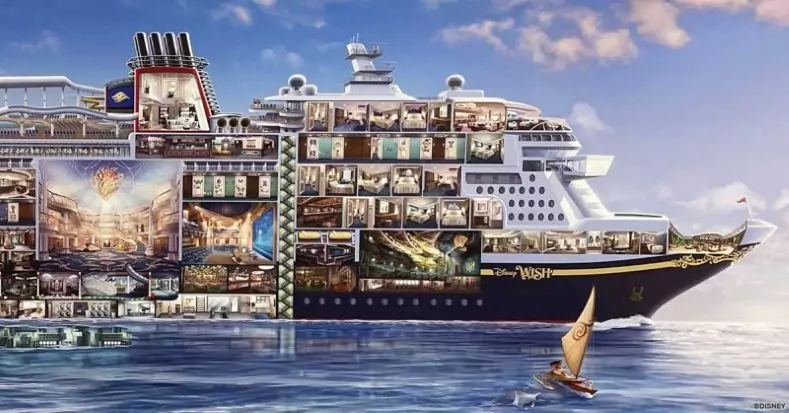 Here's a look at what's located on each deck of the Disney Wish.
Deck 1
Services & Shopping
Common Areas

Tender Lobbies (ship exit at ports of call)
Deck 2
Activities, Pools, & Entertainment

Disney's Oceaneer Club

Fairy Tale Hall
Marvel Super Hero Academy
Mickey and Minnie's Captain's Deck
Star Wars Cargo Bay
Walt Disney Imagineering Lab

Walt Disney Theatre (wheelchair accessible entrance)

Services & Shopping

"it's a small world" nursery

Guest Staterooms
Deck 3
Activities, Pools, & Entertainment

Grand Hall Stage
Slide to Oceaneer Club Check-In
Walt Disney Theatre (main entrance)

Restaurants, Lounges, Bars, Cafes, & Snacks

1923 (Roy Disney side, Walt Disney side)
Nightingale's
Star Wars: Hyperspace Lounge
The Bayou

Services & Shopping

3 Wishes
Enchanted Castle Jewels
Once Upon a Time
Preludes
Public Restrooms
Royal Regalia
Treasures Untold

Common Areas

Grand Hall (ship atrium lobby; ship entrance/exit on first/last day of cruise)
Deck 4
Activities, Pools, & Entertainment

Luna
Never Land Cinema
Wonderland Cinema
Walt Disney Theatre (balcony)

Restaurants, Lounges, Bars, Cafes, & Snacks

Hook's Barbery (also features barbershop services)
Luna's Libations
Wishing Star Cafe
Worlds of Marvel

Services & Shopping

Bibbidi Bobbidi Boutique
Disney Vacation Club desk
Guest Services desk
Hook's Barbery (also features drink service)
Port Adventures desk
Public Restrooms
Untangled Salon

Common Areas

Grand Hall (overlook)
Shipside Promenade
Deck 5
Activities, Pools, & Entertainment
Restaurants, Lounges, Bars, Cafes, & Snacks

Arendelle: A Frozen Dining Adventure
Enchanted Sword Cafe
Keg & Compass
Triton Lounge

Services & Shopping

Disney Vacation Planning desk
Mickey's Mainsail
Public Restrooms
Senses Fitness
Senses Spa
Senses Spa Rainforest Room (indoor/outdoor)
Service Animal Relief Area
Shutters Portrait Studio

Common Areas

Grand Hall (overlook)
Shipside Promenade
Deck 6
Common Areas

Shipside Promenade (accessible only from deck 5 stairway)

Guest Staterooms

Category 4C
Category 4E
Category 5C
Category 6B
Category 7A
Category 8C
Category 9D
Category 11B
Deck 7
Guest Staterooms

Category 4C
Category 5C
Category 6B
Category 7A
Category 8C
Category 9A
Category 9D
Category 11B
Deck 8
Services & Shopping
Guest Staterooms

Category 4B
Category 5B
Category 6A
Category 7A
Category 8B
Category 9A
Category 9C
Category 11B
Deck 9
Guest Staterooms

Category 4B
Category 4E
Category 5B
Category 6A
Category 7A
Category 8B
Category 11A
Deck 10
Guest Staterooms

Category 1C
Category 4A
Category 4E
Category 5A
Category 11A
Deck 11
Activities, Pools, & Entertainment

Daisy's Pool
Deck Stage
Funnel Vision
Mickey's Pool
Minnie's Pool
Pluto's Pool

Restaurants, Lounges, Bars, Cafes, & Snacks

Inside Out: Joyful Sweets
Marceline Market
Marceline Market Cafe
Mickey & Friends Festival of Foods

Daisy's Pizza Pies
Donald's Cantina
Goofy's Grill
Mickey's Smokestack Barbecue
Sweet Minnie's Ice Cream

Poolside bar (unnamed)
The Lookout

Services & Shopping

Dory's Forget-Me-Knots
Public Restrooms

Guest Staterooms

Category 3B
Category 4A
Category 11A
Deck 12
Activities, Pools, & Entertainment

Donald's Pool
Goofy's Pool
Hero Zone (main entrance)
Public Restrooms
Slide-a-saurus Rex
Toy Story Splash Zone
Trixie's Falls
The Hideaway
Vibe

Restaurants, Lounges, Bars, Cafes, & Snacks

Concierge Lounge
Enchanté
Palo Steakhouse
The Rose
Wheezy's Freezies

Services & Shopping
Guest Staterooms

Category 2A
Category 2B
Category 3A
Deck 13
Activities, Pools, & Entertainment

AquaMouse
Hero Zone (balcony)
Quiet Cove Pool (adults only)
Quiet Cove Whirlpool (adults only)

Restaurants, Lounges, Bars, Cafes, & Snacks
Services & Shopping
Common Areas

Concierge Sun Deck (Concierge Guests only)
Sun Deck (adults only)

Guest Staterooms

Category 1B
Category 2B
Category 3A
Deck 14
Activities, Pools, & Entertainment
Dining, Lounges, Bars, Cafes, & Snacks
Guest Staterooms
Shipyard (Ship's Birthplace)
Meyer Werft shipyard – Papenburg, Germany
Maiden voyage
July 14, 2022
Home Port
Port Canaveral, Florida
Ship's Registry
Bahamas
Tonnage
Approximately 144,000 gross tons
Length
1,119 feet
Beam
128 feet
Draft
27.2 feet
Height
221 feet
Speed
19.5 knots cruising speed
23 knots maximum speed
Fuel Type
Liquefied Natural Gas (LNG)
Crew Members
1,555
Maximum Capacity
4,000 passengers
Staterooms
1,254 staterooms (includes 53 concierge staterooms and 23 concierge suites)
1,133 outside staterooms (90%)

948 verandah staterooms (70%)
185 oceanview staterooms (20%)

121 inside staterooms (10%)
Environmental Considerations
Disney Cruise Line says The Disney Wish is estimated to be nearly 30 percent more fuel efficient and emit approximately 20 percent less greenhouse gases. DCL indicates it remains committed to investing in our current fleet by utilizing new technologies, increasing fuel efficiency, and minimizing waste, including the fleet-wide conversion in 2020 to ultra-low-sulfur fuel that exceeds international maritime regulations.
The Disney Wish's use of Low-Emission Liquefied-Natural Gas (LNG) eliminates nearly all sulfur oxides and particulate matter emissions, reduces the emission of nitrogen oxide by approximately 37 percent, and reduces carbon dioxide emissions by approximately 20 percent compared to traditional diesel or marine fuel.
Excess heat from the engines is re-purposed to warm the super-cooled LNG so it can be used to power the ship. Cold energy from the LNG tanks is then recycled into the ship's energy efficient air-conditioning systems. This interconnected system saves 200 tons of fuel per year.
A demand-based heating and cooling system onboard adapts in real time to deliver the ideal amount of temperature-controlled air throughout the ship while saving nearly 700 tons of fuel annually.
The hydrodynamic hull and propeller reduce the engine power needed to propel the ship, saving nearly 1,800 tons of fuel annually and reducing greenhouse gas emissions by 6 percent.
In 2023, the ship is expected to be equipped with a 1-megawatt fuel cell to provide additional emission-free energy for onboard systems. This prototype installation will be one of the largest in a marine environment and will help to better understand the feasibility of large-scale fuel cell installations onboard cruise and shipping vessels, potentially driving industry-wide adoption of the new tech.
Final Thoughts on the Disney Wish Cruise Ship
Disney is a cruise line that favors quality over quantity.  While other cruise lines might have dozens of ships with a new one showing up every couple of years, Disney takes its time and works to get it right.
We might have had to wait ten years for a new Disney Cruise ship, but the wait was certainly worth it.  The Disney Wish is in a class by itself, with some innovative design features and guest offerings not found anywhere else.
Are there a few things we'd like to have seen done differently?  Sure.  With ten years of waiting — not to mention all the years of extra anticipation once the ship was announced — expectations are bound to be sky high, and wishing begins to fill in the holes left by an absence of details.  But despite that, even those who are jaded to the point that they're bored by the same old ports and the same old cruising are sure to find something here that will wow you.
Our reviewers found the Disney Wish to be the ultimate family cruise ship, cementing its spot at the top of our list of the best Disney Cruise Ships.
Then it's time to contact The Vacationeer!
Get in touch with one of their travel agents for completely free assistance planning your vacation.  They'll use their expertise to help you pick the best time to cruise and find the best stateroom to book at the best possible price.  They'll even apply new discounts to your reservation as they become available!
Those benefits are just a few of the reasons to book your cruise with a Disney Travel agent, and The Vacationeer is among the best out there.
So don't delay — call in the Disney Cruise Experts!  Call in The Vacationeer!