Best Places to Eat in Hollywood Studios
Disney World's Hollywood Studios was opened in 1989 to serve as both a theme park and a fully operational production studio. Today, the area encompasses 135 acres filled with interesting and exciting attractions themed around the heyday of Hollywood's film industry. Between the rides, walking around the park, and standing in lines under the warm Florida sunshine, you will inevitably work up a big appetite. But with all of the Quick Service and Table Service Hollywood Studios restaurants to choose from, it's no easy to decide where to dine.  So here is a list of the best places to eat in Hollywood Studios to help you decide.
Overview of Hollywood Studios Restaurants
In order to make the best dining choice for you and your fellow travelers, there are a few things you should be aware of. Unlike some of the other Disney World theme parks, the eateries at Hollywood Studios tend to be a bit more subdued. That said, there are some really great options here! You can find both Table Service and Quick Service establishments with menu items to appeal to just about anyone's taste palette. Hollywood Studios has 26 unique dining options – 10 of which are considered Quick Service and 5 Table Service. The others are food stands and carts. Let's look at each of these restaurants to see which may appeal to you.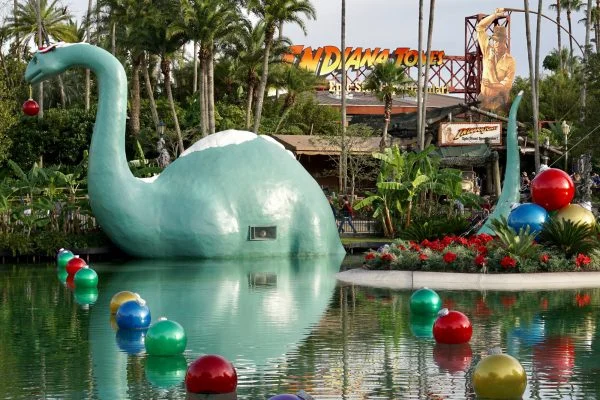 Quick Service Restaurants at Hollywood Studios
Best Places to Eat in Hollywood Studios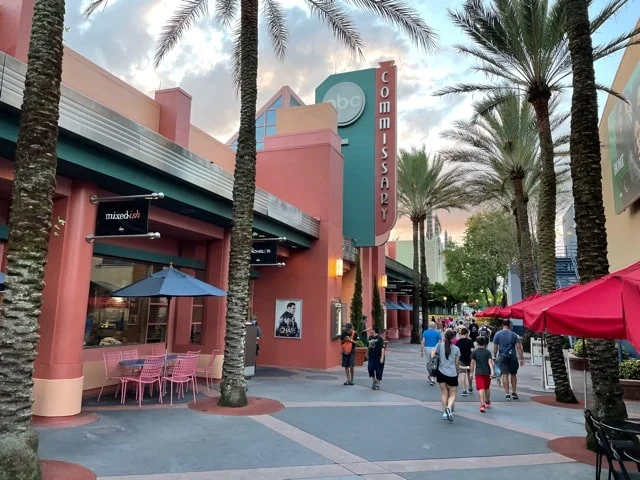 ABC Commissary (menu)
ABC Commissary is located right on Commissary Lane next to the Sci-fi Dine-In Theater. Thanks to its diverse menu offerings – from salads to seafood – this Quick Service restaurant is a popular dining spot. While the theming is minimal, the food is the show's real star. We have always found the food to be consistently good. As for the atmosphere, ABC Commissary is casual and well-air-conditioned, and there are plenty of TVs to keep you entertained and relaxed while you enjoy your food.
Recommendation: Some of our favorite menu offerings include the 1/3 lb Angus bacon cheeseburger, Mediterranean salad with chicken, or the meatless vegan burger.
Backlot Express (menu)
Unlike ABC Commissary, Backlot Express is a good spot to check out if you like a Disney dining experience with a good theme. The restaurant is loaded with charming memorabilia from the Golden Age of Hollywood, which gives the interior a nostalgic feel.  Backlot Express offers a wide variety of food choices at very affordable prices. Most entrees are in the $10-range, so you can feel good about not spending an arm and a leg at this spot. We think this restaurant is a great choice for an affordable and delicious lunch in a fun and relaxing environment. What more can you want?
Recommendation: Try the Dark Side Chicken and Waffles, the Darth Vader-shaped waffles topped with chicken nuggets, and – of course –  maple syrup.
Catalina Eddie's (menu)
Catalina Eddie's is the place to head to on a nice day. This restaurant only offers outdoor seating, so it's not a location you should consider if the weather is iffy or scorching hot. Entrees run in the $15 range, so it's on the pricier side of Quick Service dining options. Catalina Eddie's is a good spot for pizza lovers, but other than salads and desserts, there aren't a lot of other choices. We think there are better options on our list to suit everyone in your family. However, if outdoor seating and pizza appeal to everyone in your group, then this may be a good choice. 
Recommendation: If the pizza and salads don't fill you up, try the Chocolate Mousse dessert. Yum!
Dockside Diner (menu)
The Dockside Diner is a decent option for a quick bite. This outdoor seating venue has some adventurous menu items, but we feel the long lines and high prices for what you get aren't worth it, with so many other great options out there. Dockside Diner is more like an upscale food truck than a dining destination, so keep that in mind when you are choosing your Hollywood Studios lunch spot.
Recommendation: If you are in a daring mood, try the Buffalo Chicken Mac & Cheese entree.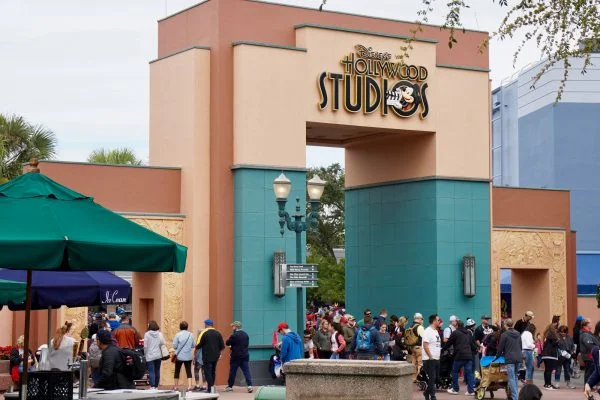 Fairfax Fare (menu)
Fairfax Fare is among the most budget-friendly dining spots in the park. They also offer many interesting food choices, from vegan chili rice bowls to Latin-inspired pulled pork sandwiches. On the downside, the limited seating does become a problem during the lunchtime rush. Our advice to you is to plan on eating before or after the 12-1:30 crowd.
Recommendation: It's tough to choose a favorite with so many great choices, but the Fajita Combo Platter and The Empanadas Platter are notable standouts.
KRNR The Rock Station (menu)
KRNR The Rock Station is a food truck dining spot located right next to Rock "N" Roller Coaster.  This spot is a good choice if you are just looking for a quick bite to grab and go. Standard fare includes a few hot dog options and frozen treats – nothing fancy (or healthy!). Simple, fast, and cheap is the name of the game at KRNR The Rock Station.
Recommendation: Try the Chili-Cheese All-Beef Hot Dog with Chips and a Coca-Cola® Float to wash it down.
PizzeRizzo (menu)
PizzeRizzo is named in honor of the classic Muppet character "Rizzo the Rat." It's one of the newest restaurants at Hollywood Studios and a great choice for  Italian food lovers. Everything on the menu is quite affordable and offers a variety of Italian staples like meatball subs, pizza, and an antipasto salad. It's hard to take exception to those choices! One negative is that the restaurant is on the small side, so expect crowds.
Recommendation: The classic cheese pizza here is delicious and a cannoli for dessert will put you in a good mood as you get back to the Hollywood Studios rides.
Rosie's All-American Café (menu)
This is not the place to head to if you are in search of a relaxing spot to eat. However, Rosie's All American Café is a good choice if you are on your way to the Beauty and the Beast show and want to bring some food with you (yes, you can do that). It's admittedly pricey for the standard park food you receive, but they do serve some tasty all-American classics like burgers, chicken nuggets, and other standard fares.
Recommendation: If you are feeling adventurous, try The Fried Green Tomato sandwich. If not, the 1/3 lb Fresh Angus Onion Straw Cheddar Cheeseburger is a great option. Then complete your meal with the strawberry shortcake dessert!
The Trolley Car Café (menu)
The Trolley Car Café is a great spot to get your caffeine fix or grab a tasty and refreshing beverage on the go. Otherwise, don't plan on much in the way of food items here. They do have some pasties – along with a wide variety of teas and specialty drinks – but that's about it. The atmosphere is pretty unique, and it's definitely a place to check out…just not for lunch. 
Recommendation: The Strawberries & Crème Frappuccinos are to die for!
Woody's Lunch Box (menu)
As of June 2018, Woody's Lunch Box is now open at the new Toy Story Land. We have yet to try it, but the menu looks great! It features plenty of mouth-watering entrees, including BBQ Brisket Melt, grilled cheese, turkey sandwiches, soups, and more. Really looking forward to checking this one out!
Recommendation: Stay tuned!
What Is Our Favorite Quick Service Restaurant at Hollywood Studios?
Best Food: ABC Commissary
Best Value: Backlot Express and Fairfax Faire (tied)
Additional Tips: Some Quick Service restaurants get very crowded around lunchtime. We suggest going on the early side (or after 2 pm if you can wait that long). Also, remember that many restaurants offer less expensive kid's menus for your children.  For those of you who are gluten-free or have other food allergy considerations, ask your server or cashier about the ingredients before you order. Disney is very good about accommodating their guests and being fully transparent about the ingredients. 
Best Table Service Restaurants at Hollywood Studios
Best Places to Eat in Hollywood Studios
There are 5 Table Service restaurants to choose from at Disney's Hollywood Studios.  Remember that Table Service restaurants – unlike Quick Service restaurants – do take reservations well in advance. It's always a good idea to secure your spot as soon as possible in order to guarantee your seating. See our Disney World Planning Timeline page for guidance as to when you can make your ADRs (Advance Dining Reservations).
5. Mama Melrose's Ristorante Italiano (menu)
When it was first constructed, Hollywood Studios' popular Italian eatery Mama Melrose's Ristorante Italiano was slated to become a Muppets-themed restaurant. That idea never came to fruition because Jim Henson passed away, and Disney was unable to acquire rights to the Muppets as originally planned. Instead, Disney chose to create Mama Melrose, named after a girl from Sicily who came to Hollywood to become an actress but used her family recipes to open an Italian restaurant instead.
As far as the food goes, Mama Melrose serves traditional Italian fare like Chicken Alla Parmagiana, saltimbocca, seafood, and tiramisu. The cuisine here will definitely fill your stomach if you have worked up a big appetite.
Much of the popularity of this restaurant comes from the fact it's part of the Fantasmic dinner package (you receive good seating for the show if you buy the dinner package).  So if you plan on doing Fantasmic, we recommend eating at Mama Melrose to get the most value. If Fantastic isn't in the cards, then skip Mama Melrose and wait to eat your Italian food in Epcot. 
Verdict: Mama Melrose is a good choice for Italian food lovers, but the restaurant is not overly memorable. It's a pass for us unless you are doing the Fantasmic show. In that case, we recommend the package with a Mama Melrose dinner.
4. Hollywood & Vine (menu)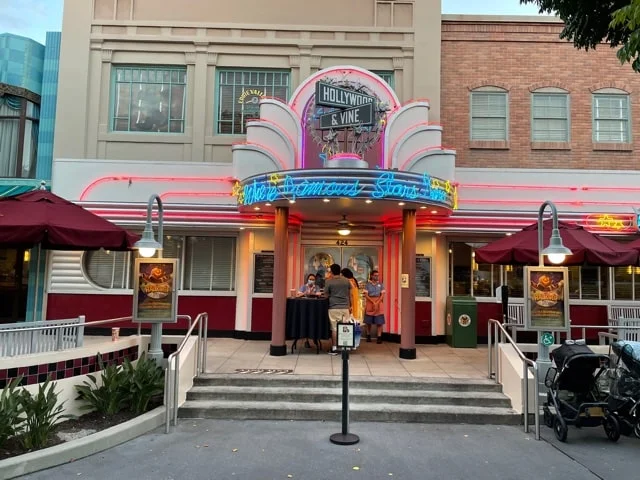 Hollywood & Vine is Hollywood Studios' character dining option. In fact, this is Disney World's only dining spot that mixes up its themes on a regular basis. For example, you can expect to find Star Wars-themed character meals during Star Wars weekend, Mickey dressed in vampire attire during Halloween, and Goofy dressed as Santa around Christmas. If you are looking for a unique Disney dining experience, this is your spot!
The food itself is served buffet style. You can find interesting offerings such as herb-crusted salmon and lobster & shrimp macaroni. Overall, the food is very good, although very similar to what you would find at the Chef Mickey character buffet.
Verdict: Like Mama Melrose, Hollywood & Vine offers a Fantasmic dinner package. If the idea of character dining appeals to you – and you plan on seeing Fantasmic – then Hollywood and Vine is a perfect choice. If Fantastic and Italian dinner sounds better, then stick with Mama Melrose. And if character dining isn't your thing, definitely skip Hollywood & Vine. 
3. The Hollywood Brown Derby (menu)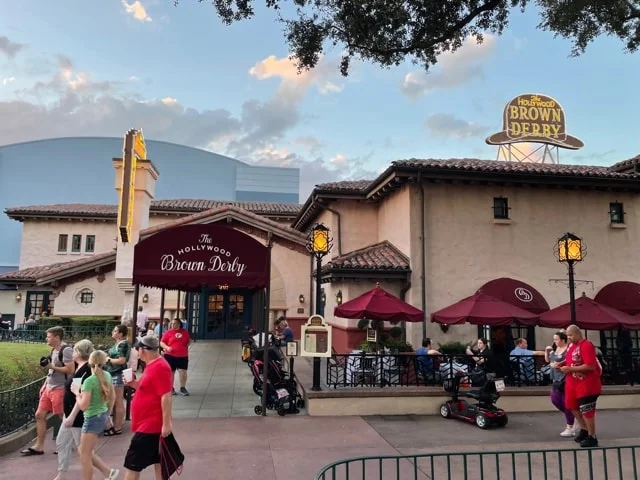 Looking for fine dining at its best? The Hollywood Brown Derby is one of Disney's best options. Simply put, the food here is phenomenal!
Seafood lovers will enjoy the Lobster Cioppino, meat-eaters will relish in the Filet of Beef, the chicken connoisseur will fancy the Bell & Evans Chicken Breast, and non-meat eaters will delight in the Vegetarian Pho. There are plenty of great culinary choices at The Hollywood Brown Derby and the atmosphere is charming.
This restaurant also offers the "Dine with an Imagineer" package, a unique experience that allows you to chat over lunch with a knowledgeable Disney Imagineer to answer all of your questions and give you an insider's take on the park. At around $60, we think it's worth the price.
Note that slots fill up quickly, so book your reservations at the 180-day mark if this is something you want to experience.
Verdict: As great as the food is at The Hollywood Brown Derby, it should be noted that eating here will cost you 2 Table Service credits (on the Disney Dining Plan). If you have some extra TS credit, or if you want to splurge on a great dining experience, Brown Derby fits the bill. However, if you are trying to get the most out of your plan, we recommend you just go to a regular (1 credit) TS restaurant instead. For inquisitive Disney visitors, we encourage you to book a reservation for the Dine with an Imagineer luncheon.
2. Sci-Fi Dine-In (menu)
Runner-Up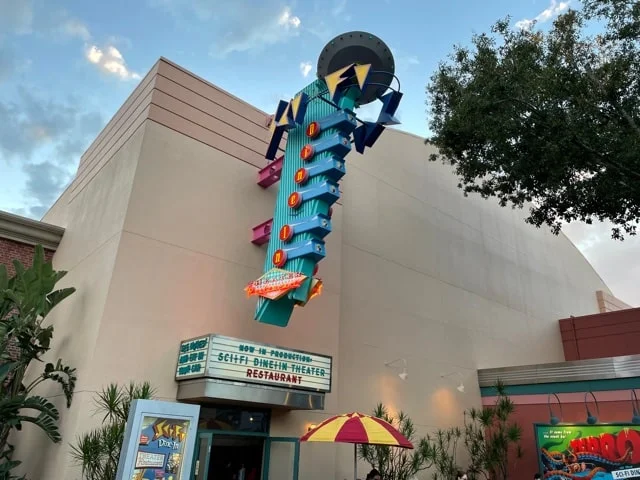 Sci-Fi Dine-In is a restaurant modeled after a 1950's dine-in movie theatre. The decor is a lot of fun for both kids and adults. Most of the tables are designed to resemble 50's era automobiles, waitresses roll up to take your order, and there are sci-fi classics on the movie screens.
As you would expect from this type of restaurant, the menu has plenty of burgers, fries, and shakes. Other standouts include the Drive-in BBQ Burger,  the St. Louis Pork Ribs, and of course, the hot fudge sundaes. Yum! It's hard not to love this place.
Verdict: The food isn't gourmet, but I don't think anyone will be disappointed with their order. Plus, the fun atmosphere creates a memorable dining experience. Recommended!
1. 50's Prime Time Café (menu)
Top Pick – Best Hollywood Studio Restaurant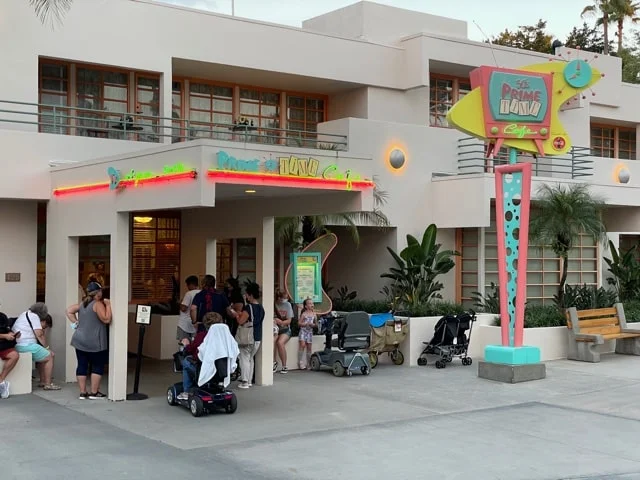 It may seem like overkill to have two 50s-themed Table Service restaurants at Hollywood Studios, but they both work together just fine.
The 50's Prime Time Cafe is totally different than the Sci-Fi Dine-In in several ways. First off, you don't have the drive-in feel here. You still have the 50s decor, but it's done in a more authentic and less kitschy way. The menu is much more varied, and the food is of better quality. You still feel like you have been transported to the '50s, but it's definitely a different feel.
Some of our favorite dishes include Grandma's Chicken Pot Pie,  Cousin Harold's Vegetable Lasagna, Aunt Liz's Golden Fried Chicken, and Cousin Megan's Traditional Meatloaf. That's some down-home-cookin' right there!
Verdict: This place is a winner. The food is great, the wait staff is amazing, and the atmosphere transports you back in time. A must for anyone looking for a great Table Service restaurant in Hollywood Studios.