Disney World for Foodies
Discover the Top 9 Best Restaurants at Disney World for Foodies
Disney World has an uncanny ability to stay fresh and innovative while also keeping true to its roots. There are aspects of the resort that are virtually unchanged since Magic Kingdom's first day, and yet other features (like Pandora and Star Wars: Galaxy's Edge) that bring state-of-the-art elements into the mix. But while the resort has always been known for its theme parks and rides, Disney World has recently begun to focus on its reputation as a culinary destination.  And it's working – so much so that Disney is now regarded as a serious hotspot for foodies. 
We think it's safe to say that Disney World has now moved well beyond traditional (sub-par) theme park food. The ever-expanding Epcot International Food and Wine Festival is part of the reason, as are the dozen of unique restaurants and menus in Disney World resorts, BoardWalk, the theme parks, and at Disney Springs.  Disney is now attracting top-tier culinary chefs from around the globe and upping its dining game – in a major way – in an effort to provide a unique and ever-changing food experience to their guests.
We still love the iconic Mickey Bar, Mickey Waffles, and Dole Whip. However, we're glad to see the Disney has turned the corner. Rather than simply providing food to fill the belly, Disney World is now a world-class culinary innovator — to the point that several Disney restaurants have been recognized by the famed Michelin Guide. 
With that said, here are the top 9 best restaurants at Disney World for Foodies!
Top 9 Best Restaurants at Disney World for Foodies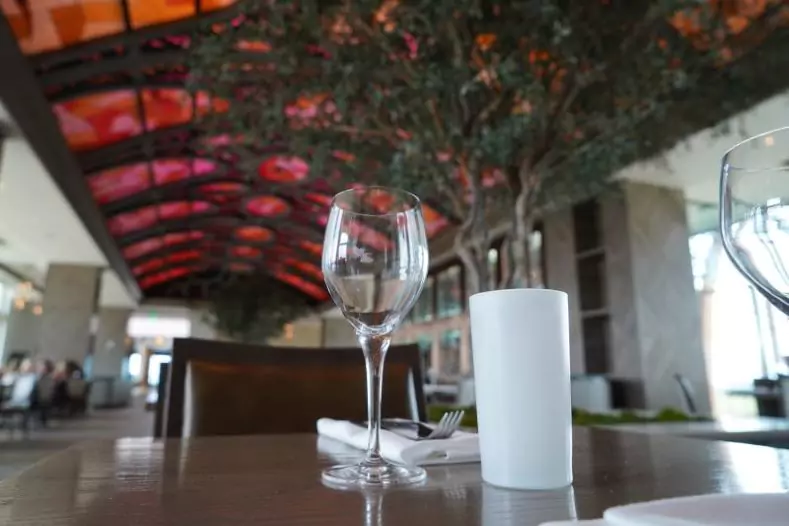 Before diving into the list, we should point out that there are over 200 places to order food at Walt Disney World. There are about 30 full-service restaurants inside the theme parks, and around 90 full-service restaurants in total if you include the in-park resorts, BoardWalk area, and Disney Springs.
There are also plenty of quick-service restaurants (where you order from the counter) and snack stands, kiosks, and that sort of thing.
One thing is for sure – the is certainly no shortage of food at Disney World! But some of Disney's food is clearly better than others.
Now, on to the list…
9. California Grill (Disney's Contemporary Resort)
Coming in at #9 is one of Disney's most popular dining spots, the California Grill. This upscale restaurant is known for its impressive wine list (about 250 selections!) and its onstage kitchen, where guests can watch the amazing chefs in action.
Foodies will appreciate California Grill's creative and ever-changing menu which incorporates the freshest seasonal ingredients into this California/Asian-inspired cuisine. In addition to dinner, a self-service brunch is served on Sundays.
The food isn't the only thing to love about California Grill. The restaurant offers amazing views of the park during the day and unmatched views of the Magic Kingdom fireworks show at night. Be aware that tank tops and flip flops are not permitted and meals range from $35-$60.
Cuisine: American
Meals: Dinner; Sunday Brunch
Location: Contemporary Resort (Top Floor)
Disney Dining Plan: Yes; Signature Dining Experience
Menu: California Grill menu
8. 'Ohana (Polynesian Village Resort)
'Ohana has long been a family favorite, partly because of the Disney character breakfast featuring Mickey, Lilo, Stitch, and other Disney friends.  But this 2nd floor Polynesian Village Resort location serves some tasty fare as well.
For breakfast, you will be greeted by Disney characters by you enjoy bowls of Hawaiian pork sausages, scrambled eggs, and fried potatoes along with fresh fruit and bread.  For dinner, guests are served appetizers (family-style) and then continue the feast with entrees served from huge skewers. The main courses include spicy grill shrimp, sweet-n-sour chicken, stir-fried veggies, and more.
Guests should expect to encounter lots of noise and lots of entertainment in the form of character meet and greets and musical acts at night. 'Ohana is a fun and lively place to take the family for a unique and delicious meal. Be sure to book your reservation asap because it's a difficult one to get.
Cuisine: Polynesian
Meals: Breakfast; Dinner
Location: Polynesian Village Resort (2nd Floor)
Disney Dining Plan: Yes; Table Service Credit
7. Flying Fish (BoardWalk Resort) – Disney World for Foodies
Flying Fish is known as the place to go for upscale seafood at Disney World. Located on the Disney Boardwalk, this recently revamped eatery features a menu of fresh seafood dishes and high-quality meat and poultry with a focus on freshness and sustainability.
Flying Fish's decor is more upscale than your average table service restaurant (this is a Signature Dining Experience) and the kitchen is open so guests can watch the chefs in action. Over 80 wines are offered, as is the Flying Fish Brewery Company Beer.
Some of the highlights of the menu include the Seabass, Swordfish, Hokkaido Scallops, Oak-grilled Salmon, Young Pennsylvania Chicken, and the Wagyu Filet Mignon.
Cuisine: Seafood
Meals: Dinner
Location: BoardWalk
Disney Dining Plan: Yes; Signature Dining
Menu: Flying Fish Menu
6. Columbia Harbour House (Magic Kingdom)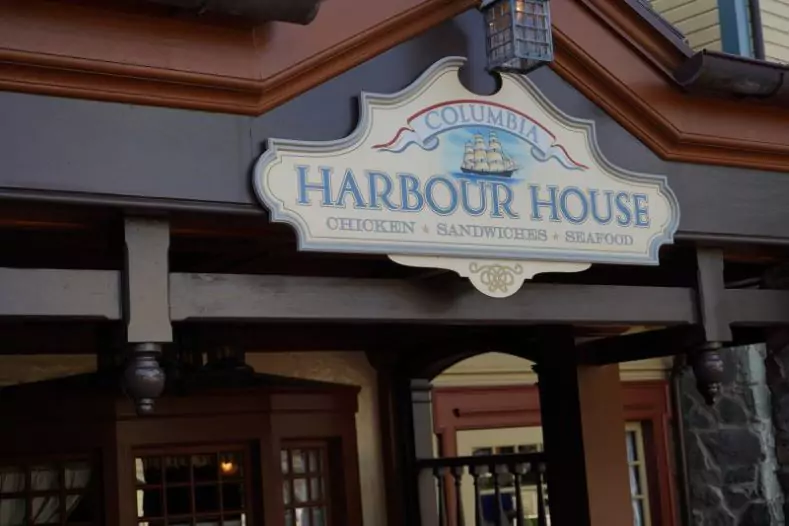 In keeping with the seafood theme, our pick for the best Quick Service dining spot is Columbia Harbour House.  This popular Magic Kingdom eatery is has a surprisingly wide variety of quality seafood at very reasonable prices.
A cup of New England clam chowder for under $7? Check. A fresh lobster roller for under $16? Check. Grilled salmon, salad with shrimp, chicken, vegetarian options, kids menu, and more? Check.
Another reason to love Columbia Harbour House is the cozy feel: the restaurant is styled after a traditional New England home and has a great 2nd-floor seating area with a good view of Liberty Square.
Disney World Foodies will love the selection, quality, atmosphere, and price!
Cuisine: Quick Service; Seafood
Meals: Lunch; Dinner
Location: Magic Kingdom – Liberty Square
Disney Dining Plan: Yes; Quick Service and Snack Credits
5. Tiffins (Animal Kingdom)
Tiffins is an immersive dining experience that celebrates world travel with sketches and journals from those who created the park. There are 3 dining rooms ("galleries"), including one that focuses on Asia, another on Africa, and the third on animals that the Disney Conservation Fund aims to protect.
With indoor and outdoor seating for 252 people and an interesting menu, Tiffins has become a haven for Disney foodies.
Its cuisine is influenced by Africa, Asia, Europe, and the Americas. The main courses include Pan-seared Alaskan Halibut, Tamarind-braised Short Rib, Crispy Sadza with Braised Berkshire Pork Belly, and Surf and Turf (with grilled Wagyu beef, lobster tail, charred peppers, purple potatoes, bonarda reduction, and chimichurri butter).
Tiffins now offers a lunch or dinner dining package with a safari tour and priority VIP seating at the Festival of the Lion King. Contact a Disney Travel Agent to book your package today.
Cuisine: African
Meals: Lunch, Dinner
Location: Animal Kingdom – Discovery Island
Disney Dining Plan: Yes; Signature Dining Experience
Menu: Tiffins Menu
4. Victoria & Albert's (Grand Floridian Resort & Spa)
Victoria & Albert's is regarded as Disney World's premier dining experience. Unlike other restaurants at Disney, this upscale eatery is solely for guests ages 10 and up.
With its classy decor, long stem roses, and background of harp music, there is an elegant sophistication at Victoria & Albert's that you won't find anywhere else in the park. Male guests are asked to wear dinner jackets with dress pants and shoes, while women are requested to wear dressy attire as well.
As for the food, the menus are personalized. The dining room offers a 7-course Prix Fixe "Tasting Menu" Menu ($185 per Guest, $250 with wine pairings) or a 10-course "Degustation Menu" ($235  per Guest, $340-$385 with wine pairings).  Queen Victoria's Room features a 10-course Prix Fixe Menu w/ French gueridon service ($235 per guest, $340-$385 with wine pairings) and Chef's Table features a 7-10 course Prix Fixe Menu ($250 per guest, $355-$400 with wine pairings). The menu changes frequently but you can expect entrees like Amuse Bouche, Maine Lobster, Wild Turbot, Honey-lacquered Rohan duck, Australian Kobe-style Beef, and Minnesota Elk Tenderloin. 
Cuisine: American
Meals: Dinner
Location: Grand Floridian Resorts & Spa (2nd floor)
Disney Dining Plan: No; Reservations Required
3. La Haceinda de San Angel (Epcot – Mexico)
La Hacienda de San Angel comes in at #4 on our Disney World for Foodies list. This World Showcase tables service restaurant features simple-food-done-right in an authentic Mexican style.
Corn tortillas and salsa are made in-house daily and all the ingredients are fresh and delicious. Appetizers include Mexican delights like Flautas, Pork Empanadas, and Agua Chile de Camaron. As for entrees, guests can choose from dishes like Carnitas Yucatecas, Enchiladas de Vegetales, Salmon a la Parrilla, Tacos de Camarones, and more. And if you enjoy a wide selection of premium margaritas or even a shot or two of fine tequila, this is the place to come!
Besides the food and drink, La Hacienda de San Angel's oversized windows allow for a beautiful view overlooking the lagoon and a prime spot to view IllumiNations: Reflections of Earth at night.
Cuisine: Mexican
Meals: Dinner
Location: Epcot – World Showcase – Mexico
Disney Dining Plan: Yes; Table Service
2. Le Cellier Steakhouse (Epcot – Canada)
Who would have guessed that the unassuming Canada Pavilion would be the epicenter for foodies at Disney World?  Well, it's true. Canada's Le Cellier is the place to go for the best steak around.
Here you will find the finest meats at Walt Disney World, including an 8-ounce filet mignon (served with delicious mushroom risotto and asparagus-tomato relish) and the duck two ways (seared breast, confit leg, and thigh). Their legendary Canadian Cheddar cheese soup is simply to die for. Le Cellier also features a selection of Canadian beers and spirits and a nice selection of wine.
Le Cellier, which means"the cellar" in French, is a cozy underground restaurant with intimate ambient lighting and stone arches. Yes, the prices are quite high here, but its popularity speaks for itself. We love it and so do other foodies!
Cuisine: Canada
Meals: Lunch, Dinner
Location: Epcot – World Showcase – Canada
Disney Dining Plan: Yes; Signature Dining Experience
Menu: Le Cellier Menu
1. Jiko (Animal Kingdom Lodge)
Best Disney World Restaurant for Foodies
Jiko – The Cooking Place comes out on top as the #1 dining spot for foodies at Disney World. The uniqueness factor here is very high because the menu is centered around new African cuisine, a type of cooking that many of us are unaccustomed to.
As you enter, you are greeted with alluring and exotic aromas and the sight of twin wood-burning stoves. The restaurant is open, airy, and decorated with sculptures and artist African touches.
Menu offerings are not only influenced by Africa, but also India, Europe, and the Mediterranean Coast. Entrees include Bo Kaap Malay Seafood Curry, Cocoa-Crusted Bison, Sustainable Vulcan-spiced Fish,  and West African Koki Corn. In addition to the exotic list of appetizers, entrees, and desserts, there is also an extensive South African wine list. Foodies will love Jiko – The Cooking Place!
Cuisine: African
Meals: Dinner
Location: Animal Kingdom Lodge
Disney Dining Plan: Yes; Signature Dining Experience
Menu: Jiko Menu
Enjoy your Disney World vacation!