Universal Orlando Resort Statistics: Key Facts and Figures
While Universal Orlando Resort is known for having some of the best rides and attractions in the business, few people realize there is much more to the resort than meets the eye. This page presents historical and current Universal Orlando Resort statistics, facts, and dates to help you better understand this fascinating tourist destination.
Overview of Universal Orlando Resort
Location: Orlando, Florida
Owner: NBCUniversal (Comcast)
Parent: Universal Parks & Resorts
Theme Parks: Universal Studios Florida; Islands of Adventure
Water Park: Volcano Bay
Entertainment Complex: Universal CityWalk
Universal Orlando Resort is a theme park and resort located in Orlando, Florida. It is owned and operated by Universal Parks & Resorts, a division of NBCUniversal/Comcast.
There are currently two theme parks at the resort: Universal Studios Florida and Islands of Adventure; a water park: Volcano Bay; and CityWalk, a dining and entertainment complex.  A third theme park, Epic Universe, is expected to open in 2025.
Universal's two theme parks share The Wizarding World of Harry Potter-themed area.
The grounds of Universal Orlando Resort cover 541 acres.
Historical Opening Dates for Universal Orlando Resort
Founders: MCA Universal and The Rank Organisation (Joint Venture)
Cost to Build Universal Studios Florida: An Estimated $630 Million
Universal Studios Florida Opening Date: June 7th, 1990
CityWalk Opening Date: February 4th, 1999
Islands of Adventure Opening Date: May 28th, 1999
Loews Portofino Bay Hotel Opening Date: September 1999
Wizarding World of Harry Potter – Hogsmeade Opening Date: June 18th, 2010
Wizarding World of Harry Potter – Diagon Alley Opening Date: July 8th, 2014
Volcano Bay Opening Date: May 25th, 2017
Originally known as Universal Studios Florida, the resort opened on June 7th, 1990, as a 50/50 joint venture between MCA Universal and The Rank Organisation. The estimated cost to build the park was $630 million. As a result of the opening, Universal Orlando began competing directly against Disney-MGM Studios (now Disney's Hollywood Studios), located just 13 miles apart.
The construction of a new theme park, Islands of Adventure, began in 1994. In May 1997, Islands of Adventure Preview Center replaced Screen Test Home Video Adventure. Universal's Islands of Adventure theme park officially opened to the public on May 28th, 1999. Additionally, Universal opened CityWalk, a multipurpose entertainment complex, and Loews Portofino Bay, the resort's first hotel, in 1999.
Universal Islands of Adventure opened Wizarding World of Harry Potter-Hogsmeade in 2010. It was expanded to Universal Studios Florida in 2014 and named Wizarding World of Harry Potter-Diagon Alley. In 2017, Volcano Bay opened as Universal Orlando Resort's water park.
As part of the resort's continued expansion, Universal Orlando's Epic Universe theme park, slated to open in 2025, is currently under construction.
Universal Orlando Resort Annual Attendance  
The combined annual attendance of Universal Parks and Resorts worldwide was 51,243,000 in 2019. There are six Universal theme parks across the globe: Florida, California, Japan, Singapore, Beijing, and Port Aventura in Spain.
Where does Florida stack up? Universal Orlando Resort is one of the world's most popular tourist destinations, drawing over 22 million visitors annually. The resort consists of two separate theme parks, Islands of Adventure and Universal Studios Florida, and one water park, Volcano Bay. Below is a breakdown of theme park attendance by park.
Universal Studios Florida Annual Attendance
2009: 5.53 Million
2012: 6.2 Million
2015: 9.59 Million
2017: 10.2 Million
2018: 10.71 Million
2019: 10.92 Million
2020: 4.1 Million
Universal Studios is one of the top tourist destinations in the world, and its annual attendance figures reflect that. For years, the park has seen a steady increase in visitors, culminating in a record-breaking year in 2019. However, 2020 was a different story. As a result of the COVID pandemic, attendance declined significantly in 2020 since the park closed for several months, and many potential visitors stayed home.
The number of visitors has rebounded strongly and is again attracting large crowds from all over the world. In fact, Universal Orlando Resort attendance reached an all-time high during Q2 of 2022. And with new attractions opening every year, it seems likely that the park's annual attendance will continue to climb.
Universal's Islands of Adventure Attendance
2009: 4.63 Million
2012: 7.98 Million
2015: 8.79 Million
2017: 9.55 Million
2018: 9.79 Million
2019: 10.38 Million
2020: 4.01 Million
Annual attendance at Universal's Islands of Adventure had risen since 2010 when The Wizarding World of Harry Potter opened to rave reviews. Despite a massive drop during the 2020 COVID-19 pandemic, the theme park appears to have rebounded strongly in 2021 and 2022.
With its array of thrilling rides, immersive Harry Potter-themed attractions, and lush tropical setting, it's no wonder that Islands of Adventure has been voted the best theme park multiple years by Tripadvisor. And with Universal Studios Florida right next door, guests can easily spend a few days exploring what these two amazing parks offer.
Volcano Bay's Annual Attendance
2019: 1.81 Million
2020: 550,000
In 2019, Universal's Volcano Bay welcomed 1.81 million visitors, which was a 5% gain over 2018.
Despite this impressive stat, Disney World's water parks, Typhoon Lagoon and Blizzard Beach – had more visitors (2.25 million and 1.98 million, respectively). The pandemic caused Volcano Bay attendance to decrease to 550,000 in 2020. Since 2020, Volcano Bay attendance has been experiencing a robust rebound as more people return to normal activities.
Universal Theme Park Revenue Statistics 
Revenue: $5.9 Billion for all Universal Theme Parks Worldwide (2019)
Q2 2022: Record Theme Park Revenue ($1.8 Billion)
Although NBCUniversal (Comcast) does not report its theme park division revenue park-by-park, it does state its overall theme park revenue (as one number for all Universal theme parks worldwide). For 2019, revenue rose to $5.9 billion for this division.
According to Comcast's 2022 Q2 earnings call, Universal theme park revenue reached $1.8 billion, its highest quarterly amount ever. Annualized, this means 2022 will surpass $7 billion if the trend continues. While not all of this can be attributed to Universal Orlando Resort alone, it's evident that the park has recovered from the pandemic shutdowns – and then some!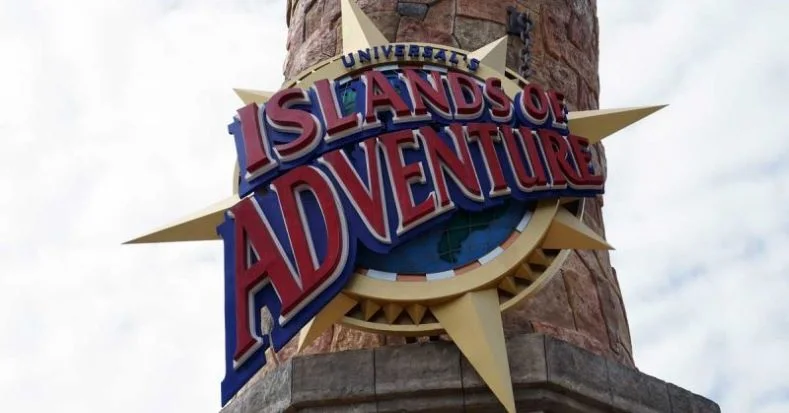 Universal Employee Statistics
Number of Employees: 28,000+
In 2019, the resort had roughly 27,000 employees. However, due to the pandemic, Universal Orlando Resort was forced to lay off 1123 employees in 2020. In early 2022, Universal Orlando Resort announced a plan to hire 2,500 additional employees. As a result, the employee count stands at just over 28,000.
Universal Orlando Resort is a significant economic engine for the region and provides good-paying jobs for Central Floridians. The resort is also an important tourist destination and brings billions of dollars of economic activity to the area each year. Universal Orlando Resort is an essential part of the Central Florida community, and its employees are integral to the local economy.
Rides and Attractions Statistics
Universal Studios Florida: 14 Rides and Attractions (2023)
Islands of Adventure: 19 Rides and Attractions (2023)
Oldest Ride: E.T. Adventure
Universal Studios Florida features 14 rides and attractions based on popular films and TV shows, including Harry Potter, Transformers, and The Simpsons. Islands of Adventure features 19 rides and attractions inspired by comic books, legends, and myths. Visitors can explore The Wizarding World of Harry Potter, ride on The Incredible Hulk Coaster, or come face-to-face with dinosaurs at Jurassic Park River Adventure.
When Universal Studios first opened its doors to the public on June 7th, 1990, there were a total of 13 rides available. Of those rides, ET's Adventure is the only one still in operation today. The other 12 original rides have either been closed down or have undergone significant changes. Despite the changes over the years, ET's Adventure remains a popular attraction for visitors of all ages.
Shows at Universal Orlando Resort
Universal Studios Florida: 6 Shows
Islands of Adventure: 3 Shows
There are nine shows across both Universal Orlando Resort theme parks. The shows vary in length, but most last between 20 and 30 minutes.
Guests can enjoy three different shows at Universal's Islands of Adventure, including Frog Choir, Oh! The Stories You'll Hear!, and Triwizard Spirit Rally. There are also seven different shows at Universal Studios Florida, such as The Bourne Stuntacular, Universal Orlando's Horror Make-Up Show, The Blues Brothers Show, The Tales of Beedle the Bard, Animal Actors On Location!, and Celestina Warbeck and the Banshees. Guests can choose which show they want to see based on their interests and preferences.
Dining Statistics at Universal Orlando Resort
Full-Service Restaurants at Theme Parks: 4 (2 at each theme park)
Full-Service Restaurants at CityWalk: 11
Full-Service Restaurants at Universal Hotels: 19
Universal Orlando Resort is home to a wide variety of dining options, with something to suit every taste and budget. There are dozens of full-service (table service) restaurants across the theme parks, hotels, CityWalk, and even more quick-service (counter service) locations.
Theme Park Dining Statistics 
Universal Studios Florida has two full-service restaurants, 17 quick-service locations, 4 bars/lounges, and over two dozen food carts/stands. Table service restaurants include Lombard's Seafood Grille and Finnegan's Bar & Grill, a pub-style eatery with an Irish flair. Several quick-service restaurants themed after the Simpsons are located along Fast Food Boulevard.
Universal's Islands of Adventure has two full-service restaurants, 20 quick-service locations, two lounges, and over two dozen food carts/stands. Table service options include the Three Broomsticks, which serves traditional British fare such as fish and chips and shepherd's pie in Hogsmeade Village, and the famed Mythos Restaurant, which offers Mediterranean-inspired cuisine.
CityWalk Dining Statistics
Universal's CityWalk is home to a wide variety of dining options, perfect for every taste and budget. There are 11 full-service restaurants, 13 quick-service locations, 3 bars, and six food carts. At CityWalk, you'll find everything from Mexican food to a Bob Marley-themed restaurant and some of your favorite chains like Hard Rock Cafe and Bubba Gump Shrimp Co.
Universal Hotel Dining Statistics
There are a total of 19 full-service restaurants across the eight on-site Universal Orlando Resort hotels. Hard Rock Hotel has three, Loews Portofino Bay Hotel has five, Loews Royal Pacific Resort has five, Loews Sapphire Falls Resort has two, and Universal's Cabana Bay Beach Resort has one. Neither Universal's Endless Summer Resort – Surfside Inn and Suites nor Universal's Endless Summer Resort – Dockside Inn and Suites has any full-service restaurants. In addition to the full-service restaurants, all hotels have at least one quick-service restaurant, and many also have lounges or bars.
Universal Orlando Resort Hotel Statistics
On-Site Hotels: 8
Hotel Rooms: 9,000
Universal Orlando Resort has eight on-site hotels offering approximately 9,000 rooms.
The hotels are divided into four categories. There are 3 Premier hotels, 1 Preferred hotel, 2 Prime Value hotels, and 2 Value hotels.
Universal's Premier Hotels are its luxurious accommodations. These include Loews Portofino Bay Hotel, Hard Rock Hotel, and Loews Royal Pacific Resort. The Preferred hotel is Hilton Orlando – a beautiful property that overlooks Universal Studios Florida park. The Prime Value hotels are Cabana Bay Beach Resort and Aventura Hotel, which offer great value for money with their modern facilities and impeccable service. Finally, the Value hotels are Universal's Endless Summer Resort – Surfside Inn and Suites and Universal's Endless Summer Resort – Dockside Inn and Suites. These two properties are perfect for guests looking for budget-friendly accommodations that are still close to all the action.
Universal Orlando Resort Location Stats
Distance to Walt Disney World Resort: 8.6 Miles
Distance to Orlando International Airport (MCO): 16.4 Miles
Distance to Kennedy Space Center: 58 miles
Distance to the Nearest Beach: 65.3 Miles
The Universal Orlando Resort is located in the heart of Central Florida, just minutes away from all the best that Orlando has to offer. Walt Disney World is just 8.6 miles away, making it an easy day trip for guests staying at Universal Orlando Resort. The Orlando International Airport (MCO) is just 16.4 miles away, making it a quick and convenient option for travelers coming from out of town. And for those looking to enjoy some time in the sun, the nearest beach is just a short drive away (65.3 miles to Cocoa Beach). With so much to see and do nearby, Universal Orlando Resort is the perfect place to stay for your next Orlando vacation.
Ready to Book your Universal Orlando Resort Family Vacation?
Universal Orlando Resort is a popular tourist destination for families. With two theme parks full of amazing rides, a water park, an entertainment and dining complex, plus eight excellent on-site hotels, there is something for everyone at this resort. The statistics we've shared give you an idea of the magnitude of this resort and why it draws visitors from all over the world. Universal Orlando Resort should be on your list if you are looking for a fun-filled family vacation spot!
Do you need help planning and booking a Universal Orlando vacation? If so, then look no further than The Vacationeer. This Universal travel agency (which also books Disney trips) will get you the best rates AND ensure every aspect of your vacation is as enjoyable as possible… all without charging you anything for their planning services. Additionally, they will handle all your reservations so you can concentrate on packing. Click HERE for a non-obligation quote and see how little a trip to Universal Orlando will cost!
Are you looking for more information on Universal? We have plenty more articles!
For starters, check out our Universal Orlando Crowd Calendar, Universal Orlando Map, Universal Orlando Transportation, Universal Guest Services, Universal vs. Disney World, and How to Get from Disney World to Universal pages.
Thanks for reading our Universal Orlando Statistics page, and we hope you have a fantastic trip to Orlando!