How Much Does it Cost to Go to Universal Studios? 
How much does it cost to go to Universal Studios, really? It's easy to think any trip to a theme park will be expensive, but the truth is many factors go into how much it costs to go to Universal. It's one thing to look at the various options for tickets, hotel pricing, and deciding which Universal Express pass to get. However, prices range so drastically that it can be challenging to figure out a realistic budget for your Universal trip.
Below, we provide an overview of the typical costs associated with going to Universal, such as ticket pricing, lodging, and food costs. We'll also put these costs into play with a few hypothetical trip scenarios to provide some real-life examples of what it costs to go to Universal. 
Universal Studios Orlando Ticket Pricing
One of the most significant variables when budgeting a Universal vacation is ticket pricing. Ticket pricing varies based on the time of year you visit, the day of the week, and how many days you plan to stay at the parks.
Universal has several pricing tiers that start at $109 for a one-day, one-park ticket during the slowest times of the year. However, prices can vary greatly based on expected crowds. Reference this table when estimating Universal ticket pricing in 2023. 
TICKET TYPE
ADULT
CHILD (AGES 3 - 9)
Single Park
1 DAY
$109 - $159
$104 - $154
Park to Park
1 DAY
$164 - $214
$159 - $209
Single Park
2 DAY
$213.99 - $309.99
$203.99 - $299.99
Park to Park
2 DAY
$273.99 - $369.99
$263.99 - $359.99
Volcano Bay
1 DAY
$80 - $85
$75 - $80
Factors that Affect Ticket Pricing
Many variables come into play when figuring out how much Universal Studios tickets will cost. Keep the following factors in mind when budgeting for your trip:
Day and Time of Year
Like other theme parks, Universal uses "surge" ticket pricing. This means ticket prices change based on the time of year, the day of the week, and expected crowds. Due to this, how much you'll spend on tickets is directly linked to when you decide to stay at Universal. You will pay more for tickets if you plan to visit during the last week in December than you would if you came the week after Labor Day. Learn more about the <>.
Multi-Day Tickets
Universal rewards you for spending more time at the parks, so you'll receive a larger ticket discount when you purchase multi-day tickets. As the number of days you buy tickets increases, so do the deals.
Purchasing in Advance
Purchasing tickets online in advance costs less than buying them at the gate the day you want to visit. This will save you tons of time and avoid waiting in a lengthy line at the ticket counter before your day has even started. There are many reasons to purchase your tickets in advance (including being turned away due to capacity limits) so saving money is just one reason.
Special Events
Keep in mind that the ticket pricing we've shown so far is for a regular day in the park. Universal has special holiday events and other specialty nights throughout the year. Some of them, such as Christmas celebrations, are included in your regular park admission. Others, such as Halloween Horror Nights, require a separate ticket just for the event. So be sure to factor that into your budget if applicable.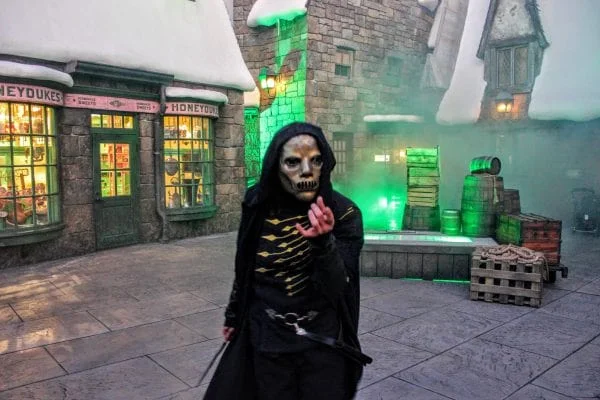 Images are courtesy of Universal Orlando Resort
Universal Express Pass 
Another factor that goes into determining how much does it cost to go to Universal is the price of Express passes. Universal's Express pass allows guests to skip attraction lines at Universal Studios, Islands of Adventure, and Volcano Bay.
Express Passes are beneficial if you're visiting during peak times. They are also helpful if you want to experience many of the park's most popular attractions in a single day or have a group that makes standing in a long line difficult.
Universal Express passes are priced per person, per day, and can be added when purchasing your park tickets. Attractions included in the Universal Express pass include some of the parks' most popular attractions, like Hollywood Rip Ride Rockit, Harry Potter and the Escape from Gringotts™, The Incredible Hulk Coaster®, and Fast & Furious – Supercharged.  
There are two Express pass options. Universal Express enables you to skip the attraction line once per ride. Universal Express passes start at $79.99 per person. Universal Express Unlimited allows you to skip lines an unlimited amount of times at participating attractions. Unlimited passes start at $109.99 per person.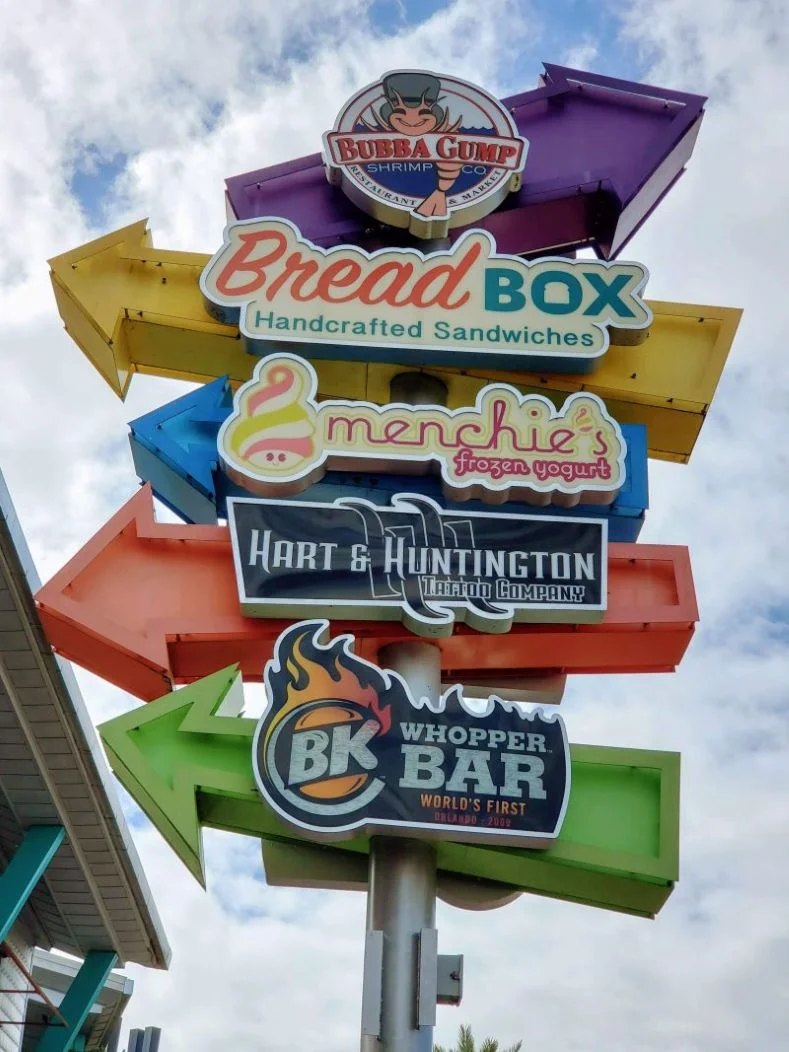 How Much Does Food Cost at Universal Studios?
The cost of food is another factor to consider when budgeting for your Universal trip. Arguably, it's the cost that you have the most control over since where and what you decide to eat can change based on your budget. Even if you bring snacks and some refreshments, you'll need to purchase a meal at some point.
Generally, a meal at quick-service locations throughout the parks will cost about $15 to 20 per person per meal (if you include an entrée and a drink). Sit-down restaurants (also called full-service) are slightly more expensive, anywhere between $25 – $50+ per person.
You'll also want to factor in the costs of snacks, drinks, and treats like Butterbeer or alcohol (which can run anywhere from $8 to $20 each time). 
For a more complete estimate of how much you should budget for meals, check our our in-depth article on food costs at Universal Orlando Resort.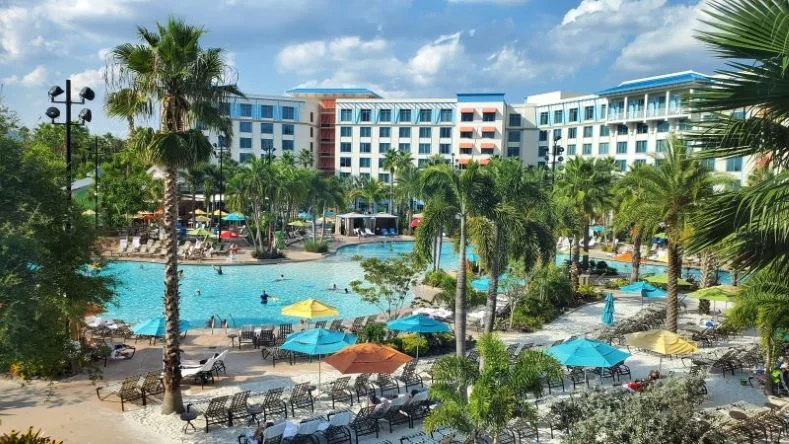 How Much Does it Cost to Stay at Universal Studios?
There are six options for staying at a Universal Studios on-site hotel. There are various pricing choices, from affordable, Value hotels to luxurious Premier resorts.
Benefits for staying on-site at a Universal Hotel include early park access for select attractions, free transportation to the parks, and even complimentary Express Unlimited passes (if staying at a Premier hotel). Like ticket pricing, hotel pricing varies based on the number of days you'll visit, along with the time of year.
Below is a breakdown of the Universal Hotel and its base per-night pricing. (Don't forget to factor in other costs such as the price of parking).
Universal Studios Onsite Hotel Per Night Pricing
Value: start at $114 per night
Endless Summer Resort —Dockside Inn and Suites 

Endless Summer Resort — Surfside Inn and Suites 
Prime Value: start at $164 per night 
Cabana Bay Beach Resort 

Aventura Hotel 
Preferred: start at $229 per night 
Premier: price varies 
Loews Royal Pacific – starts at $339 per night 

Hard Rock Hotel – starts at $379 per night

Loews Portofino Bay – starts at $404 per night
Factors That Affect Hotel Pricing
Much like ticket pricing, hotel pricing fluctuates significantly based on the time of year you visit. The number of people staying in your room, the room type, and the selected sleeping arrangements (such as getting a room with a queen-sized vs. a king-sized bed or selecting a family-sized suite) will also impact how much the room costs. A room with a particular view may cost more as well.  And if you're bringing your pet with you, you'll need to factor in additional fees (and the fact that only the higher-tier hotels allow pets).
What is the Cheapest Universal Hotel?
Universal's Endless Summer Resort is the cheapest Universal hotel. The resort is made up of two sister hotels, Surfside Inn and Suites, and Dockside Inn and Suites. A standard room starts at $114 per night and sleeps four people. The Endless Summer Resort is a five to ten-minute bus ride away from Universal Studios and CityWalk, with free shuttle service to the parks from the hotel. It's the only Universal hotel not within walking distance to the theme park.
Need help planning your vacation to Universal Studios? Our friends at The Vacationeer can help! Get your free quote here. Their services are completely free and will give you a huge advantage over booking your own trip. We recently rank The Vacationeer #1 on our Best Travel Agencies for Universal page.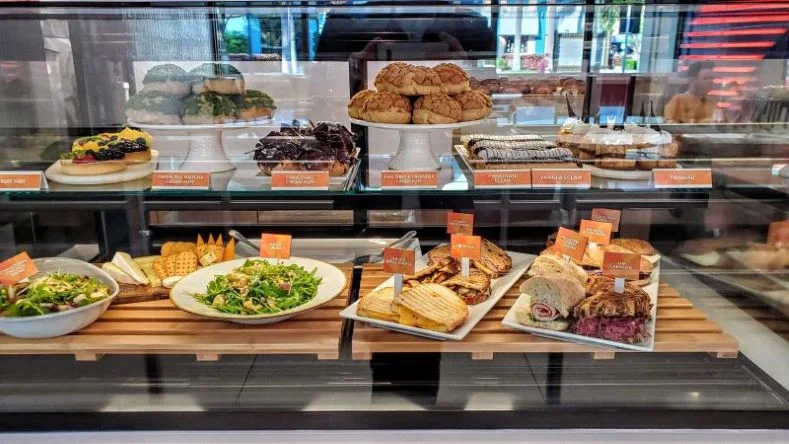 When is the Cheapest Time to Go to Universal? 
The cheapest time to go to Universal is in September or January. Since Universal uses surge ticket pricing where busier days cost more, these are also the slowest times of the year to visit Universal. Most weekdays in September are priced at the lowest pricing tier, more than any other month. There are also several days in January priced at this lowest tier. Pick a weekday between Labor Day and October first to get the best deals on tickets.
See our Best Time to Visit Universal article for more information, or contact The Vacationeer to find how much your vacation package will cost.
How Much Does it Cost to Go to Universal Studios? Real-life Scenarios 
Let's put all this pricing together with two hypothetical trip plans to get an estimated cost of a Universal Studios vacation. 
Real-life Scenario: A Family of Four
The following pricing is based on a four-day, three-night summer vacation in June for a family of four, made up of two adults and two children under ten years old.
The family planned to spend most of their time at the parks and wanted to save money on their hotel stay. They chose a standard room at the Endless Summer Resort: Dockside Inn and Suites for three nights. We priced their hotel stay at $174 per night for their vacation in June.
Hotel total: $587.25
The family wanted the flexibility to move freely between Universal Studios and Islands of Adventure during their vacation. The family were also huge Harry Potter fans and wanted the ability to ride the Hogwarts Express™ whenever they wanted. To do this, they purchased three-day park-to-park tickets. 
Ticket total: $1,311.96
While the family wanted to save time waiting in line, they planned to hit all their must-do rides at both parks in one day. They added a one-day, regular Universal Express pass to their trip, costing $89.99 per person during a weekday in June. 
Express pass total: $360.36 
Food pricing varies greatly depending on an individual family. However, it is safe to budget to spend around $300 a day on food for a family of four. This would include a mix of quick-service meals, a few full-service dinners, and some snacks and treats. 
Food total: $900
Since the family's resort stay includes transportation to Universal Studios, CityWalk, and Islands of Adventure, they just needed a ride from and to the Orlando International Airport. There are several ways to travel from the Orlando airport to Universal, one of the most cost-effective ways is using a ride-share service like Uber or Lyft. These services typically cost about $55 for a trip from OIA to the Universal Hotel area. 
Transportation total: $110
—————————————————————————————————————–
Total estimated trip cost:  $3,270
——————————————————————————————————————
Please note: this sample pricing is for informational purposes only. For an accurate quote for your trip, get with our friends at The Vacationeer. Pricing does not include tax or tips.
Sample Trip: Two-Day Honeymoon Getaway
Our next trip scenario is for a couple's Honeymoon trip in January. The couple chose January because it is one of the slowest times of the year and thought it was the perfect time to visit after their December wedding.  
The newlyweds splurged on a nice hotel with a beautiful view. They chose to stay at Portofino Bay Hotel, one of Universal's Premier-level hotels. Portofino Bay is modeled after the seaside village of Portofino, Italy, and has many romantic touches to it. They chose to stay in a Bay View King Room for two nights. 
Hotel total: $976.50
The couple chose to spend one day at Islands of Adventure and the other day bouncing between Universal Studios and Islands of Adventure. They each got one park-to-park ticket and one one-park ticket. 
Ticket total: 581.50
Since the couple stayed at one of Universal's Premier hotels, Unlimited Express passes were included with their stay. This allowed them to skip attraction lines for their entire trip! 
Express pass cost: $0
Again, food costs change greatly depending on each person. However, it's fair to budget around $20 to $25 per person for each meal with this type of trip. In this scenario, a typical budget would be between $300 and $400. 
Food cost: $350
 The couple walked from their hotel to the parks most days, so they only needed transportation to and from the airport. They utilized a ride-share service, which costs $55 each way. 
Transportation cost: $110 
——————————————————————————————————————
Total estimated trip cost: $2,020
——————————————————————————————————————
Note: Pricing is approximate and for informational purposes only. Pricing doesn't include tax or tips. 
The Cost of a Trip to Universal Studios: Final Thoughts 
The cost of visiting Universal can fluctuate significantly based on many factors. When you decide to visit Universal is the primary factor that will affect trip costs, as your vacation dates will influence your ticket pricing, express pass purchases, and the price of your hotel stay. There is also a lot of wiggle room with food costs—but it's a cost that can add up quickly.
When looking to save on your Universal trip, you'll be rewarded with cheaper per-day ticket pricing the longer you plan to stay. When deciding between Universal Hotels, you should factor in benefits such as complimentary Unlimited Express passes if you stay at a Premier resort.
The increased hotel pricing may be more cost-effective than adding Universal Express passes to your trip. Packaging your tickets and hotel together will also help you save money.
Budgeting for your Universal Vacation
Pricing your Universal trip can be tricky, especially with the number of variables at play. Do you want a park-to-park ticket? Or stay at a Premier hotel with Unlimited Express passes? How do ticket prices differ between June and January?
If the thought of figuring this out on your own seems overwhelming, using a Universal Travel Agent like the ones at The Vacationeer could be beneficial. Just enter a few details about your family, your desired travel dates, the tickets you want, and they'll figure out the best package rates for you. Click HERE to get your quote today! 
We hope this was helpful Enjoy your trip!
Get more Universal planning tips by checking out our Ultimate Planning Guide for Universal Orlando Vacations, Tips for the Wizarding World of Harry Potter, Universal Studios Orlando maps, and our list of the top Universal rides. We also have some relevant blog posts including our Universal Orlando Transportation,  How to Get from Disney World to Universal,  How Much do Wands cost at Universal Studios, Is the Universal Express Pass Worth It, and How to get the Universal Express Pass for Free pages.