Best Places to Eat in Epcot
Epcot is well-known for its eclectic dining options. Thanks to the World Showcase section of the park, you can get everything from the best tapas to an amazing curry chicken cutlet, and even a cold beer (or two)! Dining at Epcot is part of the Disney experience and you have well over 50 options for eating. Here you will find everything from quick service to table service restaurants. What's more, the best Epcot restaurants have some amazing quality food, unlike anywhere else at Disney World. So here is a list of the best places to eat in Epcot, ranked.
With so many options, then it may seem difficult to decide which you should go with. This is why we are going to break down the best places to eat in Epcot so you can focus more time on hitting all of the attractions you want to see, and less on stressing about where to eat.  Although, the dining experiences here are almost as worthwhile as many of the Epcot attractions!
When it comes to dining options, Epcot really has something for everyone.
With all of the options available, every person in your group will likely be satisfied by Epcot's diverse restaurant options. While a large variety of foods can make it challenging to nail down one restaurant as THE best, we will give you our favorites and some background on who they're likely to impress.
Our Favorite Restaurants
5.    If you're looking for an interesting experience – Restaurant Marrakesh
Picky eaters beware! But all others, make your way down to Restaurant Marrakesh (menu) located in Epcot's Morocco Pavilion.
Here you are in store for a truly incredible and delicious lunch.
While the cuisine does stick true to the native dishes they do go light on seasoning and spices, which is perfect if you want to step out of your comfort zone, but not worry about shocking your palate.
Not only do you have a flavorful and diverse menu, but you also get a front-row seat to prime entertainment from Belly Dancers and Moroccan music. Who doesn't like Belly Dancers and Moroccan Music?  Ok, maybe it's not for everyone.
But if you want a unique, memorable, and delicious experience, you should consider Restaurant Marrakesh.
Pro-tip: Snag an early reservation and ask for samples. Generally, you can score a small tasting of one or two menu items.
6.  If you're a social person or in a big group – Biergarten
A true Epcot favorite, Biergarten (menu), located in Epcot's Germany Pavilion, is a solid choice thanks to its one-of-a-kind atmosphere and extensive menu.
There's always live music, a wide variety of beers, and a yummy buffet style that gives you a go at all the typical German goodies.
We say this place is for social people because of the large communal wooden table seating available. Unless you're in a massive group you will likely be sharing the space with strangers.
If this is your first time here you should strongly consider the Schnitzel or Spaetzle, two classic German dishes that will make you feel like you're getting the true German experience.
Pro-tip: Have your dancing shoes ready as there is a large dance floor open for all who want to get down with Polka!
. You'll definitely want an Advanced Dining Reservation here.
7.  If you're trying to impress someone – Monsieur Paul
On a date? Or possibly pondering popping the big question? Monsieur Paul (menu), located in Epcot's France Pavilion, is a more elegant option with the prices to match.
Whether you're grabbing lunch or dinner you can't go wrong with a meal at Monsieur Paul. The gourmet French cuisine and quiet atmosphere won us over.
The white linen tables and $30 soup price tag make it a more suitable place for adults or older children and teenagers. If you're looking to transport yourself to France, this is the place to do it. Everything from the Black Sea Bass to the pralines in chocolate cream will have your mouth watering.
Pro-tip: Shoot for a window seat between 8-9 pm for a great view of Illumination from your table. You'll definitely want an Advanced Dining Reservation here.
8.  If you love Nemo (and seafood) – Coral Reef
No doubt here, Coral Reef Restaurant (menu) located in Epcot's Future World, is the best choice for some stellar seafood.
If you and the young ones love Nemo, or just eating seafood, make your way here for lunch or dinner. Your little ones will be mesmerized by the aquarium and you'll be happy with the space inside the restaurant as it is much bigger than many others.
One wall of the restaurant is covered by 8" thick glass giving dramatic views of the many fish in the vibrant coral reef tank including Sea Turtles, Sharks, tarpon, grouper, and more.
This is one of the best restaurants for families with younger children in all of Epcot.
Pro-tip: Use your Disney Dining Plan credits when ordering those pricey entrees.
9.  If you're looking for a great drink – La Cava de Tequila
Epcot's World Showcase is wildly popular for housing some seriously great places for adult beverages. If you needed a drink or two, after running around the park with your kids all day, nobody will blame you. We recommend La Cava de Tequila (menu) in Epcot's Mexico Pavilion
I mean, really, how could a place with Tequila in the name not be a great place to grab a drink?
Not only will you get an incredible drink, but the cast members working here are true experts in all things tequila and can teach you a few things while making recommendations.
It probably goes without saying that this is not the place to be bringing the kiddos.
Pro-tip: Order the coffee/mezcal margarita for a little pick-me-up at the end of the day.
10.  If you want to keep the kids entertained – Teppan Edo
Are you in a big group with kids? It can be difficult to get something everyone likes and keep the kids interested, but at Teppan Edo (menu) restaurant, located in Epcot's Japan Pavilion, you don't have to worry about that.
This hibachi-style meal brings it all: good food, fun, and a great atmosphere. You have something here for meat lovers and vegetarians, plus parents and children go crazy for the talented chefs.
If you're not familiar with Hibachi, it's an entertaining dining experience.  You sit at a table with a hibachi grill in the center and 3 sides of seating.  The chef rolls up with their cart and begins the show.  Hey will cook everything in front of you and the experience is very much interactive.  If you haven't
The Teppan Edo experience, although uniquely Disney in a lot of ways, is actually quite similar to the Hibachi experiences we've had at other restaurants around the country.  If you've tried Hibachi in the past we expect you'll find this to be similar.  For us it's fun, but for some, it's the same old same old.
Pro-tip: Make your Advanced Dining Reservation well ahead of time to ensure you have a spot at the table!
Epcot Restaurants are Amazing!
As you can see, Epcot has a little bit of everything for everybody.
Our recommendations are meant to help you save time when deciding what to eat and to enhance your overall Epcot experience.
That being said, the truth is Epcot has so many great restaurants, even if you aren't able to get into one of our favorites, then you will certainly find a number of other wonderful eating options available throughout the park.
If you already have your favorite restaurant picked out then we have a few more tips for quick bites and snacks.
If you just need a snack: So maybe you had a big breakfast and a full-blown lunch isn't necessary. If that's the case you're still in luck! Epcot has some inventive and delicious snack options. Read on for our favorite in-between meal treats.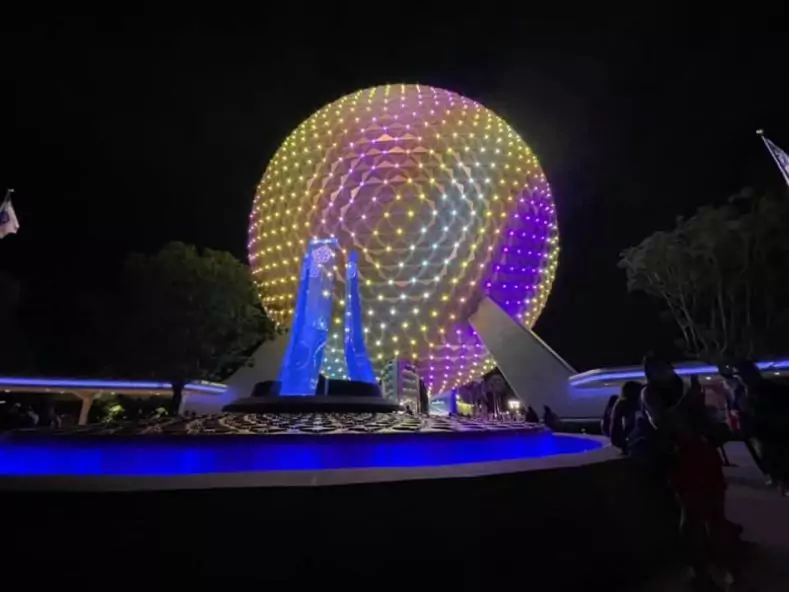 Best Snacks at Epcot
·  Buffalo-Bleu Cheese Popcorn
Advertised as a snack, but it's basically lunch in a to-go cup. This popcorn can be found in Epcot's Future World and has consistently had park visitors drooling.
·  General Tso's Chicken Bun
Another great bite that isn't quite a full meal, but definitely hearty enough to keep you fueled is this creative sandwich from Nine Dragons restaurant in Epcot's China Pavilion.
·  School Bread
An adaptation of the traditional Norwegian delicacy, skolebrød, will surely satisfy your sweet tooth. This sweet roll is filled with custard and topped with grated coconut and you can get it from Kringla Bakeri og Café in Norway.
·  The American Dream
Feeling like you just want some good ol' fashioned American treats? The masters at Fife and Drum Tavern have concocted a seriously sweet treat mixing strawberry and blue raspberry slushies with soft-serve vanilla ice cream.
·  Poutine
Another great option for those who may not be hungry for a full-blown meal, but do want to share a few bites with their group. This Canadian classic, featuring French Fries topped with cheese and gravy, does not disappoint. Le Cellier Steakhouse in Epcot's Canada Pavilion serves two types, but we say go for the signature dish. This includes Canadian cheddar, truffles, and red wine reduction.
Epcot is a great place to eat. Enjoy your meal!