Animal Kingdom Secrets
Animal Kingdom is much more than just another Disney World theme park. It has plenty of thrills and attractions, but it also offers you a chance to move at a slower pace and learn about the natural world. There is so much to see and experience at Animal Kingdom that it's easy to miss some of the best parts. To help you uncover the best secrets and hidden facts – and to make your trip to the park more enriching – we have created a list of Animal Kingdom secrets.

Animal Kingdom History & Facts
Before we review some of the best-kept Animal Kingdom secrets, let's first look at the history of the park.
Walt Disney World Resort opened Animal Kingdom as a zoological park dedicated to and themed around animal conservation and the natural environment – something Walt Disney himself believed in and promoted. The park opened on Earth Day, April 22, 1998, and today covers 580 acres, making it the largest theme park in the world. Although Animal Kingdom has fewer visitors than the three other Walt Disney World theme parks, it still receives roughly 11 million visitors per year and is the 7th most visited theme park in the world.
See our Disney World History page to see how the park has evolved over the years.
Animal Kingdom Secret Entrance
If you plan on arriving near opening time, expect to find long lines at Animal Kingdom's entrance gates. For a less crowded secret entrance, head straight to the Rainforest Café (on the far left) and walk through the gift shop. Just outside the gift shop's rear exit are two turnstile park entrances. This gate opens at the same time as the main gate, and positions you closer to Kilimanjaro Safaris to beat the crowds.

The Hidden Design of Animal Kingdom
Look closely at Animal Kingdom's logo on signs around the park. In it, you will see a few different animal silhouettes walking by The Tree of Life – one of which is a dragon. But Animal Kingdom doesn't have dragons, right? Well, the original park's design was intended to showcase real, extinct, and imaginary animals, and the area slated to exhibit imaginary creatures was to be named "Beastly Kingdom." Due to budgeting issues, Beastly Kingdom was nixed late into the project.  The decision came long after the dragon – which was to represent Beastly Kingdom – was already incorporated into the Animal Kingdom design. Thus, the dragon remains as a part of the park's iconic design.
Silver lining:  "Pandora – The World of Avatar" now inhabits the land originally earmarked for Beastly Kingdom. See our Animal Kingdom's best rides page for more info on these amazing attractions!
"Random" Number and Letter Secrets of Animal Kindom
You may notice some peculiar numbers and letters around Animal Kingdom. While this writing may seem random, there is a secret, hidden meaning attached to many of these. For example:
There are many "Route 498" highway signs around DinoLand USA. There is also a display truck parked inside Animal Kingdom with a "498" license plate number.  "498" is a reference to Animal Kingdom's April 1998 opening date.
If you are near the Pangani Forest Exploration Trail entrance, check out the nearby trolley. Inside the trolley is a crate with a mysterious "ZU2298 Radio" sign stamped on it. This is another reference to Animal Kingdom's April 22, 1998 opening date.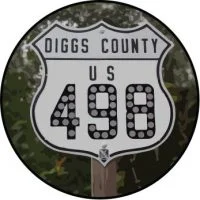 In the loading area of Dinosaur, gaze upward and spot the red, yellow, and white pipes near the ceiling. These pipes each have mysterious chemical names and formulas written on them. Upon closer inspection, the red pipe has the chemical formulas for ketchup ingredients (lycopersicon lycopersicum for tomatoes and formulas for sugar, vinegar, onion, and salt), the yellow pipe has the chemical formulas for mustard (vinegar, water, mustard plant, salt, turmeric, and garlic), and the white pipe for mayonnaise (vinegar, water, salt, sugar, lemon, soybean, and egg yolks). McDonald's used to be a sponsor of Dinosaur, so it's reasonable to assume they had something to do with this secret message.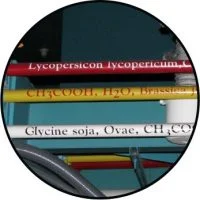 There are a few subtle tributes to Imagineers throughout Animal Kingdom. A sign in Africa reads "JORODI" in tribute to Imagineer Joe Rohde, and one of the Wildlife Express locomotives is named "R. Baba Harpoor" in honor of Imagineer Bob Harpur.
Uncovering the Tree of Life
The Tree of Life is an artificial baobab tree.  This may seem obvious, but it's one of the most frequently asked questions at Animal Kingdom.
An upside-down offshore oil rig was installed as the supporting base skeleton of the tree. With this structure to weigh it down, the Tree of Life is capable of withstanding hurricane-force winds.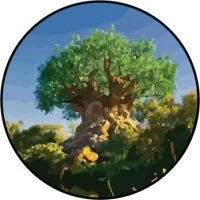 The Tree of Life is 145 feet tall and 50 feet wide. It took 3 Disney Imagineers, 10 artists, and 18 months to carve 325 reptiles, mammals, and birds into the tree. There are over 7000 artificial branches and more than 103,000 artificial leaves, all hand-placed. Some of the branches are made to be flexible and sway with the wind.
Of all the animal carvings in The Tree of Life, the most beloved is the likeness of Greybeard, who was a real-life chimpanzee made famous by Jane Goodall. Greybeard was the first chimp studied by a scientist in the wild, so his legacy is that he helped scientists better understand the intelligence of animals.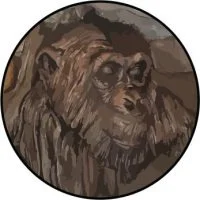 The Animals of Animal Kingdom Secrets
Real scientific research is conducted at Animal Kingdom. Park scientists have studied everything from the hormones in monkey droppings to the mating rituals of elephants.
Roughly 250 species and over 1000 animals live in Animal Kingdom's habitat.
Food is hidden in trees and behind hollowed-out rocks and logs near the safari path. This encourages shy animals to move closer to safari vehicles.
The park has been known to use fake eggs in order to thwart reproduction. Apparently, birds are not compelled to reproduce if they think they have young on the way. This is one tactic Disney uses to prevent overpopulation problems at the park.
There is less co-mingling amongst the animals than it appears. Disney uses camouflaged fences, water barriers, and impassable bridges to separate the animals.
Don't expect to see any zebras at Animal Kingdom. Zebras were introduced into Animal Kingdom in 2012. However, park officials decided to remove them due to their aggressive tendencies.
The white rhino is one of the world's most endangered species. Of the 10,000 known to exist, eight white rhinos have been born in Animal Kingdom.
The first animal born at Animal Kingdom was an African Antelope.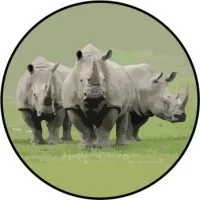 Animals spend nights inside their pens. This gives Disney gardeners a chance to work on the grounds without any animal interference. Instead of rounding them up when the sun goes down, trainers have conditioned the animals to respond to specific sound cues (drums, bells, whistles, etc.). As soon as the animal hears their cue, they head straight for their pen.
On the Kilimanjaro Safaris ride, lions are not as close to guests as they seem. An 18-feet deep, 21-feet wide moat separates park guests from the lions – so relax!
As you ride past Pride Rock, often you will see a lion perched on the ledges. This is one of the most amazing spots to take Animal Kingdom photographs. To encourage lions onto the ledges, Imagineers pipe in chilled air to this spot.
Tigers are lethargic animals, typically sleeping 18-20 hours per day. For the Maharajah Jungle Trek, Disney uses a program called "enrichment" to awaken them. They add certain elements to the tiger's environment to keep them active.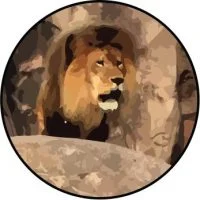 More Animal Kingdom Secrets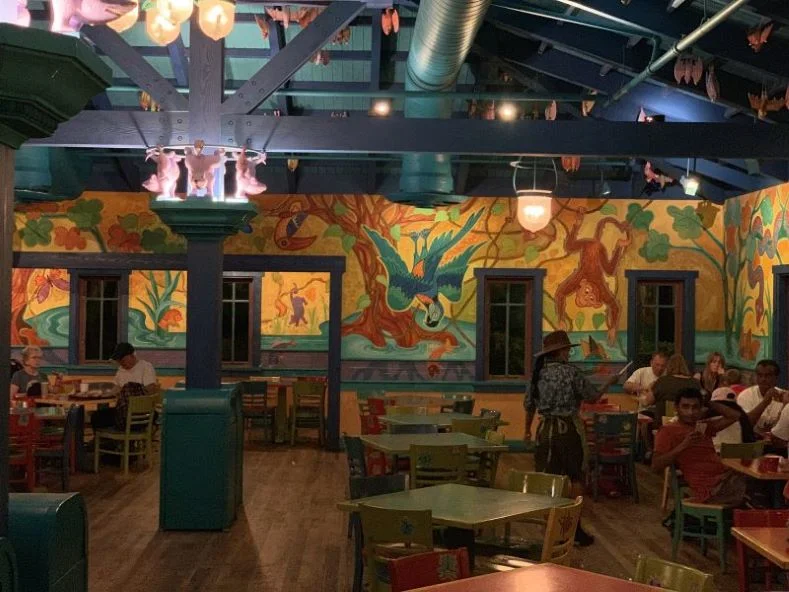 In the Pizzafari restaurant, one of the dining rooms is called the Upside-Down Room. All the animals on the mural are upside-down, except one. See if you can find it!
The Oasis section of Animal Kingdom was originally slated to be named "Genesis Gardens." Disney decided Oasis had fewer religious connotations, so they decided to go with that.
Animal Kingdom is five times the size of Magic Kingdom. Just one Animal Kingdom attraction – Kilimanjaro Safaris – is 3 acres larger than all of Magic Kingdom.
Due to their potential to harm animals, balloons, plastic straws, and cup lids are not allowed in Animal Kingdom. All drinks bought at the park come with biodegradable paper straws. Balloons must be checked-in before entering the park (you can pick up balloons when you exit). Animal safety is taken very seriously at Animal Kingdom. There are no exceptions to these rules!
See if you can spot DiVine, a mysterious part-human, part-tree stilt-walker who roams near the pathway between Africa and Asia. DiVine is covered head to toe in foliage and blends in with the natural flora of Animal Kingdom…so she is easy to miss!
All the benches (and some of the tables) in Animal Kingdom are made of recycled milk jugs.
In Asia, you may notice prayer flags and trees draped with scarves. As prayer flags blow in the wind, the messages of strength, wisdom, peace, and compassion are spread. Scarves draped in trees are meant to commemorate loved ones who have departed the earth.
The 25-foot Audio-Animatronic yeti on Expedition Everest was originally much more animated. Soon after the ride opened, cracking in the concrete support left him motionless. As a solution, Disney installed strobe lights around the yeti to give the impression that he is moving.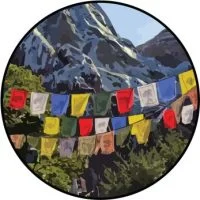 Animal Kingdom lays claim to the world's most expensive roller coaster. The construction of Expedition Everest cost over $100 million.
There are 18 different mountains at Walt Disney World theme parks. At 199 feet, Expedition Everest is the tallest.
The queue line for Expedition Everest is made to look like an authentic Mount Everest mountaineering company. Most of the items are – indeed – authentic. The ladders and computers were purchased from stores in Nepal, and the climbing gear came from the base of Mount Everest.
In the area around Chester and Hester's Dino-Rama, Disney treated the walkways with a concrete mix made to look like asphalt. While Imagineers wanted a rustic asphalt look, asphalt was itself too soft for the Orlando heat.
When you are walking in Africa, notice the mud cracks and leaf prints on the walkways. Imagineers created these effects with molds, casts, and pressurized water jets.
While you are in the queue line for Kilimanjaro Safaris, notice that the names of the animals are given in English and Swahili.
Since African flat-top acacia trees do not grow in Florida, Disney uses oak trees instead. Gardeners manicure these oaks to look like African acacias. Some of the trees in the Kilimanjaro Safaris are artificial trees meant to mimic the appearance of African desert trees.
Animal Kingdom Secrets tip: head over to the Kali River Rapids bridge near the final stretch of the ride. On the bridge, you will see a brown box with two buttons and a sign reading "Pressing the green button will shower the rafts." Wait until a raft goes under the bridge, press the green button, and the elephant statues will spray water on the raft occupants!
The ceilings in the pagodas at Flame Tree Barbecue are decorated with different predator and prey themes, including owls and rabbits, and anteaters and ants. Chairs are decorated by the predators (that's you), and tables are decorated by the prey (that's your food).